1959
The winner is listed first, in CAPITAL letters.
Best Picture


BEN-HUR (1959)


Anatomy of a Murder (1959)


The Diary of Anne Frank (1959)


The Nun's Story (1959)


Room at the Top (1959, UK)
Actor:
CHARLTON HESTON in "Ben-Hur", Laurence Harvey in "Room at the Top", Jack Lemmon in "Some Like It Hot", Paul Muni in "The Last Angry Man", James Stewart in "Anatomy of a Murder"
Actress:
SIMONE SIGNORET in "Room at the Top", Doris Day in "Pillow Talk", Audrey Hepburn in "The Nun's Story", Katharine Hepburn in "Suddenly, Last Summer", Elizabeth Taylor in "Suddenly, Last Summer"
Supporting Actor:
HUGH GRIFFITH in "Ben-Hur", Arthur O'Connell in "Anatomy of a Murder", George C. Scott in "Anatomy of a Murder", Robert Vaughn in "The Young Philadelphians", Ed Wynn in "The Diary of Anne Frank"
Supporting Actress:
SHELLEY WINTERS in "The Diary of Anne Frank", Hermione Baddeley in "Room at the Top", Susan Kohner in "Imitation of Life", Juanita Moore in "Imitation of Life", Thelma Ritter in "Pillow Talk"
Director:
WILLIAM WYLER for "Ben-Hur", Jack Clayton for "Room at the Top", George Stevens for "The Diary of Anne Frank", Billy Wilder for "Some Like It Hot", Fred Zinnemann for "The Nun's Story"
---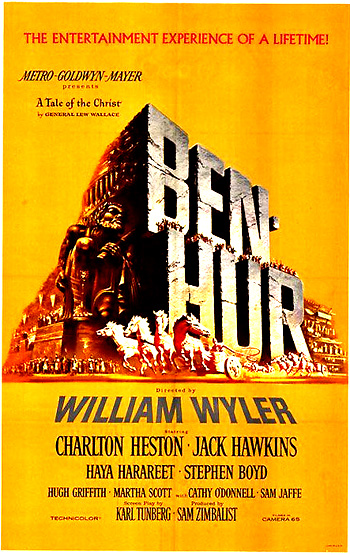 MGM's (producer Sam Zimbalist) and director William Wyler's three and a half-hour long epic drama Ben-Hur (with a spectacular sea battle and eleven minute chariot race choreographed by Yakima Canutt) broke the previous year's all-time record of Gigi (1958). It was the most-honored motion picture in Academy Awards history up to that time and for many years - until 1997, with its record-breaking eleven Oscars from twelve nominations. And it was the most expensive film of its time, budgeted at $15 million.
Ben-Hur was a re-make of MGM's own 1926 silent film of the same name, and the first and only re-make to have won the Best Picture award. Both films were based on or inspired by General Lew Wallace's novel (first published in 1880) about the rise of Christianity. Ironically, the famed director Cecil B. DeMille, who had made 'Ben-Hur-like' films throughout his lifetime - without the same awards success as the 1959 winner, died the same year (on January 21, 1959).
The awards for the Best Picture film covered the following categories: Best Picture, Best Actor (Charlton Heston), Best Supporting Actor (Hugh Griffith), Best Director, Best Cinematography, Best Art Direction, Best Sound, Best Musical Score, Best Film Editing, Best Special Effects, and Best Costume Design. It lost out on only a single nomination, for Best Screenplay credited to Karl Tunberg (although other writers included Maxwell Anderson, S.N. Behrman, Christopher Frye, and Gore Vidal). [The Best Screenplay Oscar was won by Neil Paterson for his intelligent script for Room at the Top.]
The Best Picture's competition came from less sweeping dramas:
director Otto Preminger's Anatomy of a Murder (with seven nominations and no wins), a sensational small-town trial and courtroom drama regarding the suspected rape of an Army lieutenant's wife
director George Stevens' The Diary of Anne Frank (with eight nominations and three wins - Best Supporting Actress, Best B/W Cinematography, and Best B/W Art Direction/Set Decoration), the overproduced story of the hiding of the Frank family in cramped conditions during the Nazi occupation
Fred Zinnemann's religious melodrama taken from Kathryn Hulme's novel, The Nun's Story (with eight nominations and no wins), about a free-spirited young nun who worked in the Congo and Belgium during WWII
director Jack Clayton's acclaimed and sensational British film Room at the Top (with six nominations and two wins - Best Actress and Best Screenplay), about the romance between a Yorkshire milltown worker and an older, unhappily married woman
Four of the five Best Picture nominees were also Best Director-nominated. Billy Wilder's signature film Some Like It Hot (with six nominations and one win - Best B/W Costume Design) about two unemployed musicians who disguise themselves as women in an all-girl band to escape gangsters, supplanted Best Picture-nominated Anatomy of a Murder as the fifth director-nominated film.
Three stars of the socially-realistic, sexually-frank British-made film Room at the Top were nominated for acting awards:
Laurence Harvey (with his sole nomination) as Best Actor for his performance as Joe Lampton - an ambitious, ruthless, working-class anti-hero and social climber engaged in a cruel affair - his most well-known film role
British actress Hermione Baddeley (with her sole nomination) was nominated for Best Supporting Actress as music-teacher Elspeth (Simone Signoret's knowing friend).
French actress Simone Signoret (with her first of two career nominations - and sole Oscar win) won the Best Actress award for her role as older married woman Alice Aisgill - the sexy, soon-abandoned, and suffering tragic mistress of a cynical, exploitative young opportunist (Laurence Harvey)
Signoret was the first actress to ever receive an Oscar for a performance in a British or foreign-made film (a non-Hollywood film). [The second French actress to be an Oscar winner was Juliette Binoche for her supporting role in The English Patient (1996).]
The Best Actor winner was Charlton Heston in the title role of Ben-Hur as Judah Ben-Hur - a rich patrician Jew who is denounced as a traitor by former childhood friend and Roman commander Messala (Stephen Boyd) and sentenced to life as a Roman galley slave, while his mother and sister are sent to a leper colony. Reprieved after saving the life of a Roman commander, Ben-Hur returns to seek bitter revenge in the chariot race. It was Heston's only nomination and sole win in his long, distinguished film career in which he usually portrayed historical characters. Heston's win marked the first time a performer received an Oscar for a Biblical film role, possibly the result of block voting for the Best Picture winner.
Other Best Actor nominees included:
the category's favorite - Jack Lemmon (with his second of eight career nominations) as Jerry/Daphne - a bass-playing musician-on-the-run in drag - one of his funniest and best roles - in director Billy Wilder's Some Like It Hot
Paul Muni (with his fifth and last career nomination) in his last performance as Dr. Sam Abelman - a Brooklyn Jewish doctor who selflessly helps the poor in director Daniel Mann's The Last Angry Man (with two nominations and no wins)
James Stewart (with his fifth and last career nomination) as the small-town defense attorney Paul Biegler in Anatomy of a Murder - noted for its long trial scenes as he defends white Army lieutenant (Ben Gazzara) accused of murdering a black tavern owner for allegedly raping his wife (Lee Remick)
Laurence Harvey - see above
The four nominees who lost the Best Actress Award to Simone Signoret included two Hepburns:
Audrey Hepburn (with her third of five career nominations) as Sister Luke who eventually renounces her vows in The Nun's Story
Katharine Hepburn (with her eighth of twelve career nominations) as an insane, wealthy dowager Mrs. Venable who wishes that doctor Montgomery Clift would perform a lobotomy on her niece (co-star Elizabeth Taylor) in Gore Vidal's adaptation of Tennessee Williams' play by director Joseph L. Mankiewicz, Suddenly, Last Summer (with three nominations and no wins)
Elizabeth Taylor (with her third of four consecutive nominations) as Hepburn's mentally-disturbed niece Catherine Holly in Suddenly, Last Summer
Doris Day (with her sole career nomination!) as Jan Morrow - a 'virgin' who shares a telephone party line with Rock Hudson in the romantic comedy by director Michael Gordon, Pillow Talk (with five nominations and one win - Best Story/Screenplay) - this was the first teaming of the two comedy stars in the popular series of films
Two co-stars playing lawyers in Anatomy of a Murder received Best Supporting Actor nominations:
George C. Scott (with his first of four career nominations) as Claude Dancer - a slick, cynical prosecuting attorney
Arthur O'Connell (with his second and last unsuccessful career nomination) as Parnell McCarthy - an alcoholic lawyer (co-star James Stewart's assistant)
In addition, there were two others:
Robert Vaughn (with his sole career nomination) was nominated for his role as Korean war veteran Chet Gwynn who is charged with murder and defended by an ambitious young Philadelphian lawyer (co-star Paul Newman) in director Victor Sherman's The Young Philadelphians (with three nominations and no wins)
Ed Wynn (with his sole career nomination) for his performance as Albert Dussell - a dentist in hiding with the Franks in The Diary of Anne Frank
In a surprise upset (Scott had a much superior performance), Welshman Hugh Griffith (with his first of two career nominations - and his sole Oscar win) won the Best Supporting Actor Oscar as colorful horse-training Arab Sheik Ilderim in Ben-Hur - his first American-made film. [It would be another 44 years until another film would win both Best Actor and Best Supporting Actor Oscars - Mystic River (2003).]
Two co-stars in Douglas Sirk's Imitation of Life (with two nominations and no wins), a re-make of the 1934 film starring Claudette Colbert and film adaptation of Fannie Hurst's romantic novel - a weepy melodrama with Lana Turner, were nominated for Best Supporting Actress:
Juanita Moore (with her sole nomination) as Annie Johnson - Lana Turner's self-sacrificing black maid
twenty-three year old Susan Kohner (with her sole nomination) as Sarah Jane Johnson - Moore's light-skinned black daughter. [Kohner was the daughter of Mexican actress Lupita Tovar.]
also, Thelma Ritter (with her fifth of six unsuccessful career nominations) was nominated for her role as Doris Day's imbibing housekeeper Alma in Pillow Talk
The winner in the Best Supporting Actress category was Shelley Winters (with her second nomination - and first Oscar win) as Mrs. Van Daan in director George Stevens' The Diary of Anne Frank - an indomitable mother, and one of the Jews hiding out from the Nazis with the Frank family in a cramped attic in Amsterdam. It was the first of Winters' mature, serious character roles. [Winters' first nomination was for a role in another Stevens film - A Place in the Sun (1951). In 1965, she starred in her third Stevens film, The Greatest Story Ever Told, but won a nomination - and her second Oscar - for a role in director Guy Green's film A Patch of Blue (1965).]
An Honorary Oscar, a bittersweet recognition, was awarded to the under-appreciated Buster Keaton, one of the silent screen's greatest comedic characters, who was known as 'The Great Stone Face.' His award was for "his unique talents which brought immortal comedies to the screen," such as Sherlock Jr. (1924), The Navigator (1924), The General (1927), Steamboat Bill, Jr. (1928), and The Cameraman (1928).
Oscar Anomalies:
Francois Truffaut's "French New Wave" film and first feature film, the semi-autobiographical The 400 Blows (Fr.) (aka Les Quatre Cents Coups) received only a single Best Writing: Original Story and Screenplay nomination, but no nomination in the Foreign Language Film category (won by Black Orpheus). And Jean-Pierre Leaud's performance was snubbed as frustrated 12 year-old Parisian schoolboy and juvenile offender Antoine Doinel who was placed in a detention work camp - the film was famous for the ending (with a zoom and freeze-framed shot) in which the boy fled toward the beach and seashore. Similarly, Swedish director Ingmar Bergman's Wild Strawberries received only one nomination for Best Writing: Story and Screenplay. Unbelievably, both films lost their sole nominations to Pillow Talk.
Oscar Snubs and Omissions:
Because of the sweep by Ben-Hur, many other films were bypassed, including Hitchcock (again!), for another MGM film - the definitive caper film North By Northwest. Although the film had three minor nominations, it was ignored in the Best Picture, Best Director, and all acting categories. Cary Grant, playing a debonair Roger Thornhill - a Manhattan ad executive and the victim of mistaken identity (believed to be a secret agent), the cool Eva Marie Saint, villain James Mason, Jessie Royce Landis in a supporting role as Grant's mother Clara, and the score by Bernard Herrmann were seriously ignored by the Academy.
Stephen Boyd deserved a Best Actor or Supporting Actor nomination for his role as Messala (when compared to Hugh Griffith's nomination/win as Best Supporting Actor). And Howard Hawks' outstanding Rio Bravo with John Wayne as sheriff John T. Chance, Dean Martin as Dude, and Angie Dickinson as Feathers - the director's response to High Noon (1952) and similar in its cast composition to Red River (1948), received no nominations!
Single Oscar winner Some Like It Hot (for Black and White Costume Design) received nominations for Best Actor (Jack Lemmon), Best Director (Billy Wilder), and Best Screenplay (Billy Wilder), but the nominations overlooked the following:
its Best Picture potentiality
Tony Curtis in a cross-dressing, dual role as Joe/Josephine (and often playing Cary Grant in impersonations)
Joe E. Brown as love-struck, ardent suitor and millionaire Osgood E. Fielding III
and Marilyn Monroe in her quintessential comedic role as the breathy, bourbon-swigging, sexy, ukulele-strumming singer Sugar Kane Kowalczyk in an all-girls band (memorably singing I Wanna Be Loved By You)
And Lee Remick was un-nominated for her role as slutty, allegedly-raped Laura Manion (wife of Army Lieutenant Ben Gazzara) in the oft-nominated but completely bypassed Anatomy of a Murder.
Ingmar Bergman's Wild Strawberries (1957), considered for awards in 1959, received only one unsuccessful nomination for Best Original Screenplay (Bergman). Both Bergman and Victor Sjostrom were snubbed as Best Director and Best Actor (as Professor Borg) respectively.