1958
The winner is listed first, in CAPITAL letters.
Actor:
DAVID NIVEN in "Separate Tables", Tony Curtis in "The Defiant Ones", Paul Newman in "Cat on a Hot Tin Roof", Sidney Poitier in "The Defiant Ones", Spencer Tracy in "The Old Man and the Sea"
Actress:
SUSAN HAYWARD in "I Want to Live", Deborah Kerr in "Separate Tables", Shirley MacLaine in "Some Came Running", Rosalind Russell in "Auntie Mame", Elizabeth Taylor in "Cat on a Hot Tin Roof"
Supporting Actor:
BURL IVES in "The Big Country", Theodore Bikel in "The Defiant Ones", Lee J. Cobb in "The Brothers Karamazov", Arthur Kennedy in "Some Came Running", Gig Young in "Teacher's Pet"
Supporting Actress:
WENDY HILLER in "Separate Tables", Peggy Cass in "Auntie Mame", Martha Hyer in "Some Came Running", Maureen Stapleton in "Lonelyhearts", Cara Williams in "The Defiant Ones"
Director:
VINCENTE MINNELLI for "Gigi", Richard Brooks for "Cat on a Hot Tin Roof", Stanley Kramer for "The Defiant Ones", Mark Robson for "The Inn of the Sixth Happiness", Robert Wise for "I Want to Live!"
---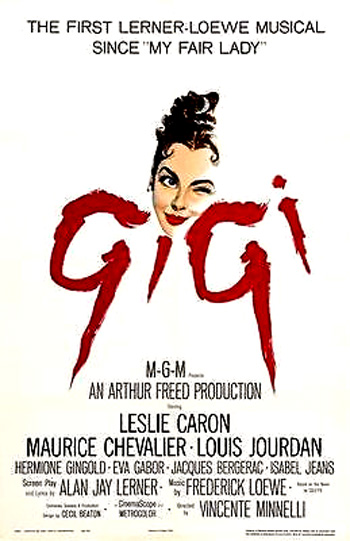 This year's Oscars ceremony was hosted by Oscar-winner David Niven for Separate Tables. He was the only person to win an Oscar the same year he was a host.
It was a momentous year when the eight Oscar record held by Gone With The Wind (1939) (and equaled by From Here to Eternity (1953) and On The Waterfront (1954)) was finally broken by Vincente Minnelli's elegant and charming, yet overpraised musical Gigi. The film had a total of nine nominations and nine Oscars and awards in almost every category including Best Picture (produced by the legendary MGM producer Arthur Freed), Best Director, Best Screenplay (Alan Jay Lerner), Best Color Cinematography, Best Art/Set Direction, Best Song ("Gigi" by Lerner and Loewe), Best Musical Score (Andre Previn), Best Costume Design, and Best Editing. This record-breaking film with the greatest number of Oscars would hold the honor - for one year only. [Minnelli had almost forty films to his credit by 1958, but this was his first and only Oscar win. Possibly the Academy was making up for his snub fourteen years earlier when he lost as Best Director for Meet Me In St. Louis (1944).]
Gigi remains one of the few films to win all the awards for which it had been nominated (in four or more categories), and is one of only eleven Best Picture winners in the Academy's first 82 years not to receive a single acting nomination. It was highly unusual that none of the excellent cast, young Parisian ingenue Gigi (Leslie Caron), rich suitor and suave aristocrat Gaston (Louis Jourdan), Gigi's grandmother and ex-Chevalier lover (Hermione Gingold), or Gaston's charming but roguish uncle Honore (Maurice Chevalier), received acting nominations. However, the Frenchman Maurice Chevalier, known for his singing of Thank Heaven For Little Girls, was presented with an Honorary Oscar Award "for his contribution to the world of entertainment for more than half a century."
Set in early 1900s Paris - it told the slightly distasteful story by French writer Colette of a young teen-aged Parisienne girl trained by a wealthy aunt at the turn of the century to become a courtesan (in the tradition of her family) to a wealthy suitor or "protector." She double-crossed her family by enchanting her proposed suitor and marrying him instead. During the time of the smash Broadway hit My Fair Lady (that wouldn't be available for the screen for a number of years (until My Fair Lady (1964)), the stage hit's composers Alan Jay Lerner and Frederick Loewe and costumer Cecil Beaton were hired by MGM to create a movie musical from the Broadway non-musical Gigi.
The other Best Picture nominees were the following:
Three of the directors of the Best Picture nominees were also nominated for Best Director - Vincente Minnelli for Gigi, Richard Brooks for Cat on a Hot Tin Roof, and Stanley Kramer for The Defiant Ones. Minnelli, with his second and last Best Director nomination, won his first Best Director Oscar for Gigi, although he had directed some of the greatest MGM musicals ever made earlier (Meet Me In St. Louis (1944), The Pirate (1948), and The Band Wagon (1953)) and other great non-musicals (including Madame Bovary (1949), Father of the Bride (1950), The Bad and the Beautiful (1952), Lust for Life (1956), and Some Came Running (1958)).
[Minnelli directed the only other Freed musical to win the Best Picture Oscar, An American In Paris (1951), but he lost the Best Director award to George Stevens for A Place in the Sun (1951).] The directors of Best Picture nominees Auntie Mame (Morton DaCosta) and Separate Tables (Delbert Mann) were not nominated. Mark Robson was nominated as director of The Inn of the Sixth Happiness (the film's sole nomination), starring an un-nominated Ingrid Bergman as Gladys Aylward - an English missionary in 1930s China opposite Robert Donat in his last film, and Robert Wise was likewise nominated as Best Director for I Want to Live! (with six nominations and one win - Best Actress) about a prostitute framed for murder and sentenced to die in the gas chamber.
The Best Actor category winner was David Niven (with his sole career nomination) in Separate Tables as a lonely, retired, war-braggart - British army Major Pollock in the fascinating character study set in a small English seaside hotel on England's south coast. The award was Niven's first and only Oscar after a twenty-three year-old film career. According to some sources, his performance - at 15 minutes, 38 seconds - was the shortest duration of a performance to win a lead acting Oscar. See also Anthony Hopkins' performance in The Silence of the Lambs (1991).
The other Best Actor nominees were:
In the Best Actress category, all of the nominees had not yet won an Oscar. There were many nominees who had received multiple unsuccessful nominations in the past. Susan Hayward had been in the running for a Best Actress Oscar for many years (in 1947, 1949, 1952, and 1955) - so it was fitting that she won for her fifth nominated performance in the bravura drama I Want to Live!, as prostitute/thief Barbara Graham, suspected as a murderess, convicted and sent to the gas chamber in San Quentin prison in 1953 after appeals and a long fight to spare her life. The others were:
In the Best Supporting Actor category, Burl Ives (with his sole nomination) won as western patriarch and scruffy rancher Rufus Hannassey, caught in the murderous water-rights dispute with Charlton Heston, Charles Bickford and Gregory Peck in director William Wyler's sweeping epic western The Big Country. [Burl Ives played two other patriarchs in the same year: "Big Daddy" in Cat on a Hot Tin Roof, a much better performance than the one he was nominated for, and as a New England farmer in Desire Under the Elms.] The other Best Supporting Actor nominees were:
British stage actress Dame Wendy Hiller won the Best Supporting Actress Oscar as Miss Pat Cooper - the lonely, efficient proprietor of a seaside guest house/hotel (the Hotel Beauregard in Bournemouth, England) and the engaged-to-be married mistress of divorced writer Burt Lancaster (a resident who is also rekindling his former marriage with the arrival of his vain, aging ex-wife and fashion model Rita Hayworth) in Separate Tables. [It was Hiller's first Oscar win (her first nomination was for Pygmalion (1938) and she would later be nominated, her third and final nomination, for A Man for All Seasons (1966))].
The other Best Supporting Actress nominees included:
In the Short Subject: Cartoon awards category, Warner Bros.' Knighty Knight Bugs brought Bugs Bunny his first Oscar and Friz Freleng his fourth Oscar. In the Oscar-winning Looney Tunes cartoon, a medieval court jester Bugs Bunny must recover the Singing Sword from the evil Black Knight (Yosemite Sam). Freleng's previous Oscar wins were for Tweety Pie (1947), Speedy Gonzalez (1955), and Birds Anonymous (1957).
Oscar Snubs and Omissions:
Two films that towered over the Best Picture nominess, but did not receive many deserved nominations and awards (including Best Picture) were the following two classic film gems:
Another film, a complex drama titled Some Came Running, from this year's honored director Vincente Minnelli, had five (unsuccessful) nominations (Best Actress, Best Costume Design, Best Song, Best Supporting Actor and Best Supporting Actress), the film didn't receive a Best Picture nomination - probably because it was pushed aside by Gigi.
Stanley Donen's sophisticated romantic comedy Indiscreet, with Cary Grant and Ingrid Bergman (now triumphantly back in Hollywood), lacked nominations.
Although Alec Guinness won the Best Actor Oscar for The Bridge On The River Kwai (1957) in the previous year, he was un-nominated for another great role as unorthodox painter Gulley Jimson in this year's British comedy The Horse's Mouth. And while Spencer Tracy was nominated as Best Actor for The Old Man and the Sea this year, he was neglected for another role as political boss Frank Skeffington in John Ford's political drama The Last Hurrah (completely unnominated). And Rock Hudson was un-nominated for his performance as Burke Devlin in Douglas Sirk's excellent melodrama adapted from a Faulkner novel, The Tarnished Angels (also unnominated).
Two actresses who should have been included in the list of Best Actress nominees were Ingrid Bergman for her role as American missionary-to-China Gladys Aylward in nominated director Mark Robson's The Inn of the Sixth Happiness, and Kim Stanley in her debut film as a self-destructive film star in The Goddess. And one of the stars of the honored Gigi - Hermione Gingold - failed to be nominated for her supporting role as a mischievous witch in Bell, Book and Candle - a film that also starred James Stewart and Kim Novak, the major characters in Hitchcock's Vertigo.