Background
---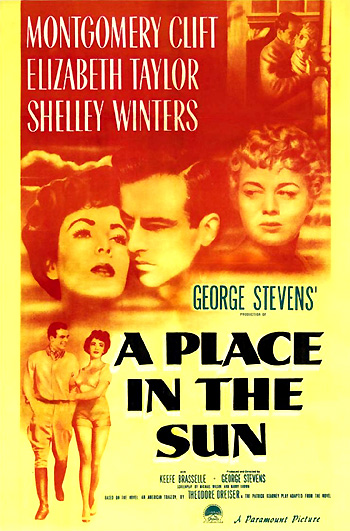 A Place in the Sun (1951) is a powerful social drama and romance from director/producer George Stevens. The black and white film plays on the audience's emotions, by involving and drawing them into complicity with the tragic resolution. Methodically, the film is stylistically dark, almost with film-noirish qualities, yet it has some of the most romantic and passionate sequences ever filmed - between the radiant debutante, 18 year-old Elizabeth Taylor (in her first adult role) and 29 year-old Montgomery Clift, who stars as a laboring wage slave.
Its theme emphasizes the wide gap between the frivolous rich and the downtrodden, outsider poor, and how fate heavy-handedly can control life. An aspiring, upwardly-mobile, lonely working-class protagonist with evangelical roots is obsessed with getting ahead and 'making it.' He mixes with a different upper social class through a passionate romantic relationship with a beautiful rich girl, and begins to climb the social and professional ladder. But then he becomes victimized by his environment, circumstances, the society of the time, and the loss of his own morals when he impregnates a lowly, disenfranchised, clingy, and plain co-worker.
This first-rate melodramatic film is an adaptation of Theodore Dreiser's lengthy, best-selling 1925 novel, An American Tragedy, and it was also based on the Patrick Kearney play. [Note: Dreiser based his story upon the sensational Chester Gillette and Grace Brown 1906 murder case in the state of New York.] The early 50s film set in upstate New York, a period piece that reflects its times, was actually a remake of Josef von Sternberg's downbeat 1931 film (with the original title An American Tragedy), starring Sylvia Sidney, Phillips Holmes, and Frances Dee.
It has been noted that A Place in the Sun was the first of director Stevens' "American trilogy" of films - the other two films were the classic western Shane (1953) and epic Giant (1956).
The film was nominated for nine Academy Awards, and won six - Best Director (the first Oscar for Stevens), Best Screenplay (Michael Wilson and Harry Brown), Best B/W Cinematography (William Mellor), Best Dramatic Score, Best Film Editing, and Best B/W Costume Design (Edith Head). Its other three nominations were for Best Picture (it lost to An American in Paris (1951)), Best Actor (Montgomery Clift) and Best Actress (Shelley Winters).
Paramount Studios removed the name of actress Anne Revere (in the role of Mrs. Hannah Eastman, Montgomery Clift's Salvation Army mother) from the film's publicity, due to the fact that she had refused to testify and cooperate with the House Un-American Activities Committee (HUAC) - another victim of Hollywood's blacklist of 300 names. She would not reappear in another film until 1970's Tell Me That You Love Me, Junie Moon.
Plot Synopsis
---
The film begins with superimposed titles on an opening long shot of a highway with a hitchhiker - a poor, uneducated, quiet, aimless but ambitious and aspiring young man, George Eastman (Montgomery Clift). He is thumbing his way to the home of his rich Uncle Charles Eastman (Herbert Heyes), who owns a bathing-suit manufacturing factory - advertised in a billboard sign of a reclining, dark-haired bathing beauty on the beach: "It's an Eastman." A shiny sports car with a beautiful socialite at the wheel drives past. She flirtatiously honks, and then continues zooming by in her convertible - symbolic of the world of the privileged passing him by. The two images of luxury, pleasure, freedom and leisure (on the billboard and in the fancy automobile) already fill George's mind and he hungers and craves everything the females and their lifestyles represent.
With typical American dreams of success in his mind, he accepts a ride in a junk dealer's truck and arrives in the city, where he heads directly to the Eastman factory. Wearing a leather jacket and a white T-shirt, his entry is disallowed until he presents Charles Eastman's business card, on which is written: "George: Just give this to the man at the gate. C. E." At the office of the President, George is told that his uncle is at home. Because of his family connections, he is invited out to the Eastman mansion at 7 pm, while he sits admiring the many symbols of wealth in Mr. Eastman's large office - executive leather chair, richly-appointed wall paneling, and a check on the desk from Eastman Industries to the Collector of Internal Revenue for $100,000.
Before he arrives to visit with his relatives, he is considered a bit of an embarrassment to his wealthy, status-conscious aunt. Mrs. Louise Eastman (Kathryn Givney), son Earl (Keefe Brasselle) and daughter Marsha Eastman (Lois Chartand) express their concern about his unexpected visit and his midwestern, lower class, fundamentlist background (George was a bellhop in a Chicago hotel and his parents were "active in religious work" - probably mission workers):
Mr. Eastman: I ran into him in Chicago.
Marsha: Is he going to lead us in a prayer?
Mr. Eastman: Oh, he's not at all like Asa or his wife. He's very quiet, pleasant. Not much education but ambitious. He looks amazingly like Earl.
Earl: What's he do?
Mr. Eastman: He was the bellhop in my hotel.
Earl: Oh fine, I always wanted to look like a bellhop.
Mrs. Eastman: But Charles, why do you have to bring him on here?
Mr. Eastman: There's always a place at the plant for a boy like that.
Mrs. Eastman: But what are we going to do about him socially?
Earl: That's easy. We can all leave town.
Mr. Eastman (assuring): Well, you people don't have to take him up socially. He just wants to work and get ahead - that's all.
Revealing his social insecurity and awkwardness in his sumptuous surroundings, George arrives and walks through the long corridor into the living room - he wears a newly-purchased, $35 light-colored tweed suit that he had seen in a store window display. His uncle promises to arrange a job for him the next day at the bathing suit factory/mill with Earl.
A familiar car honk on the soundtrack announces the off-screen arrival of the convertible driver. A white-gowned debutante with a white fur stole named Angela Vickers (18 year old Elizabeth Taylor), the flirtatious, beautiful driver in the car in the opening scene, interrupts the conversation. Tardy and on her way to pick up Earl, she doesn't even notice the bashful and surprised George sitting in a high-backed chair:
Angela: Course I'm always late. It's part of my charm...Men are so disgustingly prompt. I think they do it just to put us women in a bad light.
The next day, George is led on a tour around the factory by Earl Eastman and warned about keeping the Eastman name unsullied. He is also expressly commanded to obey the company's 'no fraternization' rule - to dissociate sexual relations from the workplace - and to separate the laboring class from the executive/managerial top of the hierarchy:
Now you've got to be aware every minute, whatever your job is, that you're an Eastman. And you're expected to act accordingly....Oh, another thing, as you know this, nine out of ten Eastman employees are women. There's a company rule against any of us mixing socially with the girls who work here. My father asked me to particularly call this to your attention. That is a MUST.
He is assigned a menial job - one of the few men in a room crowded with female workers (and banner ads of shapely models in swim suits). He stacks and packs swim suit costumes at the end of the assembly line in his tweed suit, beginning clumsily but soon becoming more adept at his responsibilities. He proposes ways to increase the production and efficiency in the output of the assembly benches in a hand-written note/report to his uncle. But George is ignored by the social whirl of the Eastmans, and he leads a lonely, drab life - the metal gates to the Eastman mansion close on him one evening while a party is in progress.
At the movies one night, Ivan Moffat's production of Now and Forever, he happens to sit next to a fellow assembly line co-worker from his same social class - a frumpy, dowdy, plain-looking Alice Tripp (Shelley Winters), who disguises her pleasure in seeing him: "Small world." After the show ends, they talk about the prohibitive implications of his name:
Alice: You know what the girls would say if they saw me walking along like this with you - they'd say I was making up to the boss's nephew.
George: That's silly. I'm in the same boat as the rest of you.
Alice: If you're an Eastman, you're not in the same boat with anyone.
George: Well, I work along with you, don't I?
Alice: Oh sure. You know, pretty soon they'll move you up to a better job, and first thing, you know, you'll find yourself in the front office, and that's the last I'll ever see of Mr. George Eastman.
George: Who says that?
Alice: Oh, everybody. Everybody knows they put you in with us to learn the business.
George: I wouldn't be too sure of that.
She believes he was put in the lowly assembly area to learn the business and make his way up the management chain up to the front office. As he walks her home, they pass a reminder of George's past - a group of mission workers singing religious hymns to a bunch of bums on the street. He senses her loneliness like his own and compliments her about how she would look good in one of the Eastman swimsuits on one of her rare days off:
George: You lonely all of the time?
Alice: Not on weekdays.
George: How come? (He puts his arm tentatively around her shoulder)
Alice: Well, remember how we put swimsuits in boxes six days a week?
George: (He chuckles) Yeah. What about Sunday? Maybe then you put yourself in a swimsuit.
Alice: Not me.
George: Why? You don't look good in a swimsuit?
Alice: Sure I do. I can't swim.
George: You're kidding.
Alice: I never learned. I was even scared of the duck pond when I was a kid. We lived on a farm, a small one.
George: How come you came here?
Alice: Oh, we were poor. We needed the money. I came down here and got a job.
George: I'm glad.
Alice: Me too.
When they reach her rented room (with her "own private entrance"), he kisses her goodnight and asks to see her again:
Alice: Goodnight. (They shake hands.) My landlady is fierce. (George approaches and kisses her)
George: I've been wanting to do that for so long.
Alice: I did too.
George: Will we see each other again like this?
Alice: If you want.
George: When?
Alice: It's up to you. You got to be careful.
George: We can meet like tonight. Oh, the night has been wonderful. (They kiss again and again.)
Alice: I'd better go in now.
George: Don't go. Please don't go. (She looks at him through her open window.)
George's disastrous mistake is that he becomes illicitly involved with Alice - a fellow factory worker. Breaking the explicit company rule, they continue to date to combat mutual loneliness. He also maintains his feelings for the rich girl Angela, who often sits outside the factory in her open convertible and catches Alice's jealous and nagging notice: "It's better for you than running around with those Eastmans and their bunch and all those rich girls that have nothing to do."
One night, caught necking by the police in an open convertible in a deserted woodsy area, they return in the rain to her place. Although Alice informs him that visitors are not allowed in by Mrs. Roberts (Mary Kent) - the landlady, they begin dancing inside to music, emanating from an illuminated radio sitting on the open window sill. The camera slowly freezes on the radio and dissolves to an early morning rooster's crowing with the same shot of the window as George departs - the radio plays static. [The shot of the changing window, seen both at night and the next morning, was deliberately filmed to avoid the obvious - and the censors. Off-screen, George spent the night and had sex with her, contravening the laws of society and the factory - with disastrous consequences that ultimately lead to his downfall.] A loud factory whistle blows to signal the start of a new day.
During an inspection that morning, Charles notices his nephew in the packaging assembly line area, and decides: "This is no place for the boy...I don't think it would hurt to give that boy another position." Charles promises to give George more responsibility with a promotion: "I'm going to move you up...You've earned it." George is invited to a party at the Eastman mansion on the 15th of the next month. Rootless and drifting, George begins to feel like somebody after finding some direction in his life. But he has been brought into a lifestyle and social status that he could not have had without his uncle's assistance. Alice overhears the invitation, and comments that she is planning a party for George that same evening - the date of his birthday.
Alice: Next month, on the 15th, that's your birthday. I was planning on our little party.
George: Oh sure, honey. I'll just be over at the old man's for a little while. Pay my respects. Then I'll be over.
Alice: You'd better be.