1964
The winner is listed first, in CAPITAL letters.
Actor:
REX HARRISON in "My Fair Lady", Richard Burton in "Becket", Peter O'Toole in "Becket", Anthony Quinn in "Zorba the Greek", Peter Sellers in "Dr. Strangelove or: How I Learned To Stop Worrying..."
Actress:
JULIE ANDREWS in "Mary Poppins", Anne Bancroft in "The Pumpkin Eater", Sophia Loren in "Marriage Italian Style", Debbie Reynolds in "The Unsinkable Molly Brown", Kim Stanley in "Seance on a Wet Afternoon"
Supporting Actor:
PETER USTINOV in "Topkapi", John Gielgud in "Becket", Stanley Holloway in "My Fair Lady", Edmond O'Brien in "Seven Days in May", Lee Tracy in "The Best Man"
Supporting Actress:
LILA KEDROVA in "Zorba the Greek", Gladys Cooper in "My Fair Lady", Edith Evans in "The Chalk Garden", Grayson Hall in "The Night of the Iguana", Agnes Moorehead in "Hush...Hush, Sweet Charlotte"
Director:
GEORGE CUKOR for "My Fair Lady", Michael Cacoyannis for "Zorba the Greek", Peter Glenville for "Becket", Stanley Kubrick for "Dr. Strangelove or: How I Learned To Stop Worrying...", Robert Stevenson for "Mary Poppins"
---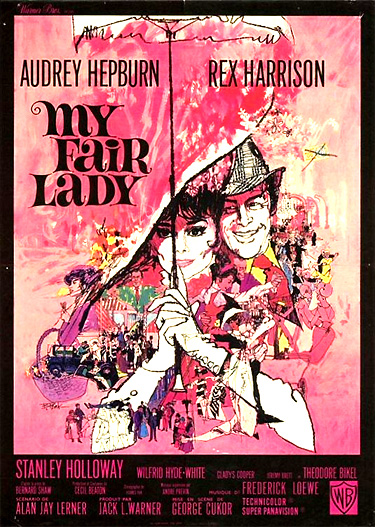 The Best Picture winner in 1964, Warner Bros.' and director George Cukor's My Fair Lady, was about the transformative training of a rough-speaking flower girl into a lady. The enchanting musical had run for many years on the stage (in both NYC and London). Rex Harrison was called upon to bring his marvelous characterization of perfectionist Svengali phonetics Professor Higgins to the screen.
My Fair Lady emerged as the overall winner with eight Oscars: Best Picture, Best Actor, Best Director, Best Adapted Musical Score, Best Costume Design, Best Cinematography, Best Art Direction, and Best Sound. It was Warner Bros.' first long-overdue Best Picture Oscar win since Casablanca (1943), 21 years earlier.
Its win involved an upset and turnaround, however. British-born unknown screen star Julie Andrews, long-time Broadway star in Lerner and Loewe's musical version of George Bernard Shaw's Pygmalion, did not appear in the Warner Bros. film version. Andrews was replaced in the lead starring role of cockney flower girl Eliza Doolittle by non-singing film star Audrey Hepburn (whose singing voice was dubbed by Marni Nixon - a voice also used for Deborah Kerr in The King and I (1956) and for the un-nominated Natalie Wood in West Side Story (1961)).
While Hepburn wasn't nominated for a Best Actress award for her role, Julie Andrews was cast in the title role (in her debut film) and nominated as Best Actress for Disney's live-action and cartoon blend and Robert Stevenson's director-nominated Mary Poppins, as a no-nonsense adventurous nanny. This popular film condensed several Poppins books by P. L. Travers and told the story of an English nanny who takes charge of the unsettled household of a proper London banker.
My Fair Lady experienced serious rivalry and contention with the sugary Mary Poppins. [Note: The two musicals nominated for Best Picture had ulie Andrews in common.] Each film had an impressive number of nominations: Mary Poppins had 13 and My Fair Lady had 12. Mary Poppins ended up with five Oscar wins: Best Actress (Julie Andrews), Best Original Song ("Chim, Chim Cher-ee"), Best Music Score (substantially Original), Best Film Editing, and Best Visual Effects.
All five directors of the Best Picture nominees were also nominated as Best Director, the second time in Oscar history. (It also happened in 1957 and 1981.) The Oscar for Best Director (for My Fair Lady) was also a first-time, long-overdue win for veteran, 65 year-old film-maker George Cukor. [With his win, Cukor became the oldest person to receive a Best Director award up to that time. He has recently been surpassed by 69 year-old Roman Polanski's win for The Pianist (2002). In his prodigious career, often known as "a woman's director," Cukor had directed such outstanding films as A Bill of Divorcement (1932), Little Women (1933), David Copperfield (1935), Camille (1936), The Philadelphia Story (1940), Gaslight (1944), A Double Life (1947), Adam's Rib (1949), Born Yesterday (1950), and A Star Is Born (1954).]
The other directors nominated for exceptional films in 1964 included:
Michael Cacoyannis for the film adaptation of Nikos Kazantzakis' best-selling novel Zorba the Greek (with seven nominations and three wins - Best Supporting Actress, Best B/W Cinematography, and Best B/W Art Direction/Set Decoration)
Robert Stevenson for the colorful, fanciful musical Mary Poppins
Peter Glenville for the historical epic based on Jean Anouilh's play, Becket (with twelve nominations and only one win - Best Adapted Screenplay (Edward Anhalt)) about the conflict and decline of the 'friendship' between the monarchy and church represented by King Henry II of England and the Archbishop of Canterbury Thomas Becket
Stanley Kubrick for his great black comedy masterpiece about a doomsday scenario, Dr. Strangelove or: How I Learned To Stop Worrying... (with four nominations and no wins). [Kubrick's satirical film has the distinction of having the longest title among all Best Picture nominees in Academy history.]
For the first time in Academy history, all four of the acting awards were won by non-American, foreign-born actors - three Britons (Rex Harrison, Julie Andrews and Peter Ustinov) and Russian-born actress Lila Kedrova (who lived in France). All five Best Actor nominees were born outside of the US (and four were British). [Note: This occurred a second time in 2007 when all four of the performance Oscar winners were non-Americans.]
The winner of the Best Actor award was Rex Harrison re-creating his Broadway role as crusty, crisp-speaking, and irascible linguistics Professor Henry Higgins who 'talk-sings' his way through musical numbers and lyrics in My Fair Lady. His goal in the film is to win the wager that he can turn Cockney guttersnipe flowergirl Eliza Doolittle (Hepburn) into a lady. [This was Harrison's second and last Oscar nomination - he had been nominated the previous year for playing Caesar in Cleopatra. He had been in distinguished, yet un-nominated films including Major Barbara (1941), Blithe Spirit (1945), Anna and the King of Siam (1946), The Ghost and Mrs. Muir (1947), The Foxes of Harrow (1947), and Unfaithfully Yours (1948).] His win set the stage for his appearance as the kindly English veterinarian in Dr. Doolittle (1967).
Two of the Best Actor nominees were co-stars in an acting tour de force in Becket - they played life-long friends:
Peter O'Toole (with his second of eight career nominations) as King Henry II [Note: O'Toole took on the role of Henry II a second time in The Lion in Winter (1968), for which he was also nominated (and lost) -- he became one of the few actors nominated twice for the same role]
Richard Burton (with his third of seven unsuccessful career nominations) in the title role as rival Thomas Becket/Archbishop of Canterbury. [This was the only instance that O'Toole and Burton acted together - ironically, they were also the only two actors with the most un-successful nominations.]
The other two Best Actor nominees were:
Mexican-born Anthony Quinn (with his fourth and final career Oscar nomination - his second Best Actor nomination) was another nominee for his 'signature' role as the lusty, lively, flamboyant itinerant Greek laborer of Zorba the Greek
Peter Sellers (with the first of his two unsuccessful career nominations), at the height of his career was nominated for his triple role (U.S. President Muffley, heavily-accented ex-Nazi?/German scientist Dr. Strangelove, and British RAF Group Capt. Lionel Mandrake) in Kubrick's anti-nuclear Dr. Strangelove or: How I Learned To Stop Worrying....
Ironically, Julie Andrews (Rex Harrison's 'fair lady' on Broadway for more than three years in a role she had originated on stage) won the Best Actress award in her debut film - in the title role of Mary Poppins as the 1910 magical, flying English nanny Mary (who travels through the air with an opened umbrella) from P. L. Travers' classic children's books. She performed her own songs in the film, in contrast to Hepburn's role in My Fair Lady. [It was Andrews' first nomination and sole win among three career nominations. She would be nominated the next year for playing another governess in The Sound of Music (1965), and later for Victor/Victoria (1982)].
The other Best Actress nominees were:
Anne Bancroft (with her second of five career nominations) as British mother and housewife Jo Armitage with eight children who has an unfaithful third husband in a British film adaptation of Penelope Mortimer's novel (and a Harold Pinter screenplay) The Pumpkin Eater (the film's sole nomination)
Sophia Loren (with her second and last career nomination) as Filumena Marturano - co-star Marcello Mastroianni's mistress in director Vittorio De Sica's Marriage Italian Style (the film's sole nomination although the film itself was nominated in the Best Foreign Language Film category in 1965)
Debbie Reynolds (with her career's sole Oscar nomination!) in the title role of the celebrated Molly Brown - in MGM's version of the Broadway musical by director Charles Walters, The Unsinkable Molly Brown (with six nominations and no wins)
Kim Stanley (with her first of two unsuccessful career nominations) as crazed psychic-medium Myra Savage in the eerie British film Seance on a Wet Afternoon (the film's sole nomination)
Two co-stars in My Fair Lady were nominated for supporting acting roles:
British stage actor Stanley Holloway (with his sole career nomination) as Eliza's father Alfred P. Doolittle
Gladys Cooper (with her third of three unsuccessful career nominations) as Mrs. Higgins (Rex Harrison's mother)
The Best Supporting Actor award went to Peter Ustinov (his second Best Supporting Actor Oscar) in the sly crime caper-comedy by director Jules Dassin, Topkapi (the film's sole nomination). He played sniveling Arthur Simpson - a clumsy, dim-witted, small-time con-artist/snoop/tour guide afraid of his own shadow, hired by the Turkish police to report on the plans of jewel thieves - led by sexy Melina Mercouri - who are interested in the treasures of the fortified Topkapi Palace Museum. [Ustinov was nominated as Best Supporting Actor three times in his career - he earlier lost for Quo Vadis? (1951) and won for Spartacus (1960).]
The other supporting actor nominees were:
John Gielgud (with his first of two career nominations) who portrayed King Louis VII of France in Becket
Edmond O'Brien (with his second of two career nominations) for his role as loyal Senator Raymond Clark in John Frankenheimer's political thriller Seven Days in May (one of the film's two unsuccessful nominations)
Lee Tracy (with his sole career nomination in his last screen performance) for his performance as Art Hockstader - a dying US President in Franklin Schaffner's direction of Gore Vidal's politically-satirical script for The Best Man (the film's sole nomination)
The Best Supporting Actress winner was French-Russian Lila Kedrova (with her sole nomination in her first English-language film) as aging, disreputable French courtesan Mme. Hortense facing destitution in Zorba the Greek.
The other supporting actress nominees were:
Dame Edith Evans (with her second of three unsuccessful nominations) as Mrs. St. Maugham - an elderly matriarch in director Ronald Neame's film of Enid Bagnold's play, The Chalk Garden (the film's sole nomination)
Grayson Hall (with her sole nomination) as schoolteacher Judith Fellowes in a film adaptation of Tennessee Williams' play and director John Huston's film, The Night of the Iguana (with four nominations and one win - Best B/W Costume Design)
Agnes Moorehead (with her fourth and last unsuccessful career nomination) as Bette Davis' spooky, slovenly maid Velma in director Robert Aldrich's campy Gothic horror thriller Hush...Hush, Sweet Charlotte (with seven nominations and no wins)
William Tuttle received the first Honorary Makeup award for 7 Faces of Dr. Lao. [It would be 17 years until the Academy would introduce a regular competitive category for such achievements.]
Oscar Snubs and Omissions:
One of the most obvious, but explainable omissions in the nominees of the year was Audrey Hepburn as Eliza Doolittle in the Oscar-sweeping My Fair Lady. For one thing, her singing performance was dubbed by Marni Nixon, and Hepburn's casting replaced Julie Andrews - the popular stage actress from the original play. And From Russia With Love (1963), (premiering in London in late 1963 but opening in the US in 1964) and one of the best in the James Bond series, was denied a nomination for its director Terence Young and for its lead action figure Sean Connery as agent 007. Director Guy Hamilton's Goldfinger won the Best Sound Effects Oscar for its sole nomination.
The Academy made some questionable choices in regards to another musical in 1964 - A Hard Day's Night, by denying Richard Lester a Best Director nomination, and instead presenting the film with a Best Story and Screenplay nomination (for Alun Owen) and a Best Score nomination (for George Martin). None of the Beatles' songs in the film were nominated ("And I Love Her", "Can't Buy Me Love", "I Should Have Known Better", "Tell Me Why", "This Boy" and "A Hard Day's Night"), and instead the Academy chose a group of mostly inferior songs for the category of Best Song: ("Dear Heart" from Dear Heart, "Hush...Hush, Sweet Charlotte" from Hush...Hush Sweet Charlotte, "My Kind of Town" from Robin and the Seven Hoods, "Where Love Has Gone" from Where Love Has Gone, and the ultimate winner "Chim Chim Cher-ee" from Mary Poppins). - this winning song wasn't even the most memorable of the songs from that film -- that honor belonged to "Supercalifragilisticexpialidocius", generally considered the most representative song from the film. [The Beatles wouldn't win a Best Original Song Score Oscar until after their breakup, for Let It Be (1970).]
Although Dr. Strangelove or: How I Learned To Stop Worrying... received five nominations (all unsuccessful), three of its best performances were un-nominated:
Sterling Hayden as crazed right-wing Gen. Jack D. Ripper
George C. Scott as militaristic Gen. Buck Turgidson
Slim Pickens as Maj. T.J. "King" Kong - the bomber pilot who rides an unleashed nuclear bomb like a bucking bronco
The four-time nominated Night of the Iguana lacked a Best Picture nomination, and there were two entirely overlooked films: Joseph Losey's ground-breaking film The Servant (with Dirk Bogarde as Hugo Barrett), and Blake Edwards' comedy A Shot in the Dark (with another memorable performance by Peter Sellers). Peter Sellers was also un-nominated for his role as the title character, an eccentric concert pianist, in The World of Henry Orient.
In addition, all of these performances were bypassed in 1964! - David Tomlinson as Mr. Banks in the oft-nominated Mary Poppins, Tony Randall's multi-faceted roles in 7 Faces of Dr. Lao, Joan Crawford as an aging, suspected ax-murderer in Strait-Jacket, Sean Connery as James Bond in the third film of the series - Goldfinger, Wilfrid Brambell as Paul McCartney's "clean old man" grandfather in A Hard Day's Night, and Peter Sellers as inept Inspector Jacques Clouseau in the first of Blake Edwards' highly successful series The Pink Panther.