Dr. No (1962)
d. Terence Young, 110 minutes
Opening Credits, Title Sequence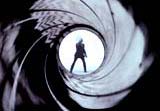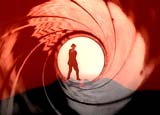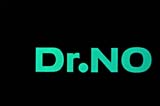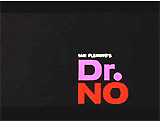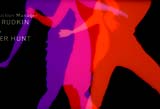 The sepia-toned gunbarrel sequence appeared first and then title credits followed immediately.
There was no pre-title credits action sequence (the only film in the series to not include one).
The gun barrel opening (with stuntman Bob Simmons) was used for the first three Bond films.
Gun-barrel Sequence: Designed by Maurice Binder
Main Title Sequence: Designed by Maurice Binder
Title Song: "James Bond Theme" (Monty Norman) and "Kingston Calypso" ("Three Blind Mice") (John Barry)
Film Plot Summary
See also Dr. No (1962): Illustrated Greatest Scenes and Movie Moments
In Kingston, Jamaica, British government intelligence agent John Strangways (Timothy Moxon), the section chief for Station J (Jamaica) was ambushed and killed (# 1 death) by three assassins ("three blind mice") outside the Queens Club. Strangways' secretary Mary Prescott (Dolores Keator) was also killed (# 2 death) while radio-contacting MI6 (Military Intelligence 6) headquarters. The killers stole Strangways' files on Crab Key and Doctor No.
In London, England, the British government summoned Agent 007 James Bond (Sean Connery), who was interrupted at gaming tables at London's Le Cercle Club, where he had just been introduced to Chemin de Fer card-player Sylvia Trench (Eunice Gayson) (the classic entrance line: "Bond, James Bond") before soundly beating her. When he was summoned away from the gaming table, she was sorry to see him leave: "Sorry you have to go, just as things were getting interesting." He asked his defeated opponent, "Do you play any other games - I mean, besides chemin de fer?" She replied: "Golf, amongst other things" - and he proposed meeting her the next afternoon. Bond was briefed by head of British Secret Service "M" (Bernard Lee) at headquarters. There were reports of interference ("toppling" - throwing off the gyroscopic controls of a missile with a radio beam) with Cape Canaveral rockets, originating from the Jamaica area. The American CIA had already sent Felix Leiter (Jack Lord) to pursue leads.
Afterwards, Bond entered his own luxury apartment, where he realized someone had gained entry. Wary, he held a gun on the sexy Sylvia, who surprised him. She was only wearing Bond's own dress shirt ("something more comfortable") and her high-heeled shoes - and she was practicing her putting golf strokes on the rug. She explained how she had accepted his invitation for dinner the next day, although earlier than expected. She seductively convinced Bond, with a kiss, to not leave immediately for his mission in Jamaica ("When did you say you had to leave?"). Bond agreed to leave "almost immediately" after love-making with her (# 1 tryst).
Bond took a plane to Jamaica to investigate the Strangways situation, and to discover if there was any linkage to the missile issue. At the Kingston airport, Bond was watched and followed by a man in sunglasses (later revealed to be Leiter) and a female photographer "Freelance" (Marguerite LeWars), one of Dr. No's operatives, who snapped pictures. He was met by chauffeur Mr. Jones (Reginald Carter) to take him to Government House in a 1957 Chevy convertible, although the man was an impersonator - another Dr. No henchman. On a side road after a brief fist-fight, Jones committed suicide (# 3 death, # 1 Bond kill) with a cyanide-laced cigarette when Bond demanded information about his employer. At Strangways' place, Bond found a receipt from metallurgist Professor R.J. Dent's laboratory (for analysis of a rock sample), and a picture of Strangways with a local fisherman/guide, Cayman Islander Quarrel (John Kitzmuller). That evening at the club, Bond interviewed the final people to see Strangways alive during his bridge game - metallurgist Professor R.J. Dent (Anthony Dawson), ex-Army General Potter, and British foreign secretary Comm. Pleydell-Smith (Louis Blaazer). Strangways was reported to have recently taken numerous fishing trips with Quarrel (they were mostly looking around nearby off-shore islands for mineral samples, sand, and water).
The next day at a Caribbean dock and at a beach-front bar, Bond spoke to an uncooperative Quarrel and found himself jumped by Quarrel and the bar-tender Puss-Fellar in a backroom. CIA agent Leiter broke up the fight, and admitted the two worked for him. As they talked in the bar, "Freelance" attempted to take more pictures - when she refused to talk, Bond confiscated her film and let her go. Strangways had found some rock samples (sent to Dent's lab) on Crab Key, and Bond decided it might be where radio-jamming of American rockets was occurring. Crab Key was owned by villainous, reclusive and menacing half-Chinese Dr. Julius No (Joseph Wiseman) (with metal prosthetic hands), who operated a bauxite mine (with a "low-scan C-H radar setup") heavily guarded by armed security, and it was known that "none of the local fishermen will go near the place."
The following morning, Bond spoke to Professor Dent about Strangways' rock sample for analysis, and was told the mineral was "low-grade iron pyrites." Dent denied it was geologically possible for them to have come from Crab Key. Immediately afterwards, Dent took a yacht to Crab Key. In a room with a large skylight, a single chair and table (with a cage on it containing a venomous tarantula), Dr. No's voice chastised Dent for an unauthorized daytime visit, and for not killing Bond. Dent left with the cage and the simple command: "Tonight." In his room that evening, Bond noticed his briefcase and closet had been searched. That night as he slept, the tarantula crawled up his arm, but he was able to bash it with his shoe.
The next day, Bond learned from Pleydell-Smith's Government House suspicious secretary Miss Taro (Zena Marshall) that Strangways had checked out two official files (on Doctor No and Crab Key), now missing. Bond received a package from London, a Geiger counter, which picked up signs of radioactivity from the bottom of Quarrel's boat where the Crab Key rocks were placed (contrary to Dent's analysis). He caught Miss Taro listening in at a keyhole - a suspicious sign that she was secretly working for Dr. No.
On his way to a date that afternoon with Miss Taro at her mountain apartment, Bond (in a rented blue Sunbeam Tiger convertible) narrowly escaped death when a large black hearse pursued and attempted to steer him off the road. He escaped under a crane and forced the murderers (the "Three Blind Mice") off a cliff and their car crashed in flames ("I think they were on their way to a funeral") (# 4-6 deaths, # 2-4 Bond kills). Miss Taro was speechless when Bond arrived unharmed, and told her: "I thought I was invited up here to admire the view." After she took a phone call from someone wanting to keep Bond there, he seduced Miss Taro (# 2 tryst). Then he had her arrested after ordering a 'taxi' (the local police authorities) - she spit in Bond's face as they drove off. He set a trap, making the bed look like there was a figure sleeping there. He sat in a chair and awaited the arrival of an assassin. After Professor Dent had emptied his Smith-Wesson silencer-gun into the bed in an attempted assassination, Bond noted: "You've had your six," and killed Professor Dent (# 7 death, # 5 Bond kill) in cold-blood with two bullets from his Walther PPK.
Quarrel and Bond set off in a small canoe from Kingston harbor and arrived that evening at Crab Key, where the next morning in a small cove, they encountered shell-searching, carefree bikinied Honey Ryder (Ursula Andress) emerging Venus-like from the water, singing the calypso song "Underneath the Mango Tree." Honey asked: "What are you doing here? Looking for shells?" Bond (glibly) replied: "No, I'm just looking." She regularly trespassed on Crab Key to collect shells to sell to tourists. They evaded a high-powered security boat that fired bullets at the beach area, and then threatened to return with dogs. Honey led them to a hiding place, where they avoided another foot patrol by breathing through under-water tubes, although Bond had to knife one of the guards in the back (# 8 death, # 6 Bond kill). Honey believed Dr. No had killed her marine zoologist father - he had disappeared while exploring on Crab Key. She had lived all over the world (the Philippines, Bali, Hawaii - "anywhere there were shells") with her father. She didn't go to school, but resourcefully learned everything as a child by reading an encyclopedia ("I started at 'A' when I was eight, and now I've reached 'T'. I bet I know a lot more things than you do!").
In the mangrove swamps, they discovered the "Dragon" to be a flame-throwing, diesel-engined armored tank-vehicle, which incinerated Quarrel alive (# 9 death) before the two were taken captive by the radiation-suited tank crew. Within Dr. No's lair at his private island, Bond and Honey were stripped (Bond: "Do the girl first") and then showered in a decontamination chamber to be scrubbed clean of radiation. Afterwards, they were ushered by Sister Lily (Yvonne Shima) and Sister Rose (Michel Mok) to adjoining hotel suite rooms to dress. A drug-laced coffee drink knocked them out, after which they awakened, dressed formally, and descended in an elevator for a dinner with gracious Dr. No in his private study next to his giant aquarium with a huge glass observation panel.
The villain explained how he was an unwanted child (of a German missionary and a Chinese girl) who worked as treasurer for the Tongs, a powerful Chinese Mafia criminal family. After stealing $10 million in gold from them, he built atomic-powered Crab Key and its lair. He was a member of SPECTRE (SPecial Executive for Counter-intelligence, Terrorism, Revenge, Extortion). He dreamed of "world domination" by interfering with and sabotaging American space rockets (and their launches) with an atomic-powered, "toppling" radio beam.
Dr. No ordered Honey to be taken away by guards for their amusement, and Bond - attempting to defend her - was subdued, beaten up and imprisoned. He escaped from his cell through an electrified ventilation grill and made his way down a shaft to the nuclear reactor's control room. After an attempt to drown him in the air-duct tunnel, Bond stole a hazard-suit from a strangled technician (# 10 death, # 7 Bond kill) and then sabotaged one of the nuclear reactors by overheating it, to prevent harm to the Project Mercury missile launch from Cape Canaveral.
In the film's climax, Dr. No and Bond fought one-on-one on a descending gantry above the reactor's cooling tank of boiling radioactive water, where Dr. No was submerged and met his fate (# 11 death, # 8 Bond kill), drowning in the vat. His metallic prosthetic hands could not grip the steel legs of the lowered gantry. As the base was self-destructing, and Dr. No's men were evacuating, Bond rescued strapped-down Honey from a flooding sluice-gate chamber, and they safely escaped in one of Dr. No's boats - that conveniently ran out of fuel and sent them drifting. Soon, they were given a tow back to shore by CIA ally Felix Leiter on a rescue boat, although Bond released the tow-line to let them go adrift and continue kissing and embracing (# 3 tryst).
Film Notables (Awards, Facts, etc.)
The James Bond franchise is the longest-running one in film history.
The first of six films starred Sean Connery as James Bond. And this was the first of fourteen films to feature Lois Maxwell as M's secretary Miss Moneypenny.
With the series' first gun-barrel opening credits sequence, and composer Monty Norman's 007 theme music. The film also marked the first appearance of Bond's handgun weapon of choice - a 7.6 mm Walther PPK.
Though this was the first James Bond film produced by MGM for the big screen, it was not the first Bond film. The first on-screen appearance of James Bond (portrayed by Barry Nelson) was in a 1954 made-for-TV adaptation of Ian Fleming's book Casino Royale.
This film was the only Bond film to not include some variation of "James Bond will return" in the closing credits.
Dr. No (with a penchant for unusual murders, committed by "three blind mice" assassins, and a deadly tarantula) was the first villain to die in the Bond film franchise.
With a production budget of about $1.2 million, and gross revenue of $16 million (domestic) and $60 million (worldwide).
Set-pieces: the destruction of Dr. No's base and his demise.
Bond Villains: The Three Blind Mice, Photographer (Margaret LeWars), Mr. Jones (Reginald Carter), Professor R. J. Dent (Anthony Dawson), Miss Taro (Zena Marshall), Dr. Julius No (Joseph Wiseman)
Bond Girls: Sylvia Trench (Eunice Gayson), Honey Ryder (Ursula Andress)
Number of Love-Making Encounters: 3
Film Locales: Kingston, Jamaica, London, England, Crab Key (fictional island off Jamaica)
Gadgets: self-destructive bag/briefcase, 7.65 mm Walther PPK with Brausch silencer, cyanide-laced cigarette, Geiger counter
Vehicles: 1957 Chevy convertible, blue Sunbeam Tiger (convertible), Dr. No's "Dragon" Tank (fire-breathing, diesel-propelled, with headlights)
Number of Deaths (Bond Kills): 11 (8)