1972
The winner is listed first, in CAPITAL letters.
Actor:
MARLON BRANDO in "The Godfather", Michael Caine in "Sleuth", Laurence Olivier in "Sleuth", Peter O'Toole in "The Ruling Class", Paul Winfield in "Sounder"
Actress:
LIZA MINNELLI in "Cabaret", Diana Ross in "Lady Sings The Blues", Maggie Smith in "Travels With My Aunt", Cicely Tyson in "Sounder", Liv Ullmann in "The Emigrants"
Supporting Actor:
JOEL GREY in "Cabaret", Eddie Albert in "The Heartbreak Kid", James Caan in "The Godfather", Robert Duvall in "The Godfather", Al Pacino in "The Godfather"
Supporting Actress:
EILEEN HECKART in "Butterflies Are Free", Jeannie Berlin in "The Heartbreak Kid", Geraldine Page in "Pete 'n' Tillie", Susan Tyrrell in "Fat City", Shelley Winters in "The Poseidon Adventure"
Director:
BOB FOSSE for "Cabaret", John Boorman for "Deliverance", Francis Ford Coppola for "The Godfather", Joseph L. Mankiewicz for "Sleuth", Jan Troell for "The Emigrants"
---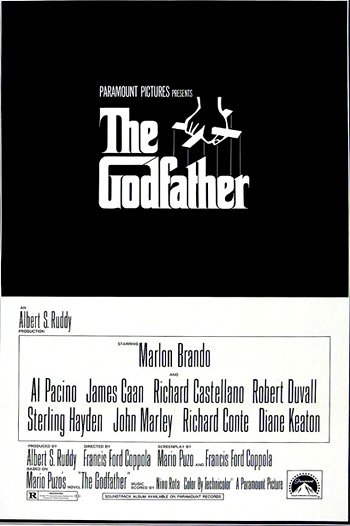 There was a tremendous incongruity in the 1972 awards between the top two, front-running films:
The Godfather (with ten nominations and only three wins) - Best Picture for producer Albert S. Ruddy, Best Actor (Marlon Brando), and Best Screenplay Adaptation (for Mario Puzo and Francis Ford Coppola's brilliant re-working of Puzo's novel). Paramount's The Godfather told the epic story of the patriarchal, aging figurehead of a 'Mafia' dynasty who also served as 'godfather' to the New York Sicilian immigrants in the late 1940s - one of The Godfather's eleven nominations was removed, Best Music (Original Dramatic Score), when it was determined that Nino Rota's score had been used for a previous film


Cabaret (with ten nominations and eight wins) - this film won many more Oscars - but not Best Picture. Cabaret's Oscars were for Best Director (Bob Fosse), Best Actress (Minnelli), Best Supporting Actor (Grey), Best Cinematography, Best Art Direction, Best Editing, Best Sound, and Best Scoring. It was a real surprise that The Godfather lost both the Best Director and Best Supporting Actor awards to Cabaret

[Cabaret set a record - it had the most Oscar wins of any film without winning the Best Picture award. A Place in the Sun (1951) and Star Wars (1977) hold second place with six Oscar wins while failing to win Best Picture.]

The classic musical-drama that revised the Broadway stage musical Cabaret (based on John Kander's hit musical taken from the Christopher Isherwood stories) was set in 1931 Germany - it used the cabaret night-club in Berlin as a cinematic device to tell the story of two young lovers and the political horrors of the encroaching, surrounding Nazi regime in the pre-World War II era
The other three Best Picture nominees included:
the English-dubbed The Emigrants (with four nominations and no wins) - the sad tale of impoverished farmers leaving Sweden in the mid 1880s to come to Minnesota for the promise of a better life in America. [The film was also nominated for the Best Foreign Language Film award in 1971. It was the third non-English language film to be nominated for Best Picture. It also set a record - 1972 was the only year in which a film, The Emigrants (1972) (a Best Picture nominee) and its sequel, The New Land (1972) (Best Foreign Language film nominee) were both nominated]
director Martin Ritt's film of William Armstrong's adapted novel, Sounder (with four nominations and no wins) about the struggles of a rural, black sharecropper family in Depression-era Louisiana
the exciting action film based on James Dickey's novel, Deliverance (with the fewest number of nominations - only three - and no wins) about a horrific, holiday weekend canoe trip down a southern river for four civilized professional men from Atlanta, who discover primal fear and alienation - and most remembered for its "Dueling Banjos" sequence.
Four of the five directors of Best Picture nominees were also nominated for Best Director. The director of Best Picture-nominated Sounder was replaced by Joseph L. Mankiewicz who was nominated as director for Sleuth (with four nominations and no wins). Mankiewicz' last directed film, an adaptation of Anthony Shaffer's Tony-winning 1970 drama, was an intelligent, twisting, theatrical stage play/mystery and actor's showcase brought to the screen, a rivalry between a wealthy mystery novelist and his wife's hairdresser/lover, his romantic rival.
Dancer/choreographer/ and director Bob Fosse (with his first of three career nominations) won the Best Director Oscar (his only Best Director win) for his exquisitely-directed Cabaret - it was his second film as director following his first musical Sweet Charity (1969). His film updated the Kurt Weill-Brecht world of The Threepenny Opera (and Josef von Sternberg's The Blue Angel), as well as borrowed from Christopher Isherwood's Berlin Stories. [As an interesting sidenote, Bob Fosse would be nominated two more times as Best Director - in 1974 (for Lenny) and 1979 (for All That Jazz), and both times, Fosse found himself in direct competition against the same Best Director nominee Francis Ford Coppola (for The Godfather, Part II (1974) and Apocalypse Now (1979)).]
The other nominated directors were:
John Boorman (with his first of two unsuccessful nominations) for his gripping, breath-taking direction of the shockingly-violent Deliverance
Jan Troell for the first part of a two-part epic, The Emigrants (followed by The New Land)
Francis Ford Coppola, a representative of the next generation of movie-makers, failed to win in the Best Director category. His three-hour Best Picture epic The Godfather skillfully and artfully brought Mario Puzo's novel to life. One of the film's most oft-quoted lines was: "Luca Brazzi sleeps with the fishes" -- referring to the fate of one of the Corleone family enforcers. [The film soon became the biggest box-office hit of all time, even surpassing Gone With The Wind (1939) and The Sound of Music (1965).]
For the first time in Academy history, three of the Best Actor and Best Actress nominees were black performers - Paul Winfield and Cicely Tyson in Sounder, and Diana Ross in Lady Sings the Blues. (However, none of the trio of black 'actors' won.)
Marlon Brando (with his sixth of eight career nominations) won his second Best Actor Oscar for his definitive screen role as the aged 'Mafia' chief Don Vito Corleone in The Godfather. [Robert DeNiro won the Best Supporting Actor Oscar two years later for playing the same character in a different film - The Godfather, Part II (1974).] As George C. Scott had done two years earlier, Brando protested the on/off-screen treatment of Native Americans (through alleged American Indian spokeswoman and half native-American Sacheen Littlefeather, president of the Native American Affirmative Image Committee, who was dressed in feathers and buckskin) and declined the award. [Note: Her birth name was Maria Cruz, a B-film Mexican actress, and she had been named Miss American Vampire 1970. And she would soon afterwards appear in a pictorial in the October 1973 issue of Playboy Magazine.]
The two major cast members of Sleuth were also nominated for Best Actor awards:
Laurence Olivier (with his eighth of ten career nominations) as the snobbish detective-mystery novelist Andrew Wyke
Michael Caine (with his second nomination) as his game-playing adversary Milo Tindle - a hair-salon chain owner who is having an affair with Wyke's estranged wife. [This is only one of three instances when a film's entire cast has been nominated - the other instances were Who's Afraid of Virginia Woolf? (1966) and Give 'em Hell, Harry! (1975).]
Other Best Actor nominees were:
Peter O'Toole (with his fifth of eight career nominations) as Jack - the insane 14th Earl of Gurney who believes he's either Jesus Christ or Jack the Ripper in director Peter Medak's satirical, British tragi-comedy cult film, The Ruling Class (the film's sole nomination)
Paul Winfield (with his sole nomination) as black sharecropper Nathan Lee Morgan (Cicely Tyson's husband) who is sentenced to jail for stealing food for his family in Sounder
Liza Minnelli (with her second and last career nomination) in her fourth adult film role won the Best Actress award for her star-making role in Cabaret as the free-spirited ex-patriate American Sally Bowles - a wild, starry-eyed and 'divinely decadent' singer/dancer in the Kit Kat Club, made memorable with a black bowler, mascara, and suspenders. Some interpreted her win as 'compensation' for the many Oscar losses that her mother, Judy Garland, experienced.
The other Best Actress competitors included two black actresses (a first):
Cicely Tyson (with her sole nomination) as sharecropper Rebecca Morgan in Sounder
Diana Ross (with her sole nomination for her screen debut) as drug-addicted singing great Billie Holliday in director Sidney Furie's biopic Lady Sings the Blues (with five nominations and no wins)
Also nominated were Maggie Smith (with her third nomination) as overbearing Aunt Augusta who travels across Europe in George Cukor's screen version of Graham Greene's comedy novel Travels With My Aunt (with four nominations and one win - Best Costume Design), and Liv Ullmann (with her first of two unsuccessful career nominations) as Swedish emigrant Kristina in The Emigrants.
Both winners in the supporting categories were repeating their stage roles on the screen.
The winner in the Best Supporting Actor category was the sinister, lewd, sexually-ambiguous and androgynous, sardonic, untrustworthy and impish emcee Joel Grey (with his sole career nomination!) as 'The Master of Ceremonies' in Cabaret - a personification of the decadence and decay in Nazi Germany. [Grey was reprising his Broadway role in his first film in eleven years.]
Three of the co-stars of The Godfather were also nominated in the Best Supporting Actor category - all of them for the first time. [This was record-tying! - this was the first time since On The Waterfront (1954) that three performers from the same film were nominated together]:
James Caan (with his first and sole nomination in a break-through role) as the Don's hot-headed, sexy and volatile son Sonny Corleone
Al Pacino (with his first of eight career nominations and in his first major film) as intense Michael Corleone - the second son [Coincidentally, Pacino had more on-screen time than Best Actor winner Marlon Brando, and should have been nominated in the Best Actor category instead.]
Robert Duvall (with his first of five career nominations and in his break-through role) as Tom Hagen, the Corleone's family's lawyer
The last nominee was Eddie Albert (with his second and last unsuccessful career nomination) as Mr. Corcoran (Cybill Shepherd's father) in director Elaine May's version of Neil Simon's marital comedy, The Heartbreak Kid (with two nominations and no wins).
The Best Supporting Actress category included nominees in films which were not major prize winners. The winner in the category was veteran Broadway actress Eileen Heckart (with her second of two career nominations) who recreated her stage role as Mrs. Baker - the concerned, over-possessive, domineering and overbearing San Francisco mother of blind, song-writing son Eddie Albert (who opposes her son's relationship with funky, next-door-neighbor Goldie Hawn) in director Milton Katselas' Butterflies are Free (with three nominations and one win - Best Supporting Actress).
The other Best Supporting Actress nominees were:
Jeannie Berlin (with her sole nomination) as Lila Kolodny - the nice Jewish girl (director Elaine May's real-life daughter) who faces abandonment on her honeymoon by husband Charles Grodin in The Heartbreak Kid
Geraldine Page (with her fifth of eight career nominations) as Tillie's (Carol Burnett) bitchy friend and matchmaker Gertrude in director Martin Ritt's Pete 'n' Tillie (with two nominations and no wins)
Susan Tyrell (with her sole nomination) as Oma - the alcoholic, temporary girlfriend of a boxing contender (Stacey Keach) in director John Huston's Fat City (the film's sole nomination)
Shelley Winters (with her fourth and last career nomination) as Belle Rosen - a Jewish grandmother-passenger who saves Gene Hackman's life (and loses her own) in Irwin Allen's all-star cast/disaster film epic The Poseidon Adventure (with eight nominations and two wins - Best Song ('The Morning After') and a Special Achievement Award for Visual Effects!)
Never-nominated actor Edward G. Robinson (1893-1973) received an Honorary statuette posthumously, although he knew of the honor. He had died two months prior to the Oscars show. His widow, Jane Adler, accepted the award for Robinson ("who achieved greatness as a player, a patron of the arts and a dedicated citizen...in sum, a Renaissance man. From his friends in the industry he loves"), and read a speech that Robinson had written upon hearing of his honor a week before his death. He had experienced a memorable film career, in such films as Little Caesar (1930), Double Indemnity (1944), and Key Largo (1948).
The most unlikely Oscar nomination in the history of the Academy Awards was this year's Best Original Song nomination of "Ben" from the grade-Z horror film Ben about killer rats. The title song was sung by 14 year-old child star Michael Jackson during the end credits and for the Oscar ceremony. The song, which won the Golden Globe for Best Original Song, lost the Oscar to "The Morning After" from The Poseidon Adventure.
Charlie Chaplin's film Limelight (1952) , made twenty years earlier, finally became eligible for Oscar consideration this year. According to the Academy's rules at the time, a movie could not be considered for an Academy Award until it had played in Los Angeles. When Limelight finally played at a theater in Los Angeles in 1972, it became eligible for an award. Chaplin was co-awarded the film's sole Oscar nomination and win - for Best Original Dramatic Score. It was Chaplin's ONLY competitive Academy Award win.
Oscar Snubs and Omissions:
Like Edward G. Robinson, win-less Rosalind Russell (after four unsuccessful Best Actress nominations in 1942, 1946, 1947, and 1958), accepted the Hersholt Humanitarian Award. Cinematographer Gordon Willis' work on the Best Picture winner, The Godfather, was completely overlooked. His first career nomination occurred almost a decade later for Zelig (1983), and he wasn't honored again until the Academy nominated him a third time - for one of his weakest efforts, The Godfather, Part III (1990).
Writer/star Woody Allen's Play It Again, Sam and his performance as klutsy Bogey-film buff Allan Felix were overlooked in 1972, and so was Jon Voight's performance as Ed and Ned Beatty's role as chubby and assaulted Bobby Trippe in director John Boorman's exciting adventure film Deliverance. Never-nominated Howard Da Silva was ignored for his role as Benjamin Franklin in 1776, as were Alastair Sim (as apoplectic Bishop Lampton) and Arthur Lowe (as drinking butler Daniel Tucker) in The Ruling Class.
And two actresses were un-nominated in Peter Bogdanovich's screwball comedy What's Up, Doc?: Madeline Kahn in her film debut as Ryan O'Neal's fiancee Eunice Burns and Barbra Streisand as Judy Maxwell. Stacy Keach should have been nominated for his role as come-back boxer Billy Tully in director John Huston's Fat City. And Robert Redford missed out on nominations for his early roles as political candidate Bill McKay in Michael Ritchie's political satire The Candidate, and as a wilderness mountain man - the title role - in Sydney Pollack's Jeremiah Johnson.
First-rate Michael York was overlooked for his underappreciated role as bisexual British writer and Cambridge doctoral candidate Brian Roberts in Cabaret - a role that enhanced Liza Minnelli's Oscar-winning performance. John Cazale was denied nominations for his two roles as Fredo in The Godfather, and The Godfather, Part II (1974).