1973
The winner is listed first, in CAPITAL letters.
Actor:
JACK LEMMON in "Save the Tiger", Marlon Brando in "Last Tango in Paris", Jack Nicholson in "The Last Detail", Al Pacino in "Serpico", Robert Redford in "The Sting"
Actress:
GLENDA JACKSON in "A Touch of Class", Ellen Burstyn in "The Exorcist", Marsha Mason in "Cinderella Liberty", Barbra Streisand in "The Way We Were", Joanne Woodward in "Summer Wishes, Winter Dreams"
Supporting Actor:
JOHN HOUSEMAN in "The Paper Chase", Vincent Gardenia in "Bang the Drum Slowly", Jack Gilford in "Save the Tiger", Jason Miller in "The Exorcist", Randy Quaid in "The Last Detail"
Supporting Actress:
TATUM O'NEAL in "Paper Moon", Linda Blair in "The Exorcist", Candy Clark in "American Graffiti", Madeline Kahn in "Paper Moon", Sylvia Sidney in "Summer Wishes, Winter Dreams"
Director:
GEORGE ROY HILL for "The Sting", Ingmar Bergman for "Cries and Whispers", Bernardo Bertolucci for "Last Tango in Paris", William Friedkin for "The Exorcist", George Lucas for "American Graffiti"
---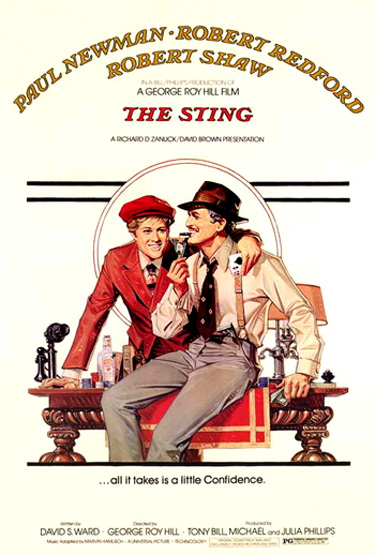 The 1973 Best Picture winner was a foregone conclusion - the entertaining, stylish, playful, charming, over-produced comedy-drama The Sting, that reunited the successful 'buddy-buddy' team of director George Roy Hill and stars Robert Redford and Paul Newman from a film four years earlier - the comic western Butch Cassidy and the Sundance Kid (1969). The film had an entertaining, good-natured twisting-plot about two con artists (Newman and Redford) in 1930s, Depression-and Prohibition-Era Chicago who joined together for revenge (with an off-track horse betting trick) against a big-time racketeer (Robert Shaw).
The Best Picture winner had ten nominations and seven wins - Best Picture, Best Director, Best Screenplay (David S. Ward), Best Art/Set Direction, Best Music Score Adaptation (Marvin Hamlisch, who adapted Scott Joplin's piano rag tunes), Best Film Editing, and Best Costume Design (Edith Head with her 8th and final costuming Oscar). Producer Julia Phillips was both the first woman nominated for and awarded a Best Picture Oscar. [Universal Studios waited a record number of years for this Best Picture win - 43 years, from All Quiet on the Western Front (1929/30) to 1973.]
The four other nominees for Best Picture included:
young director George Lucas' semi-autobiographical, low-budget, classic sleeper American Graffiti (with five nominations and no wins) - a 60's coming-of-age film about some recent high school graduates/teenagers cruising and meeting at Mel's Drive-in in Northern California. Many of its actors went on to future careers or appeared in the long-running, popular TV show Happy Days
William Friedkin's sensational The Exorcist (with ten nominations and only two wins, for Best Screenplay - William Peter Blatty's screenplay from his own novel, and for Best Sound), the only true horror film up to that time that had been nominated for Best Picture, with a disturbing mix of religion, devil possession, and grotesque special effects in a story of a malevolent spirit
Melvin Frank's light, witty sex/romantic comedy A Touch of Class (with five nominations and only one win) about the growing affair/relationship between a married American insurance adjustor (in London) and a divorcee with children
Ingmar Bergman's Swedish-language film Cries and Whispers (with five nominations and one win - Best Cinematography for Sven Nykvist), the haunting story of a woman dying of tuberculosis and her two sisters (one passionate and promiscuous and one sexually-repressed) gathered around her deathbed. [In the history of the awards, it was the fourth non-English language film to be nominated as Best Picture.]
The winner in the Best Director category was George Roy Hill for The Sting, a film that helped to revive interest in Scott Joplin's music, and solidified the trend toward 'buddy' films. Although Bernardo Bertolucci's controversial Last Tango in Paris (with two nominations and no wins) was not nominated for Best Picture in 1973, probably because of its sexually-explicit content, Bertolucci was nominated for Best Director of the film - about the short affair between a middle-aged American grieving about his wife's suicide and young 20 year-old French girl named Jeanne (unnominated actress Maria Schneider). [Bertolucci was nominated only twice for Best Director, winning with his second attempt for The Last Emperor (1987).]
The other three Best Director nominees included:
Swedish director/writer Ingmar Bergman (this was one of his six nominations, but he never won an Oscar) for the depressing film about death and anguish Cries and Whispers
Oscar-winner William Friedkin for the blockbuster hit The Exorcist (this was Friedkin's second nomination following his Oscar win for The French Connection (1971))
George Lucas' hallmark 70s film American Graffiti
The Best Actor winner was Jack Lemmon (with his fifth of eight career nominations and his sole Best Actor Oscar win) as moralizing Harry Stoner - a disillusioned, unlucky, middle-aged, Los Angeles garment manufacturer who faces financial ruin and becomes depressed when considering pimping, cooking the books, and arson as the way to collect insurance money in John G. Avildsen's box-office failure Save the Tiger (with three nominations and one win - Best Actor). [Lemmon's win, his second Oscar, made him the first recipient of both a Best Actor and a Best Supporting Actor Award (which he earlier had received for Mister Roberts (1955)).] Lemmon appeared to have won this year's award for a lesser film role in a mediocre film - it was a small compensation for losing in so many other years in comedic roles (ie., Some Like It Hot (1959), The Apartment (1960), Days of Wine and Roses (1962)), but his victory denied the award to more impressive roles by fellow actors/nominees.
Defeated Best Actor nominees included:
Marlon Brando (with his seventh of eight career nominations) as Paul, a tormented, middle-aged expatriate in Paris who engages in a sexual liaison with 20 year old Jeanne (Maria Schneider) in the landmark film Last Tango in Paris
Jack Nicholson (with his third nomination, and the first of three consecutive nominations in the 70s) as Buddusky SMI, a veteran naval petty officer who is transporting a young sailor to the brig for an eight-year sentence for petty theft in director Hal Ashby's The Last Detail (with three nominations and no wins)
Al Pacino (with his second of eight career nominations) as whistle-blowing, undercover New York police officer Frank Serpico in Sidney Lumet's masterful drama Serpico (with two nominations and no wins), a gritty tale about police corruption
Robert Redford (with his first - and sole acting nomination) as Johnny Hooker, a confidence trickster in 30s Chicago in The Sting
All of the actresses in the Best Actress category were accomplished actresses, but all of them appeared in flawed pictures. British actress Glenda Jackson (with her third of four career nominations) received the Best Actress award in a surprise victory - it was her second (and last) Best Actress Oscar in a short four year period for Melvin Frank's popular, screwball sex-war comedy A Touch of Class (with five nominations and one win - Best Actress). She won the award for her performance as divorcee Vicki Allessio who has an adulterous, fun (and short) affair with London insurance agent George Segal. [This was the first time that an actress won the Best Actress award for a major comedy role since Judy Holliday won the same award for Born Yesterday (1950), 23 years earlier.]
The other Best Actress nominees were:
Ellen Burstyn (with the second of six career nominations) as Mrs. MacNeil - the terrified, long-suffering mother of devil-possessed adolescent Linda Blair in The Exorcist
Marsha Mason (with her first of four unsuccessful nominations throughout the 70s and early 80s) in her pre-Neil Simon era as Maggie Paul - a feisty Seattle prostitute (with an eleven year old son) who is picked up by a sailor (James Caan) in director Mark Rydell's Cinderella Liberty (with three nominations and no wins)
Joanne Woodward (with her third of four career nominations) as Rita Walden - a depressed, middle-aged Manhattan housewife in director Gilbert Cates' Summer Wishes, Winter Dreams (with two nominations and no wins)
early favorite Barbra Streisand (with her second career nomination) as Katie Morosky - a radical, politically-active Jewish girl in love with conservative WASP-ish writer Robert Redford in director Sydney Pollack's star-crossed lovers' romance titled The Way We Were (with six nominations and two wins - Best Song and Best Original Dramatic Score)
In the two Best Supporting categories for Actor and Actress, there was an age gap of 61 years that separated the two winning nominees:
10-year-old Tatum O'Neal, the youngest-ever recipient of a competitive Oscar (and the youngest-ever winner of the Best Supporting Actress award in Academy history, surpassing 16 year-old Patty Duke's earlier record), won as Addie Loggins in her film debut - a shrewd, tough, wise-cracking, cigarette-smoking, cute orphan/con artist who aids and teams up with her real-life father Ryan (as smooth-talking hustler Moses Pray) in selling Bibles in 1930s Depression-era Kansas, in Peter Bogdanovich's Paper Moon (with four nominations and only one win - Best Supporting Actress)
71-year-old veteran John Houseman (with his sole nomination and in his first major film role) as stuffy, crusty, brilliant, and despotic Harvard University law Professor Kingsfield who inspired Timothy Bottoms in director James Bridges' The Paper Chase (with three nominations and one win - Best Supporting Actor)
Tatum O'Neal defeated Paper Moon co-star nominee Madeline Kahn (with her first of two consecutive nominations) as Trixie Delight - a 1930s traveling floozy and belly dancer. Jack Gilford (with his sole nomination) was nominated for his role as Phil Greene (Jack Lemmon's partner) in Save the Tiger. Two other Best Supporting nominees were from The Exorcist:
Linda Blair (with her sole nomination) as Regan MacNeil, the disturbed 12-year-old daughter who suffers ghastly bouts of devil possession
Jason Miller (with his sole nomination) as Father Karras, a young priest who ultimately pays the final price for exorcising the demon. [All three of the leading and supporting acting nominees for The Exorcist lost their bids for Oscars.]
The remaining two Best Supporting Actor nominees were Vincent Gardenia (with his first of two unsuccessful career nominations) as baseball team manager Dutch Schnell in director John Hancock's Bang the Drum Slowly (the film's sole nomination), and Randy Quaid (with his sole nomination) as Meadows SN - the bumbling, naive prisoner being escorted by hard-boiled but compassionate petty officers to imprisonment in The Last Detail.
The remaining two Best Supporting Actress nominees were Candy Clark (with her sole nomination) as Debbie - a ditzy, "experienced" blonde teenager in American Graffiti, and Sylvia Sidney (with her sole career nomination in a long film career) as Wanda Pritchett, the mother of Rita Walden (co-star Joanne Woodward) in Summer Wishes, Winter Dreams.
An Honorary Award was presented this year to wise-cracking Groucho Marx "in recognition of his brilliant creativity and for the unequaled achievements of the Marx Brothers in the art of motion-picture comedy." He had appeared with his brothers in original, un-nominated films, such as The Cocoanuts (1929), Animal Crackers (1930), Monkey Business (1931), Horse Feathers (1932), Duck Soup (1933), A Night at the Opera (1935), and A Day at the Races (1937).
Oscar Snubs and Omissions:
There were eleven films that might have been nominated for Best Picture - but weren't. The biggest omission was director Martin Scorsese's first major film Mean Streets, starring Robert De Niro as the volatile Johnny Boy and Harvey Keitel as religiously-conflicted Mafia apprentice Charlie Cappa, two hoods coming of age in their Little Italy neighborhood. It didn't receive even one nomination!
Although Bernardo Bertolucci's X-rated film of sexual obsession titled Last Tango in Paris was nominated for Best Actor (Marlon Brando) and Best Director, it was also avoided in the Best Picture and Best Actress categories. The other nine films unexplainedly bypassed for a Best Picture nomination (among others) were:
Terrence Malick's Badlands (without any nominations), for either Martin Sheen as sociopathic 25 year-old Kit Carruthers on a murder spree, or Sissy Spacek as teenaged girlfriend/companion Holly Sargis
Nicolas Roeg's enigmatic Don't Look Now (without any nominations)
Woody Allen's sci-fi comedy Sleeper (without any nominations, especially lacking a screenplay nod!)
director Paul Mazursky's comedy Blume in Love (without any nominations)
director Robert Altman's under-rated, definitive detective film The Long Goodbye (without a single nomination) with two superb performances by Elliott Gould as Philip Marlowe and Sterling Hayden as Roger Wade
Sydney Pollack's romantic film The Way We Were
Sidney Lumet's crime biography Serpico
director Hal Ashby's The Last Detail
Peter Bogdanovich's Paper Moon
Robert De Niro's and Michael Moriarty's performances in director John Hancock's baseball/sports film Bang the Drum Slowly were also ignored. Although Robert Redford was nominated as Best Actor for The Sting (and Paul Newman was NOT!), he was neglected for his equally-excellent role as WASP student Hubbell Gardiner in The Way We Were.