1974
The winner is listed first, in CAPITAL letters.
Actor:
ART CARNEY in "Harry and Tonto", Albert Finney in "Murder on the Orient Express", Dustin Hoffman in "Lenny", Jack Nicholson in "Chinatown", Al Pacino in "The Godfather, Part II"
Actress:
ELLEN BURSTYN in "Alice Doesn't Live Here Anymore", Diahann Carroll in "Claudine", Faye Dunaway in "Chinatown", Valerie Perrine in "Lenny", Gena Rowlands in "A Woman Under the Influence"
Supporting Actor:
ROBERT DE NIRO in "The Godfather, Part II", Fred Astaire in "The Towering Inferno", Jeff Bridges in "Thunderbolt and Lightfoot", Michael V. Gazzo in "The Godfather, Part II", Lee Strasberg in "The Godfather, Part II"
Supporting Actress:
INGRID BERGMAN in "Murder on the Orient Express", Valentina Cortese in "Day for Night", Madeline Kahn in "Blazing Saddles", Diane Ladd in "Alice Doesn't Live Here Anymore", Talia Shire in "The Godfather, Part II"
Director:
FRANCIS FORD COPPOLA for "The Godfather, Part II", John Cassavetes for "A Woman Under the Influence", Bob Fosse for "Lenny", Roman Polanski for "Chinatown", Francois Truffaut for "Day for Night"
---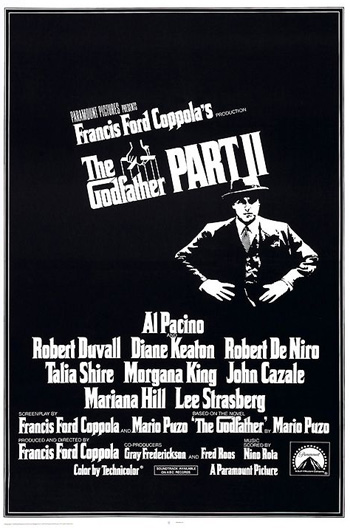 The Best Picture victor, The Godfather, Part II, shifted back and forth over six decades in time to retrace the story of the same Corleone family and how it was founded. Simultaneously, it documented the rise to power of young Vito Corleone (Robert De Niro) and the family's decline a generation later through the aging son (Michael Corleone).
It was the only sequel to win a Best Picture Oscar at the time of its win. [An earlier unsuccessful attempt at a sequel-Best Picture win was The Bells of St. Mary's (1945) - following the Best Picture winner of the previous year - Going My Way (1944). Later, its 'sequel' The Godfather, Part III (1990) was also nominated for Best Picture - and lost, and two sequel-installments of The Lord of the Rings (2002, 2003) were also nominated, with the latter winning the top honor. Some might consider the Best Picture-winning The Silence of the Lambs (1991) as a sequel to Manhunter (1986), but that stretches the definition of a true sequel.]
It also accomplished a marvelous feat - it did exceptionally well with double the total number of Oscars than its predecessor - with eleven nominations and six wins (Best Picture, Best Director, Best Supporting Actor (Robert DeNiro), Best Screenplay Adaptation, Best Art Direction/Set Decoration, and Best Original Dramatic Score (by Nino Rota and the director's own father Carmine Coppola)). It duplicated its predecessor's feat of three nominations for Best Supporting Actor (for Lee Strasberg, Michael V. Gazzo, and winner DeNiro).
Five of its six un-rewarded nominations were for acting roles.
[Francis Ford Coppola had previously won two Oscars for himself - for the Best Story and Screenplay for Patton (1970) and the Best Adapted Screenplay (a shared award) for The Godfather (1972). With his new honors in 1974, he would add three more awards: Best Picture (as producer), Best Director, and Best Screenplay Adaptation (again shared with Mario Puzo). It was an unprecedented win for Coppola - three Oscars for writing, producing, and directing the same film.]
(Note: A triple win had also occurred for Leo McCarey in 1944, Billy Wilder in 1960, James L. Brooks in 1983, and would later occur for James Cameron in 1997.)
For the first time since 1951, when individual producers rather than companies were cited in the Best Picture nominations, both producers Francis Ford Coppola (and Fred Roos) were honored by receiving two Best Picture nominations in the same year, for Coppola's The Conversation (1974) and for their shared winner: The Godfather (1972). This occurred for the second time in 2010.
This was also the third time in awards history that blood relatives won Oscars in the same year - previously it occurred in 1929/30 and 1948. Coppola won three awards for The Godfather, Part II, and father Carmine won an award for Best Original Dramatic Score. Sister Talia Shire was nominated for Best Supporting Actress, but she didn't win.]
The major competition for Best Picture came from these sources:
director Roman Polanski's Chinatown (also with eleven nominations, but only one win! - for Robert Towne's Original Screenplay), a complex film noir and a perfectly-constructed, atmospheric detective mystery about scandal in late 1930s Los Angeles
director Coppola's own small-budget, non-commercial, technically-brilliant character study of a professional surveillance expert who suspects he has contributed to murder in The Conversation (with three nominations and no wins) - Coppola also directed and scripted
Bob Fosse's Lenny (with six nominations and no wins) adapted from Julian Barry's play - a stark biography of the controversial and foul-mouthed, subversive, but talented comic Lenny Bruce. [Fosse and Coppola were experiencing a re-match, an exact duplicate of their contest two years earlier - both directors had Best Picture and Best Director nominations in 1972 and 1974 - and later in 1979.]
Irwin Allen's somewhat out-of-place, expensive, disaster film with an all-star cast struggling against a raging fire in the world's tallest skyscraper, in the over-long box-office hit The Towering Inferno (with eight nominations and three wins - Best Cinematography, Best Song: "We May Never Love Like This Again", and Best Film Editing)
The Best Director award went to Francis Ford Coppola for his Best Picture-winning film. The other directors competing for the Best Director award included Roman Polanski who appeared in his own brilliant film Chinatown as a knife-wielding, nose-slicing thug. After his success with Cabaret (1972), Bob Fosse was nominated for his follow-up film Lenny. French director Francois Truffaut was nominated for Day for Night (the film won the Foreign Language Film award in 1973), and John Cassavetes was nominated for his independent, improvisational film A Woman Under the Influence about the disintegration of a family due to mental illness. [Cassavetes was now a triple-crown nominee - adding to his supporting actor nomination for The Dirty Dozen (1967) and his screenplay nomination for Faces (1968).]
The winner in the Best Actor category was a big surprise and major Oscar upset - and regarded as a sentimental award for The Honeymooners star: Art Carney (with his sole nomination and career Oscar win) won for his fourth screen role as 72 year-old widower and evicted New Yorker Harry Coombs, who hitchhikes cross-country to Chicago with his friend and confidante - an orange cat named Tonto in Paul Mazursky's Harry and Tonto (Carney's nomination was one of the film's two nominations). Fifty-six year-old Carney became the oldest Best Actor behind 63 year-old George Arliss' win for Disraeli (1929/30). (Arliss' record would hold until 76 year-old Henry Fonda's win for On Golden Pond (1981).)
Three of Carney's fellow nominees presumably split the vote, allowing him to win (aside from the sentimental vote). It was remarkable that Art Carney beat out the first three of these other superb performances:
Al Pacino, who had been one of the three Best Supporting Actor nominees in 1972 for The Godfather (1972), was again nominated (with his third of eight nominations) - this time as Best Actor for his extended role in the sequel as Don Michael Corleone, Don Vito Corleone's son and heir
Jack Nicholson (with his fourth nomination and his second consecutive nomination in the 70s) as seedy private detective J. J. Gittes in Chinatown, the other celebrated film of the year - in retrospect, it is unbelievable that Nicholson's seminal role in this film lost
Dustin Hoffman (with his third of seven nominations) as the doomed comedian Lenny Bruce in the title role of Lenny
Albert Finney (with his second of five unsuccessful nominations) as Agatha Christie's Belgian detective Hercule Poirot in director Sidney Lumet's who-dun-it Murder on the Orient Express (with six nominations and one win - Best Supporting Actress), who attempts to solve a murder on a 1934 train trip from Istanbul to Calais
The winner of the Best Actress Oscar in 1974 was Ellen Burstyn (with her sole Oscar win in a career total of six nominations) in the role of Alice Hyatt, a newly-widowed woman with a 12 year-old son who hits the road and survives as a Phoenix diner/waitress in director Martin Scorsese's first major Hollywood film Alice Doesn't Live Here Anymore (with three nominations and one win - Best Actress) - the basis for the TV show Alice. (In Harry and Tonto, Burstyn played Harry's daughter Shirley.) [Burstyn's win came a year after she had lost the Best Actress award for The Exorcist (1973).]
In a similar character role, black actress Diahann Carroll (with her sole nomination) was nominated as Best Actress for her role as Claudine Price - a struggling black welfare mother who romances a garbage collector (James Earl Jones) in director John Berry's Claudine (the film's sole nomination). The remaining Best Actress nominees were:
Valerie Perrine (with her sole nomination) as Lenny Bruce's stripper/druggie wife Honey Bruce in Lenny
Gena Rowlands (with her first of two unsuccessful career nominations) as Peter Falk's lonely, working-class housewife Mabel Longhetti who slowly goes mad and breaks down (in her real-life husband John Cassavetes' film) A Woman Under the Influence
Faye Dunaway (with her second nomination) as the mysteriously-widowed Evelyn Mulwray in the complicated thriller Chinatown - the best performance of all the nominees
Robert De Niro (with his first nomination and first Oscar win) was the victor in the Best Supporting Actor category for his Sicilian-speaking, star-making role as the young immigrant Vito Corleone who grows up in Little Italy in The Godfather, Part II. DeNiro didn't speak a single word of English in the film. Two other competitors for the Best Supporting Actor appeared in the same film:
seventy-three year-old Lee Strasberg (with his sole nomination for his film debut) as Miami Jewish mobster Hyman Roth
Michael V. Gazzo (with his sole nomination) as Corleone family associate Frank Pentangeli
Legendary screen actor/dancer Fred Astaire was a sentimental favorite for his sole career Oscar nomination (almost an insult) - for his supporting role as a con artist and widower Harlee Claiborne in The Towering Inferno - he was the only star in the cast who received a nomination - with a non-dancing role! The final nominee in the Best Supporting Actor category was Jeff Bridges (with his second nomination) as drifter Lightfoot who helps ex-thief Thunderbolt (Clint Eastwood) and then plans a government vault heist in Michael Cimino's debut caper film Thunderbolt and Lightfoot (the film's sole nomination).
The Best Supporting Actress award was the third Oscar for Swedish-born nominee Ingrid Bergman (and the sixth of her seven career nominations) - Bergman won for her role as shy, nervous, repressed Swedish missionary Greta Ohlsson - a member of the star-studded group of suspected passengers by Albert Finney's Hercule Poirot aboard the train in Murder on the Orient Express. [Bergman's first two awards were for Gaslight (1944) and Anastasia (1956). Her third award joined her with both Katharine Hepburn and Walter Brennan (in a 3-way tie) for most acting Oscar wins (3) - until 1981, when Hepburn won a fourth Oscar for On Golden Pond (1981).]
The other Best Supporting Actress nominees in the category were:
Valentina Cortese (with her sole nomination) in a beautiful performance as alcoholic Italian actress Severine in Truffaut's film Day For Night
Madeline Kahn (with her second consecutive nomination) as saloon belle Lili von Shtupp - a Marlene Dietrich look-alike in director Mel Brooks' western spoof Blazing Saddles (with three nominations and no wins)
Diane Ladd (with her first of three unsuccessful career nominations) as Alice's fellow, sharp-tongued, bleach-blonde diner worker Flo in Alice Doesn't Live Here Anymore
Talia Shire (director Coppola's sister) (with her first nomination) as Michael Corleone's sister Connie Corleone in The Godfather, Part II
Versatile director Howard Hawks received an Honorary Award/Oscar - he was recognized as "a master American filmmaker whose creative efforts hold a distinguished place in world cinema." Some of his most important films include Scarface (1932), Twentieth Century (1934), Bringing Up Baby (1938), His Girl Friday (1940), To Have and Have Not (1944), The Big Sleep (1946), Gentlemen Prefer Blondes (1953), and Rio Bravo (1959). In his entire career, he received only one (unsuccessful) nomination as Best Director - for Best Actor-winning Sergeant York (1941).
In addition, French film-maker Jean Renoir received an Honorary Award - he was honored as "a genius who, with grace, responsibility and enviable devotion through silent film, sound film, feature, documentary and television, has won the world's admiration." His greatest films included Bondu Saved From Drowning (1932), Grand Illusion (1937, Fr.) (nominated for Best Picture in 1938), The Rules of the Game (1939, Fr.), and The Southerner (1945) - with his sole Best Director nomination throughout his career.
Oscar Snubs and Omissions:
Gordon Willis' remarkable cinematography in both Godfather films was not nominated. And the Best Picture nomination for The Towering Inferno displaced such excellent films in the category as Young Frankenstein, A Woman Under the Influence, Alice Doesn't Live Here Anymore, and Day For Night. Richard Lester's brilliant swashbuckler The Three Musketeers received no nominations, including an impressive performance by Charlton Heston as evil Cardinal Richelieu and others (Oliver Reed (Athos), Richard Chamberlain (Aramis), and Frank Finley (Porthos) as the three musketeers).
Liv Ullman's searing performance as Marianne in Ingmar Bergman's Scenes from a Marriage would have been nominated and had a good chance of winning Best Actress, but the film was declared ineligible because it had been shown in a six-part, 5-hour version on Swedish television prior to its theatrical release in a shortened version. Director Joseph Sargent's crime thriller The Taking of Pelham One Two Three, about a New York subway car hijacking by terrorists (led by Mr. Blue (Robert Shaw)) who were challenged by the Transit Authority's chief of security Lieutenant Zachary Garber (Walter Matthau), was completely snubbed by the Academy.
Director Alan J. Pakula's excellent political thriller The Parallax View (with Warren Beatty as newspaper reporter Joseph Frady) was un-nominated in all categories, as was Robert Altman's 1930s-style crime film Thieves Like Us (with Keith Carradine as Bowie and Shelley Duvall as Keechie). Martin Scorsese's film Alice Doesn't Live Here Anymore was overlooked in the Best Director and Best Picture categories.
Best Picture-nominated films by Francis Ford Coppola had three deserving stars not included in the various acting categories as nominees:
Gene Hackman as Harry Caul, a frustrated surveillance expert in Coppola's great mystery thriller The Conversation
John Cazale as pitiable, tragic and traitorous Fredo Corleone, a black-sheep who betrayed his brother Michael (Al Pacino) ("I know it was you Fredo. You broke my heart"), in Coppola's great gangster sequel The Godfather, Part II
Robert Duvall as family lawyer and consigliere (advisor) Tom Hagen in The Godfather, Part II
Goldie Hawn was overlooked as Lou Jean Poplin in director Steven Spielberg's The Sugarland Express, a cross-country adventure film of a desperate couple's flight - it was Spielberg's first feature film. And Richard Dreyfuss was neglected in one of his earliest performances as aspiring Jew Duddy in The Apprenticeship of Duddy Kravitz. Eddie Albert was bypassed for his role as Florida prison Warden Hazen in The Longest Yard.
Gene Wilder (and other unrecognized cast members, such as Madeline Kahn, Teri Garr, Marty Feldman, Cloris Leachman and Kenneth Mars) was un-nominated as mad scientist Victor Frankenstein in Mel Brooks' Young Frankenstein (with only two unsuccessful nominations, for Best Adapted Screenplay (co-nominees Wilder and director Mel Brooks) and Best Sound). Recognition was sorely lacking for the film's set decoration (of Frankenstein's 1931 castle), its B/W Cinematography, and its Director. Blazing Saddles (with only three unsuccessful nominations, for Best Film Editing, Best Song, and Best Supporting Actress-Madeline Kahn), another Brooks' film in the same year, also lacked a nomination for Gene Wilder, and for Cleavon Little, as well as recognition for its director.