1978
The winner is listed first, in CAPITAL letters.
Best Picture


THE DEER HUNTER (1978)


Coming Home (1978)


Heaven Can Wait (1978)


Midnight Express (1978)


An Unmarried Woman (1978)
Actor:
JON VOIGHT in "Coming Home", Warren Beatty in "Heaven Can Wait", Gary Busey in "The Buddy Holly Story", Robert De Niro in "The Deer Hunter", Laurence Olivier in "The Boys From Brazil"
Actress:
JANE FONDA in "Coming Home", Ingrid Bergman in "Autumn Sonata", Ellen Burstyn in "Same Time, Next Year", Jill Clayburgh in "An Unmarried Woman", Geraldine Page in "Interiors"
Supporting Actor:
CHRISTOPHER WALKEN in "The Deer Hunter", Bruce Dern in "Coming Home", Richard Farnsworth in "Comes a Horseman", John Hurt in "Midnight Express", Jack Warden in "Heaven Can Wait"
Supporting Actress:
MAGGIE SMITH in "California Suite", Dyan Cannon in "Heaven Can Wait", Penelope Milford in "Coming Home", Maureen Stapleton in "Interiors", Meryl Streep in "The Deer Hunter"
Director:
MICHAEL CIMINO for "The Deer Hunter", Woody Allen for "Interiors", Hal Ashby for "Coming Home", Warren Beatty and Buck Henry for "Heaven Can Wait", Alan Parker for "Midnight Express"
---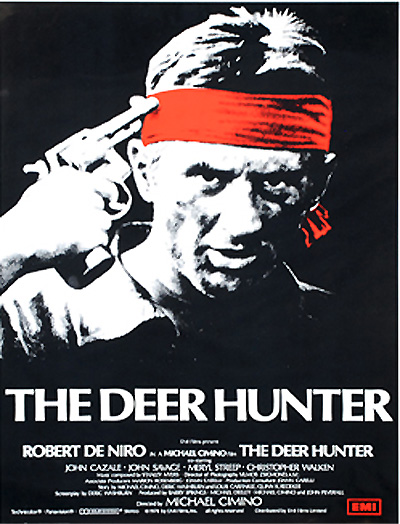 Two of the three front-runners in the 1978 awards race were anti-war films that reflected the nation's divided attitudes toward the war. Both films were set in the year 1968, though they differed in their filmatic style and political stance. [Coppola's Vietnam treatise Apocalypse Now (1979) was delayed in its release, thereby leaving Cimino's war film to take top honors in 1978]:
younger generation producer/director Michael Cimino's second film - the grandiose The Deer Hunter (with nine nominations and five wins - Best Picture, Best Supporting Actor, Best Director, Best Sound, and Best Film Editing), the gripping drama about how the violence of war permanently altered the lives of three Pennsylvania steel-working and hunting friends who served in Vietnam and were forced to play Russian Roulette by the Vietcong; the meteoric rise of Cimino as a result of this film was soon dashed by the financial disaster of his next film, Heaven's Gate (1980)
Hal Ashby's more left-wing, anti-Vietnam war film Coming Home (with eight nominations and three wins - Best Actor, Best Actress, and Best Original Screenplay). It told about the sorrowing effects of the Vietnam War on the homefront, and won the major acting awards. The film was produced by actress Jane Fonda's new film production company
The other three Best Picture nominees were:
Warren Beatty and Buck Henry's comedy remake of Here Comes Mr. Jordan (1941), with a film titled Heaven Can Wait (with nine nominations, tying the winner with the most nominations, and only one win - Best Art/Set Direction)
director Alan Parker's Midnight Express (with six nominations and two wins - Best Screenplay Adaptation by Oliver Stone (his first nomination and first win), and Best Score by Giorgio Moroder, with its hit tune "Chase"), the true, graphic story of Billy Hayes (played by an un-nominated Brad Davis) and his brutalized ordeal in a Turkish prison for a drug smuggling offense
Paul Mazursky's early feminist film An Unmarried Woman (with three nominations and no wins), the story of the consequences of a shattered marriage of seventeen years for a betrayed wife who must deal with the changes
Mazursky was the only director of a Best Picture nominee who was not included in the Best Director nominees. His place was taken by Woody Allen for his serious, cold tribute to Ingmar Bergman with a film about a fragmenting family of three neurotic adult sisters, Interiors (with five nominations and no wins). Co-directors Warren Beatty and Buck Henry (with their directing debuts) of Heaven Can Wait were the first dual nominees for Best Director since Robert Wise and Jerome Robbins were nominated (and won) for West Side Story (1961).
The individuals caught in a Vietnam war-tangled romance in the melodramatic Coming Home were nominated in lead and supporting acting categories. The four nominations, one in each of the acting categories, made Coming Home one of about a dozen films in Oscar history with the same distinction:
Jon Voight (with his second nomination and first Oscar) won the Best Actor award for his role as Luke Martin - a bitter but sensitive paraplegic veteran paralyzed from the Vietnam war. He falls in love with a volunteer rehabilitation hospital worker (Jane Fonda) and chains himself to the Marines recruiting center when his buddy commits suicide
Jane Fonda (with her fourth nomination and second Oscar win), a controversial activist and anti-war protestor, won the Best Actress award as Sally Hyde - the bored middle-class wife of chauvinistic Marine officer Capt. Bob Hyde (Bruce Dern), who volunteers in a Vietnam veterans hospital where she meets a disabled Voight and eventually becomes his romantic partner
Bruce Dern (with his first of two career nominations) was nominated in the Best Supporting Actor category as returning gung-ho, wounded Marine officer Captain Bob Hyde, Fonda's husband (Note: Dern was nominated 35 years later as Best Actor for Nebraska (2013))
Penelope Milford (with her sole nomination) was also nominated in the Best Supporting Actress category for her role as Viola Munson - Fonda's friend and co-volunteer in the veteran's hospital
In the other anti-Vietnamese war film of the year, two of the three Pennsylvania steelworkers who went off to the Vietnam War in the documentary style The Deer Hunter were nominated or won acting awards:
Robert De Niro (with his second Best Actor nomination in the role of a Vietnam-era veteran) was nominated as Best Actor for his role as Michael Vronsky - an ace deer hunter who is brutalized by his experiences in Vietnam
Christopher Walken (with his first nomination) won the Best Supporting Actor award for his performance as a disintegrating, war-scarred Nikanor ('Nick') Chevotarevich who carries on with the suicidal Russian Roulette gambling games in Vietnam
Meryl Streep (with her first nomination in her second film role) was also nominated as Best Supporting Actress for playing Robert De Niro's girlfriend Linda in a small role
The remaining Best Actor nominees included the following:
Warren Beatty (with his second acting nomination) as Los Angeles Rams quarterback Joe Pendleton who died and went to heaven prematurely in Heaven Can Wait. [Beatty's nomination made him only the second Oscar nominee to receive simultaneous nominations in four categories: Best Picture producer, Best Actor, Best Director (shared with Buck Henry), and Best Screenplay (shared with Elaine May). He lost in all four categories too. The other nominee was Orson Welles for Citizen Kane (1941). Beatty also became the fifth person in Oscar history to be nominated in a single year as both an actor and screenwriter. Others before were Charlie Chaplin -1940-, Orson Welles -1941-, Sylvester Stallone -1976-, and Woody Allen -1977. Beatty repeated this same feat in 1981 for writing and acting in Reds.]
Gary Busey (with his sole career nomination) as the title character in the rock and roll bio in director Steve Rash's The Buddy Holly Story (with three nominations and one win - Best Original Song Score) about the legendary, 1950s pioneering singer with the Crickets who prematurely died in a tragic plane crash; Busey sang his own tracks in the amazing impersonation
Laurence Olivier (with his tenth and last career nomination) was nominated for his role as fictional Nazi hunter Ezra Lieberman (based on real-life Simon Wiesenthal) in pursuit of his Nazi target - geneticist Josef Mengele (Gregory Peck) in director Franklin Schaffner's compelling The Boys From Brazil (with three nominations and no wins). [Olivier's previous nomination was for a reverse portrayal - as an evil Nazi in Marathon Man (1976).]
The remaining Best Actress nominees were:
Ingrid Bergman (with her seventh and last career nomination and in her final film performance) as concert pianist Charlotte in director Ingmar Bergman's talkative Swedish film (with English subtitles) of a mother-daughter conflict, Autumn Sonata (with two nominations and no wins)
Ellen Burstyn (with her fourth nomination) as Doris - a young California housewife - and one of two married strangers (the other is accountant Alan Alda) who meet only one weekend each year for a twenty-five year period in Robert Mulligan's Same Time Next Year, the filmed version of the popular play
Jill Clayburgh (with her first of two unsuccessful and consecutive nominations) in the title role as Erica Benton - a Manhattan art gallery worker who is deserted in her marriage in An Unmarried Woman
Geraldine Page (with her sixth unsuccessful nomination) as the mentally-disturbed, depressively-suicidal mother Eve who spiraled downward when her husband Arthur (E.G. Marshall) asked for a separation, in Woody Allen's starkly unfunny Interiors
The remaining Best Supporting Actor nominees included:
ex-stuntman Richard Farnsworth (with his first of two career nominations) as ranch foreman Dodger in Alan J. Pakula's western drama Comes a Horseman (the film's sole nomination)
John Hurt (with his first nomination) as an Englishman named Max - one of Billy Hayes' fellow inmates tortured in a Turkish jail in Midnight Express
Jack Warden (with his second of two unsuccessful career nominations) as Max Corkle - Joe Pendleton's puzzled football coach/trainer in Heaven Can Wait
The victor in the Best Supporting Actress category was English actress Maggie Smith (with her fourth nomination - and with her second Oscar win) for her role as Diana Barrie - a neurotic, bitchy, hard-drinking and fussy Oscar-nominated British actress waiting for the Oscar awards night in Hollywood and being helped to dress by bi-sexual husband Michael Caine in director Herbert Ross' film California Suite (with three nominations and one win - Best Supporting Actress). Curiously, Smith won her Oscar for the role of an Oscar-loser. She became the only performer to win an Academy Award for playing an actor who lost at the Academy Awards. This was Neil Simon's version of Grand Hotel (1932) - and an attempted rewrite of Plaza Suite (1971) in a California setting.
The remaining Best Supporting Actress nominees were:
Dyan Cannon (with her second of two unsuccessful career nominations) as Julia Farnsworth - an unfaithful, adulterous and murderous wife who can't successfully kill her husband (Warren Beatty) in Heaven Can Wait
Maureen Stapleton (with her third of four unsuccessful Best Supporting Actress career nominations) as Arthur's (E.G. Marshall) replacement wife Pearl, in Interiors
Sir Laurence Olivier was presented with an Honorary Award this year "for the full body of his work, for his unique achievements of his entire career and his lifetime of contribution to the art of film." He had won only one competitive Oscar award in his career (for Best Actor for Hamlet (1948)), received eight other Best Actor nominations (stretching from 1939 to 1978), and one Best Supporting Actor nomination (in 1976). He was also nominated as Best Director for Hamlet (1948) - and became the only performer in Oscar history to direct himself (and act) in an Academy Award-winning performance. Legendary animator/cartoonist Walter Lantz, creator of Woody Woodpecker, received an Honorary Academy Award in 1979 (at the ceremony honoring films of 1978) for "bringing joy and laughter to every part of the world through his unique animated motion pictures." The award was "presented" by Lantz's most famous creation, Woody Woodpecker, using combined live-action and animation.
For the first time in Oscar history, all of the nominated songs in the Best Original Song category were sung by their original performers:
"Hopelessly Devoted to You" from Grease - Olivia Newton-John
"The Last Time I Felt Like This" from Same Time, Next Year - Johnny Mathis with Jane Olivor
"Last Dance" from the forgettable film Thank God It's Friday - Donna Summer - THE WINNER
"When You're Loved" from The Magic of Lassie - Debby Boone
"Ready to Take a Chance Again" from Foul Play - Barry Manilow
Scared Straight!, narrated by Peter Falk, won the Oscar for Best Documentary - Features, for its graphic portrayal of Rahway (NJ) State Prison's "Lifer's Program" - to deter juvenile delinquents from a life of crime.
Oscar Snubs and Omissions:
Overshadowed as Best Picture nominees in the year of The Deer Hunter were Ted Post's anti-Vietnam war film Go Tell the Spartans with Burt Lancaster as Major Asa Barker in a marvelous performance, and writer/director Woody Allen's somber, Ingmar-Bergmanesque Interiors. Ingmar Bergman's adult-drama Autumn Sonata was nominated only twice: for Best Actress (Ingrid Bergman) and Best Original Screenplay (Ingmar Bergman), but not for Liv Ullman's performance as Eva, or for Bergman's direction.
Brad Davis was ignored for his role as Turkish prison inmate Billy Hayes in the much-praised Midnight Express as was John Belushi for the year's third-biggest moneymaker Animal House (with no nominations). Tim McIntire's remarkable performance as pioneering rock DJ Alan Freed in Floyd Mutrux's American Hot Wax was un-nominated. Dustin Hoffman was not among the nominees for his role as violent and explosive ex-convict/thief Max Dembo trying to go 'straight' in Straight Time. And John Savage was overlooked for his quiet yet intense role in The Deer Hunter. Stand-up comedian Richard Pryor (in his sole dramatic film role) was snubbed for his performance as struggling and desperate blue-collar worker Zeke Brown in a mismanaged, corrupt and miserable Detroit auto-factory, opposite performances by his friends Jerry (Harvey Keitel) and Smokey (Yaphet Kotto), in Paul Schrader's (his directorial debut) political labor film Blue Collar. And Melanie Mayron was also un-nominated for her performance as married Jewish woman/photographer Susan Weinblatt in Claudia Weill's debut film Girlfriends.
To make up for the glaring omission (and avoid further criticism) by ignoring the BeeGee's soundtrack of Saturday Night Fever (1977) the year before, the Academy awarded a Best Song Oscar ("Last Dance") to an inferior disco film, Thank God It's Friday (1978), featuring Donna Summer's film debut. The win for the film's signature tune beat out Grease's sole nominee: "Hopelessly Devoted to You," and probably further denied other Grease songs from being nominated (i.e., "You're the One That I Want," or the title song "Grease"). Also, Leonard Rosenman's Golden Globe-nominated stirring score for Ralph Bakshi's animated feature The Lord of the Rings was overlooked.
The year's biggest blockbuster, Grease was entirely overlooked in many potential nomination categories: Best Picture, Best Director (Randal Kleiser), Best Actor and Actress (John Travolta and Olivia Newton-John), Best Supporting Actress (Stockard Channing), Best Adapted Screenplay (Allan Carr), and Best Original Song Score (John Farrar). The classic whodunit Death on the Nile (which won its sole nomination for Best Costume Design) was also seriously overlooked in acting nominations amongst its star-studded cast, including Peter Ustinov for Best Actor for his first rendition of Agatha Christie's famously fussy Belgian sleuth Hercule Poirot, and supporting nods for Angela Lansbury as eccentric trashy novelist Salome Otterbourne and Maggie Smith as an elderly socialite's cynical traveling companion named Miss Bowers, as well as famed cinematographer Jack Cardiff's stunning on-location work in Egypt.