1979
The winner is listed first, in CAPITAL letters.
Best Picture


KRAMER VS. KRAMER (1979)


All That Jazz (1979)


Apocalypse Now (1979)


Breaking Away (1979)


Norma Rae (1979)
Actor:
DUSTIN HOFFMAN in "Kramer vs. Kramer", Jack Lemmon in "The China Syndrome", Al Pacino in "...And Justice For All", Roy Scheider in "All That Jazz", Peter Sellers in "Being There"
Actress:
SALLY FIELD in "Norma Rae", Jill Clayburgh in "Starting Over", Jane Fonda in "The China Syndrome", Marsha Mason in "Chapter Two", Bette Midler in "The Rose"
Supporting Actor:
MELVYN DOUGLAS in "Being There", Robert Duvall in "Apocalypse Now", Frederic Forrest in "The Rose", Justin Henry in "Kramer vs. Kramer", Mickey Rooney in "The Black Stallion"
Supporting Actress:
MERYL STREEP in "Kramer vs. Kramer", Jane Alexander in "Kramer vs. Kramer", Barbarie Barrie in "Breaking Away", Candice Bergen in "Starting Over", Mariel Hemingway in "Manhattan"
Director:
ROBERT BENTON for "Kramer vs. Kramer", Francis Ford Coppola for "Apocalypse Now", Bob Fosse for "All That Jazz", Edouard Molinaro for "La Cage Aux Folles", Peter Yates for "Breaking Away"
---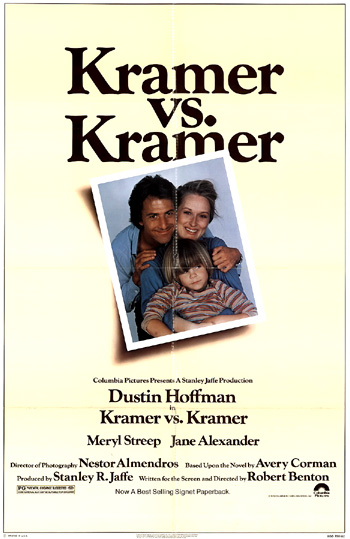 The major award winner in 1979 was director/screenwriter Robert Benton's commercially-successful, inexpensive film Kramer vs. Kramer - the dramatic story of separation, divorce and a dramatic custody battle between a splitting couple. The story was based on Avery Corman's best-selling 1977 novel about the timely issues of child custody, divorce, feminism and gender-appropriate parental roles, motherhood vs. career, etc. [Two other family-related Best Pictures would follow in just a few years, Robert Redford's Ordinary People (1980) and Terms of Endearment (1983).]
The winning picture won five awards out of its nine nominations - Best Picture, Best Actor, Best Supporting Actress, Best Director, and Best Screenplay Adaptation (Robert Benton). All four major cast members (Hoffman, Streep, Henry, and Alexander) were nominated, with the two lead stars both winning in their categories. The Best Director award was presented to Robert Benton (with his first directorial nomination and win) - it was a double win for Benton - he also won the Best Screenplay award for his screenplay adapted from Corman's novel.
Two of the other strongest contenders for Best Picture stretched the limits of mainstream filmmaking in the late 70s, and were much more gut-wrenching and audacious than the winner:
director Francis Ford Coppola's unforgettable anti-Vietnamese war epic masterpiece adapted and inspired from Joseph Conrad's Heart of Darkness, Apocalypse Now (with eight nominations and only two wins for Best Sound and Best Cinematography (Vittorio Storaro), the complex story of an assassination-motivated journey up a river into Cambodia and into darker hallucinatory and psychedelic recesses
director / dancer / choreographer Bob Fosse's semi-autobiographical, visually-imaginative 'musical' All That Jazz (with nine nominations and four wins - Best Art Direction/Set Decoration, Best Original Score Adaptation, Best Film Editing, and Best Costume Design), the autobiographical story of a relentless, but gifted choreographer
The other two nominated films for Best Picture included Martin Ritt's Norma Rae (with four nominations and two wins - Best Actress and Best Original Song), the authentic re-creation of the melodramatic story of an uneducated, southern textile worker who unionizes her mill, and British director Peter Yates' low-budget sleeper comedy Breaking Away (with five nominations and one win for Steve Tesich's Original Screenplay), an original, coming-of-age tale of growing up, bicycle racing, love, and class distinctions (between town and gown in working-class Bloomington, an Indiana university town).
Except for Norma Rae's director Martin Ritt, all the other directors were nominated for Best Director. The fifth director nominated for the award was Edouard Molinaro for La Cage Aux Folles (with three nominations and no wins), a funny French comedy (with English subtitles) about two lovers who masquerade as husband and wife - the film was the biggest grossing foreign-language film ever released in the United States up to that time.
Dustin Hoffman (with his fourth nomination, following nominations in 1967, 1969, and 1974, and his first Oscar win) won the Best Actor award for his role in the melodrama Kramer vs. Kramer as Ted Kramer, a workaholic advertising agency art director and a middle-class single father who must juggle the pressures of career and family to care for his young son. Hoffman's competition was formidable:
Jack Lemmon (with his sixth of eight career nominations) as Jack Godell, an anxious, unstable, conscience-stricken nuclear power plant supervisor in the thrilling, anti-nuclear production The China Syndrome (with four nominations and no wins)
Al Pacino (with his fifth nomination) as Arthur Kirkland - an earnest, young defense attorney who defends a judge on a rape charge in director Norman Jewison's melodramatic and histrionics-filled ...And Justice For All (with two nominations and no wins)
Roy Scheider as self-destructive, pill-popping, chain-smoking Broadway director/choreographer Joe Gideon who dances between the extremes of love and death in All That Jazz
Peter Sellers (with his second and last unsuccessful nomination - and in his next to last film role) was nominated for his memorable, unique role as Chance, an ignorant, illiterate gardener who has learned everything from watching television and is treated as a wise sage in director Hal Ashby's satirical dark comedy Being There (with two nominations and one win - Best Supporting Actor)
Former Gidget star Sally Field won the Best Actress award for her acclaimed performance in the title role of Norma Rae as the widowed, gutsy and fiesty loommaker, a Southern working-class textile employee who campaigns with a Jewish, New York labor organizer (Ron Liebman) to unionize her mill and pursue justice - it was her first nomination and win. In a famous scene, she stands on a table to inspire her co-workers. Her four other competitors were:
Jane Fonda (with her fifth of seven career nominations) as television news reporter Kimberly Wells doing a story on nuclear energy at a nuclear power plant in the midst of an accident in The China Syndrome
Marsha Mason (with her third of four unsuccessful nominations) as Jennie MacLaine - a recently-divorced actress in her husband Neil Simon's adaptation of his own Broadway play (and a story based on their own marriage) - Chapter Two (the film's sole nomination)
Bette Midler (with her first of two unsuccessful career nominations) in her first starring role as 'Rose' - a tragic, self-destructive, Janis Joplin-like rock star in Mark Rydell's The Rose (with four nominations and no wins)
Jill Clayburgh (with her second unsuccessful nomination) as lonely-hearts schoolteacher Marilyn Homberg (and Burt Reynolds' love interest) in Alan J. Pakula's Starting Over (with two nominations and no wins)
79 year-old Melvyn Douglas won his second and final Academy Award for Best Supporting Actor (his first was for Hud (1963)) as Benjamin Rand - an ailing and dying, political millionaire/financier who is in awe of the homespun wisdom of ignorant and illiterate gardener Chance (Peter Sellers) and brings him to the attention of the President (Jack Warden) in Being There.
The other Best Supporting Actor nominees were:
59 year-old Mickey Rooney (with his fourth and last unsuccessful career nomination) as former horse trainer Henry Dailey in director Carroll Ballard's beautiful directorial debut about a young boy and a wild black Arabian stallion in The Black Stallion (with two nominations and no wins - but with a Special Award for Sound Editing)
Robert Duvall (with his second nomination) as surf-loving, half-mad, Air Cavalry Colonel Kilgore in Apocalypse Now
Frederic Forrest (with his sole nomination) as chauffeur Houston Dyer in The Rose
8 year-old Justin Henry (with his sole nomination) as Dustin Hoffman's son Billy in Kramer vs. Kramer - he became the youngest-ever nominee in the Best Supporting Actor category
[The greatest time span in ages occurred in this category between two competing actors - almost 70 years between the ages of Melvyn Douglas and Justin Henry. If Justin Henry had won, he would have been the youngest winner in Oscar history. Justin's two screen parents won the Oscars for their roles in Kramer vs. Kramer.]
Meryl Streep (with her second Best Supporting Actress nomination) won her first Oscar (why wasn't she nominated in the Best Actress category?), as independent Joanna Kramer who leaves her husband Ted and son (Justin Henry), but then returns and sues for custody in a courtroom custody battle in Kramer vs. Kramer. Streep was appearing in her second successive Best Picture, following her performance in last year's Best Picture winner The Deer Hunter (1978). Streep's co-star Jane Alexander (with her third of four unsuccessful nominations) was also nominated as Margaret Phelps - Ted's sympathetic neighbor, in Kramer vs. Kramer.
The other three Best Supporting Actress nominees were:
18 year-old Mariel Hemingway (with her sole career nomination) as Tracy - a drama student and 42 year old Isaac's (co-writer/director Woody Allen) teenage girlfriend (she was 16 years old during filming) in an ill-fated romance, in Manhattan (with two nominations and no wins)
Barbara Barrie (with her sole nomination) as working-class mom Mrs. Stohler (the bicycle racer's mother), in Breaking Away
Candice Bergen (with her sole nomination) as Jessica Potter - Burt Reynolds' estranged wife, in the romantic comedy Starting Over
An Honorary Oscar was presented to Alec Guinness this year, although he had already won a Best Actor Oscar for his performance in The Bridge on the River Kwai (1957). By the time of this award, he had also received a Best Actor nomination for The Lavender Hill Mob (1952), a Best Adapted Screenplay nomination for The Horse's Mouth (1958), and a Best Supporting Actor nomination for Star Wars (1977).
Oscar Snubs and Omissions:
Woody Allen was not nominated as director or star (as TV comedy writer Isaac Davis) of Manhattan, one of his best films and his first film since Oscar-winning Annie Hall (1977). The film received only two nominations, for Best Original Screenplay (a co-scripted effort by Woody Allen and Marshall Brickman) and Best Supporting Actress (for Mariel Hemingway), while neglecting the performances of its stars Diane Keaton as Mary Wilke, and Michael Murphy as Yale. Allen's film was also neglected for its 70 mm Panavision B/W cinematography by oft-overlooked Gordon Willis - possibly the best work of his career. In fact, Manhattan should have been a Best Picture nominee.
The China Syndrome was neglected as a Best Picture nominee (for producer Michael Douglas) and Best Director nominee for its co-scriptwriter James Bridges. Being There (with two nominations, one successful for its supporting actor Melvyn Douglas) was likewise ignored as a Best Picture or Best Director nominee for director Hal Ashby. Martin Ritt was left out of the Best Director nominees for his work on Norma Rae, as was Ron Leibman for his acting role as labor organizer Reuben Warshawky.
Producer/director Don Siegel's taut prison breakout film Escape From Alcatraz, with Clint Eastwood as the calculating inmate/escapee Frank Morris, was completely overlooked. Various other films and their directors were also bypassed as Best Picture and Best Director nominees:
Carroll Ballard's cinematographically-perfect The Black Stallion which was produced by Francis Ford Coppola, and featured beautiful photography by Caleb Deschenel
George Roy Hill's lightweight romantic comedy A Little Romance (with only two nominations, for Best Score (win) and Best Adapted Screenplay), starring Laurence Olivier and Diane Lane
producer/director Blake Edwards' 10 with Dudley Moore as George and Bo Derek as Jenny - the fantasy object of his lust
Ridley Scott's imaginatively-terrific sci-fi horror film Alien with Sigourney Weaver as the heroine Ripley, and with an under-stated performance by Veronica Cartwright as one of the spooked astronauts
Michael Apted's Agatha, starring Dustin Hoffman and Vanessa Redgrave
Ted Kotcheff's un-nominated NFL pro-football expose North Dallas Forty with Nick Nolte as jaded, rebellious North Dallas Bulls player Phillip Elliott
director Peter Bogdanovich's Saint Jack with Ben Gazzara as an American pimp in Singapore named Jack Flowers, and Denholm Elliott as his British businessman/friend William Leigh
Dennis Christopher as bike-racer Dave Stohler and Paul Dooley as his father were both un-nominated for their great performances in Breaking Away. And Peter Falk was denied a nomination for his role as masterminding thief Vince Ricardo in Arthur Hiller's comedy/caper film The In-Laws. Marlon Brando as Col. Kurtz was missing as a Best Supporting Actor nominee in Apocalypse Now. Klaus Kinski - in the title role in Werner Herzog's remake Nosferatu, The Vampyre of the original 1922 F.W. Murnau classic (starring Max Schreck) was also lacking a nomination.