1994
The winner is listed first, in CAPITAL letters.
Actor:
TOM HANKS in "Forrest Gump", Morgan Freeman in "The Shawshank Redemption", Nigel Hawthorne in "The Madness of King George", Paul Newman in "Nobody's Fool", John Travolta in "Pulp Fiction"
Actress:
JESSICA LANGE in "Blue Sky", Jodie Foster in "Nell", Miranda Richardson in "Tom and Viv", Winona Ryder in "Little Women", Susan Sarandon in "The Client"
Supporting Actor:
MARTIN LANDAU in "Ed Wood", Samuel L. Jackson in "Pulp Fiction", Chazz Palminteri in "Bullets Over Broadway", Paul Scofield in "Quiz Show", Gary Sinise in "Forrest Gump"
Supporting Actress:
DIANNE WIEST in "Bullets Over Broadway", Rosemary Harris in "Tom and Viv", Helen Mirren in "The Madness of King George", Uma Thurman in "Pulp Fiction", Jennifer Tilly in "Bullets Over Broadway"
Director:
ROBERT ZEMECKIS for "Forrest Gump", Woody Allen for "Bullets Over Broadway", Krzysztof Kieslowski for "Three Colors: Red", Robert Redford for "Quiz Show", Quentin Tarantino for "Pulp Fiction"
---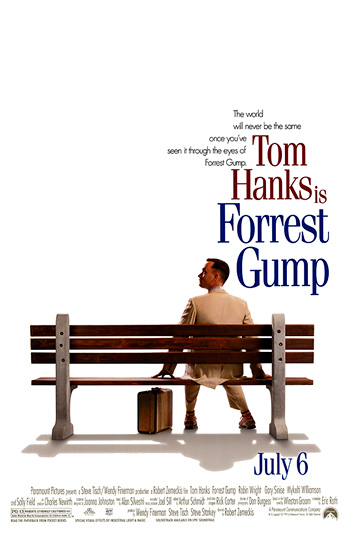 The Best Picture film, director Robert Zemeckis' Forrest Gump, was a feel-good, financial blockbuster (and the most commercially-successful Best Picture winner up to this point in Academy history, at $330 million) with Zelig-like style (a la Woody Allen) computerized special effects that put the title character (a dim-witted, guileless, Southern-drawling simpleton hero) into historical events and footage in the four decades period from the 1950s to the 1980s. The film, from a screenplay by Eric Roth and based on the novel by Winston Groom, inspired merchandising and "life is like a box of chocolate" Gumpisms.
The film was variously interpreted as a satire on contemporary values, a parable on the "ignorance is bliss" philosophy, and a look at America's mid-century accomplishments. The title character was portrayed as the catalyst for such disparate moments as the jogging craze, the expression "Have a nice day," and ping pong with the Chinese. Its tagline was: "The world will never be the same once you've seen it through the eyes of Forrest Gump."
It had thirteen nominations and six wins - for Best Picture, Best Director, Best Actor, Best Screenplay, Best Film Editing, and Best Visual Effects. Only four previous films had matched its 13 nominations: Gone With The Wind (1939), From Here to Eternity (1953), Mary Poppins (1964), and Who's Afraid of Virginia Woolf? (1966). Only one film had previously had more - fourteen nominations - All About Eve (1950).
The other four Best Picture nominees included a wide range of films:
director Mike Newell's Four Weddings and a Funeral (with two nominations and no wins - also nominated for Best Original Screenplay) - a romantic comedy about a reserved Englishman and an American
writer/director Quentin Tarantino's second violent feature, Pulp Fiction (with seven nominations and one win - Tarantino's Best Original Screenplay) - an iconoclastic, popular and hip B movie, film noirish crime/thriller about the sleazy side of Los Angeles (with its quirky characters including philosophizing hit men and a drugged-up gangster's moll)
producer/director Robert Redford's intelligent Quiz Show (with four nominations and no wins), an engrossing recreation of the late-1950s TV quiz show scandals involving a show called "Twenty-One"
writer/director Frank Darabont's uplifting first-time filmThe Shawshank Redemption (with seven nominations and no wins!), based on a short 1982 novel by Stephen King (called Rita Hayworth and Shawshank Redemption) about an innocent bank vice president imprisoned (with two consecutive life sentences) for murder in Shawshank State Prison
Robert Zemeckis (with his first directorial nomination) won the Best Director award for Forrest Gump. Two of the five directors of Best Picture nominees were not considered for Best Director. Mike Newell and Frank Darabont were not nominated in the Best Director category, and they were replaced by writer/director Woody Allen (with his sixth directorial nomination) for Bullets Over Broadway (with seven nominations and one win - Best Supporting Actress) about a Roaring Twenties Broadway playwright-turned-director who is backed by a mobster, and Polish writer/director Krzysztof Kieslowski for his French-language film Red (with three nominations and no wins), his last film until his death in 1996, about a friendship between a young Geneva model and a reclusive retired judge - the third and final film in his Three Colors trilogy.
Three out of five Best Picture nominees produced a Best Actor nomination: Tom Hanks, Morgan Freeman, and John Travolta. And three of the four Oscar winners in the acting categories were second-time winners:
Tom Hanks
Jessica Lange
Dianne Wiest
The only first-time Oscar winner was Best Supporting Actor nominee Martin Landau.
All-American Tom Hanks (with his third nomination and second win) became the second performer to win a consecutive Best Actor Oscar for his likeable performance as Forrest Gump: football star, ping pong champion, decorated war hero (and more 'celebrity' characterizations) - the good-hearted, naive, eccentric, dim-witted protagonist (an idiot-savant) who 'digitally' meets Presidents Kennedy, Johnson and Nixon, and Elvis Presley, and falls in love with childhood sweetheart Jenny (Robin Wright), in Forrest Gump. [His character followed in the tradition of similar characters in King of Hearts (1966), Being There (1979), and Rain Man (1988).]
[Hanks had won Best Actor the previous year for his performance in Philadelphia (1993). He became the fifth performer to win back-to-back acting Oscars. The first actor to receive consecutive Best Actor Oscars was Spencer Tracy - for his back-to-back wins for Captains Courageous (1937) and Boys Town (1938) many years earlier. Other performers who have won consecutive acting awards include Jason Robards for Best Supporting Actor in All the President's Men (1976) and Julia (1977), Luise Rainer for Best Actress in The Great Ziegfeld (1936) and The Good Earth (1937), and Katharine Hepburn as Best Actress for Guess Who's Coming to Dinner (1967) and The Lion in Winter (1968).]
The other four Best Actor nominees included:
Morgan Freeman (with his third unsuccessful nomination) as prison inmate Ellis Boyd "Red" Redding in The Shawshank Redemption
Nigel Hawthorne (with his first nomination) as the ill and temporarily-insane British monarch King George III in director Nicholas Hynter's cinematic debut film The Madness of King George (with four nominations and one win - Best Art/Set Direction)
Paul Newman (with his eighth nomination) as 60 year-old, aimless loner and small-town handyman Donald "Sully" Sullivan in writer/director Robert Benton's adaptation of Richard Russo's novel Nobody's Fool (with two nominations and no wins)
John Travolta (with his second nomination) as long-haired, junkie hit man Vincent Vega in a comeback starring role in Pulp Fiction
The Best Actress category had no real front-runner and was composed of weak performances, for the most part. The winner - 45 year old Jessica Lange (with her sixth nomination and second Oscar), who won the Best Actress award as Carly Marshall, the unstable, manic-depressive, out-of-control, sexually-promiscuous wife of a military nuclear engineer/officer (co-star Tommy Lee Jones) at a 1960s Nevada test site in director Tony Richardson's last film - Blue Sky (the film's sole nomination).
[Lange had made the film three years earlier for failing Orion Studios, and the film had languished on the shelf since then. Lange's win made her the second woman to receive a Best Actress Oscar after a prior win for a Best Supporting role - for Tootsie (1982). The first actress was Meryl Streep who won first for Kramer vs. Kramer (1979) and then for Sophie's Choice (1982).]
The other nominees in the Best Actress category included:
two-time Oscar winner Jodie Foster (with her fourth nomination) as uncivilized backwoods North Carolinian Nell in British director Michael Apted's Nell (the film's sole nomination)
Miranda Richardson (with her second nomination) as Vivienne Haigh-Wood, the poorly-treated, unbalanced wife of poet T. S. Eliot in director Brian Gilbert's Tom and Viv (with two nominations and no wins)
Winona Ryder (with her second consecutive nomination) as tomboyish, aspiring writer Jo March, one of four daughters in Australian director Gillian Armstrong's version of Louisa May Alcott's classic American novel Little Women (with three nominations and no wins; other nominations were Best Costume Design and Best Score)
Susan Sarandon (with her fourth unsuccessful nomination) as anti-establishment New Orleans lawyer Reggie Love in director Joel Schumacher's thriller based on John Grisham's best-selling novel The Client (the film's sole nomination)
Sixty-six year old Martin Landau (with his third nomination after prior nods for Tucker (1988) and Crimes and Misdemeanors (1989)) won his first Oscar in the Best Supporting Actor category for his tragi-comic performance as aging, drug-addicted horror-actor Bela Lugosi in producer/director Tim Burton's Ed Wood (with two nominations and two wins - including Best Makeup), about a lunatic-fringe, Hollywood campy film-maker.
The other competing Best Supporting Actor nominees included:
Samuel L. Jackson (with his first nomination) as Ezekiel-spouting, hit man Jules in Pulp Fiction
Chazz Palminteri (with his first nomination) as mobster hitman Cheech (and nominated co-star Jennifer Tilly's bodyguard), in Bullets Over Broadway
Paul Scofield (with his second nomination after a period of twenty-eight years) as Mark Van Doren, the father of game-show contestant Charles (Ralph Fiennes) in Quiz Show
Gary Sinise (with his first nomination) as double-amputee Lieutenant Dan Taylor (Gump's commander in Vietnam) in Forrest Gump
Dianne Wiest (with her third career nomination) won her second Oscar in the Best Supporting Actress category for her role as alcoholic, manipulative, theatrical, aging grand-dame/diva Broadway stage star Helen Sinclair, a character similar to Gloria Swanson's Norma Desmond in Wilder's Sunset Boulevard (1950), in Bullets Over Broadway. [Her first win was for another supporting performance in an earlier Woody Allen film - Hannah and Her Sisters (1986).]
The other Best Supporting Actress nominees were:
Rosemary Harris (with her first nomination) as Rose Haigh-Wood - the understanding mother of nominated co-star Miranda Richardson (as Vivienne Haigh-Wood) in Tom and Viv
Helen Mirren (with her first nomination) as the devoted Queen Charlotte, wife of the king in The Madness of King George
Uma Thurman (with her first nomination) as the pretty gangster wife Mia Wallace (co-star John Travolta's over-dosing date) in Pulp Fiction
Wiest's co-star Jennifer Tilly (with her first nomination) as Olive Neal - a mobster's (Joe Viterelli) ditzy mistress, who landed a role (through her sugar daddy's connections) in a new Broadway play that required rewrites from her mob bodyguard (Chazz Palminteri), in Bullets Over Broadway
It should be noted that The Lion King (with four nominations and two wins - the other win was for Best Original Score) had three nominated songs (by Elton John and Tim Rice) this one year: "Can You Feel the Love Tonight" (the winner), "Circle of Life," and "Hakuna Matata" - tying an Academy record. Previously, Beauty and the Beast (1991) had solo possession of the record.
82 year-old Italian writer/director Michelangelo Antonioni, maker of Neorealitic films early in his career, was given the Honorary Award this year "in recognition of his place as one of the cinema's master visual stylists". Noted for the character study L'Avventura (1960), he became well-known for his first English language film, the psychological thriller Blow-Up (1966). It was one of the most important films of the 1960's, an existential, voyeuristic murder mystery/suspenser, from which he derived his two sole (unsuccessful) Oscar nominations (Best Director, Best Original Screenplay). It was followed by the disastrous hippie saga Zabriskie Point (1970) and then the underrated political film The Passenger (1975) with Jack Nicholson.
Oscar Snubs and Omissions:
There were a number of major oversights in 1994. First, it was an unforgiveable error to deny nominations to John Turturro for his performance as the almost unbeatable "Twenty One" show champ and then loser - hotheaded, middle-class Jew Herbie Stempel, and to Ralph Fiennes as intellectual contestant Charles Van Doren, in Quiz Show. Also, both Brad Pitt (as Tristan Ludlow) and Julia Ormond (as Susannah Finncannon) were neglected for their performances (supporting and lead) in the cinematographic romantic western/drama Legends of the Fall (with one win from its three nominations, for Best Cinematography). Although nominated in three categories, Little Women should have also been nominated for Best Director (Gillian Armstrong - another missed opportunity to nominate a female director!) and Best Adapted Screenplay (Robin Swicord).
Linda Fiorentino's sexually-exciting performance as femme fatale Bridget Gregory in John Dahl's modern-day noir The Last Seduction was denied Oscar consideration for Best Actress because the film was briefly debuted on HBO cable television. Russell Crowe was neglected for his early role as a gay man (opposite his widowed father Jack Thompson) in the Australian film The Sum of Us. And Kate Winslet was snubbed for her star-launching, breakthrough role as lonely, vividly imaginative Juliet Hulme in director Peter Jackson's R-rated thriller Heavenly Creatures (with only one nomination for Best Original Screenplay), based on the true 1954 New Zealand murder story in which two teenaged girls (Pauline Parker, portrayed in the film by Melanie Lynskey, and Juliet Hulme) murdered one of their mothers in order to prevent the separation of their lesbian-tinged relationship.
Alfre Woodard as tough, cancer-stricken 70s Brooklyn school-teacher and family matriarch Carolyn Carmichael in director Spike Lee's semi-autobiographical Crooklyn (with no nominations) was also ignored. And independent film-maker Steve James' acclaimed Hoop Dreams, a film about Chicago inner-city life and basketball in the lives of two inner-city youth, was denied both a Best Picture and Best Documentary Feature nomination.
Oliver Stone's violent and controversial Natural Born Killers, with a Quentin Tarantino screenplay and stunning performances by Woody Harrelson and Juliette Lewis as serial killers Mickey and Mallory Knox, was completely un-nominated. Joel Coen's The Hudsucker Proxy, similar to Frank Capra's Mr. Deeds Goes to Town (1936), was completely unnominated, especially for Roger Deakins' Cinematography, as well as Jennifer Jason Leigh's star reporter Amy Archer (based in part upon Rosalind Russell's fast-talking Hildy Johnson in Howard Hawks' His Girl Friday (1940)).
Despite seven nominations, including Best Director and Best Original Screenplay (and three acting nominations), Bullets Over Broadway failed to earn a Best Picture nomination -- and Carlo DiPalmi's lush cinematography was also denied recognition. And despite two nominations and two wins for producer/director Tim Burton's Ed Wood as noted above, Johnny Depp was snubbed for his role as the legendary, cross-dressing title character, noting for helming (as the "worst director of all time") a series of awful films in the 50s, such as Glen or Glenda (1953), Bride of the Monster (1955) and Plan 9 From Outer Space (1959).
It was also remarkable that Darabont's The Shawshank Redemption went unrewarded - and no nomination for Tim Robbins as the lead character Andy Dufresne, nor for Bob Gunton as the corrupted prison warden Samuel Norton. Jodie Foster's loss for her raw performance in Nell to Jessica Lange's performance in Blue Sky was also surprising. And both Ben Kingsley and Sigourney Weaver were not recognized for their stellar work in Roman Polanski's drama Death and the Maiden, about a Dr. Roberto Miranda (Kingsley) who may/may not have traumatically tortured-raped Paulina Escobar (Weaver) when she was imprisoned by the previous South American country's government.