Historically-Based Swashbucklers of the 30s and 40s:
Other historical swashbuckler films included the retelling of Alexandre Dumas' classic novels. In Dumas' often-told tale of revenge in The Count of Monte Cristo (1912, 1934, 1974, and 2002), an unjustly imprisoned sailor Edmond Dantes escaped after fifteen years from an island prison and returned to 1820s Paris to find revenge. British-born actor Robert Donat appeared in the 1934 version - the only film he made in Hollywood. Director James Whale's The Man in the Iron Mask (1939 and 1998) was about twin brothers (one - the tyrannical Louis XIV, the other - exiled and imprisoned with an iron mask) in 18th century France separated at birth - one eventually became a swashbuckling member of the Three Musketeers. Alexander Dumas' classic, The Corsican Brothers (1942) repeated the plot twist of twins (Douglas Fairbanks, Jr. in both roles) separated at birth but later reunited to join together to defeat a tyrannical Corsican baron.
And the oft-filmed The Three Musketeers (1916, 1921, 1933, 1935, 1948, 1973, and 1993) highlighted three 17th century French court swordsmen who battled evil Cardinal Richelieu to save France with a justice-seeking nobleman named Gascon D'Artagnan (Fairbanks). In director Fred Niblo's 1921 film, often acclaimed as the best of the lot, Eugene Pallette, George Siegmann, and Leon Barry starred as the musketeers. Fairbanks reprised his 1921 role as D'Artagnan in The Iron Mask (1929), his last silent film. The most-entertaining sound version was director George Sidney's 1948 version, with an acrobatic Gene Kelly as D'Artagnan, and Lana Turner as Countess Charlotte de Winter - in her first Technicolor picture. The adventure film At Sword's Point (1951) was a variation on Dumas' The Three Musketeers, featuring Cornel Wilde and Maureen O'Hara. (There was also a version with four leads: Richard Lester's The Four Musketeers: Milady's Revenge (1975).)

Additional historical swashbucklers included: producer Alexander Korda's dialogue-rich The Scarlet Pimpernel (1934, UK) starring Leslie Howard with a dual identity as an English aristocrat (Sir Percy) who saved other French aristocrats from being guillotined during the French Revolution's Reign of Terror, Mutiny on the Bounty (1935) - a Best Picture winner of the historical mutiny of the HMS Bounty in 1788 against a tyrannical and merciless Captain Bligh (Charles Laughton) led by Fletcher Christian (Clark Gable), and A Tale of Two Cities (1935) - a Dickens film adaptation with Ronald Colman as lawyer Sydney Carton who sacrificed himself during the French Revolution.
Fire Over England (1937, UK) was the first substantial British swashbuckler - the dramatic adventure film told about a young naval officer named Michael Ingolby (Laurence Olivier) who spied within the Spanish court of King Philip II (Raymond Massey) for Queen Elizabeth I (Flora Robson). It also portrayed Elizabethan England's stand against the huge Spanish Armada - and was noted as the film that first united husband and wife team Laurence Olivier and Vivien Leigh (as the Queen's lady-in-waiting Cynthia).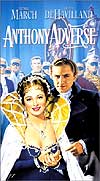 In Mervyn LeRoy's Best Picture-nominee Anthony Adverse (1936), Fredric March starred as the 18th century illegitimate son of an Italian nobleman who must battle against various adversaries across the globe to rightfully claim the family fortune. And in The Prisoner of Zenda (1937), David O. Selznick's screen adaptation of Anthony Hope's adventure tale, Ronald Colman starred as an heroic British commoner posing as his distant 'twin' cousin (the kidnapped King of Ruritania) during a Balkan coronation ceremony in order to save the throne from take-over. And Douglas Fairbanks, Jr. also made an appearance as Rupert of Hentzau. [Earlier versions were made in 1914 and 1922 (with Ramon Novarro and Lewis Stone), and an uninspiring, inferior version was also remade in 1952 starring Stewart Granger, Deborah Kerr, James Mason, and Jane Greer.] Reprising his Broadway role from 1946, Jose Ferrer appeared as the long nosed, 17th century braggart and swordsman Cyrano in director Michael Gordon's Cyrano De Bergerac (1950), and won the Best Actor Academy Award. The film's story was based on Edmond Rostand's 1897 poetic comedy.
Tarzan Adventure Films:

The 26 Tarzan books of Edgar Rice Burroughs became the subject matter for a long series of vine-swinging, ape-man adventures set in the jungle. Burroughs' first story (in 1912) appeared in the October issue of All-Story Magazine, and was later novelized in 1914. The threats of Western encroachment by white treasure-hunters, ferocious wild animals, and hostile native tribal life were typical elements of most jungle adventures. The first "Lord of the Jungle" was actor Elmo Lincoln - he started the trend in 1918 during the silent era with Tarzan of the Apes (1918), and also appeared in the sequel The Romance of Tarzan (1918).
Others who played Tarzan before Weissmuller were Gene Pollar, P. Dempsey Tabler, James Pierce, and Frank Merrill. And in the early 30s, Olympic gold-medal swimmer Larry "Buster" Crabbe appeared in Tarzan the Fearless (1933) from Principal, released as a 12-chapter serial and as a feature-length film. The New Adventures of Tarzan (1935), also issued as both a serial and as a 75-minute feature, starred Olympic decathlon champion Herman Brix (aka Bruce Bennett). It was later re-edited, and reissued as Tarzan and The Green Goddess (1938).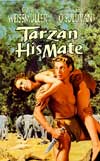 Of the many Tarzan films about the English nobleman raised by apes in the African jungle, the most memorable and enduring were the MGM-Johnny Weissmuller/Maureen O'Sullivan versions of the early 1930s until 1942, including: Tarzan The Ape Man (1932), introducing Tarzan's love interest English lady Jane (Maureen O'Sullivan), and its fast-paced sequel, Tarzan and His Mate (1934) with Jane in a skimpy loin-cloth and hordes of rampaging African natives. Their series of six films included the following:
Tarzan, the Ape Man (1932) - the first feature-length Tarzan talkie
Tarzan Escapes (1936)
Tarzan Finds a Son! (1939)
Tarzan's Secret Treasure (1941)
Tarzan's New York Adventure (1942) - O'Sullivan makes her final appearance as Jane
In total, Weissmuller appeared in twelve productions of the Tarzan series:
Tarzan Triumphs! (1943), RKO
Tarzan's Desert Mystery (1943), RKO
Tarzan and the Amazons (1945), RKO
Tarzan and the Leopard Woman (1946), RKO
Tarzan and the Huntress (1947), RKO
Tarzan and the Mermaids (1948), RKO
Other Tarzan actors after Weissmuller included Glenn Morris, Lex Barker, Gordon Scott, Denny Miller, Jock Mahoney, Mike Henry, and Ron Ely. A more recent, updated and refashioned 'Tarzan' film was director Hugh Hudson's naturalistic UK epic Greystoke: The Legend of Tarzan, Lord of the Apes (1984), with Christopher Lambert in the title role as John Clayton (the name Tarzan was never used in the film). [Ralph Richardson as Tarzan's grandfather - the Sixth Earl of Greystoke, in his final film role, received a post-humous Academy Award nomination.]
Adventure Films of British Colonialism:
Adventure films that offered tales of British colonialism and imperial campaigns of worldwide conquest included these examples:
Henry Hathaway's definitive, on-location action-adventure The Lives of a Bengal Lancer (1935) - about three British Lancers (Gary Cooper, Franchot Tone, and Richard Cromwell) in the 41st Bengal Lancers regiment in NW India that fought against revolutionary/rebel forces goaded by villainous Mohammed Khan (Douglas Dumbrille)
Michael Curtiz' The Charge of the Light Brigade (1936), a tale of 19th century imperialism starring Errol Flynn, with the climactic sequence of the famous light brigade charge of 600 soldiers during the Crimean War
Robert Stevenson's King Solomon's Mines (1937) - an African adventure tale about a search for a legendary diamond mine, from H. Rider Haggard's classic novel
Zoltan Korda's UK film Drums (1938) about a native Indian prince (Sabu) who helped a Scottish army regiment in India overcome a rebel tyrant
the French Foreign Legion saga of three upper-class brothers (Gary Cooper, Ray Milland, and Robert Preston) set in French North Africa with an additional mystery regarding the theft of a family heirloom - a Blue Water sapphire, in director William Wellman's Beau Geste (1939); a remake of P.C. Wren's adventure story first filmed in Herbert Brenon's silent Beau Geste (1926) with Ronald Colman
Zoltan Korda's UK The Four Feathers (1939), adapted from a story by A.E.W. Mason, about a young member of the British army (John Clements) who demonstrated his courage (after being accused of cowardice) during the British/Sudan campaign of 1898 to quell a rebel revolt
George Stevens' classic Gunga Din (1939) adapted from Rudyard Kipling's poem - another buddy film about three veteran, swashbuckling British sergeants (Cary Grant, Douglas Fairbanks, Jr., and Victor McLaglen) who suppressed a native uprising of Thuggees (religious fanatics in 19th century India) with the help of their native water boy Gunga Din (Sam Jaffe)
Khartoum (1966) about the British defeat and the beseiging of Khartoum in N Africa by Arab tribes in 1884
John Huston's The Man Who Would Be King (1975), an old-fashioned adventure based on Rudyard Kipling's short story about two rogue mercenaries who set themselves up as kings in Kafiristan
The Wind and the Lion (1975) set in early 20th century Morocco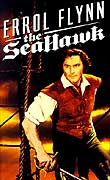 Early Pirate or Buccaneering Films:
Tales of pirates are numerous in the adventure film genre, including the following:
Robert Louis Stevenson's Treasure Island (1934, 1950) - a tale of buried treasure and Long John Silver
Captain Blood (1935) (mentioned earlier)
Cecil B. DeMille's The Buccaneer (1938), with Fredric March as 18th century pirate Jean Lafitte and the Battle of New Orleans; remade in 1958 with Yul Brynner with DeMille's son-in-law Anthony Quinn serving as the director
The Sea Hawk (1940) (mentioned earlier)
the colorful, fast-moving Oscar-winning (for Best Cinematography) film from director Henry King, The Black Swan (1942), about the real-life, notorious 17th century pirate-buccaneer Sir Henry Morgan (Laird Creger) and his daring compatriot James Waring (Tyrone Power); also with George Sanders as a villainous privateer and ravishing red-haired leading lady Maureen O'Hara; the title referred to a pirate ship
Captain Kidd (1945) starred Charles Laughton as the title character - a greedy, treasure-seeking pirate captain
Sinbad, the Sailor (1947) with Douglas Fairbanks Jr. featured as the Arabian title character in search of Alexander the Great's treasure