Background
---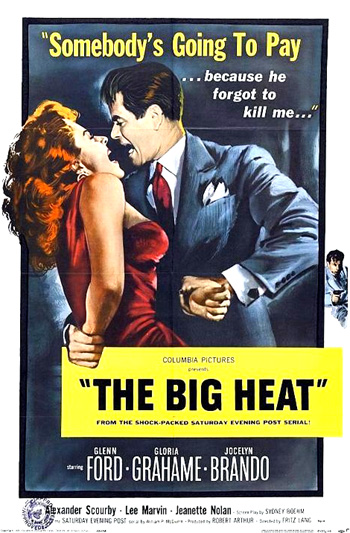 The Big Heat (1953) is director Fritz Lang's landmark bleak, film noir crime classic and violent melodrama. Lang's characteristic expressionistic lighting, use of sets and decor, and costuming sharply reflected the personality traits of the film's major characters. The sparse screenplay of a potent story laced with revenge, murder, and hate was written by former crime reporter Sidney Boehm and based on a Saturday Evening Post serial and the hard-hitting, brutal 1952 novel by William P. McGivern. The film's title referred to the police enforcement crack-down on lawlessness and illegal activities.
Similar fast-paced, Hollywood exposé gangster films of the 50s, with shocking public revelations about corruption, attempted to raise the question of the control of organized syndicates of crime over American towns and cities:
Bretaigne Windust's The Enforcer (1951), a police noir
Robert Wise's The Captive City (1952)
Phil Karlson's Kansas City Confidential (1952)
Joseph Lewis' The Big Combo (1955)
Phil Karlson's The Phenix City Story (1955)
Samuel Fuller's Underworld U.S.A. (1961)
One of the film's taglines on a poster revealed the compulsive and personal drive of the average Joe protagonist to vengefully retaliate against the forces of corruption:
Somebody's Going to Pay...because he forgot to kill me...
It emphasized the film's uncompromising and grim story of an iron-willed, driven, dedicated, honest, incorruptible homicide detective (Glenn Ford) within a crooked and perverted society and corrupt system at all levels (e.g., the mob, the commissioner, the police, and everyday citizens), and the enormous price that is paid to find justice. The crusading, vigilante rogue cop/hero must erode his idealistic, law-abiding principles when he resorts to the unlawful tactics of the hoodlums after the tragic murder of his young wife by sadistic, viperous gang members led by a big-time crime boss. He enlists the help of one of the gangs' molls, femme fatale (Gloria Grahame), in order to seek revenge.
The nihilistic film is best known for the shocking, misogynous scene of facial disfigurement, when a pretty gangster moll has a pot of scalding coffee callously tossed into her face by her abusive, enraged and disgruntled boyfriend (Lee Marvin). The message of the film is that only when courageous, moral individuals stand together is it possible to save the society (and home and family life) from being overtaken by sinister forces of evil. [A number of the film's most violent moments occur off-screen, e.g., the opening suicide, the bar-fly's torture and killing, the car explosion, the scalding with hot coffee, Larry Gordon's death, etc. but a second scalding occurs on-screen, and two women are shot to death in full view. There are other less violent crudities as well, e.g., an obscene phone call, and a cigarette burning a bar-fly's hand.] This film lacked Academy Award nominations.
Plot Synopsis
---
All the major characters are economically introduced in a few minutes within the tightly condensed narrative. The gritty crime film opens appropriately with a much-celebrated, giant closeup of a .38 gun lying on a living room desk. The hand of a man seated at the desk reaches for the gun and removes the weapon from view. After a single gunshot to his temple - a sudden suicide - the man falls forward into camera view and slumps over the desk. Policeman Tom Duncan has put a bullet through his head with the revolver. At three a.m. (displayed on a giant grandfather clock), his "widow" Bertha Duncan (Jeanette Nolan) descends a staircase and discovers his body. Like a prototypical film noir femme fatale, she reacts coldly and unemotionally to the suicide. She notices his confession note in an envelope addressed to the District Attorney at the Hall of Justice in the pseudonymous town of Kenport. After quickly glancing through the contents of the pages, she reaches for the phone. [The manipulative widow ultimately uses the confessional letter to blackmail a big-time mob boss, because it links the city administration to the syndicate executive. Throughout the film, the chain of command within various hierarchies and their respective communication links are represented by the use of telephones.]
The gangster mob boss/crime lord Mike Lagana (Alexander Scourby) [his silk pajamas are monogrammed with ML], resting in his well-furnished, luxurious bedroom, is wakened by one of his gang members (wearing a white terry-cloth robe) to take the private line phone call from "Tom Duncan's widow." Bertha informs him of the mishap, and then it is suggested that she "call the police immediately." Lagana has his male attendant George Rose (Chris Alcaide) dial Vince Stone - but the phone is answered by Vince's girlfriend Debby. She is wearing a white dress and lolling back on a sofa in a modern, posh, ostentatious penthouse suite.
The film's heroine, Debby Marsh (Gloria Grahame, who had won the Best Supporting Actress Academy Award a year earlier for The Bad and the Beautiful (1952)) is the beautiful moll and kept-woman of sadistic, reflexive, cold-blooded Vince Stone (Lee Marvin), Lagana's chief henchman. She is pleased that she must interrupt Vince's poker-playing with his boys to have him answer the call: "I always like to tell Vince you're calling. I like to see him jump." After passing the phone to her boyfriend and being crudely ordered to vacate the room, Debby pauses to vainly admire her reflection in the mirror [the first of many instances in the film].
The next scene, at the place of the murder, opens with the flash of a police photographer's camera bulb taking a picture of the corpse of the victim. Tie-less, half-dressed homicide Police Sergeant Dave Bannion (Glenn Ford) investigates the suicide of fellow cop Tom Duncan (in charge of the Record Bureau) after being summoned: "When a cop kills himself, they want a full report." Although a suicide is determined to be the cause of death, Bannion remarks that oddly, there's "no note or anything." He decides to talk to Mrs. Duncan in her upstairs bedroom.
Bertha primps and rehearses how she looks before her own set of mirrors at her vanity table - before Bannion's interview. She sobs - pretending to be distressed and upset. The grieving widow explains that her husband was a good cop. She invents the story that he killed himself because of depression over ill health:
When a policeman kills himself, the department gets worried....There weren't any circumstances. Everything Tom ever did was clean and wholesome. That's the kind of man he was...It must have been his health. Several times in the past few months, he complained about a pain along his left side. When I suggested he see the police surgeon, he'd make excuses. I think he was afraid to.
The Kenport News reports the story, with Mrs. Duncan's credible explanation for the suicide:
VETERAN POLICE SERGEANT SUICIDE
Head of Record Bureau Was in Ill Health

Concealing the knowledge from his wife that he was in ill health, Police Sergeant Thomas Duncan, 41, of 659 Anderson Avenue, today shot and killed himself in his own home.
Mrs. Bertha Duncan told police that she was awakened by a single shot at 3:15 am. Rushing downstairs, she found her husband's lifeless body slumped over the living room desk, his right hand still clutching his service revolver.
In the next brightly-lit scene, transitioned by Bannion reading the newspaper, he is seen enjoying a peaceful home life - in a scene of domestic tranquility. His blonde, young and vivacious American wife Katherine 'Katie' (Jocelyn Brando, Marlon Brando's sister) is clad in a checkered apron in their simple yet respectable, wood-paneled home of the 1950s. Exhibiting an egalitarian marriage, he helps her set the table for a "medium-rare" steak dinner (a huge piece of meat that she cuts in half) with baked potatoes that she has prepared in their modest kitchen. They both share things - she sips from his drink and takes a drag off his cigarette. They have a pre-kindergarden daughter, a "holy terror" named Joyce (Linda Bennet), whose college education will mean the end to their extravagance "unless you become police commissioner in the meantime." In their warm banter with each other, they thoughtfully discuss their child-rearing philosophy that is similar to a baby care book that recommends "be patient but firm."
Katie: The book, the book. Very scientific and calm. The trouble is, the authors have never met our daughter.
David: Oh, it's very simple. She's madly in love with me, that's all. Hey, you know somethin', that's the, that's the conflict between the two of ya. You're both in love with the same wonderful guy. Right?
Katie: Wrong. We're just used to you.
They jokingly summarize their sense of togetherness and complementary sharing in their marriage:
David: It's a perfect marriage - we share the same Scotch, the same cigarette, the same can of beer.
Katie: Among other things.
David: Hey, you know somethin', I'm gonna drink mine and I'm gonna take a sip of yours. That'll be somethin' different for a change.
Their meal (and their loving home life) is interrupted when family man Bannion receives a phone call [the first of two such instances that disturb his peaceful life] from a police sergeant regarding the investigation - with the news that Duncan's death wasn't a suicide: "Duncan didn't kill himself." He is asked to question a woman who has contacted the police with a different story. The scene ends with a close-up of his notes on a pad: Lucy Chapman, The Retreat.
That dark evening at the local downtown club, The Retreat (lined with photos of pin-up girls), Duncan's girlfriend Lucy Chapman (Dorothy Green), who calls herself a "B-girl," tells Bannion that Duncan had no reason to kill himself. Hustling barfly Lucy explains that Duncan's widow is a liar and that Tom was not suffering from depression over health problems, as the newspapers and Bertha had both reported: "This story's all wrong, Mr. Bannion. Why, Tom wouldn't kill himself. He wasn't worried about his health, not for a single minute."
Lucy describes the unsavory details of how she had a thing for Tom ("he was a real wonderful guy...nice and gentle") and he was never happier, especially since Bertha had recently agreed to divorce him. She had first met Duncan "down in Lakeside - Tom owned a summer place there." [Was Tom on Lagana's payroll, thereby able to afford a second home? And did he kill himself out of guilt?] They would get together when his wife was away traveling: "We'd go swimming and then lie around in the sun." She explains the difference between Bertha and herself:
You've got to understand how things were with Tom, how he was caught between the two of us - between me and that leech he was married to...The only difference between me and Bertha Duncan is that I work at being a B-girl and she has a wedding ring and a marriage certificate.
But Bannion is confrontative, malevolent, and hostile toward the less-than-human, sexually-active bargirl. [He categorizes women as either pure saints or trashy whores.] Skeptical of her account and prejudiced against the no-good partygirl, he believes that she is using him "for a shakedown." She counter-accuses him, with a harsh tone, of "covering up for a cop's widow." Lucy vows that she will talk to reporters to tell the true story: "Tom had no reason to kill himself." Acting self-righteous and slanderous, Bannion is unaware of the implications of Lucy's information.
Bannion's suspicions are slightly aroused, however, and he returns to further question the widow Bertha Duncan, to check up on her story and to find out why her husband took his own life. Bertha confesses to their "dirty family linen" and Tom's affair with Lucy: "I suppose that woman told you about their relationship." Bertha denounces Lucy Chapman as a liar, when she denies that she had agreed to a divorce, and when she asserts that Tom had a terminal illness. She also explains that Tom was a frequent womanizer during the years of their marriage:
There were four Lucy Chapmans, four that I found out about. Tom was vain. He had to prove to himself that he was still attractive to women. Maybe he did boast to that woman that he was in good health. What else would you expect him to do?
Bannion asks how they could afford an expensive second house in Lakeside and insinuates that their second home was probably beyond their humble means on a typical cop's salary ("a wealthy policeman would be a novelty"):
There's a chance that Lucy Chapman might try a little blackmail. She knows that you own that house at Lakeside, probably thinks you're wealthy...Would you mind telling me about the house at Lakeside, when it was bought, the price that was paid, small details like that?
Bertha becomes haughty and furious. Resenting the question ("I resent the implications of your questions"), she refuses to answer any further, although Bannion defends his tact: "It's my job to have the material to offset any insinuations that she (Lucy) might make."
After Bannion leaves, the scene ends with Bertha pulling the curtain aside and looking out of her window. Her image dissolves into the sight of a teletype machine printing out a message [symbolically connecting her to the murder of Lucy Chapman]. Lucy's tortured (with cigarette burns) and beaten body is discovered by the side of the parkway, thrown from a car. The message is handed to Bannion to read (along with the film audience):
ATTENTION - HOMICIDE DIV. - KENPORT POLICE

UNIDENTIFIED WOMAN FOUND DEAD 6.26 AM OFF COUNTY PARKWAY. THROWN FROM CAR AFTER BEATING AND TORTURE. DRESS AND SHOES LABELED LAKESIDE FASHION SHOP.

[This portion of the message catches Bannion's eye - it is cinematically highlighted by light.]

DESCRIPTION...WFA, ABOUT 28, 118 LBS., 5 FT. 5 IN., BROWN EYES AND HAIR, FAIR COMPLEXION.

CONTACT DR. T. S. KANE, HILLSIDE COUNTY MEDICAL EXAMINER.
Bannion hurriedly leaves the police office, passing a poster that orders: "GIVE BLOOD NOW." At the office of the County Medical Examiner in the County Morgue, Dr. Kane crassly remarks after the victim has been identified:
Examiner: Trouble automatically catches up with girls like her. Looks like a sex crime to me...I'd say pretty definitely it was psychopathic. You saw those cigarette burns on her body.
Bannion: Yeah, I saw them. Every single one of them. (He extinguishes his own cigarette butt in disgust.)
Examiner: What's that name again, Sergeant?
Bannion: Miss Chapman, Lucy Chapman.
Upon his return to the office, Bannion is called in to speak to his superior, Lieutenant Wilks (Willis Bouchey). As the Lieutenant washes his hands, literally and figuratively, he mentions: "I had a call from upstairs." Bannion is reprimanded for his "bad judgment" in bothering Bertha Duncan ("a cop's widow") with sensitive questions, in his second visit, about the love life of her husband. Because "somebody" complained, and the Lieutenant doesn't wish to antagonize any higher-ups in the hierarchy of command, Bannion he is not only advised but then told to close the case due to "pressure calls from upstairs."
Wilks: I'm the one that gets the pressure calls from upstairs. I'm the one that has to explain. You don't keep an office like this very long stepping on a lot of corns.
Bannion: Do you want me to go upstairs and explain?
Wilks: Not you. You're a corn-stepper by instinct.
"A corn-stepper by instinct," Bannion is not able to understand why he is ordered to lay off the case and "stop pestering the widow," since he now realizes that Lucy told the truth: "She talks to me just once - (he clicks his finger) - like that, she's dead." Like the County Medical Examiner, the Lieutenant devalues Lucy Chapman's life:
When barflys get killed, it's for any one of a dozen crummy reasons, you know that.
Bannion is motivated to pursue the forbidden investigation and mystery even further. The scene in the Lieutenant's office dissolves to a cocktail glass, held up in the air by The Retreat's bartender Tierney (Peter Whitney) as he checks and polishes it for cleanliness. Bannion has returned there to question the bartender about Lucy Chapman, but Tierney assumes a "don't ask" policy about any of the barfly's motivations and actions [she isn't worth caring about, because she represents the complete opposite of stable, settled suburban home life]:
All any of these dames owe me is a night's work, one night at a time. They come and go like flies...Outside of my place, some of these babes keep pretty shady company. It figures. They know nobody cares much what happens to 'em...They're floaters, not much more than a suitcase full of nothin' between them and the gutter.
Bannion is led around in circles by the "double-talk"ing bartender: "You ought to be doing radio commercials. How to talk alot and say nothing." When he leaves, he waits around to see that Tierney immediately makes an "important" phone call [to Lagana]. Confronted, he claims he called his "mother." When Bannion threatens to take the bartender downtown for more questioning, Tierney gloats that has already been informed that Bannion has been warned to not "butt into a county case" out of his jurisdiction and to "stop annoying people."
That evening, Bannion returns home in a tense and "let-down" mood ("an occupational disease with cops") that is sensed by his wife: "You look down in the dumps." He accidentally topples his daughter Joyce's (Linda Bennett) play castle of blocks (a police station) and upsets her. When his wife picks up the ringing phone [the second intrusive phone call], she hears four-letter obscene words directed at her. Enraged that his pure-minded wife has heard insulting language, Bannion takes the phone and is threatened [(by Larry Gordon (Adam Williams))] to stay out of the case because important people are involved:
Listen, slob. Stop minding other people's business if you want to stay alive. Some big people are getting annoyed.
Bannion is incensed by the scheming of ruthless crime bosses to put him down and threaten his home life: "It's just another part of the scheme to make me crawl back in my shell." Although not knowing who called, he immediately suspects Mike Lagana, a civic leader but also the untouchable crime lord who runs the town ("that's no secret") and is at the heart of all shady dealings in town.
Bannion leaves his wife (who has invited guests for dinner) and drives to Lagana's stately, palatial mansion. The property is protected by an extensive, round-the-clock detail of patrolling policeman ("ten cops (who) watch over Mike Lagana. 100 bucks a day of the taxpayers' money"). The cop on duty only follows orders:
Cop: I do what I'm told.
Bannion: That's what we're all supposed to do, isn't it? (The cop chuckles.)
The trenchcoated sergeant arrives in the midst of an upper-class American dance party for Lagana's teenaged daughter (who dates a football player). He undiplomatically pushes by the butler in his way through the front door and confronts Lagana in the lobby. Within the mansion's library-study, the immensely-wealthy, first-generation Italian immigrant (made-good) Lagana speaks about his overstated devotion to his sainted mother (typical for a gangster figure, e.g., in Public Enemy (1931), Little Caesar (1930) and White Heat (1949)) - prominently portrayed in an idealized painting above the fireplace:
My mother - a great old lady. They broke the mold when they made her. She died last May. She lived here with me. Had her own suite of rooms - her own bath - everything. Never got over being surprised about my success.
Rather than coming on a fund-raising errand (for a benefit dance or pension-fund drive), Bannion demands answers to Lucy Chapman's "old-fashioned," prohibition-style murder (the bar-girl that Lagana ordered killed). But hypocritically, the suave, refined Lagana doesn't want to talk about such matters in his home (especially a murder committed Prohibition-style), and threatens to remove Bannion from his position. The cop threatens Lagana to leave his own household and his wife alone:
Lagana: You came here to my home about a murder?...This is my home and I don't like dirt tracked into it.
Bannion: I see. And I've violated your immaculate home, is that it?
Lagana: That's exactly it. And tomorrow morning, I'll see you don't get the chance to do it again.
Bannion: What'll you do? Make another phone call? Or have somebody make it for ya?
Lagana: I've seen some dummies in my time, but you're in a class by yourself.
Bannion: I'm stupid, because I want some answers about a murder, is that it?
Lagana: Shut up and get out.
Bannion: We don't talk about those things in this house, do we? No, it's too elegant, too respectable. Nice kids - party - painting of Mama up there on the wall. No place for a stinkin' cop! It's only a place for a hoodlum who built this house out of twenty years of corruption and murder. I'm gonna tell you something. You know, you couldn't plant enough flowers around here to kill the smell...Cops have homes too, only sometimes there isn't enough money to pay the rent because a cop gets hounded off the force by your thievin' cockroaches for tryin' to do an honest job. What's the matter? Do you think I live under a rock or something? Your creeps have no compunction about phoning my house, giving me orders, talking to my wife like she was a ...
Bannion anger explodes - he beats up Lagana's handsome bodyguard George who tries to throw him out. He challenges Lagana to "pinch-hit" for his strong-arm protector - before suddenly leaving.
The next day, Bannion is reprimanded one more time by Lt. Wilks for walking into Lagana's house and slugging his bodyguard: "You're no rookie. You've been around long enough to know better...I'm the one getting the squeeze from upstairs." Bannion explains the rationale for what he did:
What am I supposed to do when some cop-hater phones my home and insults my wife? Sit home and like it?...I'm tryin' to tell you that nothin' dirty happens in this city without Lagana's OK.
Wilks warns that this is Bannion's second and final warning.
Returning to his own cramped and modest home that night, Bannion tells his wife that he almost tossed in his badge because he finds it more and more difficult to overlook corruption. She expresses confidence in his risky search for the truth and advises him to not back down. She would rather that he not consider the possible consequences for himself and his family - and then they share the film's most intimate moments:
Katie: Your big trouble, honey, is that you attack yourself from all sides like Jersey mosquitos. You don't want to quit the department, not for one minute.
Bannion: What am I supposed to do? Hold on to my job by just stringin' along, afraid to look to the left or to the right because I might see something that they don't want me to see?
Katie: You do, you're gonna have trouble from me. You just keep leading with your chin and don't you compromise!
Bannion: That's what I wanted to hear you say. (He kisses her lovingly, photographed in close-up.) Thanks, Inspector.
Katie: Honey?
Bannion: Hmm, hmm.
Katie: If I tell you something, you won't laugh.
Bannion: I won't laugh.
Katie: I love you.
Bannion: You see, I'm not laughing.
Katie prepares to leave the house [the only instance that she exits the house in the film proves disastrous] to drive over and get a babysitter for their daughter, because they are going out for the evening to the movies. While he is in the bedroom putting young Joyce to bed, Katie's opening and closing of the car door in the driveway are heard through the window behind them. When the ignition is turned on, a car bomb explodes in a bright flash and violently shakes the bedroom - it is Lagana's retaliation, meant for him. Although he is able to pull her from the burning vehicle, she is already dead from the vicious attack.