Background
---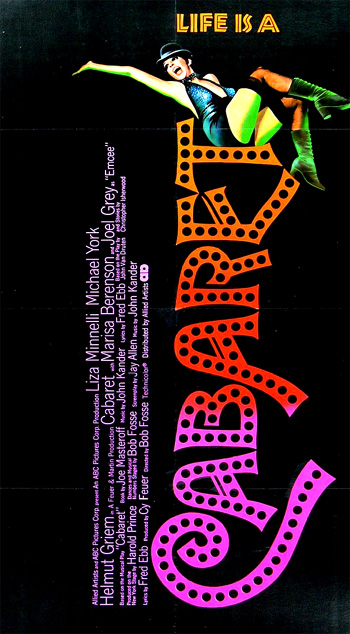 Cabaret (1972) is director/choreographer Bob Fosse's defining, decadent, award-winning musical which popularized the phrase: "Life is a Cabaret." It was only Fosse's second film, but won numerous accolades (and was a financial and artistic hit), and has been viewed in retrospect as the only truly great musical of the 1970s.
The boundary-pushing film, with themes of corruption, sexual ambiguity and false dreams, was adapted from the grim 1966 Tony-winning Broadway stage production, which was in turn inspired by gay author Christopher Isherwood's 1945 Berlin Stories (including 1939's short story Goodbye to Berlin) and John Van Druten's 1951 play and movie I Am a Camera (1955, UK). (The 1955 film starred Julie Harris, Laurence Harvey and Shelley Winters.) American playwright Joe Masteroff scripted the original book of the play version.
Some forecast that Fosse's musical would be a bust (a musical with Nazis?) - similar to Mel Brooks' dark comedy The Producers (1968) with its "Springtime For Hitler" number. Fosse's film was an update of the Kurt Weill-Brecht world of The Threepenny Opera, Josef von Sternberg's The Blue Angel (1930), and Luchino Visconti's The Damned (1970, It.). It also borrowed from the visual style of German Expressionists, such as George Grosz and Otto Dix.
The sexually-charged, semi-controversial, kinky musical was the first one ever to be given an X rating (although later re-rated) with its numerous sexual flings and hedonistic club life. There was considerable sexual innuendo, profanity, casual sex talk (homosexual and heterosexual), some evidence of anti-Semitism, and even an abortion in the film.
It was set during the last days of the Weimar Republic-era Germany around 1931, at a time when the youthful National Socialist German Workers' Party (NSDAP, aka the Nazis) was on the rise. The main locale, a metaphoric plot setting, was the grimy, perverse, decadent and seedy underground Kit Kat Club, which was led by an impish, leering, mocking androgynous Master of Ceremonies (MC) (Joel Grey). The main characters drawn together in a misconceived love triangle in the corrupt, pleasure-seeking world outside the cabaret were:
Sally Bowles (Liza Minnelli in a bravura, career-defining performance), a flamboyant, amoral and effervescent American singer/performer
Brian Roberts (Michael York), Sally's bisexual boarding house tenant - a Britisher and English language teacher
Maximilian von Heune (Helmut Griem), a homosexual German playboy-baron
[In the original mid-1960s Broadway production version, the main characters were an American writer named Cliff Bradshaw and 19 year-old English cabaret singer Sally Bowles - reversed nationalities in the film. The New York stage production was directed by Harold "Hal" Prince, and starred Jill Haworth as Sally, Bert Convy as Cliff, Lotte Lenya as Fräulein Schneider, and Joel Grey as the Emcee.]
The superb songwriting team of John Kander and Fred Ebb contributed a string of 12 memorable songs or tunes (comprising about 38 minutes of the two-hour running film time) - all effusive, stylishly-choreographed, beautifully-costumed song-sequences. Several songs from the Broadway production were dropped, while several new songs were written. With the exception of only one song, the tunes were sung by only two of the characters, Sally and the MC, on the Kit Kat Club's stage, sometimes with an entourage of sleazy female musicians or dancers. The claustrophobic nature of the club's tiny stage mirrored the fact that the menacing fascistic society was impinging on life.
"Willkommen," "Mein Herr," "Money, Money," "Cabaret," and "Tomorrow Belongs to Me" - and others, not only entertained but were mainly interior diagetic numbers - a radical reinvention for the musical genre. Cabaret was essentially a dark drama with the performance of cabaret-stage songs that were metaphorical to the film's story - yet confined to the stage. Cabaret placed # 5 on AFI's 25 Greatest Movie Musicals list, and the title song "Cabaret" was # 18 on AFI's 100 Top Movie Songs of All Time.
From its ten Academy Award nominations, the vibrant film won eight Oscars: Best Supporting Actor (Joel Grey), Best Actress (Liza Minnelli with her first on-screen singing role), Best Art Direction-Set Decoration, Best Cinematography, Best Director, Best Film Editing, Best Original Song Score, and Best Sound. Its two non-winning nominations were for Best Picture and Best Adapted Screenplay (it lost both to Coppola's The Godfather (1972)). It won the most Oscars of any film that also did not win Best Picture. Gravity (2012) holds second place with seven Oscar wins, while A Place in the Sun (1951) and Star Wars (1977) hold third place with six Oscar wins while failing to win Best Picture.
In 1973, Fosse not only won the Best Director Oscar for Cabaret but also a Primetime Emmy (Outstanding Directorial Achievement) for Minnelli's TV special "Liza with a Z" and a Tony (Best Direction of a Musical) for the original Broadway production of Pippin. He became the only person to have won all three Best Director awards in a single year. Some interpreted Liza Minnelli's win as 'compensation' for the many Oscar losses that her mother, Judy Garland, experienced. With her win, she became the first and only person to win an Oscar whose parents (Judy Garland, a Juvenile Oscar winner, and Vincente Minnelli) had both won Academy Awards.
Plot Synopsis
---
The film opens in Berlin, 1931, with sinister, androgynous, chalk white-faced, demonic Master of Ceremonies (Joel Grey) in the Kit Kat Club, a cabaret filled with frivolity and gaiety among its patrons. The MC host with painted lips and rouged cheeks, facing a warped mirror-wall, turns to the camera (and audience) to sing: "Willkommen" - a cheery greeting in German, French and English. [Note: The translation into three languages to suit the club's cosmopolitan clientele anticipates future hostilities between the three nationalities during wartime.]:
Willkommen, bienvenue, welcome, Fremde, etranger, stranger...
Happy to see you...Welcome...To Cabaret.
Simultaneously, as a railway train arrives at the Berlin station, the MC adds that "life is beautiful" in the club, although that is far from the truth:
"Leave your troubles outside. So, life is disappointing? Forget it. In here, life is beautiful. The girls are beautiful. Even the orchestra is beautiful. Beautiful."
A wide-eyed, smiling, blonde-haired passenger disembarks from the train. A female orchestra appears on stage, and then the host introduces six scantily-clad "cabaret girls" - all with suggestive and exaggerated poses parodying sexiness:
"Each and every one a wirgin. You don't believe me? Well, do not take my vord for it. Go ahead. Ask Helga. Outside, it is vindy, but here, it is so hot. Every night, we have za battle to keep the girls from taking off all their clothing. So, don't go avay. Who knows...tonight we may lose the battle."
The leggy dancers reprise part of the song before he introduces various specialty acts: the "pretzel woman," the juggler, and a "charming singer from America, Miss Sally Bowles!" The entire group then concludes the song.
The rail passenger enters a bohemian boarding house, speaks to false dark eyelash-wearing tenant Sally (Liza Minnelli) with a black helmet of hair, and explains he is looking for an inexpensive room to rent from Fraulein Schneider (Elisabeth Neumann-Viertel). He introduces himself as Brian Roberts (Michael York), an innocent, introverted and naive teacher hoping to pay his rent by offering English lessons. [He is a graduate student working on his doctor of philosophy degree from Cambridge.] Ex-patriate, free-spirited, over-the-top Sally Bowles, a wild, worldly-wise, hedonistic, starry-eyed, promiscuous, passionate American singer/dancer from the Club, has been there for three months. With nervous energy and overstated hyperbole in her emotional speech, she shows off her green nail polish (calling it "divine decadence") and love of cigarettes. [She deludes herself about her father's interest in her and his occupation - a diplomat in Washington.] Eager to please, she tours him through the facilities, and shows him a small vacant room with only a bed. In her larger suite across the hall, she invites him to share the space and move right in, to offer his lessons there.
In the next scene, the talented, tawdry, and vampish Sally performs the show-stopping number "Mein Herr" at the seamy Club (with Brian in the audience) - made memorable with a black bowler, mascara, black stockings and garter, and low V-cut black outfit. She is perched on a simple chair with her long legs, swiveling around it and using the prop as a toy or sex object (in the style of Marlene Dietrich). The salacious song that precisely defines her assertive and aggressive persona is first slow but then ends in a frenzy. It tells of her erotic, excessive playgirl affairs and seductive qualities that reel in and then dump men:
You have to understand. The way I am, Mein Herr.
A tiger is a tiger. Not a lamb, Mein Herr.
You'll never turn the vinegar To jam, Mein Herr.
So I do, what I do. When I'm through, then I'm through, and I'm through.
Toodle-oo! Bye-Bye, Mein Lieber Herr, Farewell, Mein Lieber Herr.
It was a fine affair But now it's over.
And though I used to care I need the open air. You're better off without me, Mein Herr.
Don't dab your eye, Mein Herr. Or wonder why, Mein Herr.
I've always said that I was a rover. You mustn't knit your brow, You should have known by now
You'd every cause to doubt me, Mein Herr...
After her "wildly sensual" feigned-depravity performance, Sally introduces Brian to her opportunistic friend, Fritz Wendel (Fritz Wepper), an impoverished German who hopes to improve his broken English - to impress and charm wealthy ladies and land a rich wife ("so he can dazzle fat American divorcees") - as a self-admitted, fortune-hunting gigolo. There are three ominous instances of decadence related to the club:
On stage, the MC supervises (with a squirt bottle) a wrestling match in a muddy ring between two overweight vulgar females. Faces of Germans in the audience are gleeful.
In the men's room, a blonde-wigged transvestite named Elke (Ricky Renee) urinates in the stall next to Brian, to his amazement.
(in the next sequence), the club owner is beaten by Nazi thugs.
On their way home, Sally explains to Brian her strange occupation as a shocking denizen of the garish club in which she fantasizes herself as a star:
"That's me, darling. Unusual places, unusual love affairs. I am a most strange and extraordinary person."
She idolizes screen sirens, and is an aspiring actress herself: "I'm gonna be a great film star. That is, if booze and sex don't get me first....Oh, I know I can sing, but what I really want to be is an actress." She enjoys showing Brian one of her favorite past-times - screaming under noisy train tracks.