Earliest Comedy:
Cinematic comedy can be considered the oldest film genre (and one of the most prolific and popular). Comedy was ideal for the early silent films, as it was dependent on visual action and physical humor rather than sound. Slapstick, one of the earliest forms of comedy, poked fun at farcical situations of physical mishap and indignity, usually in pratfalls, practical jokes, accidents, acrobatic death-defying stunts, water soakings, or wild chase scenes with trains and cars. [Burlesque is another form of early comedy, characterized by unrefined and broad humor, designed to produce ridicule.] Pioneers in the early days of silent cinema and film-making, the Lumiere Brothers, included a short comedy film in their very first public screening in 1895 titled Watering the Gardener or "The Sprinkler Sprinkled" (L'Arroseur Arrose). Its predictable subject matter included a man with a garden watering hose who was tricked into being soaked by a prankster child.
Keystone Studios: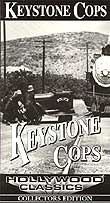 It took until 1912 for American comedy to emerge. The first comics were trained by performing in the circus, in burlesque, vaudeville (music halls), or pantomime. Film entrepreneur Mack Sennett, soon nicknamed "The King of Comedy" and "The Master of Slapstick Comedy," formed the Keystone Company (and Studios) in 1912 - it soon was the leading producer of slapstick and comic characters.
The major hallmark of Sennett's career work was inventive, visual, improvised comedy displayed in short silent films that moved frantically. His early short comedies featured wild slapstick chase finales, visual gags and stunts, and speedy, zany action. The action appeared all the more frantic and frenzied by his use of a filming technique whereby he shot the pictures at a slow camera speed, and then accelerated the frames in the projector during playback. He often cast vaudevillian, burlesque, and circus performers in his films. Those with exaggerated or grotesque looks (obese, cross-eyed, lanky, leering, pop-eyed, etc.) were chosen to add to the unreality of the situations. His most popular pictures involved his bumbling comedy policemen, the Keystone Cops. There would be flying pies, bricks, careening vehicles with people hanging off, crashes, and other dangerous-looking stunts. Cinema's first custard-pie-in-the-face was in Sennett's silent film comedy A Noise From the Deep (1913), in which comedian Mabel Normand, a farmgirl threw a pie into the kisser of obese farmhand Roscoe "Fatty" Arbuckle.
Eccentric comic artists (and character actors) included Arbuckle, Edgar Kennedy, Mabel Normand, zany and cross-eyed Ben Turpin, Mack Swain, Billy Bevan, Charley Chase and Chester Conklin. [Even Carole Lombard began her career at Keystone.] Charlie Chaplin got his start at Keystone (his first film was the short Making a Living (1914)) and made numerous short films from 1914-1919 (for Keystone, Essanay, Mutual, and First National), until his first full-length feature that he directed, wrote, and acted in, The Kid (1921) - see below.
The Silent Era Clowns
Roscoe "Fatty" Arbuckle: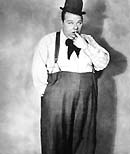 Roscoe "Fatty" Arbuckle was one of the earliest silent film comedians (as well as director and screenwriter). He started out with the Selig Polyscope Company in 1909 (his first film was Ben's Kid (1909)), and then went onto Universal Pictures in 1913 where he appeared in several of Mack Sennett's Keystone Comedies films, noted for fast-paced chase sequences and 'pie-in-the-face' segments. Arbuckle was the first of the silent comedians to direct his own films, starting with Barnyard Flirtations (1914). His teaming with Mabel Normand at Keystone, in a series of "Fatty and Mabel" films, were lucrative for the studio.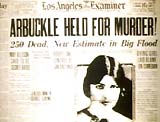 In 1917, Arbuckle formed his own production company ("Comique Film Corporation") with producer Joseph Schenck which afforded more creative control, hiring Buster Keaton to star in his first film The Butcher Boy (1917). He used his 'fatness' as part of his sight gags, and his slightly-vulgar but sweet and playful character became extremely popular with younger audiences. By 1919, he had secured at $3 million/3-year contract with Paramount Pictures - the first multi-year, multi-million dollar deal for a Hollywood studio. It is little mentioned that Arbuckle mentored and aided Buster Keaton and Charlie Chaplin as they entered the film business, before his own downfall in the early 1920s. He was accused of the rape and murder of young starlet Virginia Rappe in San Francisco in a widely-publicized case -- and thoroughly chastised by Hearst's 'trial-by newspaper' (with soaring sales) and public condemnation. His career was over, although he was eventually fully acquitted of the act after three trials.
Charlie Chaplin:
Charlie Chaplin, a silent actor and pantomimist, was recruited in 1913 to Keystone from an English variety act (Chaplin was touring the US with Fred Karno's theatrical company), and became Sennett's most important discovery to add to his stock company of comedic actors. Chaplin made 36 short Keystone films for producer Mack Sennett in 1914. His first film was the short Keystone comedy Making a Living (1914), released in early February of 1914, in which Chaplin played an out-of-work swindler named Edgar English (with top hat and mustache). It was one of only a few Chaplin films where the actor did not play the Tramp character.

In Chaplin's second picture, the 11-minute Kid Auto Races in Venice (1914), the first released film (on February 7, 1914) with the Little Tramp character, he attended a 'baby-cart' race in Venice, California as an obnoxious spectator who kept interrupting the filming of the auto races. Released two days later (on February 9, 1914), although filmed earlier (and considered the first Tramp film), Mabel's Strange Predicament (1914) was the one in which the immortal, trademark Tramp character was born or invented. Although not named "The Tramp" (his character was a slapstick happy Drunk or Slicker), Chaplin wore the characteristic baggy pants, floppy oversized shoes, walking cane, tight coat, and small derby (or bowler) hat and walked with a funny stride. Late in the year, Chaplin appeared as another city slicker in Sennett's first feature-length feature film, Tillie's Punctured Romance (1914) opposite co-star Mabel Normand. It was the first feature length comedy film ever, and it was also notable as the last full-length film that Chaplin made that he didn't direct or write.
In 1915, Chaplin worked for the Essanay Film Manufacturing Company (in Chicago) as writer/director and star, where he made 15 films during the year. His first Tramp masterpiece and his 6th film for Essanay (released in April), The Tramp (1915), showed evidence of the refined development of the character and his personality (with less slapstick and more emotion). Then, he went on to produce a dozen two-reelers for Mutual Film Corporation in 1916-1917. The company formed "Lone Star Studios" solely for Chaplin's films. Classics that were made included The Floorwalker (1916), The Vagabond (1916), The Pawnshop (1916), The Rink (1916), Easy Street (1917), The Cure (1917), and The Immigrant (1917).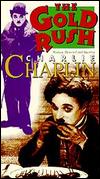 At First National beginning in 1918 through to 1923, Chaplin made nine films for his own production company. There were one major masterpiece during this time - it was his first full-length starring feature that he directed, titled The Kid (1921) which paired him with young Jackie Coogan. Then, beginning in 1923, Chaplin began to release his own films (all feature-length, and 8 in total) through his own film studio, United Artists. These were further examples of his talent with "silent" features, even though the silent era was ending and the sound era had arrived:
Chaplin resisted the coming of the talkies until his first talking picture The Great Dictator (1940). Another talkie was Limelight (1952) - a film with silent comedian Buster Keaton as co-star.
Buster Keaton: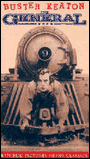 One of the great silent clowns of the early comedic period was Buster Keaton, known for acrobatic visual gags, physical action, and for his deadpan, unsmiling, expression-less "stoneface." (His first name was a nickname given to him by Harry Houdini after he fell down some steps.) Keaton was first a vaudeville performer, performing and partnering quite often with former Keystone star and mentor Roscoe "Fatty" Arbuckle. He entered the profession of film-making in 1917 at the age of twenty-one as a supporting player, in his film debut The Butcher Boy (1917). Then, he started his own production company and became an actor in his own production unit in many excellent short films (usually two-reelers) from 1920-1923, including One Week (1920), Neighbors (1920), The High Sign (1921), The Boat (1921), The Haunted House (1921), The Playhouse (1921), The Paleface (1921), Hard Luck (1921), and The Frozen North (1922), but none as a repeating character.
A few years later, he also starred in a number of feature-length silents, his first being The Three Ages (1923). Among his best features were Our Hospitality (1923), The Navigator (1924), Sherlock Jr. (1924), Go West (1925), Seven Chances (1925), and Battling Butler (1926). His most-acclaimed feature-length production was the fast-paced Civil War adventure tale of a railroad engine called The General (1927), which he soon followed with College (1927) and Steamboat Bill, Jr. (1928). The latter film is known for one of the most suicidal stunts ever filmed - a falling wall with only a top-floor open window to save him from being flattened. [One of his last film appearances was as one of the 'waxworks' friends who plays bridge with silent film star Gloria Swanson in Sunset Boulevard (1950).]
Harold Lloyd: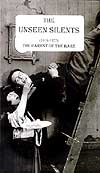 Harold Lloyd, a popular silent clown, has been dubbed the 'third' genius or master of silent comedy - after Chaplin and Keaton. [An actor/producer, he actually outgrossed his better-known counterparts, by retaining ownership of his films and their profits.] Like them, Lloyd also spent some time in the early years with Mack Sennett, became known for realistic, daredevil stunts, and for his bespectacled, neat, innocent, noble-hearted, 'average Joe' characters. From 1915-1921, he produced a number of short films for Keystone and for major comedy producer Hal Roach, playing the character of Willie Work (debuting in his first starring film Just Nuts (1915) as a Chaplin-like character) and Lonesome Luke (first appearing in Lonesome Luke, Social Gangster (1915)).
Lloyd graduated to full-length features playing the part of a normal Everyman (or "Glasses") - "Glasses" debuted in the comedy short Over the Fence (1917), and "The Boy" first appeared in shorts beginning in 1919. His last short was Never Weaken (1921). He became most identified with this 'boy'-next-door character (normally named Harold) with his most famous trademark - horn-rimmed glasses. His most-remembered film, the feature-length Safety Last (1923), featured his perilous, memorable climb up a tall skyscraper's face that climaxed with his hanging off a giant clock. Lloyd's career lasted 34 years with over 200 comedies (mostly short subject featurettes, but including 11 silent features and 7 sound features). One of Lloyd's other greatest films was also his most successful, The Freshman (1925), in which he portrayed a duped college underclassman (Harold 'Speedy' Lamb) determined to redeem himself - on the football field. Other well-known films included Grandma's Boy (1922), Why Worry? (1923), Girl Shy (1924), The Kid Brother (1927), Speedy (1928) (his final silent feature film) and Movie Crazy (1932). His last film was released in 1947 - director Preston Sturges' The Sin of Harold Diddlebock (1947), retitled Mad Wednesday by co-producer Howard Hughes, re-edited and released by RKO in 1950.
Harry Langdon:
Another early comic performer was baby-faced, innocent, timid Harry Langdon, who also worked at Keystone. He experienced only a brief period of fame during the end of the silent era, although he could be placed in the same league as his three other comic contemporaries: Charlie Chaplin, Buster Keaton, and Harold Lloyd. His best feature film in a short four-year film career, The Strong Man (1926), was director Frank Capra's feature-film debut. The film predated Chaplin's City Lights (1931) by several years with its plot of a meek man in love with a blind woman. Langdon also starred in two other hits: Tramp, Tramp, Tramp (1926) and Capra's Long Pants (1927) in which Langdon played his typical simple-minded, man/child role.
Larry Semon:
Another popular, second-level slapstick comedian in the silent era who made hundreds of two-reel shorts from 1916-1924 for Vitagraph and for the B-picture company, the Chadwick Pictures Corporation, was the charming, white-faced, smiling, and clownish Larry Semon. He began film work at Vitagraph in 1915 as comedy short gag writer and then as director in 1916. His first feature-length film was also his best known and most influential work - a remake and adaptation of Baum's The Wizard of Oz (1925), with Semon serving as both director and star - as the Scarecrow opposite Oliver Hardy (of the comic team) who played the Tin Woodsman. The film's release was highly publicized, but the public didn't like it - and it was essentially a failed effort. Afterwards, he took a supporting role in Josef Von Sternberg's classic film Underworld (1927), and his last film, after filing for bankruptcy, was A Simple Sap (1928), released posthumously after his prematurely-short life.
The 30s Clowns
With the coming of sound, slapstick went into a bit of a decline and the flexible freedom of the earliest comedians was curtailed. Comedy was transformed, however, and began to be refined as an art form, with new themes, elements, and written characterizations, and comedic humor was now being derived from clever dialogue. Visual comedy remained strong throughout the 1930s, but now witty dialogue and verbal comedy were added. Some of the great comedians or teams, including Laurel and Hardy, the Three Stooges, the Marx Brothers, and Abbott and Costello, or individuals such as radio star Jack Benny, Eddie Cantor, Joe E. Brown, W. C. Fields, and Mae West emerged. Hal Roach's company was responsible for other ground-breaking comedy shorts during the 1930s, including the popular "Our Gang" series that lasted until 1944.
Laurel and Hardy:

One of the greatest and most-beloved of the comedy teams was the one of British-born Stan Laurel and the fat-faced Oliver Hardy, first purposely teamed together toward the close of the silent era by producer Hal Roach in the slapstick film Slipping Wives (1926). They had first met, by accident, during the filming of Lucky Dog in 1917. Director Leo McCarey at Hal Roach Studios recognized their potential as a team and capitalized on their contrasting, disparate physical differences (Stan: the "thin" man and Oliver: the "fat" one - each with derby hats) and classic gestures (bewildered head-scratching, tie-twiddling, eye-blinking and baby-like weeping).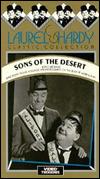 Although Laurel and Hardy worked together as a successful comedy team for 20 years (and were precursors of the 50s team Abbott and Costello), they were not equal partners - Stan considered himself the creative force and "brains" of the team. Their dozens of short films and twenty-seven feature-length films were produced over three decades (the 20s to the 40s), including such film classics as Sons of the Desert (1933) - arguably their best film, Way Out West (1937), The Flying Deuces (1939), and A Chump At Oxford (1940). One of their funniest bits involved getting a piano up a set of stairs in The Music Box (1932). Laurel and Hardy's last Hollywood film was The Bullfighters (1945), capping a teamed career of almost twenty years. They were among the few actors who successfully made the transition from silents to talkies.
Plots of their hilarious films used situational mishaps or incidents to trigger chaos and personal jeopardy, usually with the dignified, superior-acting, pompous Ollie trying to succeed and boast, only to be frustrated, exasperated and sabotaged by the simple-mindedness, childishness and brainlessness of Stan. Audiences were amused by their endearing qualities of naivete, clumsiness, innocence, and stupidity as they sunk deeper and deeper into trouble, chaos, and self-destruction.
The Marx Brothers:

Once talkies emerged, the most famous and popular comedy team was the zany foursome of the Marx Brothers. They were the only real-life sibling comedy group in Hollywood history:
the witty, wise-cracking, ad-libbing, absurdly-punning, caustic, fast-talking Groucho (famous for his crouched walk, mustache, cigar, round glasses and leering eyes)
piano-playing, broken Italian-accented Chico, famous for distorted logic
the mischievous mute-pantomimist/harpist Harpo (with an old taxi horn and numerous harp solos), known for chasing girls
the straight-man Zeppo (who left the other brothers in 1933 after his performance in Duck Soup (1933), his fifth film)
Their comedy was a mixture of slapstick, sophisticated verbal comedy (often absurd and risque), zany anarchistic disrespect for the establishment, nonsensical action, and inspired buffoonery.
The Marx Bros. 10 Best Feature Films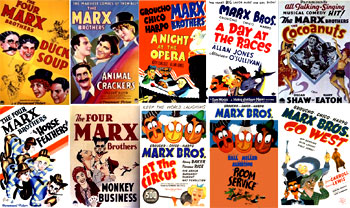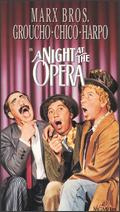 After almost two decades in vaudeville together, the brothers finally received widespread attention in their screen debut, The Cocoanuts (1929), filmed at Paramount's East Coast studios. Next were major box-office and critical successes - the film version of their Broadway play, Animal Crackers (1930), Horse Feathers (1932) and their last film for Paramount - the political, anti-war satire/spoof Duck Soup (1933).
The Marx Brothers further developed their unique brand of absurdist, hilarious, slapstick comedy with a change to MGM Studios in the mid-30s. MGM's productions of A Night at the Opera (1935) with its memorable scenes of the stateroom and a legal contract, and A Day at the Races (1937) were made at the height of their popularity. A frequent romantic foil for Groucho who appeared in a number of their films was Margaret Dumont, a memorable character actress. The film career of the Marx Brothers extended from 1929 to 1949. Marx Brothers Groucho, Chico and Harpo made their final film appearance as a team in Love Happy (1949), with a young 23 year-old Marilyn Monroe. Later on, Groucho became a star as an early TV game-show host.

W. C. Fields: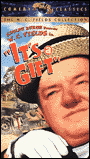 W. C. Fields is known for his recognizable raspy voice, pool cue, oversized bulbous nose and nasal drawl, stove-pipe hat, flask of 100-proof whiskey and love of drink, caustic verbal wit and wisecracks, and irritable disdain for small children, animals, upper-class snobs and bullying wives. The vaudeville star was an inspired comedian, a master of visual gags, double-takes, casual asides and pantomime. His film debut was in the silent one-reel comedy short Pool Sharks (1915), in which he showed off his pool-playing ability, and his first sound feature film was Warners' (and First National's) pre-code musical comedy Her Majesty, Love (1931). Fields usually wrote his own scripts and produced such classics for Paramount as It's A Gift (1934) and possibly his best film, The Bank Dick (1940), in which he credited himself as screenwriter Mahatma Kane Jeeves. Another wacky contribution was Never Give a Sucker an Even Break (1941) (written with the pseudonym of Otis Criblecoblis) - his last starring role in a feature-length film. Fields was a natural while portraying a hen-pecked husband, a phony, an eccentric, a windbag, a non-conformist schemer, or a pompous charlatan.

Mae West:
Another contemporary, wise-cracking, drawling performer was the bold, blowsy and flirtatious Mae West who enjoyed titillating and shocking audiences with double entendre dialogue, sexual innuendo and a desire for sex, especially before the advent of the Hays Production Code. [One of her typical lines was: "Listen, when women go wrong, men go right after them."] Mae West starred in her own films, notably as a buxom burlesque queen and singer in an 1890s saloon in She Done Him Wrong (1933), and as a circus floozy in I'm No Angel (1933). She also appeared with Fields in their only film together: My Little Chickadee (1940).