Abbott and Costello:

Another popular comedy film team of the 40s to the early/mid 50s, Bud Abbott and Lou Costello, were a variation on the Laurel and Hardy team. Tall, slim, fast-talking, self-important con man Bud Abbott played the straight man to the short, stubby, cowardly, stupid and childish Lou Costello. They made a number of witty, humorous pictures - their first, successful feature film was set in an Army base, Buck Privates (1941). Other earlier films were Hold That Ghost (1941) and In Society (1944).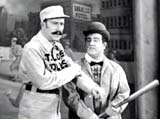 Their most well-remembered comedy sketch is entitled "Who's On First?" - a scene originally from their radio act that was reprised in their film, The Naughty Nineties (1945). The silly locales of their situation-style, formulaic comedies were reflected in some of their film titles: Universal's Abbott and Costello Meet Frankenstein (1948) - they appeared as baggage clerks delivering packages to a haunted house, with Bela Lugosi's Dracula, Lon Chaney Jr.'s Wolfman, the Frankenstein monster, and other ghouls, Africa Screams (1949), Abbott and Costello Go to Mars (1953), and Abbott and Costello Meet the Mummy (1955). They also had their own TV show titled The Abbott and Costello Show (1952-1953).
The Comic Duo - Jerry Lewis and Dean Martin:
Abbott and Costello were succeeded by wacky, childlike comic Jerry Lewis with his crooning, handsome, straight-man partner Dean Martin. While they had both failed as single performers, they were much more successful as a team. The film debut of the comic duo of Dean Martin and Jerry Lewis was in My Friend Irma (1949), followed the next year by the team's only sequel, My Friend Irma Goes West (1950). They made a total of sixteen movies together between 1949 and 1956, breaking up after their last teaming in the comedy/musical Hollywood or Bust (1956).
My Friend Irma (1949)
My Friend Irma Goes West (1950)
At War with the Army (1950)
That's My Boy (1951)
Sailor Beware (1952)
Jumping Jacks (1952)
The Stooge (1953)
Scared Stiff (1953)
The Caddy (1953)
Money from Home (1953)
Living It Up (1954)
3 Ring Circus (1954)
You're Never Too Young (1955)
Artists and Models (1955)
Pardners (1956)
Hollywood or Bust (1956)
One of their better films was Artists and Models (1955) with Martin as a comic book cartoon artist and Lewis as his idiotic room-mate with imaginative dreams.
Jerry Lewis made his first solo film, The Delicate Delinquent (1957), and was able to create a successful career for himself. In the early 1960s, Lewis' unique brand of humor was exhibited in his directorial debut film titled The Bellboy (1960) - a series of vignettes about a nearly-mute, spastic bellboy at Miami's Fountainbleau Hotel, where the "real" Jerry Lewis (in a cameo) appeared as a guest of the hotel. The film was made in homage to Jacques Tati's classics Monsieur Hulot's Holiday (1953, Fr.) and Mon Oncle (1958, Fr.).
Although often detested for his over-the-top style of comedy, Lewis' best film was a variation of the Dr. Jekyll/Mr. Hyde story, titled The Nutty Professor (1963) with Lewis as a chemistry professor named Julius Ferris Kelp whose potion converted him into swinging extrovert Buddy Love (resembling Rat Packers Frank Sinatra and/or Dean Martin) - loveably irresistible to Stella Stevens. Lewis also starred in the 'fractured fairy tale' Cinderfella (1960) as a male 'Cinderella.' Lewis' The Patsy (1964) was a satire about Hollywood star-making, and in the slapstick-ish The Disorderly Orderly (1964), the zany comic starred as a hospital orderly employed in a nursing home. In The Family Jewels (1965), he portrayed seven characters (mostly named Peyton). By the mid-to-late 1960s, he broke away from his nerd roles, and starred in more traditional romantic comedies, such as Three on a Couch (1966) opposite Janet Leigh, and in the war comedy Which Way to the Front? (1970).
[Note: Lewis actually played a straight man business rival to newspaper correspondent Tony Curtis in Boeing Boeing (1965). In another rare serious role and one of his finest roles, Lewis starred as late-night show host Jerry Langford opposite Robert DeNiro as an obsessive, aspiring comedian and Lewis fan, in Martin Scorsese's satirical black comedy The King of Comedy (1982).]
British, Italian and French Comedy: European Entries
Some of the most celebrated, intelligent comedies from Britain after World War II were produced by Michael Balcon's anti-authoritarian Ealing Studios - termed "Ealing comedies." They included the following four films that starred Alec Guinness:
the black-hearted comedy about inheritance, Kind Hearts and Coronets (1949) featured the versatile Guinness (in his third film) playing the parts of all eight D'Ascoyne family victims (including Lady Agatha!)
The Lavender Hill Mob (1951) again starred Alec Guinness as an unsuspecting bank clerk who masterminded a scheme to melt down gold bank bars into miniature Eiffel Towers
The Man in the White Suit (1952), about an idealistic, humble inventor named Sidney Stratton (Guinness) who quickly develops enemies after discovering a new fiber that cannot wear out or get dirty
the droll and farcical comedy The Ladykillers (1955), with Guinness as bumbling criminal mastermind Professor Marcus in the midst of a planned train robbery
Similar to The Ladykillers, Italian writer/director Mario Monicelli's fast-paced caper spoof Big Deal on Madonna Street (1958) starred Vittorio Gassman, Marcello Mastroianni and a young Claudia Cardinale, with its story of misfit criminals orchestrating a jewelry heist of a pawn shop on Madonna Street. Italian director Vittorio De Sica's Marriage, Italian Style (1964) (an imitation of Pietro Germi's black comedy, Divorce--Italian Style (1962)) was a farcical and sexy romantic comedy about modern marriage featuring womanizer Marcello Mastroianni and his busty, statuesque mistress/wife Sophia Loren (her fourth film with De Sica).
British comedies usually combined deft wordplay, sophisticated wit, character impersonations, and high-low brow contributions to the genre. Cartoonist Ronald Searle's work inspired director Frank Launder's rollicking British comedy The Belles of St. Trinian's (1954) - a slapstick story about devilish students with get-rich-quick schemes at a British all-girl's school, and Alastair Sim (in a dual role as the school's headmistress and as her twin brother bookie Clarence). Peter Sellers impersonated three different individuals (one of his trademarks) - a prime minister, a grand duchess, and a military officer of the small European Duchy of Grand Fenwick in The Mouse That Roared (1959). And The League of Gentleman (1959) was another classic British caper film with Jack Hawkins as the disgruntled leader of a group of disgraced ex-soldiers plotting a complex raid on a bank.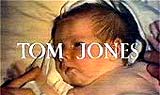 The Best Picture winner from director Tony Richardson, Tom Jones (1963) was a bawdy comedy and rambunctious adaptation of Henry Fielding's novel about an 18th century womanizing playboy (Albert Finney) and his ribald adventures. Monty Python and the Holy Grail (1975) skewered the medieval King Arthur legends with graphic violence and quirky, manic comedy. Monty Python's Life of Brian (1979) irreverently attacked all forms of religious hypocrisy and zealotry. The high-grossing British, adult romantic comedy Four Weddings and a Funeral (1994) featured Hugh Grant as an uncommitted, confirmed bachelor at the weddings of his single friends. The widely-popular British comedy The Full Monty (1996) exhibited the strip-tease talents of a group of unemployed, middle-aged and overweight Yorkshire mill workers.
Zany comedies also emerged from France, especially the works of comic actor/director Jacques Tati, such as Jour de Fete (1949) - his debut film about a bicycle postman named Francois, and his Monsieur Hulot films including the virtually-silent cinematic gem Mr. Hulot's Holiday (1953), about the tall Frenchman on a seaside resort holiday in Brittany, and the comedy satire Mon Oncle (1958) with numerous sight gags - the recipient of the Best Foreign-Language Film Academy Award.
The Series of Carry On Films:
A highly successful, saucy and interminable series of almost 30 British comedy films were popular over a period of 20 years, from 1958-1978, from Carry On Sergeant (1958) to Carry On Emmanuelle (1978). They were mostly crude slapstick farces composed of double entendres and larger-than-life characters that became increasingly sexier as time progressed. The naughty films full of sexual innuendo were set in various locales to target various institutions - the Army, a hospital, a British school, a police station, an employment agency, and more. Since there wasn't one major star, the performers were more like a repertory group of actors, and included names such as Kenneth Williams, Sid James and Charles Hawtrey. In the early 90s, there was a disastrous attempt to revive the series with Carry On Columbus (1992).
50s Comedy: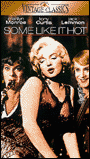 There were 50s comedies as well - usually squeaky-clean, formulaic, courtship romantic comedies exemplified by the Rock Hudson/Doris Day films. Their best classic, witty and light-hearted 50's sex comedy was Pillow Talk (1959). Other memorable romantic comedies of the 1950s include George Cukor's Born Yesterday (1950) about the tutoring of a racketeer's uneducated girlfriend (Judy Holliday), and director Vincente Minnelli's family wedding comedy Father of the Bride (1950) starring Spencer Tracy as the "father of bride" Elizabeth Taylor. And a tippling James Stewart was the only one able to see an invisible six-foot rabbit in Harvey (1950). Stanley Donen's classic comedy/musical Singin' in the Rain (1952) told about the end of the silent film era, with Gene Kelly and squeaky-voiced Jean Hagen as film stars, Debbie Reynolds as an ingenue, and spotlighted by Donald O'Connor's incredible "Make 'Em Laugh" number.
Sexual comedies were successively enhanced by the appearance of Marilyn Monroe at her prime in The Seven Year Itch (1955) as a Manhattan apartment dweller, and as the lead singer in an all-girls band in director/co-writer Billy Wilder's hilarious and subversive adult comedy Some Like It Hot (1959) - a ribald spoof of gangster films.
The Pink Panther Films Franchise (1964--):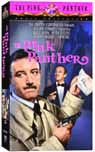 The series of Pink Panther films, mostly from writer/director Blake Edwards, featured Peter Sellers as archetypal Inspector Jacques Clouseau, animated credit sequences, and Henry Mancini's recognizable score. [The Pink Panther refers to a rare diamond.] The screwball comedy films in the series were well-known for their slapstick physical comedy, with Sellers (with a strange French accent) experiencing numerous pratfalls, clumsiness (or klutziness), and some brilliant crime-solving nonetheless. The earliest Panther films (in the 60s) were the best, before Sellers just became an outright buffoon. Eventually, there were nine sequels to the first film and a popular TV cartoon. Not all of the films had the name "Pink Panther" in the title:
The Pink Panther (1964) - the first in the series, with Clouseau in only a supporting role
A Shot in the Dark (1964) with Herbert Lom as Clouseau's slow-burning, twitching boss Dreyfus, and Burt Kwouk as his valet and martial arts judo-specialist Kato
Inspector Clouseau (1968) - directed by Bud Yorkin, and with Alan Arkin in the Clouseau role
The Return of the Pink Panther (1975) - marked by Sellers return to the role, after an 11-year disappearance
The Pink Panther Strikes Again (1976) - with Sellers' former boss as an insane criminal
The Revenge of the Pink Panther (1978) - the last film with Peter Sellers before his death
The Trail of the Pink Panther (1982) - released two years after Sellers' death, with a compilation of 'greatest' excerpts and unused footage and outtakes
The Curse of the Pink Panther (1983) - a bland attempt to keep the series going; with Roger Moore as Jacques Clouseau; this was David Niven's last film
Son of the Pink Panther (1993) - mostly recycled skits, featuring Roberto Benigni as Inspector Clouseau's equally-bumbling son Jacques
The Birth of the Pink Panther (2005) - the 10th film in the series, directed by Shawn Levy, starring Steve Martin (as Clouseau), Beyonce Knowles, Kevin Kline and Jean Reno; a prequel to the original Peter Sellers film in 1964
Other Comedies in the Late 50s and 60s:
The rise of television and its increasing popularity had a damaging effect on film comedy. Screen comedies declined in number and quality in the 1950s, contributing to the rise of TV situation comedies ('sitcoms') and variety shows, and stand-up comedy routines/sketches. There have been only a few comedy films since the 1950s with the innovative vigor and creativity of the classic era of film comedy.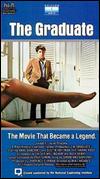 As a result of Best Director-winning Mike Nichols' 60s classic The Graduate (1967) with a Simon and Garfunkel soundtrack, young Dustin Hoffman defined a generation and its alienation and non-conformity by his inter-generational romance with Mrs. Robinson (Anne Bancroft) and with her daughter (Katharine Ross). He also became a leading star and established a new kind of romantic lead in a film comedy. His disgust with materialistic society was embodied in one word: "Plastics." The original parody version of Bedazzled (1967, 2000) from director Stanley Donen updated the Faustian tale in sacrilegious, witty fashion with co-writer Peter Cooke as the British Lucifer/George Spiggott, Dudley Moore as the tempted short-order cook, and Raquel Welch as one of the Seven Deadly Sins (Lillian Lust).
Robert Altman's M*A*S*H (1970) was an irreverent, anti-war black comedy set during the Korean War (although the film was a caustic criticism of the Vietnam War) about the stressed lives of surgeons and nurses (Donald Sutherland, Elliott Gould, Sally Kellerman, etc.) at the Mobile Army Surgical Hospital. It spawned a long-running TV series of the same name with Alan Alda, Loretta Swit, Harry Morgan, Jamie Farr, and Gary Burghoff, among others. The comic mismatched pairing of Walter Matthau (as slob Oscar Madison) and Jack Lemmon (as neat Felix Ungar), their second film together following Billy Wilder's The Fortune Cookie (1966) was skillfully demonstrated in Neil Simon's adaptation of his Broadway play - director Gene Saks' buddy comedy The Odd Couple (1968). As with M*A*S*H, the storyline was adapted into a popular early-70s TV sitcom of the same name starring Tony Randall and Jack Klugman.