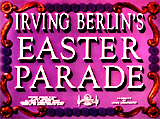 Easter Parade (1948)
This memorable Technicolored MGM film by director Charles Waters, a backstage romance - was set between 1911-1912, during the days of vaudeville. This was Astaire's and Garland's first and only film in which they performed and danced together, although they had starred in separate scenes in Ziegfeld Follies (1945). It was also producer Arthur Freed's fifth collaboration with composer Irving Berlin. The film won the Academy Award for Best Musical Score. Its budget of $3 million was justly spent - it became the studio's top grossing picture of the year, grossing about $9 million.
Its storyline told how NYC dancer Don Hewes (Fred Astaire, coming out of retirement) was dropped by his Broadway-bound musical dance partner and lover Nadine Hale (Ann Miller). Drowning his sorrows at Pastini's Restaurant, a small cafe where a floorshow was taking place, Don vowed to his best friend Jonathan "Johnny" Harrow III (Peter Lawford) that he could select any performer in the show's chorus line and make her a star. He selected naive, aspiring chorus girl protege Hannah Brown (Judy Garland), and although she was a challenge (and was incapable of duplicating or adopting Nadine's dancing style), he was able to change their act and select songs/dances that were better suited to Hannah's personality and dance skills, as they prepared their act.
Romance blossomed during a love-triangle when Johnny fell in love with Hannah, while Hannah fell in love with Don (but Don was still thinking of Nadine). When the two dancers were offered a show of their own about a year later (set to open in New York around Easter), they finally realized that they were in love with each other. However, during a brief time of misunderstanding, Hannah thought that Don was still interested in his previous partner Nadine and she left him: ("The whole thing was just a big build-up to get Nadine back!").
On Easter Sunday morning, Johnny (who knew he had lost Hannah's love) convinced Hannah to reconcile with Don and renew their love. The film concluded with Hannah's delivery of presents to Don, including a large arrangement of flowers in a vase, a ribbon-bowed box of candy (with a giant chocolate egg), and a live bunny sitting inside a fancy top hat. With her Easter bonnet and his top hat, the two participated together in 5th Avenue's annual Easter Parade.
It was filled with seventeen marvelous Irving Berlin songs, including:
the opening rendition of Happy Easter, as Astaire at Easter time in 1911 strolled down the sidewalk looking for gifts in nearby shops
the dance number and romantic ballad It Only Happens When I Dance With You (pictured) between Astaire and his dance partner Ann Miller in a hotel suite, when he attempted to change her mind about leaving their dance partnership and going solo after signing a contract with the Ziegfeld Follies
Miller's spectacularly-strong song/dance solo rendition of Shakin' the Blues Away, wearing a yellow and black costume (with long yellow gloves and sash)
Astaire's graceful dance solo in a white suit, straw hat and cane - a slow-motion version of Steppin' Out With My Baby
the gleeful and humorous Astaire/Garland comic duet (We're) A Couple of Swells (pictured) while dressed in tattered tramp costumes and mockingly singing about being very rich
the marvelous vaudeville montage sequence with Astaire and Garland entitled When That Midnight Choo-Choo Leaves for Alabam (pictured), while sitting on the front edge of a stage
and the closing performance of the title number Easter Parade (pictured twice) in 1912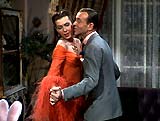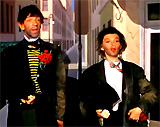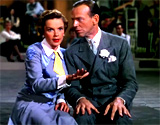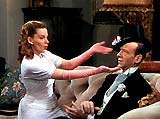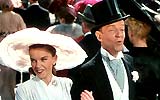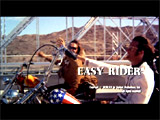 # 29 "Born to Be Wild"
This was a late 1960s "road film" tale of a search for freedom (or the illusion of freedom) in a conformist America, in the midst of paranoia, bigotry and violence. The iconographic "buddy" film was a story of a contemporary journey eastward through the American Southwest by two self-righteous, anti-hero, free-wheeling, long-haired, social misfits / dropouts / hippies.
After a brief prologue depicting the purchase of white powdery cocaine in Mexico, the two main characters appeared in Los Angeles and sold the drugs to their Connection (Phil Spector, the famous rock and roll producer in a cameo role) in a Rolls Royce. The drug deal was finalized to the tune of Steppenwolf's The Pusher (pictured), a song which was overtly against hard-drug pushers and dealing.
The stash of money was used to finance a trip cross-country on high-handled motorcycles by the two protagonists, part-time drug dealers:
"Captain America" Wyatt (Peter Fonda), cool and introspective, riding a shiny, silver-chromed low-riding bike with a 'stars-and-stripes' tear-drop gas tank, wearing a tight leather pants held at the waist by a round belt-buckle and a black leather jacket with an American flag emblazoned on the back. He also wore a 'stars-and-stripes' helmet
Billy the Kid (Dennis Hopper), mustached, shaggy and long-haired, with a tan-colored bush hat, fringed buckskin jacket, shades, and an Indian necklace of animals' teeth
The two took to the open road on their motorcycles, crossed the Colorado River and passed through unspoiled buttes and sand-colored deserts, as the credits began to scroll, accompanied by the sound of the popular song by Steppenwolf: Born To Be Wild (pictured numerous times). It was the start of a beautiful adventure as they traveled through memorable landscapes of America's natural beauty, accompanied by the pounding of rock music verses:
Get your motor runnin', Head out on the highway, Lookin' for adventure, And whatever comes our way. Yeah, darlin' gonna make it happen, Take the world in a love embrace Fire all of the guns at once and Explode into space. I like smoke and lightnin', Heavy metal thunder, Racin' with the wind And the feelin' that I'm under...Like a true nature's child, We were born, born to be wild, We can climb so high, I never wanna die. Born to Be Wild Born to Be Wild...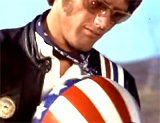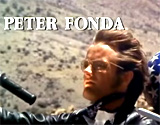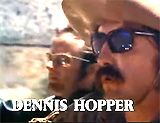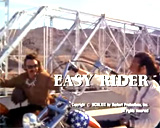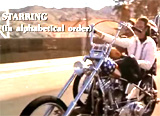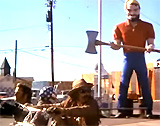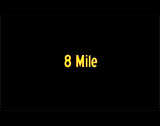 8 Mile (2002)

# 93 "Lose Yourself"

Best Original Song: Lose Yourself
This semi-biographical urban drama included Jimmy 'B-Rabbit' Smith Jr.'s (controversial rap star Eminem) performance of the Oscar-winning Best Song Lose Yourself (pictured twice)
You better lose yourself in the music, the moment / You own it, you better never let it go, oh / You only get one shot, do not miss your chance to blow / This opportunity comes once in a lifetime, oh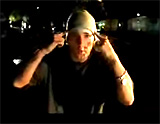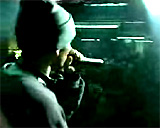 Everyone Says I Love You (1996)
Writer/actor/director Woody Allen attempted to recapture the era of Hollywood musicals with this musical comedy and a large cast (mostly non-professional dancers and singers).
The soundtrack contained many old 30s and 40s standards, such as non-singing actor Edward Norton (as Holden) singing Just You, Just Me in the opening scene and My Baby Just Cares for Me (pictured).
One memorable song in a hospital setting was the old standard Makin' Whoopee (pictured).
And in the 'ghostly' number Enjoy Yourself (It's Later Than You Think) (pictured), spirits came alive and danced at a funeral:
"Enjoy yourself, it's later than you think Enjoy yourself, while you're still in the pink The years go by, as quickly as you wink Enjoy yourself, enjoy yourself, it's later than you think."
It also included a romantic, graceful, and gravity-defying flying dance between divorced couple Joe (Woody Allen) and Steffi (Goldie Hawn) on the banks of the Seine River in Paris on Christmas Eve (with homage to Gene Kelly and Leslie Caron in An American in Paris (1951)) after she wistfully sang I'm Thru With Love (pictured).
Also memorable was the song/dance Hooray for Captain Spaulding (pictured) with a decorated ballroom full of dancing Groucho Marxs.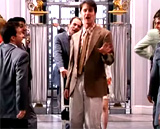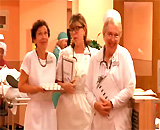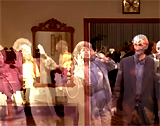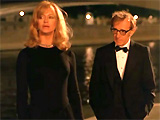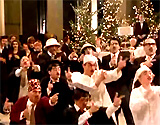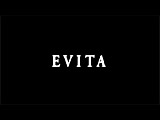 Evita (1996)

Best Original Song: You Must Love Me
Director and screenwriter Alan Parker honored Tim Rice's book of the musical play Evita and Andrew Lloyd Webber's 1978 Broadway musical in this melodramatic and musical screen adaptation. The film was most notable for its record number of costume changes (85).
The wife of Argentinian president and dictator Juan Perón, Eva Duarte Perón (pop singer Madonna) emotionally belted out Don't Cry For Me, Argentina (pictured) from a balcony (filmed in Buenos Aires' Casa Rosada presidential palace) to an adoring crowd.
The film's only original new song You Must Love Me (pictured), in which Evita pleaded for loving reassurance, was an Oscar winner (music by Webber and lyrics by Rice) for Best Original Song, although Madonna was snubbed for an acting nomination.