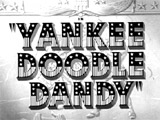 # 71 "Yankee Doodle Boy"
This well-known Warners' propagandistic, Best Picture-nominated musical biopic (mostly fictionalized and presented as a collection of musicals within a musical) by Hungarian-born director Michael Curtiz. It won three Oscars (from eight nominations): Best Actor (James Cagney), Best Sound Recording, and Best Musical Scoring of a Motion Picture.
It starred James Cagney in his most famous role as bustling, jovial, and energetic song-and-dance man George M. Cohan. He appeared with iconic, flag-waving, rousing and patriotic performances.
The many numbers included Cohan's:
Yankee Doodle Boy (pictured), with Cohan's trademark strutting and wall-climbing as a 'Yankee Doodle Boy'

("I'm a Yankee Doodle Dandy! / I'm a Yankee Doodle Dandy / A Yankee Doodle, do or die / A real live nephew of my Uncle Sam / Born on the Fourth of July!")


Give My Regards to Broadway (pictured), a large production number with a tap-dancing sequence in a spotlight
Over There (pictured), when Cohan joined a parade to march in step with troops and civilians down Pennsylvania Avenue in the stirring finale, along with You're a Grand Old Flag
There was also the scene of Cohan and his wife Mary (Joan Leslie) singing the duet Mary (pictured) at the piano together.
One other memorable moment was his amazing, jaunty dance down the White House stairs (pictured) after visiting with President Roosevelt (Jack Young) - with a spontaneous, impromptu buck-wings tap dance midway.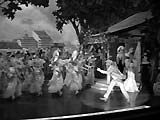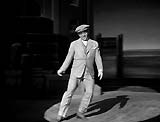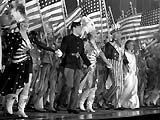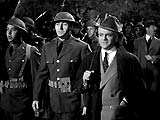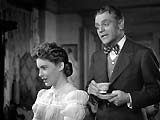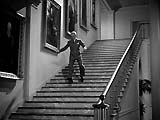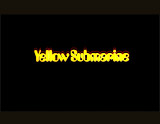 Yellow Submarine (1968, UK)
Director George Dunning's landmark, trippy animated film featured many colorful, inventive animations. Its story was about the Beatles accompanying Admiral Fred in his Yellow Submarine to venture back to Pepperland to defeat the music-hating Blue Meanies.
Pepperland was portrayed as a paradisical land 80,000 Leagues Under the Sea - a happy, colorful, peaceful, music-loving kingdom. On an elevated bandstand, the 4-member Sgt. Pepper's Lonely Hearts Club Band (resembling the four Beatles) played in a concert for the members of the Kingdom.
The Blue Meanies, led by Chief Blue Meanie and his henchman Max, lived closeby beyond the mountains and were planning to invade and put an end to Sgt. Pepper's Pepperland. They had various devices, such as Apple Bonkers (with Huge Green Apples), Splotch Guns, Dreadful Flying Gloves (that turned residents into stone with pointed fingers), and Anti-Music Missiles to eliminate Pepperland by immobilizing everyone and taking away color and turning everything grey.
| | | |
| --- | --- | --- |
| Chief Blue Meanie | Attack with Music-Proof Glass Globe to Imprison Band | Turning Things Grey and Colorless |
As an attack occurred, uniformed Young Fred - who was appointed Admiral by the elderly Lord Mayor at the base of the platform holding Pepperland's Yellow Submarine, was sent off to seek help in the surface world. He journeyed to Liverpool, England, to retrieve the four Beatles (Ringo, John, Paul, and George) to return with him in the submarine back to Pepperland to save the land.
| | | |
| --- | --- | --- |
| In England ("Eleanor Rigby") | Ringo Starr Found in Liverpool | Four Beatles in Portholes of Submarine |
Once the submarine arrived in post-war England, it traveled over a depressed, industrialized, gray land, as the song "Eleanor Rigby" played - about loneliness and the elderly ("Ah, look at all the lonely people"). Ringo (of the Beatles) was located in Liverpool, before all four Beatles were located. They joined Young Fred in the submarine - each one viewed in one of the sub's portholes.
During the submarine journey back (a "modyssey") when they went under the waves, and singing "All Together Now," the group encountered various strange worlds, including the Sea of Time, the Sea of Science, the Sea of Monsters, the Sea of Nothing, the Sea of Green, and the Sea of Holes. In the Sea of Time, time flowed both forwards and backwards (the song "When I'm Sixty-Four") - illustrated by the psychedelic count of numbers to demonstrate the length of a 60-second minute.
In the Sea of Nothing, they met poetry-spouting Jeremy Hillary Boob Ph.D. - a short and studious creature (the song "Nowhere Man") who was muttering to himself: "Ad hoc, ad hoc, and quid pro quo, So little time, so much to know." Shortly later, in the Foothills of the Headlands, they sang about "Lucy in the Sky with Diamonds" accompanied by glittering and glowing fantastical imagery - some thought it was an oblique reference to an LSD-inspired hallucinogenic trip.
| | | |
| --- | --- | --- |
| "Nowhere Man" | "Lucy in the Sky With Diamonds" | In the Sea of Holes |
After returning to Pepperland, the Lord Mayor was revived and the Beatles disguised themselves and dressed up as members of the Sgt. Pepper's Lonely Hearts Club Band, and also stole some instruments. They were able, through music ("All You Need Is Love"), to defeat the Dreadful Flying Glove, unfreeze the inhabitants, and bring the return of color and blooming flowers that ended the assault of the invasive Blue Meanies. The Chief Blue Meanie was transformed by the Boob's poetry and bloomed pink roses on his body as he realized he was defeated - he bemoaned: "It's no longer a blue world. Where can we go?" He realized that he must join the happy musical group.
Back in Pepperland


Back in Pepperland to Save Lord Mayor and Inhabitants


The Beatles Disguised as the Band in Pepperland, Singing "Sgt. Pepper's Lonely Hearts Club Band"



Flying Glove Defeated by "All You Need is Love"

The live-action finale featured the actual Beatles after restoring love, life, color, and happiness. As a warning while looking through his spyglass, however, John noted: "Newer and bluer Meanies have been sighted within the vicinity of this theatre" and urged everyone to sing "All Together Now." He added: "There is only one way to go out... Singing!" The film ended with translations of the song's title into various languages.
Live-Action Finale: "All Together Now"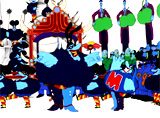 The Blue Meanies (Led by the Chief) Plotting to Destroy Pepperland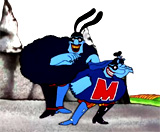 Chief Blue Meanie and Max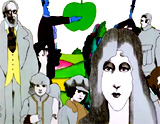 Attack of Apple Bonkers With Green Apples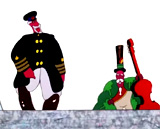 Young Fred Appointed Admiral by edlerly Lord Mayor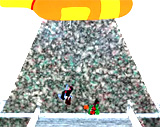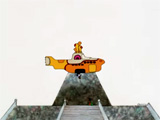 Yellow Submarine to the Rescue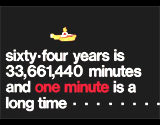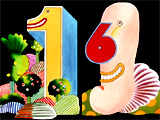 "When I'm 64"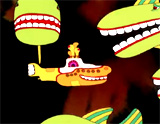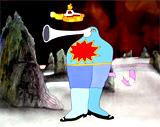 Sea of Monsters - with a Vacuum Thrask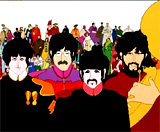 The Restoration of Color and Happiness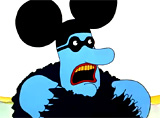 Flight of the Blue Meanies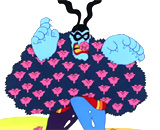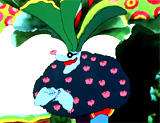 Defeat of the Chief Blue Meanie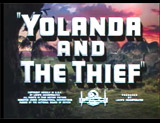 Yolanda and the Thief (1945)
Director Vincente Minnelli disastrous box-office post-war fantasy musical (produced by Arthur Freed) was nonetheless a visionary and bold artistic experiment. The film was especially noted for juxtaposing colors and patterns within the dance sequences. Its original inspiration came from a magazine story by Ludwig Bemelmans.
The plot was set in the fictional Latin American country of Patria.
Its two main stars were ultimately involved in a romance:
Yolanda Aquaviva (Lucille Bremer, producer Arthur Freed's unskilled protege), a naive, convent-bred and sheltered heiress
Johnny Parkson Riggs (Fred Astaire), a scheming con-man who first posed as her guardian angel, and then thief
The 15-minute surrealistic and colorful romantic duet Dream Ballet (pictured) combined components for its decor from both Salvador Dali and Jean Cocteau, and included Yolanda's song Will You Marry Me?
During the jazzy, rhythmic dance number Coffee Time (pictured), the wavy and undulating B/W striped floor was contrasted with the brightly colored costumes.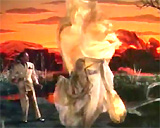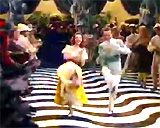 You Light Up My Life (1977)

Best Original Song: You Light Up My Life
Writer/director/producer/composer Joseph Brooks' low-budget romantic drama told about the aspirations and dreams of an obscure, mid-20s young singer of commercial jingles (and host of a kids show on public TV), who was looking to enter a career as a singer/songwriter. After initial disappointments and betrayal (regarding a promised acting role by a film director), her song (the title song) climbed the charts to become number one by the movie's conclusion.
[Note: In an ironic twist, director Brooks took his own life in 2011 at the age of 73, while facing charges for alleged rapes and sexual assaults.]
Its Oscar-winning title song You Light Up My Life (pictured often) (written by Brooks) was performed during an audition by struggling singer/songwriter Laurie Robinson (Didi Conn, dubbed by Kasey Cisyk) in an LA rehearsal room, surrounded by musicians:
So many nights I'd sit by my window. Waiting for someone to sing me his song. So many dreams I've kept deep inside me. Alone in the dark but now you've come along.

And you light up my life, You give me hope to carry on. You light up my days, And fill my nights with song...
Later in the film, there was a second version of the song, performed in a more subdued way on the piano (and sung to Laurie) by young film director, Chris Nolan (Michael Zaslow).
[Note: Many other artists have recorded the song, including its best known # 1 hit version by Debby Boone (Pat Boone's daughter); also by Whitney Houston and LeAnn Rimes.]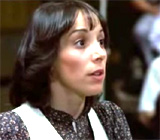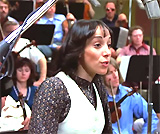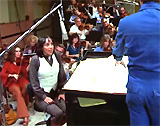 You Were Never Lovelier (1942)
This Columbia Pictures film marked the second and last pairing of Astaire and Hayworth. It was their follow-up film to You'll Never Get Rich (1941):
Fred Astaire (as American dancer/entertainer Robert "Bob" Davis)
Rita Hayworth (as Maria Acuna, with singing voice by Nan Wynn - the cool but elegant second daughter of wealthy Argentinian nightclub owner Eduardo Acuna (Adolphe Menjou))
There were three Oscar nominations (with no wins):
Best Sound Recording
Best Original Song (Dearly Beloved) (music by Jerome Kern, lyrics by Johnny Mercer)
Best Musical Score (Leigh Harline)
It featured an Oscar-nominated score, played by the Xavier Cugat's Latin band, including such standards-to-be as:
the Oscar-nominated Best Song, Dearly Beloved (sung by both Astaire and Hayworth at different times); on one occasion, Hayworth sang the song (dubbed by Nan Wynn) (pictured) in her bedroom after receiving a love letter
the romantic song I'm Old-Fashioned (pictured) (sensuously sung by Hayworth, dubbed by Nan Wynn, to Astaire in the moonlit garden of her home before they danced together)
The musical-dance film also included:
You Were Never Lovelier (pictured), Astaire's song and their dance to the title song
The Shorty George (pictured), the exuberant "boogie-woogie" tune with the sexy Hayworth as a bobbie-soxed swing dancer alongside Astaire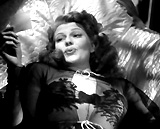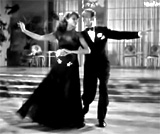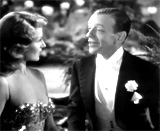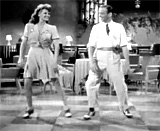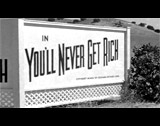 You'll Never Get Rich (1941)
This Columbia Pictures film by director Sidney Lanfield, an entertaining war-time 'military' musical with a Cole Porter score, was the first pairing of Astaire and Hayworth:
Fred Astaire (as New York musical theater choreographer Bob Curtis who was drafted into the Army)
Rita Hayworth, dubbed a "sex goddess" (as pretty showgirl Sheila Winthrop)
There were two Oscar nominations (with no wins):
Best Original Song (Since I Kissed My Baby Goodbye) (Cole Porter)
Best Musical Score (Morris Stoloff)
The songs included:
the Oscar-nominated song Since I Kissed My Baby Goodbye (pictured) (danced by Astaire in the Army's guardhouse, while it was sung by the African-American quartet, the Four Tones)
the delightful and romantically-elegant So Near and Yet So Far (pictured twice) - sung by Astaire, and then danced by Astaire and Hayworth on a stage with fake palm trees
Another dance number was the tap-dancing Boogie Barcarolle (pictured) led by Astaire as choreographer/teacher of Hayworth and a group of chorines during a rehearsal.
And in the finale The Wedding Cake Walk (pictured) (sung by Martha Tilton), the two danced in their formal wedding clothes atop a white tank that was positioned above a giant wedding cake.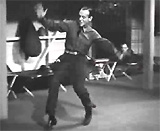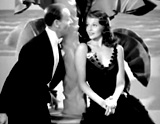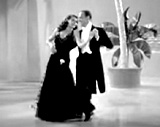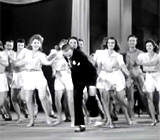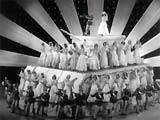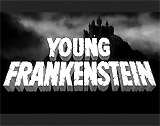 # 89 "Puttin' on the Ritz"
In this Mel Brooks' homage to the classic Universal horror film and the singing/dancing of Fred Astaire, Dr. Frederick Frankenstein (Gene Wilder) introduced the Monster (Peter Boyle) to a Bucharest Academy audience as a "man about town."
Then, they performed a classic top-hat and cane, tap-dancing duet of Irving Berlin's Puttin' on the Ritz (pictured) in a theatre in front of an audience - with the Monster's slurred, squeaky, and high-pitched singing of the mis-pronounced: "Punnondariiiiiiiizz!" However, the Monster went mad and attacked the audience.
[Note: the Irving Berlin song Puttin' on the Ritz did not originate with this film. It was first introduced in the film with the same title, director Edward Sloman's Puttin' on the Ritz (1930), and was performed by an uncredited Harry Richman (as vaudeville and nightclub singer Harry Raymond) and the chorus. It was also performed in MGM's operetta with Eddy/MacDonald, Naughty Marietta (1935), and tuxedoed/top-hatted Fred Astaire danced and sang the tune in Blue Skies (1946).]
Afterwards, Frankenstein's fiancee Elizabeth (Madeline Kahn) was kidnapped from her Transylvanian castle bedroom by the escaped Monster. When she awoke from unconsciousness in the forest (with white hair streaks), she realized she was about to be raped, but then looked down - and was pleasingly shocked during her sexual encounter with the Monster when she sighted his enormous penis (Schwanstucker). She reacted with: "WOOF!" In the musically-enhanced sex scene, she also warbled one line of the tune: O, Sweet Mystery of Life (pictured) - (Victor Herbert's composition from 1910). Afterwards, they shared a post-coitus cigarette (in the manner of Now, Voyager (1942)) (pictured) and she complimented him on his stamina: "Penny for your thoughts. You're incorrigible, aren't you? You little zipper-neck."
Also in the ending after a transference operation with the creature, Dr. Frankenstein was now endowed with the Monster's enormous Schwanstucker - about to please his new bride Inga (Teri Garr), his ex-lab assistant. She asked: "The monster got part of your wonderful brain. But what did you ever get from him?" There was a zoom-in closeup of Frankenstein's expectant face and the fireplace as Inga screamed out ecstatically off-screen: "Oh, I don't believe, oh, oh, O, Sweet Mystery of Life."
In the meantime, Elizabeth - sporting a beehive hairdo - was now married to the more intellectual Monster (reading The Wall Street Journal in bed) and was bedding down with him in her New York apartment.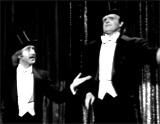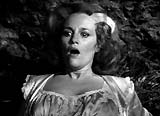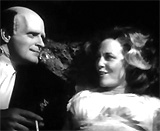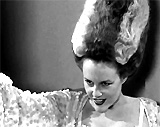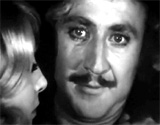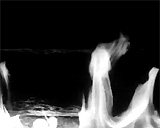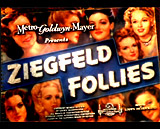 Ziegfeld Follies (1945)
This all-star MGM extravaganza revue and musical comedy by director Vincente Minnelli (and others) brought together many stars and memorable songs by George and Ira Gershwin in the Ziegfeld style. It starred singer-dancer Fred Astaire in his first color film and many other performers, including Lucille Ball, Lucille Bremer, Fanny Brice, Judy Garland, Esther Williams, Gene Kelly, Kathryn Grayson, Lena Horne and Red Skelton. Remarkably, it had no Academy Award nominations.
It was intended as a follow-up film to the Best Picture-winning The Great Ziegfeld (1937) and Ziegfeld Girl (1941). The musical numbers included:
the lavish opening number Here's to the Girls - in which Fred Astaire (as Himself) sang the song to introduce the other performers (pictured); this was followed by the entrance of chorus girls in pink ostrich-feathered dresses and elaborate headdresses (led by Cyd Charisse in a pink ballerina tutu costume who performed a short solo dance (pictured), and then Lucille Ball, in her best-known film role, entered as a caged big cat-tamer with a whip controlling eight slinky chorus-girl black panthers (pictured))
Garland's A Great Lady Has An Interview (pictured) in which she sang and acted out a movie star's interview (was it Greer Garson or Tallulah Bankhead that she was impersonating?) with a group of reporters: "I'm going to tell you all about my next picture - what is my next picture?...Madame Crematon, gentlemen, will be a monumental, biographical tribute, to a monumental, biographical woman..." - a woman who toiled, suffered and slaved in a Dutch tenement in Amsterdam before discovering the safety pin
Astaire also performed two exquisite numbers with Lucille Bremer:
This Heart of Mine (pictured) in which he took the role of an imposter-jewel thief at a fancy formal dress ball with Bremer as a princess in a white gown; the number included rotating floors and lots of swirling motions
and later in the dazzling fantasy and fan-dance sequence Limehouse Blues (pictured), Astaire portrayed an ill-fated and penniless Chinese coolie laborer in a London slum while Bremer took the role of a Chinese courtesan - the entire number was inspired by D.W. Griffith's Broken Blossoms (1919)
In their only screen duet pairing, Gene Kelly and Fred Astaire (dressed alike as white-suited gentlemen) performed The Babbitt and the Bromide (pictured) (a George and Ira Gershwin tune) - a challenge dance matching each other step for step.
Also notable was Lena Horne's performance of the sexy number Love (pictured) against a Virgin Islands Caribbean backdrop.