Background
---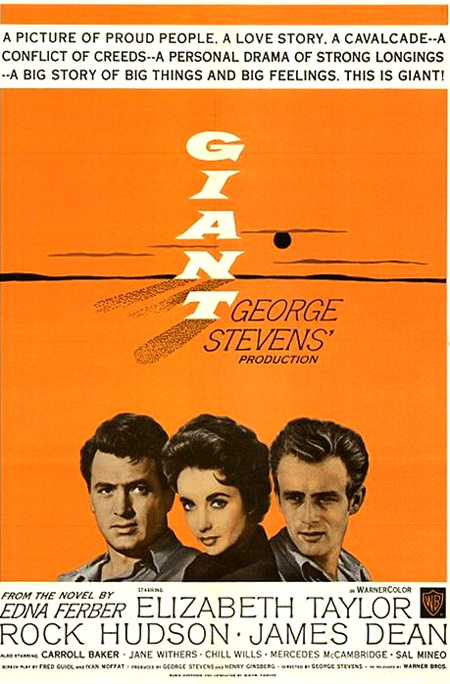 Giant (1956) is a sprawling, grandiose and iconic western epic and melodrama based on Edna Ferber's celebrated 1952 novel. It told about two generations of a wealthy American cattle ranching family in Texas spanning a twenty-five year period (from the 1920s to the 1950s), who clashed over money, property, class differences, and racism (the film was partly shot on location near Marfa, TX). Giant was one of the first Hollywood epics to cast younger actors and age them throughout the course of the film.
Ferber's novel at the time was lambasted for its harsh and exaggerated critique of Texas and its shortcomings, including commentary on its larger-than-life culture and inhabitants. Specific backlash came because of the book's unsympathetic reflection of Texas' unique social mores, corruptness, anti-intellectualism, exploitative racism, sexism, superiority complex, excessive materialism and machismo-orientation. However, her criticisms were more generally directed toward America as a whole, although the film didn't downplay its depiction of Texans as crude, ignorant, uneducated, and bigoted.
The sprawling post-war Technicolored spectacle followed the Lone Star State's remarkable transition over the years from the hard-work of agrarian cattle-ranching to oil-industry production. It also illustrated how archaic conservative attitudes and traditions, mostly regarding racial discrimination and bigotry, child-rearing, and a woman's place, were being pushed aside by more progressive viewpoints. The film clearly reflected its mid-1950s era - a time of greater equality for women, consumerism, and expansion of racial equality.
It was the third film of producer-director George Stevens' so-called "American trilogy" positioned after A Place in the Sun (1951) (an "American tragedy") and the mythic western Shane (1953). Filming began in Hollywood in May of 1955 and then moved to Texas a month later. Although the exteriors of the iconic Victorian mansion were shot in Texas, the interiors were filmed at Warner Bros. in Burbank, CA. After the film wrapped in October of 1955, post-production work took almost a year before the film's premiere in mid-October 1956, and its official wide-release in late November 1956.
The picture's main tagline described its epic scale:
A picture of proud people. A love story. A cavalcade - A conflict of creeds - A personal drama of strong longings -- A big story of big things and big feelings. THIS IS GIANT!
It was particularly poignant as the last (and 2nd posthumous Oscar-nominated) performance of James Dean's tragically short career - he was starring in his third and final feature after East of Eden (1955) and Rebel Without a Cause (1955). The 24 year-old actor was killed in a tragic car crash on September 30th 1955 while driving his Silver Porsche 550 Spyder -- affectionately nicknamed 'The Little Bastard', around the time that Giant was completed and about a month before Rebel opened.
The visual scope of the film paralleled what was portrayed in other western epics of its era, such as Duel in the Sun (1946) and The Big Country (1958). Many comparisons were made between the languorously-paced Giant and Gone With the Wind (1939) from 17 years earlier: both were epics of the South with a strong male and female character (Hudson - Rhett Butler, and Taylor - Scarlett O'Hara), a central ranch or plantation (Reata and Tara), and adapted from a novel by a female author (Ferber and Margaret Mitchell). But now, the latter film contained some evolving statements regarding racial justice and tolerance. Since its release, this modern western has become a revered treasure of Texas, often called "the national film of Texas" - for its unabashed perpetuation of the Texan myth of 'bigness' and its enduring respect for ranching. The film was a well-meaning, but often misguided effort that had confusing and mixed messages about male superiority, the exploitation of Mexican workers, and racial equality (for both blacks in the Maryland sequences, and Hispanics in the Texas sequences).
In the film's opening set in the 1920s, newly-wed Maryland socialite belle Leslie Lynnton (23 year-old Elizabeth Taylor), arrived with her new, wealthy Texas rancher-husband Jordan 'Bick' Benedict, Jr. (30 year-old Rock Hudson) at his sprawling Benedict Texas ranch (known as "Reata"). They met his older, tough cattle-driving spinster-sister Luz Benedict (39 year-old Mercedes McCambridge), who managed the ranch, and uneducated, laconic Texas ranch-hand cowboy Jett Rink (24 year-old James Dean), seen shortly later in an iconic pose - sitting in the back of a black convertible with his feet up during an outdoor BBQ.
After Luz's tragic death and an inheritance, Rink was instantly made a tycoon millionaire when he struck oil on his own small piece of land (Little Reata). Covered with the gushing liquid black gold (crude oil), he made boastful, defiant and resentful statements to the opulent Benedict family about how he would be richer than them, and made an inappropriate pass toward Leslie - this established the basis for a fierce rivalry. Over the decades, all of the main characters aged with graying temples (and the sets also advanced into modernity). In particular, Rink deteriorated from a sullen young man to a mumbling outcast and dissolute nouveau riche oil tycoon and drunkard (known as "Mr. Texas"), who spitefully dated the rebellious Benedict daughter Luz (24 year-old Carroll Baker). His downfall came during the celebratory scene to commemorate the opening of his new airport and hotel in Hermosa, Texas. The lonely, self-destructive and pathetic Rink mumbled, sobbed and ultimately collapsed in the empty banquet room, after rambling about his unrequited, covetous love for Leslie. In another memorable concluding scene, Bick heroically engaged in a brutal fist-fight with Sarge (Mickey Simpson), a bigoted roadside cafe owner of Sarge's Place who refused to serve an elderly Latino couple, while Mitch Miller's hit song "The Yellow Rose of Texas" blared on the jukebox. The racist, close-minded rancher (and proud member of the ruling elite) had finally proven to his equally-stubborn feminist wife, a champion for the rights of the downtrodden Mexicans, that he had evolved in his thinking and hadn't failed in life.
Director Robert Altman's movie Come Back to the Five and Dime, Jimmy Dean, Jimmy Dean (1982), the feature-length film version of Ed Graczyk's 1976 play, told about a reunion-pilgrimage in 1975 by now aged members of an all-female high-school Jimmy Dean fan club. They reunited at a five-and-dime Woolworth's Store in the fictional town of McCarthy, TX (about 60 miles from Marfa). In flashbacks, they told about their lives 20 years earlier, when they had been involved in the filming of Giant and worked as extras. Altman's cast included four actresses (Sandy Dennis, Cher, Karen Black and Kathy Bates) who were also directed by Altman in the Broadway production. In the film's startling revelation, one of the women, Joe/Joanne (Black) - previously a female but now trans-gendered, claimed that her runaway son Jimmy Dean (never seen in the film), who was allegedly raised by the delusional Mona (Dennis), was the product of a one-night stand with Dean.
Other films with "Giant" connections or references included Orson Welles' final film - the R-rated The Other Side of the Wind (unfinished after being filmed in the early 1970s, but later released in 2018 in conjunction with Netflix), and writer/director Kevin Reynolds' Fandango (1985). There were also many visual similarities between Giant and Terrence Malick's Days of Heaven (1978). Undoubtedly, the film inspired the long-running prime-time TV soap opera Dallas (the CBS-TV series aired from 1978-1991), and its spin-off Dynasty (the ABC-TV series aired from 1981-1989), that briefly featured Rock Hudson.
The bloated 197-minute lengthy film had a production budget of $5.4 million and made $14 million in revenue, and made more internationally and during its US re-releases in 1963, 1970, and 1996 (financial figures are unreliable). The epic was one of Warner Bros.' highest-grossing releases up until then, but blown away by the studio's super-hit The Exorcist (1973) (at $193 million domestic). Its first airing on NBC-TV was in 1972, and its first video (laserdisc) release was in 1985.
It received only one Oscar out of its 10 Academy Award nominations (including Best Picture, two Best Actor nominations (for Dean and Hudson - it was Hudson's sole Oscar nomination in his entire career), Best Supporting Actress (McCambridge), Best Adapted Screenplay (Fred Guiol and Ivan Moffat), Best Color Art Direction/Set Decoration, Best Color Costume Design, Best Film Editing, and Best Music Score (Dimitri Tiomkin)) - Stevens won the Best Director Oscar (his second Oscar following another Best Director win for A Place in the Sun (1951)).
It was an embarrassment that Elizabeth Taylor was not nominated for Best Actress. And it was ironic that Carroll Baker (in the role of the rebellious Benedict daughter) received her sole Best Actress Oscar nomination for her role the same year in Baby Doll (1956). Remarkably, the frothy Best Picture winner of the year was Around the World in 80 Days (1956), (with 8 nominations and five Oscars) - it was noted not for its acting, but mostly for its widescreen Technicolor, its travelogue scope and cinematography, and its many star cameos.
Plot Synopsis
---
The Title Credits:
The film's theme song "Giant (This Then Is Texas)" by Dimitri Tiomkin played under bold, slanted backward, blocky gold-plated letters spelling out the title "GIANT." Similar cast and crew credits appeared above a large circular Texas waterhole on the open range where cattle were herded to drink, and eventually surrounded its entire perimeter.
A Train Trip Eastward from Texas to Purchase a Spirited Animal in Maryland:
The WarnerColor (Technicolored) film opened in the mid-1920s - wealthy Stetson-hatted Texas rancher Jordan "Bick" Benedict II (Rock Hudson) rode by steam locomotive through Maryland. He was first briefly glimpsed through one of the train windows, observing how a group of riders on horses appeared to be racing alongside the train. The majestic, rolling green-hilled pastures of the area (with white picket fences) were lovingly viewed as his train pulled into the station at Ardmore. [Note: Charlottesville, Virginia was the location of Leslie's Maryland family home. However, in Ferber's original novel, Leslie's hometown was actually Virginia.]
His larger-than-life character was further introduced with a dark silhouetted view shot from behind (emphasizing his giant Texan hat) as he stood at the train's door. Then, there was a close-up view of his brown cowboy boots and his suitcase emblazoned with his cattle ranch's brand (a large R) as he disembarked from the train and set it down. After another dissolve, he was viewed at a medium distance as he was picked up in an open convertible by socially-prominent and aristocratic Dr. Horace Lynnton (Paul Fix). In particular, the rancher had his eyes on a prized but spirited black stallion named "War Winds." Lynnton's beautiful socialite elder daughter Leslie Lynnton (Elizabeth Taylor) was atop the horse as they stopped at a crossing and admired the animal. Bick was transfixed as he observed both the beautiful stallion and Leslie:
Lynnton: There he is. There's the stallion. That's War Winds.
Bick: Beautiful.
Lynnton: That's my daughter riding him. Leslie. Leslie's my daughter. She's riding him.
Bick: Doctor. That sure is a beautiful animal.
During a formal dinner that evening, Bick learned that the Lynnton's privileged daughter Leslie was engaged to future son-in-law Englishman Sir David Karfrey (Rod Taylor), who was with the British Embassy in Washington, DC, and would soon be called back to England. The spirited Leslie offered to help sell War Winds (a symbol of herself) by pointing out "all his bad points." Because of the horse's immense appetite, Leslie prophetically joked about being on sale herself: "It's either War Winds or me. Something has to go." Her father also added that the horse was unruly and needed to be tamed: "That horse is just too spirited for any woman to ride." Bick spoke of how War Winds (and Leslie!) would be well cared for in Texas: "I'll do my best to make him feel right at home in Texas."
He then attempted to describe his massive home state - lacking the verdant green lawns of Maryland - but bigger in scope and size:
It's different than any other state, I think. At least that's what we think. But it's almost a different country...It's big, all right.
He was rudely pressed by a few insensitive people at the table, mostly by the condescending Karfrey, about the size of his Texas ranch-land: "Of course, from an Englishman's point-of-view, the mere size of it takes your breath away...And how large are your ranches?" Mr. Lynnton was compelled to answer for the modest, unboasting Mr. Benedict: "Mr. Benedict's Reata is one of the largest of them all." Karfrey exclaimed his amazement, and kept pressing for a specific figure: "Oh, really! Well, just how large is that?" Bick eventually revealed Reata's exact size: "Oh, it's, it's one of the biggest....Well, there's one or two others as big, I suppose, up where we come from, one or two others a bit larger down on the coastal plains." Prodding even further, Karfrey casually tossed out some guesses: "Come now, Mr. Benedict, can't you be more specific? Well, what's the size of your place? 50,000, 20,000 acres?" Exasperated, but still remaining calm after the incessant grilling, Bick finally answered:
Around a half million. 595,000 acres to be exact.
Mr. Lynnton chuckled: "I'd call that quite a parcel." Benedict's statement of ownership of a vast 595,000-acre farm would prove to be influential, for both Leslie and Mrs. Lynnton (Leslie told her mother: "You should see the greedy look on your face!").
A Whirlwind Romance - Bick and Leslie:
Alone that evening on the Lynnton front porch, the towering, land-owning bachelor Bick became more personally acquainted with the curious and romantically-interested Leslie, and invited her to see "his country" (of Reata) in Texas. However, he was pressed for time, and had to leave early the next morning to return for spring round-up:
Bick: I like your country.
Leslie: Why don't you stay on a while, really see something of it?
Bick: Roundup time in my country. Big spring roundup.
Leslie: Your country?
Bick: Reata.
Leslie: Your country, my country. Jordan, you make it sound so far apart.
Bick: Maybe - you could come out and see it if you get a chance. (She smiled and coyly hid behind the porch pillar) ...I guess I'll be off real early in the morning, so goodbye.
Leslie: I'm really awfully glad you came. And I'm not gonna say goodbye to you here in the moonlight. It would just be too touching. Good night.
At about 10:45 pm as Bick restlessly stirred in bed, Leslie walked back home on the green lawn of the bucolic Lynnton estate, and fancifully spun around in her diaphanous pink gown in the grand foyer after attending the nearby Hunt Ball. In her bedroom, she studiously perused books on Texas with her younger sister Lacy (Carolyn Craig) far into the night, to read up on Bick's far-away "country." When asked if she was in love by Lacy, she confessed: "Yes, I think so." She agreed when Lacy hesitantly asked about breaking her engagement: "If you're not going to marry David Karfrey, will you give him to me?"
At around breakfast time the next morning, Bick rode on War Winds on the front yard for one final assessment and agreed to settle the deal. He walked up the brick steps of the mansion, with a significantly-placed 'lawn jockey' of a gold-capped black man - a racist symbol in the genteel environment of Maryland. Bick acquired the horse for $10,000 dollars: "He sure is a lot of horse." Leslie (in a fresh light blue and white-trimmed dress) burst into the dining room where an elegant breakfast was being served by black servant Jefferson Swazey (Napoleon Whiting), and Bick and Mr. Lynnton were finishing up business.
Leslie mentioned how she had studied up on Texas from about 11:00 pm until 5:00 am - and caught Bick off-guard with her sharp-tongued inquiry about how the founders of Texas stole the territory from Mexico - and then denounced the unjust thievery and appropriation of the land. She immediately clashed with him, upset him and ruffled his feathers - by also teasing with him and prodding him about his personal life - although he was still drawn toward her. In just two days of courtship, he had become enraptured by her beauty, attractiveness, inquisitive and educated nature, and bold independence:
Bick: Ma'am, that takes a heap of readin', Texas does.
Leslie: We really stole Texas, didn't we, Mr. Benedict? I mean, away from Mexico....Well, It's all right there in the history books, isn't it? This man Mr. Austin came down with about 300 families, it says. And the next thing you know, they're up and claiming it from Mexico....
Bick: Well, I never heard anything as ignorant as some Eastern people....
Leslie: Oh, please, Jordan. I'm only speaking impersonally. About history.
Bick: You all think that the glory happened in the East, don't ya? With Valley Forge and Bunker Hill!...Do you know about San Jacinto? Have you heard about the Alamo?
Leslie: Well, certainly! I read about them all last night. I didn't mean to be impolite, but it's so new to me. I just mean, it's just all so new - and so fascinating!
Mr. Lynnton: (scolding) Leslie, you mustn't talk that way to a Texan. They feel very strongly about their state.
Leslie: Oh, he shouldn't take it so hard. Jordan, you would think somebody had spoiled you terribly. Your wife or something.
Bick: I haven't any wife. I live with my sister.
Leslie: Why aren't you married, Jordan?
Mr. Lynnton: Leslie, first you attack a man's country. And now you try to pry into his family life.
When Leslie's sister and mother Nancy (Judith Evelyn) arrived at the breakfast table, Leslie was urged to show Bick the stables by her mother, but she admitted that she had just quarreled with Bick, and teased: "We have just quarreled in a polite way about Texas, so there's no use you trying to pawn me off on him. (whispering) And anyway, Mother, Mr. Benedict is probably engaged to marry the daughter of the adjoining ranch, who, though beautiful, is comparatively poor, and only has 200,000 acres and half a million cows." Mrs. Lynnton asked a comparative question: "Oh, is she, uhm, pretty?"
As everyone excused themselves from the table, Mr. Lynnton stressed to Bick that they must leave to get to the train station on time, as Leslie stood coyly with her back turned away. Her snide mother asked Bick another prying question:
Who, may I ask, is the lucky young lady that you're going to marry with all those cows?
As Bick proceeded outside to the car, he patronized Mrs. Lynnton: "Funny thing, ma'am. My neighbor is a girl, Vashti Hake. Maybe there was some talk of my marrying her, but I'm not." Off-key, she replied: "It all sounds so romantic." Bick stared out at both Leslie in front of the house and War Winds in the far pasture - metaphorically linked. Bick and Leslie walked to the white picket fence (passing by the car where Mr. Lynnton sat patiently waiting for Bick). War Winds ran up and nuzzled between the couple, who silently stood on either side. Behind them, the train whistle sounded as the locomotive departed from the station. Younger Lacy took David's arm and vowed: "Come along, David, you're for me."
A close-up of each of the faces of Bick and Leslie was followed by a rising, panning camera shot and a transitional dissolve.
Onward to Reata in Texas:
The dissolve marked a long passage of time and a major transition. The next scene was introduced with a close-up of a golden round emblem on the back of a train car: Texas & Western - Benedict Reata (with an R brand). The train car was carrying War Winds, Leslie and Bick back to the enormous Benedict ranch in Texas. The honeymooners were in bed together in a sleeper car compartment, "sight-seein'" out the window at the passing night-time landscape, where they glimpsed a nocturnal coyote. When she asked: "Tell me as soon as we're in Texas," Bick again stressed the enormous area that the "country" of his Texas covered: "Well, that's Texas you've been lookin' at, honey. For the last eight hours." As a honeymooner, she smiled: "I'm having a lovely time."
Their private train car was deposited on a side track in the midst of a dusty windstorm with tumbleweeds blowing about in the remote, utterly-flat Texas town of Benedict, named after Bick's family. Astonished by the brownish, dry and arid landscape, Leslie asked: "Is that Texas?" The train tracks were next to the Benedict stockyards where Reata cattle were shipped to market.
She stroked War Winds as Bick spoke a few harsh words in Spanish to their elderly Mexican-American driver Angel Obregon, Sr. (Victor Millan), who had brought an open convertible for them to take to Reata. Bick showed some disgust: "These people never learn!" Leslie graciously greeted Angel, who had presented the newlyweds with a bouquet of flowers, but the stalwart Bick was obviously more curt with his Mexican farm-hand, and urged them to get going: "Come on, Leslie, it's 50 miles to coffee." The camera picked up a cloud of dust rising behind their tiny car as they sped along a flat dirt road lined by a stark series of telephone and electric poles.
It was a majestic, idyllic entrance as Bick drove Leslie through the outer gates of Reata to view the immense, isolated but imposing three-story Victorian home in the distance, surrounded by grazing cattle. [Note: The Benedicts' Victorian house was only a three-sided facade.] The ranch home and its environs were a prime example of a feudal ranching barony:
Bick: This is it, honey. This is your home.
Leslie: But it's huge! I thought it was a ranch house.
Bick: My old man built it to show the cotton crowd that cattlemen were just as high-powered as they was.
Leslie: Why, it's enormous just for the two of us.
Bick: Luz lives here with me - with us.
First Introductions - Luz and Jett:
Bick lived at Reata with his tough, cattle-driving, domineering sister Luz Benedict (Mercedes McCambridge) who managed and took care of everything after their mother passed away: "Some say she even runs the ranch!" As Leslie was met by the two Mexican housekeepers, Lupe (Tina Menard) and Petra (Ana Maria Majalca), proud, bull-headed cattle-baron Bick admonished his independent-minded and outspoken bride about being too kind and gracious to the numerous Hispanic servants. Their quarrel was representative of the conflicting contrast between polite Eastern culture and the untamed frontier West:
Bick: Take it easy, Leslie...Leslie, we don't behave like that.
Leslie: What do you mean, behave?
Bick: Making a fuss over those people. You're a Texan now.
Leslie: Is that a state of mind? I'm still myself.
Bick: You're my wife, honey. You're a Benedict.
Leslie: I still have a mind of my own. Elsewhere, being gracious is acceptable.
Bick: Well, we're gracious, but...
Leslie: Fine thing, standing here quarreling with rice still in our hair!
Due to Leslie's well-bred upbringing, she refused to let traditional Texan ways of life stop her from being considerate, gracious and helpful to the hired Mexican help. She desired to be a true Texan, but wouldn't compromise her personal values.
From nearby came the first close-up view of lowly, uneducated ranch-hand cowboy Jett Rink (James Dean), with his face hidden by his hat and a dangling cigarette from his mouth, as he spied upon them from afar. He was next to an open black convertible (a 1921 Rolls Royce), where he lounged and watched the newly-wed couple, and from his point of view, saw Bick carry her over the threshold. Inside, they met Bick's traditionalist, no-nonsense, rough, raw and resilient older sister Luz, who was immediately stern and unwelcoming because her beloved brother had betrayed her and brought home a blueblooded outsider from the East. She complained that Bick's marriage and honeymoon had kept him away during spring round-up. Bick made light of her criticism: "If I miss roundup every time I have a honeymoon, I guess I wouldn't be missin' much, would I?"
Bick heard the roar of his car outside, wondered to himself about Jett: "I thought I fired him off this place," and confronted him outside: "Where do you think you're going with my automobile?" The laconic and ornery Jett and Bick often bickered with each other, according to Luz: "Jordan and Jett are everlastin' janglin' about somethin'." The very manly Luz had been in charge of the ranch-hands in Bick's absence, and Jett had become accustomed to her iron-handed rule: "They're scared to death of her, ain't they? You know that. Every one of 'em's scared 'cept me and you." Jett kow-towed to the stoic Bick now that he had returned, and knew he would no longer be taking orders from Luz: "Tell me who is the boss around here and I'll be glad to do anything you want me to do. Just tell me who's the boss." As he drove away to get a truck fixed, the sullen, almost-inarticulate cowboy muttered to himself about how he despised Bick (and the entire Benedict family) for perceived arrogance and wealth:
Ain't nobody king in this country. Ain't nobody, no matter what they might be thinkin'.
Bick apologized to Leslie about her cool reception from both her disapproving sister-in-law and his grumbling ranch-hand: "Sorry, honey. Things go loco around here every time I'm away." As Luz showed Leslie the upstairs room accommodations, she mentioned "Bick's room" and Leslie's room down-the-hall. Bick meekly reminded her that they were now a couple: "Look, uh, Luz, we're married. Well, you know how that is. We, uh, we're gonna take these two connecting rooms here, and make that one into a sittin' room where we can sorta sit and talk, where the breeze can get at us."
Luz and Leslie:
Leslie was awakened the next morning (in her empty bed) by the clanging of a triangle-shaped, chuckwagon iron meal-calling bell, and a cowboy yelling: "YAHOO!" She took a glance at the desolate, windswept landscape before proceeding downstairs. Luz recounted how she and Bick had already had a conversation over coffee at 5:00 am: "Bick and me. We have our coffee and talkie every morning of our lives at 5:00 o'clock. Try and get things rounded up for the day." Leslie had planned on riding to the daily round-up with Bick, but Luz had over-ruled and felt that Easterner Leslie was too delicate for the adverse and harsh conditions of ranch life:
Would've been too hot for you. I told him so...You gotta watch out for that sun. It's rough...You blood's too thin. That's the trouble with a lot of Easterners.
Meanwhile, she ordered the Mexican house-maid Petra to bring Leslie's breakfast to her on a tray. Leslie asserted herself: "Oh, I'm fine, Luz. I'm a lot tougher, perhaps, than you think I am." Luz boasted competitively about her own hardiness and toughness in the harsh and lonely environment of Texas, where Leslie obviously didn't seem to fit in:
Me. I never had a sick day in my life, except when I got throwed and tromped on. All you gotta do is take it easy. This rich Texas air will fix ya up. And don't you worry none about bein' lonesome. I'm gonna round up your neighbors. You're gonna meet some folks. Yes, indeedy. You're gonna meet some folks.
Luz's Local BBQ Party For the Newlyweds:
On a sweltering hot day, Luz hosted an old-fashioned outdoor BBQ for Bick and Leslie, and introduced her to some of the local folks in a reception line - most of whom lived 50 miles or more away, even though they were considered neighbors. Bick personally but awkwardly introduced Leslie to his ex-girlfriend Vashti (Jane Withers), who attempted to be sociable. To his surprise, she introduced her newly-wed husband Mort (or "Pinky") Snyke (Robert Nichols).
The BBQ was held in a sunny and hot wide-open space near the home. Weakened by the harsh sun, the beautifully luminous but fading Leslie sought shade under one of the few trees on the property, while Jett lingered on the outskirts of the gathering near the black convertible, and Bick tended to the BBQ pit with Luz. Judge Oliver Whiteside (Charles Watts) delivered a toast to the newlywed bride: "I propose a toast to a daughter of old Maryland, that's bloomed into a citizen of the Lone Star State. To the bride!" Leslie's toast was upstaged by Vashti who announced her marriage the previous day to Mort in Hermosa.
Now that she was the sole remaining spinster in the area (and possibly lesbian-leaning), the embittered Luz boasted of her new and unique matrimonial status:
Luz: I guess that leaves only me.
Adarene Clinch (Mary Ann Edwards): Oh, Luz, why everybody in this county knows you'd rather herd cattle than make love!
Luz: Well, there's one thing you gotta say for cattle: Boy, you put your brand on one of 'em, you're gonna know where it's at!
When the BBQ was ready to be served, Jett sat back calmly in the rear seat of the black convertible (with his booted feet up) in an iconic pose. Bick boasted to Leslie about the local food as they lined up next to a long row of tables with red-and-white checked tablecloths: "The best food you ever ate, honey. This is a real Mexican 'barbacoa'. That's where we get the word 'barbecue.'" She asked about one of the unwrapped BBQ'd delicacies to be served:
Bick: Calf's head. You see, we take and wrap it in a clean white cloth and then wrap it tight in canvas, and put it down in a pit of hot mesquite coals. It stays down there 18 hours. And do those brains sure taste sweet!
Leslie: How fascinating. Honey, I don't think I'm really terribly hungry. It must be the heat or something.
Luz: Call this hot. Wait till July.
She fainted backward into Bick's arms, as the contemptuous Luz looked on without compassion and gladly noted Leslie's weakness to herself, muttering under her breath: "That's what I was afraid of" - almost hoping that Leslie would never acclimate herself to the rigors of Texas ranch life.
The New and Determined Leslie - in Conflict with Luz:
By the next morning, Leslie refused to be intimidated by her rival incumbent Luz, and was determined to become a real Texan. She had awakened BEFORE Bick to ring the triangular, iron meal-bell herself to summon everyone to breakfast. Her intent was to set a new tradition of being in charge of breakfast duties as the new head of household - but this required a major stand-off with the upstaged Luz, in order to establish herself as the new ranch matriarch:
Leslie: Look, Luz. I think there's something that we should get in the clear and the open. I don't want to take your place. I want you to know that. But I can't have you taking my place either. I can't be just a guest in my husband's house.
Bick: There you are.
Leslie: Good morning, darling.
Bick: How are you feeling?
Leslie: Fine.... I want everybody to know, no matter what happens around this ranch in the future, I am never going to faint again.
Bick: I'll never get the hang of you, Mrs. Benedict.
Leslie rode effortlessly on War Winds (although others thought it too dangerous) and joined Bick for his early morning round-up duties. Luz bitterly complained to herself, revealing her jealousy of Leslie's ability to control the animal. Her unheeded advice was to avoid using the newly-purchased stud horse for riding. And she predicted that the horse would cause injury - not realizing she was foreshadowing her own demise:
A horse like that that cost you a lot of money for breedin' stock, I'd use for breedin'. I wouldn't let anybody ride him around. I wouldn't care if she's your wife or who she is. Bick, I'd see she rides a more gentle animal if I was you. She's gonna fall off and break her neck.
Out on the range, Bick introduced Leslie to Old Polo (Alexander Scourby), the head 'vaquero' who had been with the family for generations, "since Grandpa Benedict's time." As the newest Benedict patriarch, Bick was proud of his generations-old herds of longhorn livestock and his traditional Texan way of life:
Bick: Boy, there's never been anything like them in this world, I can tell ya. Did you ever see such stock?
Leslie: Are they all ours?
Bick: Yep. These and 49,000 others just like 'em. Granddaddy and his boys used to drive his longhorns, great herds of them, right through here all the way to Kansas....Yeah, yeah, he was a pretty good old boy. I mean, he was tough, too. My old man brought in stock from Europe and bred 'em to the best we had...This right here is the result, honey! Look at 'em!
In a montage, calfs were rounded up and branded with the R (Reata) symbol, while two bulls locked horns and Bick blasted a threatening rattlesnake with a shotgun. Although he was worried about Leslie becoming overheated, she assured him: "I'm a tough Texan now." Jett drove up in the convertible with Luz, and Bick suggested that Leslie be transported back to the ranch with him to prevent heat-stroke. With Leslie out of the way, Luz took the opportunity to assert her authority over Leslie and the rest of the downtrodden hired help:
Luz: I don't want to chew on this, Bick, but I think we'd better get it straight. I run the house, don't I? Her house. Her kitchen. Her help. She don't even speak Spanish.
Bick: Oh, they understand plenty English when they want to.
Luz: I know how to handle Mexicans. Been doin' it all my life. They'd sit on their honkers all day if I didn't keep after 'em.
Bick: All right, Luz, cool off.
Luz: I thought we oughta talk without her around. I just don't wanna feel that you're settin' up against me, Bick.
Bick: Nobody's settin' up against you, Luz. That gal's my wife. And you're fair enough, I think, to try and get along with her.