Background
---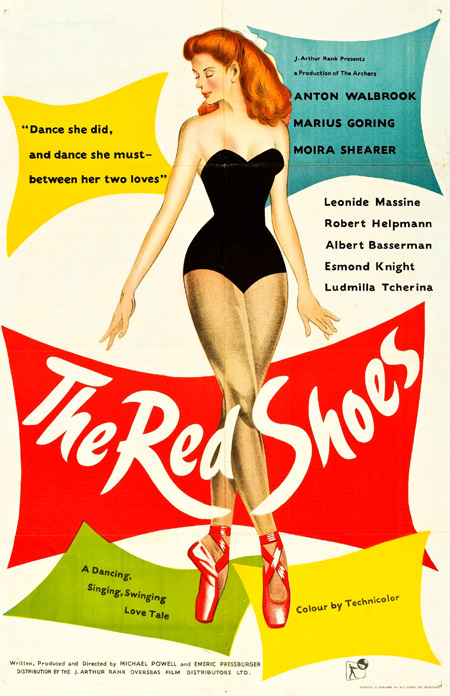 The Red Shoes (1948, UK) is a beautiful and sensitive post-war film - the 10th collaboration from the masterful and respected British directing/producing team of Michael Powell and Emeric Pressburger (who also scripted the original screenplay), who called themselves The Archers. The creative team had made other films in the previous five years that were also considered equally controversial (and challenging to the mainstream), including:
The Life and Death of Colonel Blimp (1943)
A Matter of Life and Death (1946)
The Red Shoes tale was derived - metaphorically - from Danish writer Hans Christian Andersen's disquieting and tragic children's story of the same name published in 1845. It told about a vain, young and orphaned peasant girl named Karen who wore an enchanted pair of RED ballerina slippers and dared to wear them in church. [Note: In folklore, the potent color Red always represented temptation, danger and blood - involved in menstruation, the loss of virginity and death.] She became completely distracted in church, obsessed over the shoes, and ignored her duties. An angel told her that she was cursed and doomed to never stop dancing and would uncontrollably dance herself to death.
In the tale's grim ending, she begged the town's executioner to chop off her feet to end her incessant dancing, but the shoes continued to dance with her dismembered, amputated feet still inside. After Karen received a pair of wooden feet and crutches, she was still haunted by the red shoes, and finally repented of her sinful ways and asked for God's mercy. In the warmth of sunshine in church, her heart became so full of salvation that it burst with peace and joy, and her soul flew up to God in heaven "and no one there asked about the red shoes."
The musical tragedy took a realistic and close look at the backstage world of a ballerina. In some ways, the characters in The Red Shoes resembled those in Busby Berkeley's Gold Diggers of 1935 (1935), and the plot line was reminiscent of the Cinderella fairy-tale of a young girl and a pair of slippers. A train (and train station) motif played a significant role throughout the story, as did the themes of obsession and the existence of a strange love triangle.
The film's major male protagonist - a malevolent, iron-willed, enigmatic, rude and imperious (but genius) Russian ballet impersario played by Anton Walbrook, was partly based upon the real-life, highly-demanding artistic director Sergei Diaghilev (1872-1929), who became famous for founding an influential ballet company, Ballets Russes, that was based in Paris. The fiery, flame-red-headed ballet dancer/heroine playing opposite him in the film was Moira Shearer (in her film debut) - an exquisite dancer in her 20s performing with the Sadlers' Wells Royal Ballet Company (where Margot Fonteyn had achieved fame) when she was selected for the part of the rising prima ballerina.
The film's tagline expressed the theme of career vs. marriage -- the choice or decision to be made between two loves - either art or human love:
"Dance she did, and dance she must - between her two loves."
This surrealistic, emotionally-expressive fairytale was filmed in breathtaking, magnificent and gorgeous Three-Strip Technicolor by cinematographer Jack Cardiff - it was an expressionistic dramatic masterpiece often considered the best ballet film ever made.
The film's magical and fantastical highlight was a 15-20 minute stylized "The Ballet of the Red Shoes" with 53 dancers that blended and integrated seamlessly within the storyline. Originally however, the Rank Organisation studio thought that it was an artistic over-indulgence and denied the film proper financial backing and publicity, since it was already over-budget and presumed a failure. However, its long but limited two-year run in one off-Broadway cinema house in New York City (the Bijou Theatre on W. 45th St.) proved that it was a great achievement. US distribution and backing followed thereafter in 1951 by Univeral Studios that resulted in making it one of the highest-earning British films of all-time.
The success of the balletic themes that combined dance with design and music in Powell and Pressburger's British film inspired director Vincente Minnelli to follow suit in his own masterpiece An American in Paris (1951) - he had experimented with shorter ballet sequences in his earlier films Yolanda and the Thief (1945) and Ziegfeld Follies (1946). Also, it paved the way for extended dance sequences in Gene Kelly's and Stanley Donen's classic Singin' in the Rain (1950), and it was often referenced in A Chorus Line. Darren Aronofsky's Black Swan (2010) with Natalie Portman as a troubled ballet dancer paid homage to the film, and it probably accounted for the insertion of a ballet sequence ("Lovely Night") into Damien Chazelle's recent La La Land (2016). The South Korean horror film The Red Shoes (2005) also told about a cursed pair of shoes.
It received five Academy Award nominations including Best Picture, Best Film Editing, Best Story (Pressburger), and won two awards: Best Art Direction/Set Decoration (Color), and Best Original Musical Score (performed in the film by the Royal Philharmonic Orchestra and conducted by Sir Thomas Beecham). 1948 was the year in which Laurence Olivier's Hamlet (1948) became the first British film ever to win the Best Picture Oscar.
Plot Synopsis
---
In London, England:
After the title, cast and production screens, the film opened on two black-dressed uniformed usher-guards within the Covent Garden Royal Opera House in London, where a performance of the fictional ballet Heart of Fire by the Ballet Lermontov was about to commence. With a signal to let the attendees in, they opened the two entrance doors into the theatre, unleashing a scrambling crowd of boisterous students who had been waiting for six hours outside. They poured through and stampeded up the stairs to 'battle for' first-come, first-serve mezzanine-balcony seats for the ballet performance that would begin in 45 minutes. In the post WWII era, three of the impassioned students, not yet identified, made an oblique reference (regarding their war-like attack upon the theatre's seats) to the suicidal charge during the Crimean War ("Into the Valley of Death - Into the Jaws of Hell - Rode the 600"), memorialized in Alfred Lord Tennyson's 1854 poem The Charge of the Light Brigade.
Backstage behind the curtain, the dancers prepped as tuxedoed audience members filled in the lower seats. In the upstairs theatre audience was a young music student named Julian Craster (Marius Goring) who was present to hear the ballet's score for Heart of Fire, composed by his teacher Professor Andrew Palmer (Austin Trevor). The main ballerina dancer was Irina Boronskaja (Ludmilla Tchérina), and the company's orchestral conductor was Livingstone 'Livy' Montague (Esmond Knight).
Ballet impresario Boris Lermontov (Anton Walbrook), the ballet company's director, was introduced with a mysterious entrance scene. With Palmer in the same opera box, Boris was seated in the darkness behind a red curtain, with only his hand showing -- typical of the kind of entrances reserved for horror film characters.
As Julian listened to the orchestral score, he realized that the composition was his own work - a Scythian Rhapsody - it had been plagiarized by his teacher Professor Palmer. Julian admitted how it had happened: "I show him all my work." During the ballet, Palmer was handed the card of 'Isabel, Countess of Neston', with a note on the back with an invitation to an after-ballet party hosted at Lady Isabel Neston's (Irene Browne) residence: "Dear Professor Palmer. I'm having a few people in afterwards. Do come along and bring Mr. Lermontov with you." Palmer shared the note with Lermontov and added about the contessa: "She's a great patron of the arts." Across the way in Lady Isabel's opera box was her aristocratic niece, an ambitious young, red-headed English prima ballerina named Victoria "Vicky" Page (Moira Shearer). Julian became increasingly agitated as he recognized much of his work in Palmer's orchestral arrangement. Disillusioned, indignant and upset, Julian and a few of his friends left the performance early.
At the elegant after-party attended by Palmer and the charismatic Lermontov, Lady Isabel had arranged for her niece, professional ballet dancer Vicky, to give a surprise dance performance for the assembled group to impress Lermontov. She alerted him to the impromptu 'audition' by promoting her niece's professional dance experience: "I wouldn't dream of boring you with the performance of an amateur. My niece has been dancing leading roles for some time now. The critics think very highly of her work." Lermontov impolitely declined, noting that ballet was more than "poetry in motion" - he explained his reasoning:
For me, it is a great deal more. For me, it is a religion. And one doesn't really care to see one's religion practiced in an atmosphere such as this. I hope you understand.
As he left the room to get a champagne cocktail, Lady Isabel called him an "attractive brute." The strong-willed, career-minded Vicky caught up with him, and without knowing who she was, he mentioned her Aunt's ploy: "We were, it appears, to be treated to a little dancing exhibition. But now I understand we are to be spared that horror." Vicky revealed: "Mr. Lermontov, I am that horror." He gulped, chuckled, and offered a late apology as she introduced herself as "Victoria Page." Vexed, he explained that he didn't like being misled to view a dance performance: "If I accept an invitation to a party, I do not expect to find myself at an audition," but then inquired why she liked to dance in a classic rhetorical exchange - and seemed to take an interest in the charming red-head when she answered that dancing was more important than life itself:
Lermontov: Why do you want to dance?
Vicky: Why do you want to live?
Lermontov: WeIl, I don't know exactly why, but, uh, I must.
Vicky: That's my answer too.
In the next scene set early in the morning, upper-class European aristocrat Lermontov was in his London apartment wearing a full-length gray tartar robe, as he smoked and sorted through a stack of letters in the mail. When his butler Dmitri (Eric Berry) answered the door (and took Lermontov's cigarette from his extended hand), he complained about how persistent the brash Julian Craster had been, and how he had thwarted him many times before: "He has been here a hundred times...and a hundred times I have toId him you are asleep, but he will not believe me." Lermontov agreed to invite Craster in during breakfast. Craster described how he had written a "silly letter" to Lermontov and wanted it back before it was read, but Lermontov claimed it was already too late. Lermontov summarized its contents: Craster was one of Professor Palmer's pupils and had written a string quartet and a piano concerto.
Craster was invited to perform a short audition at the piano of one of his own works, as Lermontov ate his breakfast. Afterwards, the struggling conductor-composer was immediately hired by Lermontov for the Covent Garden Opera House to be a coach (a tutor and accompanist of ballet dancers and/or opera singers during rehearsals), to assist the company's conductor Livy:
I need a new coach for the orchestra. WouId the idea interest you?...l shouldn't be able to pay you much money at first, of course - eight pounds a week and expenses.
Julian was ecstatic, but then was advised to keep the letter claiming Palmer's plagiarism a secret - Lermontov realized that he was the true composer of Heart of Fire:
If you take my advice, you'll destroy it immediately and forget all about it. The Heart of Fire is your work, isn't it? You see, Mr. Craster, these things mostly happen unintentionally....That's why it is worth remembering that it is much more disheartening to have to steal than to be stolen from, hmm?
That same morning, both Julian and Vicky made their way to Covent Gardens to begin their new jobs with Lermontov's ballet company. Claiming to the stage door keeper (Jerry Verno) that he had an appointment with Lermontov, Julian met the statuesque star dancer, Irina Boronskaja, who urged him to enter with her ("Follow me, young man") - she guided him to the backstage entrance. Lost, Julian kept asking: "Can you tell me who's in charge here?" He overheard Boronskaja slightly reprimanded for her tardiness of 43 minutes by amiable and frantic co-star dancer/choreographer Grischa Ljubov (Léonide Massine). Vicky also introduced herself to Grischa, who ordered her to the side of the stage where other hopefuls were congregating - a common occurrence for Lermontov's proteges:
He invites them. I teach them. I get rid of them. He forgets them. And now, unhappy girl, will you please go to the far corner of the stage where you'll meet five other young ladies to whom Mr. Lermontov has also extended his hospitality?
Suddenly, Lermontov appeared in one of the theatre's seats and ordered the rehearsal of the first act of Heart of Fire. He ignored both Julian and Vicky as he bounded onto the stage. Vicky reluctantly joined the other "young ladies" awaiting recognition, and eventually participated in class exercises next to a balance bar, while Craster rehearsed with a small orchestral group. Soon, Craster - as deputy conductor - was in front of the full orchestra to practice one hour earlier than normal (at 9:30 am), and was personally modifying some of the musical arrangements ("There are one or two things l really must put right"). Feeling miffed by Craster's interference (and expertise) was the main conductor 'Livy' Montague, who half-joked:
I have no doubt you also like the National Anthem and the 'Marseillaise'. I hope you're not thinking of summoning the full orchestra at dawn to practice those noble melodies.
From the shadows, Lermontov also chided his new "discovery" Craster for his brash ambitiousness: "I must ask you to exercise in future a little more control over your natural ambitions," but also congratulated him for his musical mastery: "There are passages in Heart of Fire which no one need be ashamed of."
Later, Lermontov signed "YES" to give his 'special permission' for Vicky to dance (one performance only) with the Ballet Rambert in a Saturday matinee performance of Tchaïkovski's Swan Lake ("Lac des Cygnes") at the Mercury Theatre, at Notting Hill Gate. The ballet company's production was led by Marie Rambert (as Herself, in a dialogue-less cameo). Watching from the audience, Lermontov was impressed by Vicky's skillful performance as the soloist and her love of dance, although the backup dancers were clearly inferior and the music was piped into the theatre via a scratchy record on an old turntable.
In the next scene, Lermontov spoke to his six female dancer hopefuls before the Ballet Company's departure on Saturday for their next tour stop, Paris (and the Theatre National). He graciously dismissed four of them (Vicky was one of two dancers chosen to remain with the troupe):
Now, I can't imagine anything more enchanting than being able to invite you - all of you - to accompany us there. But I'm afraid this great pleasure must be denied me. To those whom we must regretfuIly leave behind, I'd like to say just this - please, don't be discouraged. The fact that we can't take you with us doesn't mean that you are bad dancers. It just means that this year, unfortunately, we haven't got enough room.