Background
---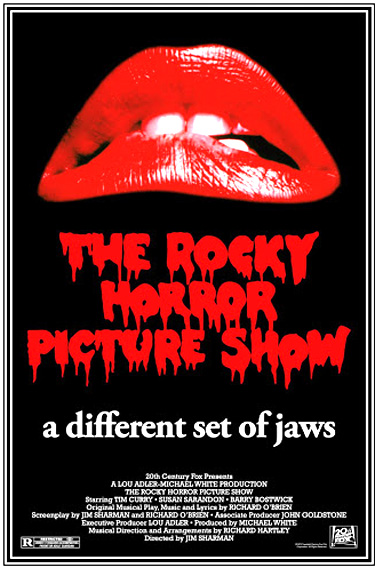 The Rocky Horror Picture Show (1975) is director Jim Sharman's cult film - and perhaps the most popular cult film of all time. The campy and decadent (trashy) film came about as an adaptation of Richard O'Brien's British stage-show musical in 1973 (that premiered in London's Chelsea district). [Note: Some of the original performers, Tim Curry, Patricia Quinn and Little Nell Campbell, also appeared in the subsequent film.]
The movie was a mixed genre film (science-fiction, comedy, musical, and horror), but mostly a parody or spoof of sci-fi and B-horror movies of the 1930s through to the 1960s. It was a groundbreaking film for its themes of transvestism, homosexuality, bisexuality, murder, cannibalism, voyeurism, adultery, and incest. The film also popularized, normalized and promoted alternative sexuality, drag culture, punk rock, the fun side of cross-dressing, promiscuity, and rebellious behavior.
The bizarre film honored (and gently spoofed) horror B-movies and science fiction genres of the past (including Doctor X (1932), RKO Pictures' King Kong (1933), The Invisible Man (1933), The Day the Earth Stood Still (1951), Forbidden Planet (1956), The Wizard of Oz (1939), the Hercules films, The Day of the Triffids (1963), the classic "atomic age" sci-fi horror of the '50s, such as It Came From Outer Space (1953), and, of course, Frankenstein (1931)). It also came at a time of similar genre parodies, including John Landis' Schlock (1973) (a parody of monster movies), X-rated space adventure Flesh Gordon (1974), Mel Brooks' Young Frankenstein (1974), and Brian De Palma's flop - the rock music film parody The Phantom of the Paradise (1974).
The film's tagline was presented in lower-case: "a different set of jaws" - an oblique reference to the summer blockbuster of the year, Spielberg's Jaws (1975). A second tagline read: "He's the hero - that's right - the hero!!"
It opened in London as a British musical stage play in mid-June of 1973 (and playing in various venues), and then in Los Angeles (at The Roxy Theater, a rock-n-roll nightclub on the Sunset Strip) in late March of 1974 (for a duration of nine-ten months). The Rocky Horror Show opened on Broadway in March of 1975 (at the Belasco Theater), but because it was overstaged and overproduced - it folded after approximately 50 performances. This was at a time when youth-oriented theatrical musicals were popular, including Grease, Jesus Christ Superstar, Hair and Tommy.
A film version of the original international stage hit, Jim Sharman's and 20th Century Fox's low-budget, campy horror rock musical at a cost of about $1.2 million, was shot over an eight-week period in late 1974. It initially bombed during test showings (in Santa Barbara in June of 1975), but opened nonetheless in in Los Angeles in September of 1975. The reaction to the film was positive in Los Angeles, but in other cities where it was shown, it was a complete commercial failure - and in just a few weeks, similar to the failed Broadway premiere, the film was shelved. [Note: One interesting note - most of the audience attendees were multiple viewers - who kept coming back night after night, and the film was popular with college campus audiences.]
It didn't really take off as a phenomenon until it was resurrected after a long run of midnight showings at the Waverly Theater in Greenwich Village beginning on April 1, 1976 - April Fools' Day. [Note: It joined two other films that had become popularized after successful 'midnight' showings, including the cautionary anti-marijuana Reefer Madness (1936), El Topo (1971), and John Waters' notorious Pink Flamingos (1972).] Over time, it has been estimated that the film (slowly over many years) attained box-office revenue of almost $113 million (or an adjusted lifetime gross of $516 million).
The Rocky Horror Picture Show holds the record for the longest theatrical release in film history. Since then, the "midnight movie" has achieved major cult film status, and has been considered the longest-running 'midnight movie' of all time. The film was revived as a multi-media, audience participatory, 'floor show' experience and exploded as a worldwide phenomenon for many years. During showings, audience members arrived in cross-dressing lingerie, danced in the aisles, and participated in a song-along. Props that were thrown included rice (during the wedding scene), water from plastic pistols (during the thunderstorm), providing light (from cigarette lighters or flashlights during the musical number (There's a Light) Over at the Frankenstein Place), or pieces of toast (when Frank proposed a dinner toast). Newspapers were often used as head-covering umbrellas during the early rainstorm, and rubber gloves were snapped in synch with Frank's own snap.
In addition, the phenomenon of 'Rocky Horror' was kept alive by fan clubs, conventions, look-alike contests, record albums, posters, movie paraphernalia and costuming, and much more. There were many wild, energetic song-and-dance numbers in this notorious midnight movie, audience participation cult film, including the opening song (and bookending refrain) - a Science Fiction/Double Feature sung by a giant pair of disembodied blood-red lips (voice of Richard O'Brien) - a tribute to Hollywood's B-horror films. The film was highlighted by lots of catchy, overtly-sexual songs-and-dances, such as the famous Time Warp ("It's just a jump to the left...") with unconventional dancers of all races and sizes, crazed transvestite Dr. Frank N. Furter's campy introduction Sweet Transvestite, and the concluding chorus-line of kicks during "Wild and Untamed Thing."
The strange tale was about a haunted castle inhabited by trans-sexual aliens from Transylvania who were celebrating their annual convention. It followed a strait-laced, wholesome, All-American newly-engaged couple, Brad Majors (Barry Bostwick in his feature film debut) and Janet Weiss (Susan Sarandon) who took a wrong turn and stumbled upon the spooky mansion/castle on a rainy night when their car had a flat tire, and were forced to take refuge. The two were brought into a world of subversiveness by a bisexual host - the carnivorous "sweet transvestite from Transsexual, Transylvania" - Dr. Frank N. Furter (Tim Curry), who introduced himself via song. The mad scientist was a sexually-obsessed, outlandish and openly-bisexual transvestite whose dream was to create a perfect living muscle man named Rocky "with blonde hair and a tan" for his own bisexual gratification. However, he became miffed when Janet (after her own deflowering and sexual awakening) seduced Rocky and initiated him into the joys of heterosexual sex.
It can be definitively argued that the film was a veiled representation of the fall of the human race in the Genesis story in the Garden of Eden. The virginal Adam and Eve couple, the recently-engaged virginal hero and heroine Janet and Brad, had taken the "wrong fork" in their life's path and met their sinful downfall in a Frankenstein-esque castle, where each had pre-marital sex with the transgressive Transylvanian alien in his lighted tent. Dr. Frank N. Furter also set himself up as a God-like creator (like his namesake Dr. Frankenstein), to create the Rocky muscle-man for his own sexual pleasure, while also jealously ice-picking to death his ex-boyfriend Eddie. After the fallen nature of 'man' was clearly exhibited, the young, easily-persuaded deviant couple was redeemed and saved by the "noble mission" of two other alien entities Riff Raff and Magenta, who externally came to their aid to destroy the defiling, extremely decadent and tempting trans-sexual alien figure of Frank, before blasing off in the castle-mansion (a spaceship) and returning to their home planet. The film concluded with a quote about the hopeless, sinful nature of man - without God's redeeming intervention: "And crawling on the planet's face, some insects called the human race. Lost in time and lost in space - and meaning."
The film was followed by a forgettable musical-comedy sequel, director Jim Sharman's Shock Treatment (1981), and a successful musical revival on Broadway in 2000 featuring Joan Jett that ran for two years.
Plot Synopsis
---
Giant Lips Singing the Opening Song:
The preparatory opening song "Science Fiction/Double Feature" was sung by a giant pair of oversized, disembodied blood-red female lips under the opening credits. It played as a tribute to Hollywood's B-horror films, by mentioning many different films in its lyrics:
[Note: They were the lips of female performer Patricia Quinn - the character of Magenta. The male singing voice belonged to Richard O'Brien, the original stage show's creator - and the character of Riff Raff.]
The Day the Earth Stood Still (1951) -- ("Michael Rennie was ill, the day the earth stood still, but he told us where we stand")
Flash Gordon (1936) -- ("And Flash Gordon was there in silver underwear")
The Invisible Man (1933) -- ("Claude Rains was the Invisible Man")
King Kong (1933) -- ("Then something went wrong for Fay Wray and King Kong, they got caught in a celluloid jam")
It Came from Outer Space (1953) -- ("Then at a deadly pace, it came from outer space")
Doctor X (1932) -- ("Doctor X will build a creature")
The Rocky Horror Picture Show (1975) -- ("See androids fighting Brad and Janet")
Forbidden Planet (1956) -- ("Anne Francis stars in Forbidden Planet, Whoa-oh-oh-ohh")
Tarantula (1955) -- ("I knew Leo G. Carroll was over a barrel when Tarantula took to the hills")
The Day of the Triffids (1963) (aka Invasion of the Triffids) -- ("And I really got hot when I saw Janette Scott fight a Triffid that spits poison and kills")
Curse of the Demon (1957) -- ("Dana Andrews said prunes gave him the runes, and passing them used lots of skills")
When Worlds Collide (1951) -- ("But when worlds collide,' said George Pal to his bride, 'I'm gonna give you some terrible thrills'")
The Opening Wedding Sequence:
The faceless, disembodied giant lips transitioned into a close-up of a Christian cross adorning the top of a rural church steeple.
In a bright and sunny, cheerful setting of an Episcopal church in the summer of 1974, a wedding had just taken place in rural Denton, Texas. [Note: It can easily be argued that the location might also be Denton, OH.] A couple attended - a wholesome, square, strait-laced Brad Major (Barry Bostwick) (best man for clean-cut Ralph Hapschatt (Jeremy Newson) and wholesome bride Betty Munroe (Hilary Farr) - a "wonderful little cook") and his girlfriend Janet Weiss (Susan Sarandon) (maid of honor for Betty). Janet and Brad, the designated hero and heroine of the story in the credits, had met Ralph in school - in Dr. Scott's refresher course.
A photograph was taken of the bride and groom and their families on the front steps of the church.
[Note: As a foreshadowing, notice the two grim-looking individuals in the background of the photo. The couple were dressed to mimic the Quaker American couple in the "American Gothic" painting by Grant Wood - later seen hanging in the castle's foyer. The man had a pitchfork in his hand. They were the future characters of Riff Raff and Magenta. Physically positioned between the male and female stood the tall black-garbed Minister, the film's main star Tim Curry!]
When the bouquet was thrown by the bride Betty, Janet caught it. The side of the newlywed's car was scrawled with the real reason for their marriage - sexual access to the bride: "WAIT TIL TONITE—SHE GOT HERS, NOW HE'LL GET HIS." After they pulled away in the wedding vehicle, there was a prominent close-up of a church notice board (shaped like a tombstone) - a warning to be righteous and sinless in order to avoid fear and condemnation:
BE JUST AND FEAR NOT
Afterwards in the adjoining church cemetery, the couple stood before a housing development ad on a billboard, illustrated with an arrow through a red heart (advertising "DENTON - The Home of Happiness"). It was an idyllic setting for the moment, although an impending storm was on the horizon as the setting became cloudier and darker. Brad presented a musically-vocal marriage proposal ("Dammit Janet") to an expectant Janet - a song about his fiery love for her and how he was a "fool" for her.
They made their way back to the front steps of the church where he knelt down and sang: ("Here's a ring to prove that I'm no joker"). He presented her with a ring in a red-lined box - a respectable offer of marriage. He sang about how there were three ways that their love could grow: "Good, bad or mediocre" - and Janet promptly dropped the ring - a foreboding sign that trouble lay ahead for the virginal couple.
They entered the church where suddenly, the 'American Gothic' couple was accompanied by their daughter [another future character named Columbia], and the odd family provided the chorus for the remainder of Brad's song, as he claimed he was "mad" for her. They gothic family was preparing the church for a funeral. They brought in a coffin through the side door, transforming the scene into a setting for a death ritual.
Brad mentioned that they had only one thing to do - to go see their science teacher in whose classroom they met ("the man who began it"). Brad and Janet kissed at the altar before a church window.
The Narrated Story by a Criminologist - a Fighter of Sin:
The cross in the church window above them split the frame open and a criminologist-expert (Charles Gray, who had previously played the evil character of Blofeld in the Bond film Diamonds Are Forever (1971)) appeared as the narrator in an impressive-looking study with a desk and bookcases. He was watching a projected slide of the wedding picture - and had circled in red the stern-looking Quaker (the male in the 'American Gothic' painting), and had drawn a red arrow pointed at the tall Minister.
The no-neck narrator - with a long cigarette holder - spoke about taking the audience on a strange journey: ("I would like, if I may, to take you on a strange journey"). He opened a scrapbook titled "The Denton Affair" filled with pictures of Brad and Janet at the wedding - and some police affidavits. He narrated how the two conservative, "ordinary" and "healthy" kids were about to leave the safe environs of respectable society and risk their lives by driving in the wrong direction towards the turbulent storm clouds of their fateful future:
It seemed a fairly ordinary night when Brad Majors and his fiancee Janet Weiss, two young, ordinary healthy kids, left Denton that late November evening to visit a Doctor Everett Scott, ex-tutor and now friend to both of them. It's true there were dark storm clouds: heavy, black, and pendulous, toward which they were driving. It's true, also, that the spare tire they were carrying was badly in need of some air. But they being normal kids on a night out - well, they were not going to let a storm spoil the events of their evening. On a night out - it was a night out they were going to remember for a very long time.
Seeking Refuge in The Frankenstein Place - Castle:
They returned home, on the way to visit their ex-science teacher Dr. Scott, on the rainy and thunderstormy night. On the radio, they listened to President Richard Nixon's resignation speech (on August 8, 1974): "I have never been a quitter. To leave office before my term is completed is abhorrent to every instinct in my body. But as president, I must put the interests of America first. America needs a full time president, and a full time Congress, particularly at this time...". Ignoring the broadcast, Janet was reading the Cleveland Plain Dealer newspaper in the front seat. [Note: Weren't they in Denton, TX?]
Both noticed reckless motorcyclists on the road (Janet: "They sure do take their lives in their hands"), prompting Brad to remark: "Life's pretty cheap to that type." After reaching a dead-end, Brad made a momentous statement about the waylaid direction of their lives during the dark storm. They had expected to take a different path to their teacher's place, but were somehow directed to take a different way:
We must've taken the wrong fork a few miles back.
Realizing they were lost on back roads, they began to back up - and suddenly, their car had a blow-out in the "middle of nowhere." Brad decided that he should walk back to a castle they had seen a few miles back, to phone for aid. Janet insisted on joining him: ("The owner of that phone might be a beautiful woman and you might never come back again"). As they journeyed toward the castle, Janet held the newspaper over her head to keep dry. A sign on the outside gate of a large gothic mansion-castle read: "ENTER AT YOUR OWN RISK!!" - illuminated by lightning. Together, they sang "(There's a Light) Over at the Frankenstein Place" as they walked toward the silhouetted castle - noticing a light in an upper window where one of the occupants sang a verse. A group of motorcyclists zoomed by them.
The criminologist interjected:
And so, it seemed that fortune had smiled on Brad and Janet and that they had found the assistance that their plight required - or had they?
At the front door - guarded by a gargoyle, Janet complained of the cold, and expressed fear and uncertainty, but was ignored. After Brad rang the doorbell, they were greeted by a sinister hunchbacked butler Riff Raff (Richard O'Brien), the man who was at the window. He noted simply: "You're wet." The castle's domestic maid Magenta (Patricia Quinn) (with a feather duster) was perched on the banister of the ornate wooden staircase. Brad tried to assure Janet: "It's probably some hunting lodge for rich weirdos." Riff Raff explained they had arrived on a "rather special night - it's one of the Master's affairs."
The "Time Warp" Song and Dance:
After a circular clock (embedded at the top of an upright coffin standing next to a painting of "American Gothic") chimed midnight, Riff-Raff opened the squeaky lid of the coffin to reveal a skeleton - he used Magenta's duster to remove cobwebs.
[Note: the sequence directly referenced a similar scene in the German expressionistic film The Cabinet of Dr. Caligari (1920), in which the doctor opened a standing cabinet for spectators at the town fair to reveal 23 year-old Cesare - who was to be awakened from sleep.]
Riff Raff (with assistance from Magenta) began to lead the film's most famous song-and-dance sequence known as the "Time Warp" - the film's major highlight:
It's astounding Time is fleeting Madness takes its toll...But listen closely...I've got to keep control. I remember doing the Time Warp. Drinking those moments when The blackness would hit me. And the void would be calling.
Brad and Janet watched in awe as they were ushered into a large ballroom. In the hallway's foyer was a stuffed leopard with a coiled python wrapped around it, and a mantle stocked with small marble statues of animals.
The ballroom - with a geodesic dome roof and maroon canopies, was filled with a cult-like group of conventioneers from the planet Transsexual (known as Transylvanians), composed of the bikers they had previously passed. All of the members were elegantly dressed up for their Annual Transylvanian Convention (a banner announced the assembled). The participants, unconventional dancers and singers (all Transylvanians) of all races and sizes, with outrageous party hats and wild hair styles, wore black suits with bulky dark sunglasses. The oddly-garbed group sang out:
Let's do the Time Warp again.
The dignified British-accented criminologist/narrator broke in with a pull-down illustrated chart to instruct the viewer on the proper steps - the lyrics helped to describe the ritualistic dance routine and its movements (including pelvic thrusts) - he was caught up or afflicted in the indulgent moment and began to demonstrate the tempting dance himself:
Narrator: It's just a jump to the left.
All Guests: And then a step to the right.
Narrator: With your hands on your hips.
All Guests: You bring your knees in tight. But it's the pelvic thrust. They really drive you insane. Let's do the Time Warp again.
During the dance, some of the members were served decadent desserts. Platters of one selection - hot-dog shaped creme puffs - were passed around and other selections were available on buffet tables (each gluttonous dessert was decorated and topped with a different national flag). Supposedly, all of the participants represented countries from around the world.
Janet and Brad watched - without participating, and part way through the song, she fainted. The red-haired Magenta began to sing the next chorus:
Magenta: It's so dreamy Oh, fantasy free me, so you can't see me. No, not at all. In another dimension with voyeuristic intention, well secluded, I see all...
Riff Raff: With a bit of a mind flip...
Magenta: You're into the time slip...
Riff Raff: And nothing can ever be the same.
Magenta: You're spaced out on sensation.
Riff Raff: Like you're under sedation.
In the ballroom were two mirror-image, black and white framed "Mona Lisa" paintings (the one on the right had an inverted image from the original, facing or positioned to the right) mounted on mantles above two identical fireplaces, the household's groupie Columbia (Laura "Little Nell" Campbell) sang the next verses of the dance/song, while sitting astride a jukebox:
Well, I was walking down the street, just having a think when a snake of a guy gave me an evil wink. Well it shook me up, it took me by surprise. He had a pick-up truck and the devil's eyes. He stared at me and I felt a change. Time meant nothing, never would again.
The group of singers and dancers formed a line - and after several more refrains of "Let's do the Time Warp again," Columbia joined in with a tap-dancing number including spinning twirls.
After the energetic physical exertions of the song and the many pelvic thrusts, all the dancers collapsed onto the floor at its conclusion, leaving Janet and Brad as the only ones still standing. As they backed up to the door to make a quick exit, Janet prompted Brad with a whisper: "Brad, say something!" Brad made a clueless suggestion:
Say, do any of you guys know how to Madison?

[Note: This was a reference to the line dance performed impromptu in Jean Luc-Godard's French New Wave film, Bande à part (1964, Fr.) (aka Band of Outsiders.]
Janet was worried by the looks of things ("It seems so unhealthy here") and encouraged Brad to leave ("I wanna go"). She realized that the celebration wasn't very traditional: "This isn't the Junior Chamber of Commerce, Brad!" Janet began to whine and complain: "Look, I'm cold and I'm wet, and I'm just plain scared." Brad tried to reassure Janet: "I'm here, there's nothing to worry about."