Background
---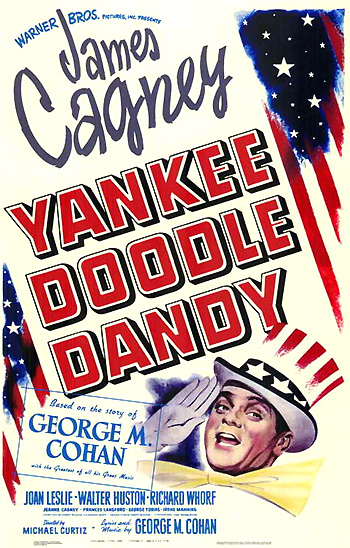 Yankee Doodle Dandy (1942) is one of Hollywood's greatest, grandest and slickest musicals. The nostalgic, shamelessly-patriotic, entertaining film also supported the war effort as it paid tribute in its mostly fictional story to a popular Irish/American entertainer and the grand American gentleman of the theatre in the early 20th century.
The timeliness of its release, just after the attack on Pearl Harbor in late 1941, helped the 'propaganda machine' of going to European battlegrounds overseas with a song that was a rousing theme song written years earlier for WW I - Over There. And a second song, You're a Grand Old Flag, contributed to morale-boosting, flag-waving patriotism and love of one's country. And it was the first time that a living US President (FDR in this case, played by Jack Young) was portrayed in a motion picture.
Yankee Doodle Dandy is a lively, sensational and dynamic film with exciting song and dance numbers and a tour de force performance by the high-pitched and energized James Cagney. The film tells the musical rags-to-riches life story and times of early 20th century entertainment legend George M. Cohan, following several generations of the Cohan family from the time of young Cohan's vaudeville training on the road, through to his later success on Broadway (with the production of 40 Broadway shows and many hundreds of songs), and ending with his retirement and a comeback in the theatre in I'd Rather Be Right.
The tough-guy Cagney persona, most remembered in earlier Warner Bros. gangster films (such as in The Public Enemy (1931), G-Men (1935), Angels With Dirty Faces (1938), and The Roaring Twenties (1939)) was completely revolutionized with the charismatic actor playing an ebullient, stiff-legged, egotistical hoofer speaking from the side of his mouth and successfully grabbing for the American dream, although he had been in an earlier Busby Berkeley backstage musical titled Footlight Parade (1933). The part was originally offered to hoofer Fred Astaire, but turned down, and then offered to Cagney by Cohan's suggestion.
The film was a major box-office success for Warner Bros - it became the second highest grossing box-office hit of the year for Warners (after Desperate Journey (1942)). For the first time in his entire career, James Cagney attended the premiere for one of his films. Hungarian-born Michael Curtiz' direction (Curtiz was the famed director of Casablanca (1942) - released in the same year), Ray Heindorf's musical arrangements, photography by James Wong Howe, and the screenplay by Robert Buckner and Edmund Joseph all contributed to making this a top-notch piece of film-making.
[Note: Although Curtiz was best known for directing other kinds of film genres, he made a number of musicals and music bios during his career, including: Mammy (1930) with Al Jolson, Romance on the High Seas (1948) and the musical-comedy My Dream is Yours (1949) and Young Man with a Horn (1950) - all with Doris Day, I'll See You in My Dreams (1951) about lyricist Gus Kahn, White Christmas (1954) with Bing Crosby, and King Creole (1958) with Elvis Presley.]
The film received eight Academy Award nominations and was awarded with three wins: Best Actor (James Cagney), Best Sound Recording (Nathan Levinson), and Best Scoring of a Musical Picture (Ray Heindorf and Heinz Roemheld). The other five nominations included Best Picture, Best Supporting Actor (Walter Huston), Best Director, Best Original Story (Robert Buckner), and Best Film Editing (George Amy). For his own favorite performance in a film, Cagney became the first actor to receive an Academy Award for a musical performance. [Note: Luise Rainer, Best Actress winner for The Great Ziegfeld (1936), and Alice Brady, Best Supporting Actress winner for In Old Chicago (1937), were in films with musical numbers, but their roles were non-musical.] It was also Cagney's sole Oscar-winning performance in his career. The film lost the Best Picture Oscar to the similarly-patriotic (albeit British) Mrs. Miniver.
Similar to George M. Cohan's own family that acted together as "The Four Cohans," Cagney's real-life sister Jeanne acted in the film as his younger sister Josie Cohan and his brother William was associate producer (in an independent company). The screen's musical biography of Cohan followed a long cycle of biographies (or 'biopics') that Warner Bros. had produced throughout the 30s - many of which starred Paul Muni (Disraeli (1929), The Story of Louis Pasteur (1935), The Life of Emile Zola (1937), Juarez (1939), and Knute Rockne - All American (1940)), and was the first in another series in the 40s of biographies of composers (Rhapsody in Blue (1943) - George Gershwin, This is The Army (1943) - Irving Berlin, and Night and Day (1946) - Cole Porter). In the musical bio film The Seven Little Foys (1955) about famed vaudeville star Eddie Foy (portrayed by Bob Hope), Cagney reprised his role as George M. Cohan in a cameo appearance - in a classic duet scene in which Hope tap-danced on a table-top to the tune Yankee Doodle Dandy.
As a side piece of history, when Yankee Doodle Dandy was first released for its world premiere on Memorial Day, 1942 on Broadway, further special engagements were also scheduled around Independence Day (Cohan's alleged birthdate). Rather than tickets for its NY premiere, the studio sold war bonds and reportedly raised $5 million for the war effort. [Note: Due to Cohan's terminal illness with cancer, the original release date of July 4th was changed and moved earlier. As a sidenote, Cohan died in November of 1942.] The black and white film was one of the first computer-colorized films released by entrepreneur Ted Turner in 1985 (again on Cohan's alleged birthday July 4th - naturally!).
Plot Synopsis
---
The black and white film opens with the credits - in red, white, and blue flag-patterned text - displayed while an orchestrated medley of the film's songs plays in the background. It also states the film is "based on the story of George M. Cohan." A fade-in presents a full shot of an electrical Broadway theatre sign which proclaims:
SAM H. HARRIS
PRESENTS
GEORGE M. COHAN
in his triumphal return to the stage
in I'd Rather Be Right
The Greatest
Musical Comedy Hit in Years
The camera pans down into the lobby of the theatre where a large, life-size cut-out picture of George M. Cohan (James Cagney) stands on the floor. Cohan is playing the role of third-term President Franklin Roosevelt in Kaufman and Hart's I'd Rather Be Right. Two tuxedoed critics speak about the opening night's performance as they emerge from the show:
First critic: I call it a hit. What'll your review say?
Second critic: I like it too. So, er, I guess I'll pan it.
First critic: Oh. (He laughs.) Well, that's logical.
Second critic: My publisher resents Cohan impersonating the president of the United States. Says our young readers dream of being president.
First critic: 'I'd rather be right than be president...' Cohan may find out he isn't either one.
The camera moves through the outer door and into the dressing room of George M. Cohan - he is being congratulated backstage by well-wishers and his wife Mary (17 year old Joan Leslie) just following his performance, but he is anxious about his impersonation of the president:
Cohan: Well, that's all very well, but we're still treading on dangerous ground. You know we're imitating the President of the United States. A lot of people aren't gonna like it.
Well-wisher: It's all in good, clean fun. Didn't they enjoy the try-out in Boston?
George: Never could do anything wrong in Boston.
Mary: The greatest man in the United States played by the greatest actor. There's nothing wrong in that. Especially when the greatest actor is my husband.
Cohan has received bundles of congratulatory Western Union telegrams - one is "from the White House" and because it "bothers" him, George asks his writer/producer Sam Harris (Richard Whorf) to read it outloud:
George M. Cohan
The Alvin Theater, New York
The President of the United States requests that you call upon him at your earliest convenience in regard to a personal matter. Kindly reply for definite appointment at White House.
Stephen T. Early
Secretary to the President
Not knowing the purpose of the invitation and his summoning by the President, George is a bit worried and anxious and thinks he is going to be chastised: "What did I tell ya? Comin' at a time like this with everything he has on his mind. This is not just a casual invitation. This is important. I think we're in trouble." Mary assures him that he doesn't have anything to fret over: "Don't worry, dear. They don't telegraph you to come and be shot at sunrise."
[Kaufman's and Hart's play I'd Rather Be Right, in which Cohan appeared in the role of FDR, was produced in 1939. In the film, Cohan is summoned from the playhouse to the White House to receive the Congressional Gold Medal. In actual fact, Cohan was awarded the Congressional Gold Medal that was authorized to be presented by the President by an act of Congress dated June 29, 1936, but the actual date of the presentation of the award and the details surrounding its presentation remain unclear.]
At night, George walks through the rain along Pennsylvania Avenue in Washington, DC to the gates of the White House where he is halted by armed soldier/guards. He introduces himself as George M. Cohan (pronounced Co-en), and is soon cleared for entry. He is greeted and escorted through the foyer of the White House by an elderly black butler (Clinton Rosemond): "We've been expecting you." George is led up a long straight staircase to the second floor - along the stairway wall are framed portraits of American heroes and statesmen. On the way, the butler reflects about his memories of the famed entertainer:
Butler: Well, it musta been thirty-some years ago. I was valet for Mr. 'Teddy' Roosevelt. He got me a seat up in the gallery. The play was George Washington, Jr., and you was just singin' and dancin' to all about the grand ole flag. Mr. Teddy used to sing it in his bathtub.
George: That was a good old song in its day.
Butler: Yas, sir, it was. And it's just as good today as it ever was.
George is brought into the President's private study and cordially met by the President (Captain Jack Young):
President: Well, hello there! How's my double?
George: Your double isn't any too sure. You gotta give me time to work on that one.
President: Why, I was told that you knew all the answers.
George: There was a time when I thought so. Right now, I wish I did.
President: Yes, so do I.
Cohan sits across the desk from the Democratic Party President - the camera angle captures only a side/back view of the president - with an over-the-shoulder shot of George. The actor's apprehension about impersonating the President begins to dissipate when the commander-in-chief, speaking in FDR's characteristic accent, chuckles, kids with him, and then reflects on aging George's membership in the celebrated vaudeville family:
President: I'm sorry I missed the opening of your show.
George: Maybe it was just as well.
President: Don't worry about it. We understand each other perfectly...The Herald Tribune says that you make a better president in I'd Rather Be Right than I am.
George: Don't forget, that's a Republican newspaper.
President: I can remember you and your family very well - the Four Cohans.
George: Do you really, Mr. President? That was a long time ago.
President: Yes, it was while I was attending school near Boston.
George: (smiling to himself) I was a pretty cocky kid in those days - a pretty cocky kid. A regular Yankee Doodle Dandy, always carrying a flag in a parade or following one.
President: I hope you haven't outgrown the habit.
George: Not a chance.
President: Well that's one thing I've always admired about you Irish-Americans. You carry your love of country like a flag, right out in the open. It's a great quality.
George: I inherited that - I got that from my father. He ran away to the Civil War when he was thirteen - the proudest kid in the whole state of Massachusetts.
President: So you've spent your life telling the other forty-seven states what a great country it is.
George: Well, I never thought of it just that way before, but I guess that's about the size of it. And I lost no time either. It started with a very funny incident about sixty years ago...
Through Cohan himself, the film commences to tell the story, in voice-over flashback (in a sequence of 'plays-within-a-play'), of the life of the Cohan family. It spans George's whole career, from the time of his July 4th birth - and youth - to the present time. [Cohan's real birthday was July 3rd.]
---
(Voice-Over)
It was in Providence, Rhode Island, on the Fourth of July. There weren't so many stars then in the flag or on the stage. But folks knew that more were coming. They were optimistic, happy, and expectant. The beginning of the Horatio Alger Age...
The flashback slowly dissolves into the image of a billowing American flag in the late 1870s, and then the camera pans down to a Main Street in a typical American town where everyone is celebrating the Fourth of July. Old fashioned-looking police, horse-drawn wagons, uniformed bands and military figures march in the day's parade. Cheering onlookers participate - each one waving red, white, and blue flags. Storefronts are decorated with even more flags and fabrics. The camera locates the front of a theatre, the Colony Opera House, where a billboard is printed with the names of the acts that are performed there:
---
Week of July 1, 1878

---
Mr. & Mrs.
JERRY COHAN
"The Irish Darlings"

---
TREBOR
The Man of Mystic Changes

---
Capt. McCrosson's
ZOUAVES
"My father was playing in a variety theater, breaking in a scene. No one was more expectant than he was - unless there was my mother. She was busy right then in a smaller production." A right-to-left dissolve on the billboard fades into the interior of the small town's theatre, where George's Irish father Jerry Cohan's (Walter Huston) name is placed on an easel card. He performs on stage as an Irish trouper with a walking stick - he is dressed in an Irish hat, buckled shoes, white stockings, knee-length britches, and a dark coat with cape. He dances a lively jig while singing the Irish tune:
Keep Your Eyes Upon Me (Dancing Master)
Larry O'Leary is me name.
By trade I am a dancing master.
And there's no one can teach the same
Nor teach it any faster.
It's easy, very easy,
If you watch ev'ry twist, ev'ry turn.
Keep your eyes upon me
And surprised you will be
At the dancing you have yet to learn.
After the song, he disappears into the wings and asks expectantly: "Has any message come for me yet?...I gotta get out of here. I gotta find out what's happening....My wife never held up a show in her life." Backstage are other actors and performers, the stage manager, and one actor in blackface.
Still amusingly-dressed in his costume, Jerry runs out the back stage entrance into the alley, discovers his way across the street is blocked by the crowd on the sidewalk and the parade, and is labeled as Irish by one of the holiday marchers - a blue-uniformed veteran of the Civil War: "The Irish are all at the head of the parade as usual." Tense as he struggles to get through, he hops on a caisson-drawn wagon, whispers something into one of the veteran's ears, and is quickly dashed away.
He commandeers the cavalry caisson to a boarding house - a make-shift hospital room on the second floor where his wife Nellie (Rosemary DeCamp, who was 12 years younger than her co-star 'son' Cagney) is attended to by an elderly doctor. Jerry anxiously rushes in with a small flag in his hands and is told: "Well, all signs point to its being a boy." With the birth of his boy, Jerry asks the doctor for advice on a name:
Jerry: What do you say?
Doctor: Well, seeing that he arrived on the Fourth of July, what about George Washington Cohan?
Jerry: Well, it has a nice patriotic ring to it, all right. (To his wife) What do you think?
Nellie: Well - the George is fine - but the Washington - may be too long for a billboard.
Jerry: How about a nice short Irish name - Dennis or Michael?
Nellie: (slowly) George - Michael - Cohan. Yes, I like that name.
Jerry remembers to notify the veterans waiting below outdoors: "Hey, it's a boy!" Following his signal, they fire a one-gun salute. The boom awakens young George and he begins bawling - Jerry is amused: "Heavenly day, Nellie, he's cryin' with a brogue!" - he places the stick of the flag in his son's fist. [Although reportedly born on the 4th of July, George was born on July 3rd to an Irish family originally named Keohane.]
George's voice-over narration describes the addition of another family member - Josie, the family's traveling road-show, and their theatrical billing plastered on an outdoor fence in Peoria, Illinois: 'The Four Cohans - America's Favorite Family of Entertainers - The Celebrated Troupe of Singers, Dancers, and Comedians with their Silver Plated Band':
I guess the first thing I ever had my fist on was the American flag. I hitched my wagon to thirty-eight stars. And thirteen stripes. You know, I was six or seven years old before I realized they weren't celebrating my birthday on the Fourth of July. Then my folks got a real break when my little sister, Josie, made her entrance. She grew to love show business just as she loved everybody and everything. We toured the kerosene circuit in a tank show called 'Daniel Boone on the Trail.' Everybody doubled in brass. Dad walloped the bass drum. For some reason they teamed me with a donkey. I was a good Democrat, even in those days. Mother and Josie threw out handbills. Their smiles would have sold tickets to wooden Indians. They kept putting new stars in the flag and the Cohans kept rushing out to meet them. We had jokes to match every cornfield. We sang at every milk station.
Young "MASTER GEORGIE" (Henry Blair at age 7) is a child performer, doing "Violin Tricks and Tinkling Tunes" in his family's vaudeville show, and singing the same number and wearing the same outfit as his father did in the earlier number. He plays his violin while it rests on the top of his head. His cute younger sister's (Jo Ann Marlowe at age 6) solo performance is prefaced with an easel card: "LITTLE JOSIE COHAN - America's Youngest Skirt Dancer" - she sings part of "Strolling Through the Park One Day."
We trouped through depression and inflation. Part of the country's growing pains. We froze in winter and roasted in summer. But it was a good life. It's a lucky family that dances together every day. [The family dances in blackface together.] Eighteen ninety-one found our fortunes flat as a pancake. Then came a bolt from the blue. Jobs for the whole family in a play called Peck's Bad Boy. We opened in Brooklyn. The town was noted for its spirited audiences. Even before it had a ball team.
At the Brooklyn Theater, a huge billboard reads: "OPENING TONIGHT - The Brooklyn Theatre presents THE COHANS in 'Peck's Bad Boy' - A Rolicking Comedy." A five-pointed star is nailed to a door - now the young boy George (Douglas Croft at age 13), who is the one hammering the gilt star to his own dressing room door, has become a cocky 'Peck's Bad Boy' - the precocious boy has learned his part way too well.
An image of the audience reacting to the play appears over a hand-held program of Peck's Bad Boy - a highlight bar progresses through the acts in the play to denote the passage of time. Mischievous Henry (played by young George), 'Peck's Bad Boy,' pelts grocer Schults (Harry Jones) and an Irish cop (Roy T. Locket) with eggs in a slapstick scene during the play. Adults in the orchestra seats and tough kids in the balcony are amused. The store owner is paid off by Henry's wealthy father, and Henry is coerced to promise that he'll be a good boy, yet he vows: "I can still lick any kid in town" - causing the kids in the audience to scoff. After the last curtain for the show, Georgie is congratulated by backstage crew and other actors. The egotistical, big-headed lad boasts about how he has upstaged his father:
Thanks, but what are you all so surprised about? You could've told during rehearsals that I'd be a sensation in this part. Listen, there's nothing to this acting business. I wonder what took me so long to become a star.