1956
The winner is listed first, in CAPITAL letters.
Actor:
YUL BRYNNER in "The King and I", James Dean in "Giant", Kirk Douglas in "Lust for Life", Rock Hudson in "Giant", Laurence Olivier in "Richard III"
Actress:
INGRID BERGMAN in "Anastasia", Carroll Baker in "Baby Doll", Katharine Hepburn in "The Rainmaker", Nancy Kelly in "The Bad Seed", Deborah Kerr in "The King and I"
Supporting Actor:
ANTHONY QUINN in "Lust for Life", Don Murray in "Bus Stop", Anthony Perkins in "Friendly Persuasion", Mickey Rooney in "The Bold and the Brave", Robert Stack in "Written on the Wind"
Supporting Actress:
DOROTHY MALONE in "Written on the Wind", Mildred Dunnock in "Baby Doll", Eileen Heckart in "The Bad Seed", Mercedes McCambridge in "Giant", Patty McCormack in "The Bad Seed"
Director:
GEORGE STEVENS for "Giant", Michael Anderson for "Around the World in Eighty Days", Walter Lang for "The King and I", King Vidor for "War and Peace", William Wyler for "Friendly Persuasion"
---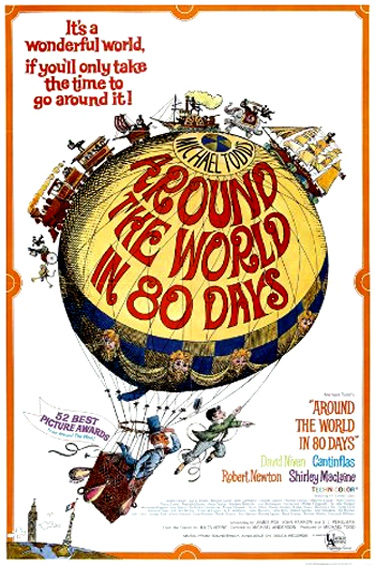 This was the year that the regular competitive category of Best Foreign Language film was introduced, instead of only being recognized as a special achievement Honorary Award or as a Best Picture nominee (as in 1938). The nominees were from West Germany, France, Japan, Italy, and Denmark. The first winner in this new category was Federico Fellini's La Strada with Anthony Quinn and a second nomination for Original Screenplay. Its win would help to create an interest in foreign-language films - with subtitles. Another Fellini film, The Nights of Cabiria (1957) would win the Best Foreign Language Film Oscar in the following year.
This was also the first year that all of the five Best Picture nominees were in color.
Another possible trend, signaled by the victory of Marty (1955), toward simpler, shorter, intimate dramas, did not occur again in 1956. Instead, there was the splashy emergence of wide-scale, expensive super-epics (colorful dramas, musicals, comedies, and costume pieces) all at least two hours long - mostly to compete with the resurgence of television.
All of the major awards winners were gigantic - Mike Todd's Around the World in 80 Days, The King and I, Anastasia, Giant, De Mille's The Ten Commandments - the highest grossing film of the year, King Vidor's War and Peace, and Wyler's Friendly Persuasion. [And the trend toward blockbusters and colorful spectaculars was established for years to come. The next three Best Picture winners proved the point: The Bridge On The River Kwai (1957), Gigi (1958), and Ben-Hur (1959).]
This was only the second time in Oscar's long history that the top six prizes (Best Picture, Director, Actor, Actress, Supporting Actor, and Supporting Actress) went to six different films. It also occurred in 1952 and wouldn't occur again until another 49 years later - in 2005!
The Best Picture nominees for 1956 included:
the exciting globe-trotting travelogue Around the World in 80 Days (with eight nominations and five Oscars - Best Picture, Best Adapted Screenplay, Best Color Cinematography, Best Music Score (Victor Young - his first Oscar, won posthumously after 19 previous nominations), and Best Film Editing), the three hour epic and adaptation of the Jules Verne classic novel about a proper Victorian/English gentleman named Phileas Fogg who makes a financial wager about circumventing the globe (by balloon, train, stagecoach, rickshaw, steamship, elephant, etc.)
the musical The King and I (with nine nominations and five wins - Best Score, Best Sound, Best Actor, Best Art Direction, Best Costume Design)
director George Stevens' sprawling Texan drama Giant (with ten nominations and only one win - Best Director) about two generations of the wealthy Texas cattle baron Benedict clan - a generational saga adapted from Edna Ferber's 1952 best-selling novel
Cecil B. DeMille's own re-make of his 1923 silent Biblical epic, the Technicolored The Ten Commandments (with seven nominations and only one win - Best Visual Effects) with an all-star cast about the life of Moses and the Exodus from Egypt with a spectacular sequence of the parting of the Red Sea
William Wyler's lengthy Friendly Persuasion (with five nominations and no wins), a film about Civil War-era family of Quaker pacifists in southern Indiana who struggle to remain true to their beliefs
The winner was Mike Todd's first film, British director Michael Anderson's Around the World in 80 Days. Its wide-screen Todd-AO processes featured a globe-trotting ensemble cast and a tremendous number of big-name Hollywood and international stars in over four-dozen cameo appearances: in addition to David Niven as the traveling gentleman, Cantinflas (in his American film debut as valet Passepartout), Shirley MacLaine (as a rescued Indian princess), and Robert Newton (as a pursuing detective), other minor players included John Gielgud, Hermione Gingold, Beatrice Lillie, Marlene Dietrich, Buster Keaton, Victor McLaglen, John Mills, George Raft, Cesar Romero, Trevor Howard, Robert Morley, Noel Coward, Charles Coburn, Frank Sinatra, Ronald Colman, Charles Boyer, Glynis Johns, and Peter Lorre. The quality of the acting was another thing - Around the World in 80 Days was one of a very few Best Pictures that had no acting nominations! The Best Picture's British director was nominated as Best Director, but the winner was American director George Stevens for Giant. [Trivia Note: During the Oscar competition, Giant star Elizabeth Taylor was married to Around the World's producer Mike Todd - as both films were vying for Best Picture.]
Of the five nominees for Best Picture, only Cecil B. De Mille was not nominated for his film as Best Director. [De Mille's film won only one Oscar, for John Fulton's Special Effects - including the spectacular parting of the Red Sea.] In De Mille's place, King Vidor was nominated for the spectacular historical epic of Tolstoy's novel War and Peace (with three nominations and no wins), starring Henry Fonda and Audrey Hepburn. [This was Vidor's fifth and final Oscar nomination, following earlier nominations for The Crowd (1928), Hallelujah (1929-30), The Champ (1931-2), and The Citadel (1938). Vidor never won an Oscar.] The directing Oscar went to George Stevens for Giant, a film without any other Oscar wins.
In a re-creation of his Broadway role in the Rodgers and Hammerstein musical, Walter Lang's film version of The King and I, shaved-headed and bare-chested Yul Brynner (with his sole nomination - and only Oscar win) won the Best Actor Oscar for his life-defining and dynamic role as the exotic but stubborn, virile and autocratic Siamese monarch of 1862 who has many children needing an education. (The film was the musical remake of the drama Anna and the King of Siam (1946) with Rex Harrison as the king). It was only Brynner's second film appearance following his debut in the B-movie thriller Port of New York (1949), in which he played a narcotics dealer. Brynner's work was also showcased in two other films in 1956, as the stubborn Pharaoh Rameses II facing Charlton Heston's Moses in The Ten Commandments, and as Bounine, a White Russian prince in Anastasia opposite Best Actress Award-winner Ingrid Bergman. [If Brynner's earlier B-movie film wasn't counted, Brynner's win in The King and I marked the first time that an actor had ever won a Best Actor award in his first major film.]
The defeated Best Actor nominees included a number of impressive contenders:
the predicted winner was Kirk Douglas (with his third and last unsuccessful career nomination) for his performance as tortured Dutch painter Vincent van Gogh in Vincente Minnelli's and MGM's production of Lust for Life (Douglas received earlier nominations for Champion (1949) and The Bad and the Beautiful (1952).)
James Dean was also nominated (with his second, consecutive posthumous nomination) for his eccentric, legendary portrayal of ne'er-do-well ranch-hand outcast Jett Rink who becomes an oil baron when he strikes oil in George Stevens' Best Director-winning film Giant. (Dean is the only actor to receive two posthumous (and consecutive) nominations for acting. Out of his three major films, Dean was nominated twice as Best Actor and lost both times. He was already dead from a California highway auto accident when Giant was released.)
Rock Hudson (with his sole unsuccessful career nomination) was nominated for his role as proud Texas rancher Bick Benedict in Giant - one of the best performances of his career. (Hudson would never be nominated again, even though he starred in other excellent films including Pillow Talk (1959) and Seconds (1966).)
co-producer/director/actor/writer Sir Laurence Olivier (with his fifth of ten career acting nominations) was nominated for the title role of the dastardly and nasty monarch ("My kingdom for a horse!") in the British film Richard III (the film's sole nomination), his third and possibly finest Shakespearean film. (Olivier had already won the only Oscar of his career for another Shakespearean effort - Hamlet (1948), and earlier received an honorary Oscar for Henry V (1946).)
With 20th Century Fox's and director Anatole Litvak's made-abroad Anastasia (with two nominations and one win - Best Actress), Ingrid Bergman (with her fifth nomination) won her second actress Oscar twelve years after her previous win in 1944. It was her first American film in many years in the role of a Paris derelict saved by three White Russians and trained to pose as the missing, but surviving daughter of last czar of Russia - Czar Nicholas II and Alexandra. It marked a triumphant, vindicating return for Bergman after being informally blacklisted and ostracized for seven years and living in European exile from Hollywood for her 'scandalous' adulterous affair (and illegitimate son) with Italian director Roberto Rossellini. The affair was all-the-more scandalous because of her appearance in wholesome and chaste Oscar-nominated film roles, such as The Bells of St. Mary's (1945) and Joan of Arc (1948). [Bergman made her first appearance at the awards ceremony in April of 1959 to honor 1958's films - she hadn't been at the Oscars since 1949.] The plot of the film, based on the role created on Broadway by Viveca Lindfors, concerned the puzzling fate of Anastasia, the last surviving youngest daughter of the last Russian tsar, the executed Nicholas II of Russia, who has to convince exiles Yul Brynner and Helen Hayes of her identity.
Her Best Actress fellow nominees were:
Katharine Hepburn (with her seventh nomination) for her portrayal of Lizzy Curry - a lonely spinster who falls in love with itinerant con man Burt Lancaster in director Joseph Anthony's The Rainmaker (with two nominations and no wins). [Hepburn was the only other actress who eventually earned more Oscars than Bergman did, but Hepburn's loss of this award put Bergman one up on her for a while.]
Nancy Kelly for her re-created Broadway role as Christine - the mother of an evil, eight year old little girl (Patty McCormack) in director Mervyn LeRoy's The Bad Seed (with four nominations and no wins)
Carroll Baker (with her sole nomination) as a thumb-sucking, crib-sleeping teenaged, 'virginal' 19 year-old blonde 'Baby Doll' Meighan in director Elia Kazan's controversial Tennessee Williams adaptation titled Baby Doll (with four nominations and no wins)
Deborah Kerr (with the third of six unsuccessful career nominations) as Anna Leonowens, an Englishwoman who serves as governess for the King of Siam's 82 children in The King and I. [Kerr's singing in the film was dubbed by Marni Nixon, whose voice was also used for lead singers in West Side Story (1961), and My Fair Lady (1964). Kerr's record number of losses is shared with actress Thelma Ritter. Kerr's other nominated films include Edward, My Son (1949), From Here to Eternity (1953), Heaven Knows, Mr Allison (1957), Separate Tables (1958), and The Sundowners (1960).]
In another major upset in the ceremonies, Mexican-born Anthony Quinn won the Best Supporting Actor award in the very short, on-screen role (less than ten minutes) as famed painter Paul Gauguin, friend and fellow artist of the excessive Van Gogh (Kirk Douglas) in director Vincente Minnelli's Lust for Life (with four nominations and one win - Best Supporting Actor) - it is one of the shortest performances to ever receive an award. [This was Quinn's second nomination and second/final Oscar win. His first win was for Viva Zapata! (1952). He would be nominated twice more as Best Actor for Wild is the Wind (1957) and for Zorba the Greek (1964).]
The other Best Supporting Actor nominees were:
Dorothy Malone (with her sole nomination - and only Oscar win) won the Best Supporting Actress award for her role as alcoholic Robert Stack's sexually provocative, nymphomaniacal, trampy and spoiled rich sister Marylee Hadley - who finds only unrequited love with right-hand man Rock Hudson in Written on the Wind.
Other Best Supporting Actress nominees included:
Mildred Dunnock (with her second and last unsuccessful career nomination) as dotty old Aunt Rose Comfort in Baby Doll
Mercedes McCambridge (with her second and last career nomination) as Rock Hudson's surly Texan sister Luz Benedict in Giant
two co-stars were nominated for their roles in The Bad Seed: Eileen Heckart (with her first of two career nominations) as Mrs. Daigle - the alcoholic mother of one of the 'bad seed's' victims and eleven year-old child actress Patty McCormack (with her sole nomination) as homicidal young Rhoda - the 'bad seed' herself
This year's Honorary Award went to Eddie Cantor "for distinguished service to the film industry," known for musical comedies of the 30s including Whoopee (1930), Palmy Days (1931), The Kid From Spain (1932), Roman Scandals (1933), Kid Millions (1934), and Strike Me Pink (1936).
Oscar Snubs and Omissions:
When Albert Lamorisse's French children's film/short story The Red Balloon, aka Le Ballon Rouge made its debut in 1954, it won the prestigious Palme d'Or in the short film category at Cannes. Paradoxically, the 34 minute film also won the Best Writing: Original Screenplay Oscar -- without a single line of dialogue. The charming foreign film was the shortest film ever to win a screenplay award -- under Academy rules, that made it a live action short subject film.
The over-blown nominees for Best Picture completely bypassed some of the best American films ever made. The biggest error was the lack of recognition to John Ford's classic and complex American western The Searchers with great lead and supporting performances by John Wayne (who wouldn't receive his first Oscar until 1969) as brooding, obsessed and racist Ethan Edwards searching for his Comanche-kidnapped niece (Natalie Wood) and Ward Bond (as Rev. Capt. Samuel Johnston Clayton). Its gorgeous cinematography, nuanced tale of prejudice, and great performances must have seemed too powerful for the Academy, which instead voted for the all-star glamour and power of the big-screen epic Around the World in 80 Days. [The superior film Giant should have been the winner of the Best Picture Oscar this year!]
Akira Kurosawa's 1954 Japanese classic epic The Seven Samurai received only two nominations in 1956: Best Art Direction and Best Costume Design, without any honors in the Best Picture category.
All of the following also lacked nominations:
Alfred Hitchcock's The Wrong Man with Henry Fonda as the 'wrongly-accused' Manny Balestrero
writer/director Stanley Kubrick's stark crime film The Killing with Sterling Hayden as ex-con Johnny Clay
Nicholas Ray's Bigger Than Life with James Mason
Don Siegel's science-fiction cult classic Invasion of the Body Snatchers
Judy Holliday was un-nominated for her role as Laura Partridge in the comedy The Solid Gold Cadillac. Marilyn Monroe's vulnerable performance as Cherie in Bus Stop (with only one nomination for Don Murray for Best Supporting Actor), one of her best film roles, went unrecognized. Except for its nomination (and win) for Best Song (the only song from a Hitchcock film to win an Oscar, the familiar "Que Sera, Sera" (Whatever Will Be, Will Be)), Hitchcock's remake of his own The Man Who Knew Too Much received no other recognition (such as a nomination for Doris Day or James Stewart). Elizabeth Taylor was overlooked for her role in George Stevens' Best Director-winning Giant.
Blacklisted writer Dalton Trumbo, under the pseudonym of Robert Rich, won the Best Writing: Original Story Award (his second and last nomination and sole Oscar win) for The Brave One. [Note: He had already won an Oscar for Roman Holiday (1953) under a different name (Ian McLellan Hunter, who fronted for Trumbo). He was not there to receive his Oscar in 1957, and wasn't presented with his award (with his real name inscribed on the trophy) until May of 1975, almost 20 years later and just before he died (in September of 1976).
One of the most undeserving awards was Best Adapted Screenplay for the episodic Around the World in 80 Days, shared by three writers: James Poe, John Farrow, and S.J. Perelman. The blacklisted screenwriter for Friendly Persuasion, Michael Wilson, was denied a place on the ballot with a superior script when declared ineligible under 1956 Academy by-laws.