1957
The winner is listed first, in CAPITAL letters.
Actor:
ALEC GUINNESS in "The Bridge On The River Kwai", Marlon Brando in "Sayonara", Anthony Franciosa in "A Hatful of Rain", Charles Laughton in "Witness for the Prosecution", Anthony Quinn in "Wild Is the Wind"
Actress:
JOANNE WOODWARD in "The Three Faces of Eve", Deborah Kerr in "Heaven Knows, Mr. Allison", Anna Magnani in "Wild is the Wind", Elizabeth Taylor in "Raintree County", Lana Turner in "Peyton Place"
Supporting Actor:
RED BUTTONS in "Sayonara", Vittorio De Sica in "A Farewell to Arms", Sessue Hayakawa in "The Bridge On The River Kwai", Arthur Kennedy in "Peyton Place", Russ Tamblyn in "Peyton Place"
Supporting Actress:
MIYOSHI UMEKI in "Sayonara", Carolyn Jones in "The Bachelor Party", Elsa Lanchester in "Witness for the Prosecution", Hope Lange in "Peyton Place", Diane Varsi in "Peyton Place"
Director:
DAVID LEAN for "The Bridge On The River Kwai", Joshua Logan for "Sayonara", Sidney Lumet for "12 Angry Men", Mark Robson for "Peyton Place", Billy Wilder for "Witness for the Prosecution"
---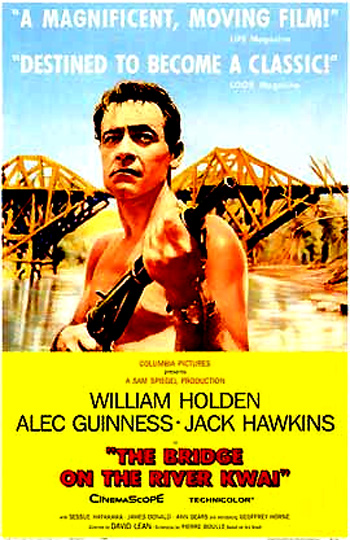 This awards ceremony, held on March 26, 1958 and broadcast live, was the first TV production to be produced by the motion picture industry itself. The entire show was broadcast from Hollywood - there were no cut-ins from New York as in the previous five years.
The number of competitive categories, which had grown to 30 in the previous year, was now downsized to 24.
Unfortunately, the presentations were overshadowed by the recent death (March 22, 1958) four days earlier of the previous year's Best Picture producer/winner Michael Todd, husband of Elizabeth Taylor. And Columbia Pictures' legendary but often-despised boss Harry Cohn, one of the original founders of the studio that produced the Best Picture winner this year, also died a month before the ceremony, on February 27, 1958.
The big winner in 1957 was David Lean's epic (almost three hour long) prison-war film based on Pierre Boulle's best-selling World War II novel The Bridge On The River Kwai (with eight nominations and seven Oscars - Best Picture (producer Sam Spiegel), Best Actor (Alec Guinness), Best Director, Best Screenplay, Best Cinematography, Best Musical Score (including the catchy British whistling military march - 'Colonel Bogey's March'), and Best Film Editing). The large-scale film was financed and distributed by Columbia Studios, but used a British cast and crew almost entirely. [The true screenwriters for the Best Picture winner were blacklisted Michael Wilson and Carl Foreman (who received no screen credit). They were posthumously awarded Oscars in 1984.]
The war-time film centered on a battle of wills between an obsessed and rigid British colonel and a Japanese POW camp commander within a prison camp deep in an Asian jungle - with the theme of the folly of war. [Historically, this was the second Best Picture Oscar for a British film.] The Best Director Oscar was David Lean's first Oscar after three previous nominations (Brief Encounter (1946), Great Expectations (1947), and Summertime (1955)), and it was Lean's first sweeping epic picture - the kind of film for which he would became famous. He also became the first British film-maker to ever win Best Director. The only nomination that did not succeed for the film was veteran silent film actor Sessue Hayakawa's Best Supporting Actor nomination as the POW camp commandant Colonel Saito.
All five directors of the Best Picture nominees were also nominated for Best Director - the first time in Oscar history. [It has also happened in 1964 and 1981.]
Other films nominated for Best Picture included:
Sayonara (with ten nominations and four wins, including Best Supporting Actor and Best Supporting Actress, Best Art Direction/Set Decoration, and Best Sound), the adaptation of James Michener's novel directed by Joshua Logan, another film set in occupied Tokyo about a soap-opera romance and marriage between West (Oscar-winning Red Buttons, an enlisted air force man named Joe Kelly) and East (Oscar-winning Miyoshi Umeki as Japanese girl Katsumi) and the ensuing bigotry and tragedy of their double suicide
director Billy Wilder's engrossing courtroom murder mystery - an adaptation of Agatha Christie's story and hit stage play Witness for the Prosecution (with six nominations and no wins)
director Sidney Lumet's debut film of a teleplay-turned-film 12 Angry Men (with three nominations and no wins) about an all-male jury's tense deliberations over a Puerto Rican boy suspected of pre-meditated murder of his father
director Mark Robson's version of Grace Metalious's popular novel Peyton Place (with nine nominations and no wins), a shocking, trashy melodrama of lust, greed, scandal, deception and violence in a small New England town
Alec Guinness (with his second acting nomination out of a career total of four acting nominations) brilliantly played the role of a rigid, stiff-lipped, militarist, humorless British officer Colonel Nicholson, who fought a by-the book, gentleman's war in the Best Picture winner. The unparalleled Guinness had previously been known for his British Ealing comedies including Kind Hearts and Coronets (1949), The Lavender Hill Mob (1952), and The Man in the White Suit (1951). Now he would go on to make similar blockbusters such as Lawrence of Arabia (1962) and Doctor Zhivago (1965).] The Best Actor award was Guinness' sole acting Oscar in his career.
His Best Actor competitors included:
Charles Laughton (with his third and last career nomination) as the crochety, obstinate barrister Sir Wilfrid Robarts in Witness for the Prosecution [Laughton won his sole Oscar in 1932-3]
Marlon Brando (with his fifth of eight career nominations) as air force officer Major Lloyd "Ace" Gruver in love with a beautiful Japanese dancer during the Korean War in Sayonara
Mexican-born Anthony Quinn (with his third of four career nominations) as Italian immigrant/Nevada rancher Gino in director George Cukor's Wild is the Wind (with three nominations and no wins)
Anthony Franciosa (with his sole career nomination) in a repeat of his successful Broadway role as Polo, the caring brother of a heroin addict in director Fred Zinnemann's A Hatful of Rain (the film's sole nomination)
The Best Actress category included new and previous nominees including:
Deborah Kerr (with the fourth of six unsuccessful career nominations) as nun Sister Angela - ship-wrecked and stranded on a Pacific island with Marine corporal Robert Mitchum in director John Huston's Heaven Knows, Mr. Allison (with two nominations and no wins)
Anna Magnani (with her second and last career nomination) as Italian mail-order bride Gloria in Wild is the Wind
Elizabeth Taylor (with her first nomination) as Southern belle Susanna Drake in love with Indiana teacher Montgomery Clift during the Civil War in director Edward Dmytryk's costume drama Raintree County (with four nominations and no wins)
Lana Turner (with her first and sole career nomination) as Constance MacKenzie - the sexually-repressed, small-town New Hampshire widowed mother of a teenage daughter in Peyton Place
The Best Actress award was presented to a talented newcomer - Joanne Woodward (with her first nomination in her third film and first starring role) in her tour-de-force performance as a drab, plagued young housewife with multiple, tri-phasic personalities (Eve 'White', Eve 'Black' and 'Jane,' exhibiting characteristics of a housewife, flirt, and sophisticate). It was an authenticated representation of an actual psychiatric case recorded by two Georgia psychiatrists in director/writer Nunnally Johnson's The Three Faces of Eve (the film's sole nomination). [Now with four career nominations, it appears that Woodward's performance in the film would be her sole Academy Award. Husband Paul Newman (who married 28 year-old Woodward on January 29, 1958, only two months before her Oscar win) wouldn't win his first Oscar until twenty-nine years later for The Color of Money (1986), a reprise of his role of pool shark Fast Eddie Felson in The Hustler (1961) twenty-five years earlier.]
The Best Supporting Actor and Actress awards were won by co-stars and first-time nominees:
Red Buttons (with his sole career nomination and Oscar win) as the ultimately suicidal Sgt. Joe Kelly in Sayonara
twenty-two year old Japanese-born Miyoshi Umeki (with her sole career nomination in her film debut) as Japanese war bride Katsumi who faces racial prejudice during the American Army's occupation of Tokyo, Japan in Sayonara. Umeki was the first Asian actress to win an Oscar award
Other actors in the Best Actor category included:
Vittorio De Sica (with his sole career nomination) as Major Rinaldi in Selznick's re-make of the 1932 film titled A Farewell to Arms
two co-stars in Peyton Place
- Arthur Kennedy (with his fourth of five unsuccessful career nominations) as drunken school caretaker and rapist Lucas Cross
- Russ Tamblyn (with his sole career nomination) as teenage Norman Page in love with Lana Turner's daughter (Diane Varsi)
Japanese native Sessue Hayakawa as POW camp commandant Colonel Saito in The Bridge On The River Kwai
Hope Lange (with her sole nomination) as rape victim and self-defense murderer Selena Cross (Arthur Kennedy's step-daughter) and Diane Varsi (with her sole nomination) as teenager Allison MacKenzie were nominated as Best Supporting Actresses for their tangled character roles in Peyton Place. The other nominees were:
the front-runner favorite Elsa Lanchester (with her second and last unsuccessful career nomination) as Charles Laughton's (her real-life husband) pesty nurse Miss Plimsoll in Witness for the Prosecution
Carolyn Jones (with her sole career nomination) as a dark, 'Existentialist', Greenwich Village beatnik in another movie adapted from a TV play titled The Bachelor Party (the film's sole nomination) - an attempt by the director and writer of Marty (1955) to repeat their success of two years earlier
Gilbert M. "Broncho Billy" Anderson, famed silent cowboy star, and filmdom's first major Western hero (he briefly appeared in The Great Train Robbery (1903) and other silent westerns), was presented with an Honorary Academy Award as a "motion picture pioneer, for his contributions to the development of motion pictures as entertainment."
Oscar Snubs and Omissions:
Platinum blonde actress Lana Turner, with a film career of nearly twenty years in length, received her first and only Oscar nomination in 1957, although she had more exceptional, un-nominated roles in earlier films including The Postman Always Rings Twice (1946) and The Bad and the Beautiful (1952). About ten days after the awards ceremony, on April 4, 1958 (Good Friday), the Best Actress nominee was involved in a notorious Hollywood scandal, in which her 14 year-old daughter Cheryl Crane fatally stabbed Lana's mobster boyfriend Johnny Stompanato while he was beating up her mother in her Beverly Hills home (for not taking him with her to the awards ceremony!). Some rumored that there was a cover-up and/or speculated that Crane and Stompanato had been lovers. The killing was later ruled a justifiable homicide. This event rejuvenated Lana's career more than her Oscar nomination - her next film Imitation of Life (1959) was a hit.
And actress Elsa Lanchester, wife of Charles Laughton, received her second and last Best Supporting Actress nomination in 1957 (her only other nomination was for Come to the Stable (1949)) as co-star Laughton's nurse in Witness for the Prosecution, but she had more memorable, unnominated performances during her career, including her role as Anne of Cleves in The Private Life of Henry VIII (1932-33) and the title role as the Bride in Bride of Frankenstein (1935).
Marlene Dietrich deserved a nomination for her role as the murder suspect's wife Christine Helm/Vole (and in a second role as a mysterious Cockney-accented woman) in the plot-twisting Witness for the Prosecution.
There were three superb, powerful films without any nominations in 1957 - each could easily have won been nominated for Best Picture - or for numerous acting accolades:
one of the greatest anti-war films of all-time - Stanley Kubrick's Paths of Glory with Kirk Douglas as French Col. Dax (who defended three innocent WWI soldiers scapegoated and executed unjustly for cowardice) and George Macready as the despicable, glory-seeking French General Mireau
Alexander MacKendrick's film noirish Sweet Smell of Success featured Tony Curtis in a breakthrough role as venal, ambitious, success-seeking, hustling, slick, unethical and smarmy, PR press agent Sidney Falco, and Burt Lancaster as power-hungry gossipy newspaper columnist J.J. Hunsecker
Elia Kazan's A Face in the Crowd with Andy Griffith in his remarkable screen debut as the vicious, ambitious and power-hungry hillbilly singer Lonesome Rhodes, and Patricia Neal as radio-journalist Marcia Jeffries
None of the actors in the jury in Sidney Lumet's 12 Angry Men (Henry Fonda as Mr. Davis (liberal, stoic and compassionate Juror No. 8), E.G. Marshall, Ed Begley, or Lee J. Cobb) received an acting Oscar nomination. And William Holden was neglected in the oft-nominated Best Picture winner The Bridge On The River Kwai as American POW Shears.
Stanley Donen's Funny Face, a delightful musical romantic comedy with Fred Astaire, Audrey Hepburn, and Gershwin tunes, received only four minor nominations (and didn't win any of them): Best Art Direction, Best Cinematography, Best Costume Design (Edith Head), and Best Original Screenplay.
The Best Original Screenplay award was undeservedly presented to George Wells for Designing Woman, when it should have been given instead to either Federico Fellini (and fellow authors Ennio Flaiano and Tullio Pinelli) for their Best Foreign Language film winner Nights of Cabiria, or to un-nominated director/screenwriter Ingmar Bergman for The Seventh Seal. Toshiro Mifune was snubbed for his performance (with his memorable death scene from archers' arrows) as increasingly-insane, ruthless feudal lord General Taketori Washizu, as was Isuzu Yamada's Noh-influenced Lady Macbeth role as his wife Lady Asaji, in Akira Kurosawa's Throne of Blood (Jp.), an adaptation of William Shakespeare's Macbeth, and released in the US in 1961.