1975
The winner is listed first, in CAPITAL letters.
Actor:
JACK NICHOLSON in "One Flew Over The Cuckoo's Nest", Walter Matthau in "The Sunshine Boys", Al Pacino in "Dog Day Afternoon", Maximilian Schell in "The Man in the Glass Booth", James Whitmore in "Give 'Em Hell, Harry!"
Actress:
LOUISE FLETCHER in "One Flew Over The Cuckoo's Nest", Isabelle Adjani in "The Story of Adele H.", Ann-Margret in "Tommy", Glenda Jackson in "Hedda", Carol Kane in "Hester Street"
Supporting Actor:
GEORGE BURNS in "The Sunshine Boys", Brad Dourif in "One Flew Over The Cuckoo's Nest", Burgess Meredith in "The Day of the Locust", Chris Sarandon in "Dog Day Afternoon", Jack Warden in "Shampoo"
Supporting Actress:
LEE GRANT in "Shampoo", Ronee Blakley in "Nashville", Sylvia Miles in "Farewell, My Lovely", Lily Tomlin in "Nashville", Brenda Vaccaro in "(Jacqueline Susann's) Once Is Not Enough"
Director:
MILOS FORMAN for "One Flew Over The Cuckoo's Nest", Robert Altman for "Nashville", Federico Fellini for "Amarcord", Stanley Kubrick for "Barry Lyndon", Sidney Lumet for "Dog Day Afternoon"
---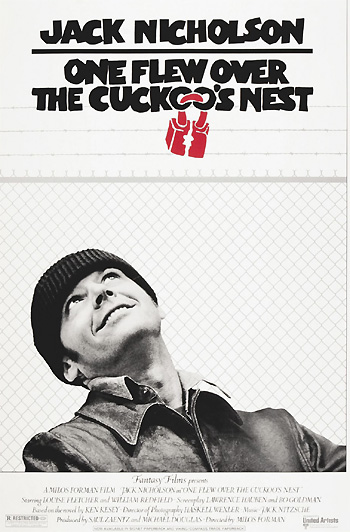 Director Milos Forman's One Flew Over The Cuckoo's Nest was the first film since It Happened One Night (1934) that swept the five major Oscar awards - called the Big Five:
Best Picture (for producers Saul Zaentz and Michael Douglas - with his first feature production)
Best Director
Best Actor
Best Actress
Best Adapted Screenplay (for Lawrence Hauben and Bo Goldman)
The record-tying film (with nine nominations and five wins) was an adaptation of Ken Kesey's 1962 anti-authoritarian novel and Dale Wasserman's play about an unbending, repressive mental institution that lobotomizes attempts at independence, and one man's anti-establishment attempt to bring life and spirit into the rigid, conformist system.
The other four films nominated for Best Picture were an interesting mixture:
Stanley Kubrick's three hour, beautifully-filmed adaptation of William Makepeace Thackeray's novel about an 18th century English rogue - a hand-crafted, bold, epic period costume drama, Barry Lyndon (with seven nominations and four wins). Kubrick's leisurely, opulently-photographed film won a number of technical awards (Best Cinematography (John Alcott), Best Art/Set Direction, Best Costume Design, and Best Music Scoring Adaptation) - Kubrick was credited with three of the seven nominations: Best Picture (production), Best Director, and Best Adapted Screenplay
Sidney Lumet's masterpiece based on a real-life incident, Dog Day Afternoon (with six nominations and only one win - for Best Original Screenplay), an offbeat, energetic drama about a heist-gone-wrong, featuring a crazed, frustrated, bi-sexual man who robs a bank to obtain funds to finance a sex-change operation for his transvestite/gay lover (Chris Sarandon)
then-unknown, 29 year-old director Steven Spielberg's manipulative Jaws (with four nominations and three wins - Best Sound, Best Film Editing, and Best Original Score for John William's recognizable 'da-da...da-da' score) - a truly scary, summer mega-hit (the highest grossing hit in movie history at the time, and the first real blockbuster which inspired other summer blockbusters in future years) about a large shark that was terrorizing an ocean coast - a tale based on Peter Benchley's novel of the same name [Note: previous Best Picture-nominated blockbusters had won - such as Gone With the Wind (1939), The Sound of Music (1965), and The Godfather (1972)]
Robert Altman's innovative classic with a tremendous ensemble cast of two dozen characters, the sprawling, improvisational satire on country-western culture, singers, politicians, and America in Nashville (with five nominations and only one win - for Keith Carradine's laidback original song: "I'm Easy" - Carradine became the first Oscar-winning composer to perform his own winning song in a film)
For his first major film and box-office hit, Czech director Milos Forman won the Best Director award for One Flew Over The Cuckoo's Nest. Robert Altman lost in his second bid for the Best Director honor (he had been nominated previously for M*A*S*H (1970)). Surprisingly, Steven Spielberg was not nominated for Best Director for Jaws. In his place, Federico Fellini was nominated as Best Director for Amarcord, based on Fellini's reflections of his childhood in a coastal Italian town in pre-war Italy. [The film was also nominated for Fellini's Original Screenplay - the film won the Foreign Language Film Award for 1974].
The winner in the Best Actor category was long-overdue actor Jack Nicholson (with his fifth nomination, his first Oscar win, and his third consecutive nomination in the 70s, and the third year in a row against Al Pacino) as the life-affirming, ill-fated, free-spirited, anarchic misfit Randle Patrick McMurphy in One Flew Over The Cuckoo's Nest who eventually submits to shock treatments and an incapacitating, unnecessary lobotomy. It was his flamboyant, individualistic performance that brought Nicholson the Oscar. [He had previously been nominated and lost as Best Actor for Five Easy Pieces (1970), The Last Detail (1973) and Chinatown (1974), and as Best Supporting Actor for Easy Rider (1969).]
Other Best Actor nominees included:
Walter Matthau (with his third nomination) as Willy Clark - George Burns' love-hate vaudevillian partner in the film adaptation of Neil Simon's play The Sunshine Boys (with four nominations and one win - Best Supporting Actor) about two veteran partners who are reunited after decades of hostility for a TV special
Al Pacino (with his fourth of eight career nominations, and his fourth consecutive nomination) was nominated as Sonny Wortzik - a bank-robbing bisexual in Brooklyn in Dog Day Afternoon
Two other Best Actor nominees were honored for performances in filmed plays: Maximilian Schell (with his second nomination) as Arthur Goldman - a suspected war criminal in an Adolph Eichmann-like trial in director Arthur Hiller's The Man in the Glass Booth (the film's sole nomination), and James Whitmore (with his second and last unsuccessful career nomination) in a magnificent, one-man show/tribute to President Harry S. Truman in director Steve Binder's Give 'Em Hell, Harry! (the film's sole nomination).
The entire slate of nominees for Best Actress was composed of weak or non-lead performances. Nicholson's co-star Louise Fletcher (with her sole career nomination for her first major screen role - and with her sole Oscar win) won for Best Actress for her role (actually a supporting role) as iron-willed, rigid, overbearing, sadistic, tyrannical Nurse Ratched, head of the ward and a symbol of repressive society in One Flew Over The Cuckoo's Nest. During her acceptance speech, she translated her words into sign language for the benefit of her deaf parents at home - a first!
The other four Best Actress nominees were in unique, unusual roles:
young 19 year old French actress Isabelle Adjani (with her first nomination and the youngest nominee ever in the category) as Adele Hugo - the youngest daughter of author Victor Hugo in director Francois Truffaut's tale of obsessive love The Story of Adele H. (in French with English subtitles)
Ann-Margret (with her second nomination) as Nora Walker Hobbs (Tommy's mother) in the loud, garish, ground-breaking rock film about the deaf, dumb, and blind boy and featuring The Who - the Ken Russell-directed film Tommy (with two nominations and no wins)
two-time Oscar winner Glenda Jackson (with her fourth nomination) in the title role as a middle-class pregnant woman in director Trevor Nunn's film Hedda - the film adaptation of Henrik Ibsen's play Hedda Gabler
Carol Kane (with her sole nomination) as Gitl - an old-fashioned 19th century immigrant Jewish wife in New York City's Lower East Side in the small independent film by director Joan Micklin Silver, Hester Street (the film's sole nomination)
The oldest nominee and winner ever for a Best Supporting Actor Oscar was 80 year-old George Burns (with his sole nomination - and sole Oscar win). He won the Best Supporting Actor award for his role (in his first film in 36 years - his last film had been Honolulu (1939)) as Walter Matthau's curmudgeonly, feuding vaudeville comic partner Al Lewis that sabotages their TV comeback in director Herbert Ross' and Neil Simon's The Sunshine Boys.
Other Best Supporting Actor nominees included:
Brad Dourif (with his sole nomination) as Billy Bibbit, the stuttering mental institution inmate whose sexual tryst leads to his tragic suicidal end in One Flew Over The Cuckoo's Nest
Burgess Meredith (with his first nomination) in the role of former vaudevillian Harry Greener - the father of untalented but aspiring star Karen Black in director John Schlesinger's nightmare vision of 1930s Tinseltown based on Nathanael West's novel The Day of the Locust (with two nominations and no wins)
Chris Sarandon (with his sole nomination), husband of Susan Sarandon at the time, as the bank-robber's (co-star Al Pacino) pre-op (male-to-female) gay lover Leon Shermer, in Dog Day Afternoon
[Note: This was one of the first transgender roles in a major studio film.]
Jack Warden (with his first nomination) as Lester Carr - Lee Grant's Hollywood hot-shot, philandering husband, in Hal Ashby's comedy of morals and relationships, in Shampoo
The winner of the Best Supporting Actress award was Lee Grant (with her third of four nominations - and her first and only Oscar win) as Felicia Carr - a politician's bored wife who has sexual encounters with Beverly Hills hairdresser Warren Beatty in Shampoo. Two co-stars in Nashville were nominated for Best Supporting Actress awards:
Ronee Blakley (with her sole nomination) as the frail, unstable country music queen Barbara Jean who unwittingly becomes an assassin's target
Lily Tomlin (with her sole nomination) as gospel singer Linnea Reese - the neglected wife of husband Delbert (Ned Beatty)
Other Best Supporting Actress nominees included:
Sylvia Miles (with her second nomination) in a cameo role as alcoholic widow Mrs. Jessie Florian in the film adaptation of Raymond Chandler's mystery novel Farewell, My Lovely (the film's sole nomination) - a remake of Murder, My Sweet (1944)
Brenda Vaccaro (with her sole nomination - an inexplicable one) for her role as Linda Riggs - a magazine editor in the critically-lambasted potboiler Jacqueline Susann's Once Is Not Enough (the film's sole nomination). [Vacarro had co-starred in Midnight Cowboy (1969) with Sylvia Miles, a rival in the category.]
83 year-old, legendary silent screen actress Mary Pickford (1892-1979) accepted an Honorary Oscar in a taped appearance for the show, "in recognition of her unique contributions to the film industry and the development of film as an artistic medium." (She had been nominated and won only once during her film career, as Best Actress for Coquette (1928/29), and hadn't appeared on film since 1931.)
Oscar Snubs and Omissions:
Director John Huston's classic epic-adventure film The Man Who Would Be King was seriously ignored in 1975 in all the major awards categories, especially in regards to the acting categories for co-stars Sean Connery as Daniel Dravot and Michael Caine as Peachy Carnehan, who were seeking kingship in Kafiristan. It was nominated in four non-acting categories and lost in all of them: Art Direction, Costume Design, Film Editing, and Adapted Screenplay. And as previously mentioned, Steven Spielberg was not nominated for Best Director for Best Picture-nominated Jaws. Although Al Pacino and Chris Sarandon were nominated for their acting (lead and supporting) roles in Dog Day Afternoon, why wasn't John Cazale nominated for his performance as "Sal", Al Pacino's partner in crime?
Monty Python and the Holy Grail, the second film created by the cast of British TV's "Monty Python's Flying Circus" (their first was And Now for Something Completely Different (1971)), was also entirely neglected in the awards. Shampoo was denied Best Picture, Best Director (Hal Ashby), and Best Actor (Beatty) nominations, and actresses that were overlooked included Julie Christie as the shrewd, mini-skirted Jackie Shawn (mistress to industrialist Jack Warden and sex partner with hairdresser Warren Beatty) and Goldie Hawn as Jill. And Michael Ritchie's parody of the Young American Miss beauty contest in Smile was also ignored by the Academy.
A number of potential acting nominations were also neglected:
Roy Scheider as Police Chief Martin Brody, Richard Dreyfuss as marine biologist Matt Hooper, and Robert Shaw as Amity Island's obsessed resident shark hunter Quint (notable for his long monologue about the ill-fated WWII sinking of the USS Indianapolis) for their roles in Jaws
Warren Beatty as Beverly Hills hairdresser George Roundy in Shampoo
Tim Curry as the iconic figure of fish-netted transvestite Dr. Frank N. Furter in the midnight cult classic The Rocky Horror Picture Show ( its now-classic songs were also not nominated -- especially "Time Warp", "Sweet Transvestite," "Wild and Untamed Thing," and "I'm Going Home")
Robert Mitchum as private detective Philip Marlowe in Farewell, My Lovely
Gene Hackman as small time LA private eye Harry Moseby in director Arthur Penn's Night Moves (without any nominations) and as a animal-loving loner in Bite the Bullet
Other performances overlooked included Barbra Streisand as Fanny Brice in Funny Lady, Diane Keaton as Sonja in Woody Allen's Love and Death, and Candice Bergen as a prostitute in Bite the Bullet and as American hostage Eden Pedecaris in The Wind and the Lion.