Bette Davis - Queen of Women's Melodramas:
The undisputed queen of the women's melodramas, playing a wide range of tarnished females (a Southern belle, a long-suffering secret mother, a terminally-ill socialite, a spoiled seductive rich girl, a tawdry Cockney waitress, a calculating murderous wife, a repressed ugly duckling spinster who is transformed, a trampy housewife, and more) was independent-minded star Bette Davis in such classic, four-hanky films as:
Cabin in the Cotton (1932), as a seductive, coquettish daughter, famous for the vampish, Southern-accented line: "Ah'd love to kiss ya, but ah just washed ma hair"


Of Human Bondage (1934), as a slutty waitress/prostitute


Dangerous (1935), as a self-destructive, alcoholic actress in an Oscar-winning performance


Marked Woman (1937), as a night-club hostess (a euphemism for a prostitute, to satisfy the Hays Code prohibitions)


Jezebel (1938), as a headstrong, sexually-transgressive Southern belle whose insistence to wear a red-dress induces a passionate scandal of disapproval - she was promoted as "half-angel, half-siren, all-woman"


Dark Victory (1939), as a terminally-ill, petulant Long Island heiress and society girl who falls in love with her doctor and ultimately redeems herself - this is one of the great "weepies"


The Old Maid (1939) (see above)


All This, And Heaven Too (1940), as an unfortunate French governess charged with a notorious crime of murder


The Letter (1940), as a cold-blooded, calculating, faithless, scorned, adulterous murderess in a Malayan rubber plantation


The Little Foxes (1941), as Regina Giddens - an acidic, conniving, heartless, ruthless and greedy member of a wealthy Southern clan


Now, Voyager (1942), a definitive weepie in which Davis portrays a dowdy and repressed spinster who becomes a swan and finds self-confidence and love through a romance with a suave but unhappily-married man (Paul Henreid) and a relationship with his emotionally-troubled daughter Tina; it contains the famous closing line after he has lit two cigarettes together for them to smoke: "Oh, Jerry, don't let's ask for the moon. We have the stars!"


In This Our Life (1942), as a wicked, Southern woman who connives to take her sister's (Olivia de Havilland) husband (Dennis Morgan) - and then rejects him, bringing ruin to the whole family


Old Acquaintance (1943), reuniting Davis (as Katherine Marlowe) with Miriam Hopkins (as Mildred Drake) as reunited childhood girlfriends - now writers, whose friendship is tested by cattiness, jealousy, and success, and a fight over their books and personal lives; remade as Rich and Famous (1981) - and also possibly inspired Beaches (1988)


Mr. Skeffington (1944), as a self-absorbed, flirtatious and vain wife (Mrs. Fanny Skeffington) who is brought to a crossroads in her life when diptheria causes her to lose her beauty, and she realizes her love for her rich husband (after he has gone blind in a concentration camp)


A Stolen Life (1946) (a remake of the British 1939 melodrama), as a femme fatale who deceives her husband by exchanging identities and impersonating her dead twin


Beyond The Forest (1949), a very campy film with Davis as a black-haired, contemptuous, trampy small-town housewife - famous for its opening line: "What a dump!"
After a slump in her career in the mid to late 40s, Bette Davis was resurrected in her role as bitchy, aging Broadway theatre star Margo Channing in All About Eve (1950).
The 30s and 40s - The Height of Melodramatic Roles:
It appeared that the height of weepie, melodramatic female roles came in the mid 1930s, when the five Best Actress nominees included four strong examples. (Only Irene Dunne's nomination as Lucy Warriner - one-half of a divorced couple in the hilarious screwball comedy The Awful Truth (1937) - didn't fit the profile):
Luise Rainer as a patient, self-sacrificing Chinese peasant wife O-Lan in The Good Earth (1937)
Greta Garbo as the tragic French courtesan dying of consumption in Camille (1937)
Janet Gaynor as a shy star whose fame overshadowed the failures of her alcoholic husband (Fredric March) in A Star is Born (1937) (a derivative 'remake' of What Price Hollywood? (1932)); the show-business weepie was remade twice in later years, with Judy Garland and James Mason in director George Cukor's A Star is Born (1954), and with Barbra Streisand and Kris Kristofferson in A Star is Born (1976)
Barbara Stanwyck as the uneducated, vulgar title character from the 'wrong side of the tracks,' who ostracizes and sacrifices her mother role and her own happiness, in the film's unforgettable final scene, to give her daughter more advantages in director King Vidor's Stella Dallas (1937)
The melodramatic story of star-crossed lovers (Laurence Olivier and Merle Oberon) was hauntingly portrayed in Wuthering Heights (1939). Ginger Rogers won a Best Actress Oscar as the title character in the romantic melodrama Kitty Foyle (1940) - as a resilient white-collar working girl who experiences a disastrous marriage to a wealthy Philadelphian, and delivers a stillborn child.
Tear-jerker melodramas that have often portrayed tragic consequences for lovers caught up in wartime experiences include the beautiful romantic tragedy Waterloo Bridge (1940) with Vivien Leigh as a young ballet dancer who resorted to prostitution after her WWI army colonel/lover was believed killed at the front, the all-time favorite Casablanca (1942), and MGM's and Mervyn LeRoy's incredulous Random Harvest (1942), the ultimate sentimental romantic tearjerker about lost and found love, starring amnesia-suffering WWI soldier (Ronald Colman) and his beautiful secretary-wife (Greer Garson) - who fall in love a second time in the film's emotional climax.
Other dark, psychological melodramas, with film-noirish elements include the Peyton-Place-like Kings Row (1942) - the story of small-town America hiding moral corruption and decay (and a doctor who spitefully and unnecessarily amputated both legs of a detested male suitor (Ronald Reagan!) dating his daughter), and the Technicolored noir-melodrama Leave Her to Heaven (1945), in which Gene Tierney played a beautiful but psychotic "wicked woman." George Cukor's psychological, melodramatic thriller Gaslight (1944) portrayed a manipulated and mentally-tortured wife (Ingrid Bergman) victimized by her handsome, thieving husband (Charles Boyer). A somber tone was found in the grim tale of alcoholism in The Lost Weekend (1945), in which Jane Wyman portrayed the supportive girlfriend of drunken writer Ray Milland.
Post-War Melodramas: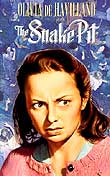 In other later roles, Joan Crawford, Barbara Stanwyck, and Olivia de Havilland represented powerful, liberated females on screen, and helped to create long-lasting examples of this genre. Crawford starred in the trashy, high-strung, musical melodrama Humoresque (1946) as an older, wealthy society patroness who sought revenge after being scorned by a struggling, talented violinist. She also played an emotionally unstable nurse in Possessed (1947), a playwright/heiress wise to a plot against her by her scheming husband in Sudden Fear (1952), and a middle-aged typist grasping for love with a younger man in the psychological soaper Autumn Leaves (1956). Melodramatic elements were found in the socially-conscious drama regarding mental illness and institutionalization The Snake Pit (1948) with Olivia de Havilland's showcase performance as a woman descending into madness in a brutal mental institution. De Havilland also played a courted, plain-jane spinster in the moody and somber melodrama The Heiress (1949).
In the touching, well-acted melodrama Johnny Belinda (1948), Jane Wyman portrayed a raped, young deaf-mute woman left with an illegitimate child who is befriended by a sympathetic doctor. Wyman also portrayed a long-suffering children's nurse after losing her own child during birth in German-born director Curtis Bernhardt's The Blue Veil (1951).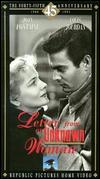 And Joan Fontaine appeared as an adolescent Viennese girl made pregnant (after a week-long affair) by a self-absorbed, philandering pianist in Max Ophuls' sadly romantic tearjerker of unrequited, undying love - Letter From an Unknown Woman (1948). David Lean's British film Brief Encounter (1946) movingly studied a furtive and agonizing love affair between two married Londoners (Trevor Howard and Celia Johnson) who could never consummate their passionate attraction for each other. The sentimental story was told in flashback by homemaker Laura as she sat by a fire with her husband and remembered what Alec had told her: "I shall love you always until the end of my life."
William Dieterle's moody and atmospheric Love Letters (1945), adapted by Ayn Rand from Chris Massie's novel Pity Mr. Simplicity, and with a plot similar to the Cyrano de Bergerac tale, told of a young and innocent Victoria (Jennifer Jones, who earned her first Best Actress nomination for the role, but lost to Joan Crawford for Mildred Pierce (1945)) during the war years. She marries a soldier named Roger (Robert Sully) after his wartime comrade Alan Quinton (Joseph Cotten) had authored beautiful letters to her from the Italian front. When the abusive and drunken husband dies and Victoria (now named Singleton) is stricken with amnesia (and wrongly accused of the murder), Quinton comes forward to express his long-concealed love.
Douglas Sirk's 50s Melodramas: The Pinnacle
A wide variety of romantic melodramas in gaudy, lush, super-saturated Technicolor - classic, histrionic-laden, exaggerated, glossy, tear-jerking soaps, appeared from director Douglas Sirk. Since these overwrought films appeared during a time of Hollywood censorship, all of the sexual transgressions, ungratified desires, illegitimacies, psycho-sexual disorders (impotence, frigidity, nymphomania, Oedipal problems, etc.), rapes, adulteries, domestically-oppressed women, abuses, abortions, and affairs were not made entirely explicit. These potentially-subversive topics, nonetheless, were brought to the screen. Today, they are sometimes considered over-the-top, but should be viewed with irony for the hidden meanings contained within:
Magnificent Obsession (1954) - Sirk's first hit film, about a spiritually-redeemed, reformed doctor (Rock Hudson in a star-making role) who devotes his life to restoring the sight to a blinded widow (Jane Wyman)
All That Heaven Allows (1955) - an atypical love story between a free-spirited landscape gardener (Rock Hudson) and an uptight, young New England widow (Jane Wyman), with a blazing critique of 50's class-ridden and empty American culture fearful of a woman's emotional/sexual needs
Written on the Wind (1956) - a lush, absorbing, and sordid tale of an opulent, corruptible Texas oil dynasty's dysfunctional family and the tortured love relationships between the four main characters (Rock Hudson, impotent alcoholic Robert Stack, Lauren Bacall, and trampy Dorothy Malone)
The Tarnished Angels (1957) - in stylized black and white, a bleak Depression-Era story about a group of restless barnstorming, air-show performers and a developing love triangle
Imitation of Life (1959) - a remake of John Stahl's 1934 film about racial prejudice and mother-daughter tension, indifference, and conflict (with Lana Turner, who had just experienced a melodramatic event in real-life - her 14-year old daughter Cheryl - or was it Lana? - fatally stabbed her mobster boyfriend Johnny Stompanato in 1958); the wildly-successful film was reminiscent of the earlier films Stella Dallas and Mildred Pierce
Sirk's melodramas formed a template for most of the melodramas that came afterwards - for all the afternoon-TV soaps, and for shows such as Dynasty, Peyton Place, and Dallas. [Todd Haynes' post-modern melodrama Far From Heaven (2002) sought to recreate (and pay homage to) the patterns of Sirk's lurid Technicolored works (especially All That Heaven Allows), with a tormented heroine (Julianne Moore), a story about race and homosexuality, and an emotional score by veteran Elmer Bernstein.]
Other 50s Melodramas: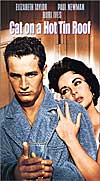 Sultry Jennifer Jones starred as a lustful, spiteful, white-trash hellcat in the passionate melodrama Ruby Gentry (1952), James Dean starred in his first film as a wronged, rebellious brother in Elia Kazan's emotionally brooding East of Eden (1955), and Elizabeth Taylor starred in two literate tales of dysfunctional Southern families: Cat on a Hot Tin Roof (1958) and Suddenly, Last Summer (1959). Both Taylor and Dean starred in George Stevens' Giant (1956), an epic melodramatic look at the aristocratic-estate life of a Texas cattle rancher over two generations. And at the close of the decade, Taylor won a Best Actress Oscar as a sophisticated, professional New York callgirl in the overripe drama Butterfield 8 (1960).
Vincente Minnelli's The Bad and the Beautiful (1952) illustrated the shattered emotions of actress Lana Turner when she discovered tyrannical producer/lover Kirk Douglas with another starlet. And Minnelli's melancholy Some Came Running (1958), adapted from the 1957 James Jones novel (of From Here to Eternity (1953) fame), featured Frank Sinatra as David Hirsch - an alcoholic, troubled, and failed writer and army veteran adjusting to his life and family after returning to his small Indiana hometown accompanied by Shirley MacLaine as his floozy companion Ginnie Moorehead, and fellow Rat-Packer Dean Martin as a local gambler. Minnelli also directed two other potboilers: The Cobweb (1955) about a high-class psychiatric sanitarium/ward and the straight-faced conflict about the choice of curtains for the library, and the family melodrama Home From the Hill (1960) that starred Robert Mitchum as a womanizing rich Texas landowner married to Eleanor Parker - with two sons (one illegitimate).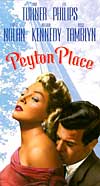 Nicholas Ray's Bigger Than Life (1956) starred James Mason as seriously-ill school teacher and married family man Ed Avery, who during experimental drug treatments (with cortisone) begins to go mad, tyrannizes his family (his adoring wife Lou (Barbara Rush) and pre-teen son Richie (Christopher Olsen)), and eventually proposes murdering his son as Old Testament Abraham threatened, with his searing statement: "God was wrong". Ray's subversive film effectively criticized many mid-50s 'family' institutions, such as the PTA, the school system, Little League, the church and home life.
Jean Negulesco's glossy, explosive, and ahead-of-its-time soap opera The Best of Everything (1959) was about the affairs, politics, and romances witnessed by a struggling working woman/secretary (Hope Lange) within a New York publishing company (with Joan Crawford as a bitter, unhappy editor). In Henry King's This Earth is Mine (1959), Rock Hudson starred as the illegitimate heir to Claude Rains' Prohibition-era, Napa Valley wine-growing fortune, and Jean Simmons was in the role of an abused cousin. Mark Robson's operatic, gossip-ridden Peyton Place (1957), based upon the landmark 1956 novel by alcoholic author Grace Metalious, explored the narrow-minded morals of small-town life in Maine with a sordid tale of a shantytown woman's (Hope Lange) rape by her abusive stepfather, subsequent impregnation and abortion, and the illegitimacy of the daughter (Diane Varsi) of an icy unwed mother (Lana Turner).
Lili (1953) starred Leslie Caron as a 16 year-old waif who had a crush on a carnival magician while loved from afar by a crippled puppeteer (Mel Ferrer) who spoke to her through his dolls. Leo McCarey's classic tearjerker An Affair to Remember (1957) told of a shipboard romance between playboy Nicky Ferrante (Cary Grant) and ex-nightclub singer Terry (Deborah Kerr) that was soon sidetracked by an accident en route to their rendezvous 6 months later at the top of New York's Empire State Building. Their starry-eyed reconciliation at the film's conclusion in Terry's apartment was both redemptive and romantic. [This tale was first made as Love Affair (1939) with Irene Dunne and Charles Boyer, and later modernized as Sleepless in Seattle (1993) with Tom Hanks and Meg Ryan, and as Love Affair (1994) with Warren Beatty and Annette Bening].
Director-writer Delmer Daves' glossy soap opera A Summer Place (1959) was set in Maine and starred teen idols Troy Donohue and Sandra Dee. It told an overcharged melodramatic story of repressed sexuality, dirty family secrets, illicit teen sex, and scandal. And Elia Kazan's psychosexual melodrama Splendor in the Grass (1961) starred a young Natalie Wood and Warren Beatty as hot-blooded, lustfully-frustrated high-school sweethearts whose star-crossed romance was repressed by the strict sexual climate of their time. Her distance from her sexually-repressed mother's generation was exemplified by her mother's words: "A woman doesn't enjoy those things (sex) the way a man does."
Les Liaisons Dangereuses, the late 18th century melodramatic novel by Pierre Ambroise Francois Choderlos de Laclos, was a tale of decadence and debauchery. The erotic, battle-of-the-sexes, melodramatic plot told about a cruel conspiratorial wager between two depraved 18th century French aristocrats to ruin the reputations of other innocents. This tale has been the subject matter of many film versions and adaptations, including:
Les Liaisons Dangereuses (1959, Fr.) (aka Dangerous Liaisons (1960, US)), director Roger Vadim, with Jeanne Moreau as Juliette de Merteuil, and Gerard Philipe as Valmont de Merteuil
Dangerous Liaisons (1988), director Stephen Frears, with Glenn Close (as Marquise De Merteuil) and John Malkovich (as Valmont); Christopher Hampton's adapted screenplay won one of its three Oscars
Valmont (1989), director Milos Forman, with Colin Firth (as Valmont) and Annette Bening (as Marquise)
Cruel Intentions (1999), director Roger Kumble, a modernized, teen-aged version with Sarah Michelle Gellar (as bitchy Kathryn Merteuil) and Ryan Phillipe (as Sebastian Valmont)
Disaster Film Melodramas:
Sometimes, disaster films with extensive action sequences have been categorized as melodramas, centering on the efforts of characters to escape man-made or natural disasters (e.g., the earthquake in San Francisco (1936), or the fire in In Old Chicago (1938), Airport (1970), The Poseidon Adventure (1972), The Towering Inferno (1974), Earthquake (1974), The Hindenburg (1975), and the sci-fi disaster of Independence Day (1996)).