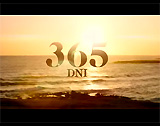 365 Days (2020, Pol.) (aka 365 Dni)
Co-directors Barbara Bialowas and Tomasz Mandes helmed this unrated, controversial Polish romantic dramedy (a combination of romantic comedy and drama), with themes of romantic obsession and exploitation, misogynistic behavior including forced physical/sexual abuse, and eroticization of male domination over a captive and temperamental female. The film was presented in three languages - Polish, Italian, and English.
It was often seen as a rip-off or sexy rendition of both Pretty Woman (1990) and of the "50 Shades of Grey" franchise series (2015-2018), with a number of explicit sex scenes, including female masturbation, fellatio on an airplane with a stewardess (Ewelina Plizga), a shower scene, a lengthy yacht seduction, and a high-rise (against the windows) sex scene. The 'beauty and the beast' tale was considered highly offensive by many viewers (who watched it streaming on Netflix) due to its portrayal of forced rape, the Stockholm syndrome, its romanticization of non-consensual love, etc.
In the film's plot (and opening sequence) at a seaside castle, gangster son Massimo Torricelli (Michele Morrone) was viewing a female at the rugged coastline through binoculars while his father (Gianni Parisi) was conducting Mafia business on the rooftop. Massimo's father warned: "Oh my son, you have to be careful. Beautiful women are heaven for the eyes and hell for the soul." He replied: "And purgatory for the wallet." Suddenly, sniper gunshot killed his father and seriously wounded Massimo in the abdomen. He went unconscious with dream-like hallucinations of the girl on the coast - and subsequently became obsessed with her.
As a result of the murder, Massimo was forced to take over the ruthless dealings of his Sicilian Mafia family, the Torricellis, after the assassination. Five years later, 29 year-old brunette Laura Biel (Anna Maria Sieklucka), a hotel sales-ad executive in Warsaw (Poland), was celebrating her birthday in Sicily, Italy with her boyfriend Martin (Mateusz Łasowski) and her best friend Olga (Magdalena Lamparska). There, she was kidnapped and drugged by Don Massimo and taken to his villa. He explained to her that he had become obsessed with her after seeing her on the coast through binoculars a half-decade earlier.
Massimo told Laura (his nickname for her was "Baby Girl") that his intention was to keep her as a prisoner for 365 days (one year) until she fell in love with him. If she didn't succumb to his love, he would release her. During a shower scene, he walked over to her and asked about her interest in his penis:
Do you want anything from me, or are you just looking? Why are you looking at it? Do you want to touch it?
Although Massimo nobly promised to never force sex on her without her permission, he immediately broke his promise (by fondling her breasts), while at the same time, Laura acted provocatively to tease him while also resisting his advances.
He pressured her to agree to his demands by threatening to kill her family, showing her photographs of her boyfriend Martin's infidelity, and telling her a breakup letter was delivered to Martin on her behalf.
Hence followed a series of sexual sequences between Laura and Massimo:
at a hotel in Rome, he cuffed her arms and legs to a bed, and then forced her to watch as he received oral sex from another woman across from him on another bed, in front of a large poster of a fierce lion
on a yacht after she almost drowned, they experienced a lengthy series of sexual encounters
Laura (Anna Maria Sieklucka) with Massimo (Michele Morrone)
As the film progressed, complications arose when Laura's ex-boyfriend Martin reappeared during a time when Massimo seemed to abandon Laura, although his excuse was that he was wounded in further Mafia conflict. When he proposed to her, she accepted - and kept it a secret that she was pregnant. The film ended with Laura the probable victim of Mafia violence inside a coastal tunnel when she didn't emerge from the other side. Had she been lost or not?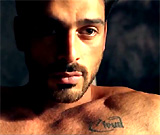 Massimo Torricelli (Michele Morrone)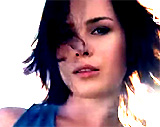 Laura Biel (Anna Maria Sieklucka)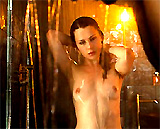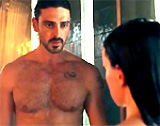 "Do you want to touch it?"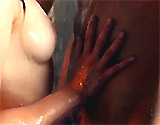 Shower Scene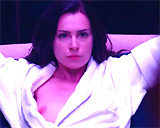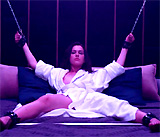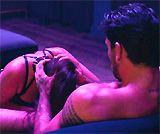 Laura Bound on a Bed While Massimo Received Oral Sex From Another Female