Three Great Sex Epics of the 40s:
| | |
| --- | --- |
| (1) Producer-co-director Howard Hughes' notorious B-Western The Outlaw (1943) was kept out of theaters for three years and denied a Production Code Administration seal for the exploitative use of young star Jane Russell's prominent, bulging breasts and cleavage, with the tasteless slogan: "What are the two great reasons for Jane Russell's rise to stardom?" | |
| (2) Jennifer Jones' sex-pot role as hot-blooded, lustful, half-breed peasant girl Pearl Chavez in Selznick's lurid epic Western Duel in the Sun (1946), re-named "Lust in the Dust," who prefers the over-sexed attentions and rape from wild-living Lewt McCanles (Gregory Peck) rather than from his tamer brother Jesse (Joseph Cotten). The film's climax included an orgasmic shoot-out between Lewt and Pearl who passionately embrace and die in each other's arms. | |
| (3) Surprisingly, sharp protest arose over director Otto Preminger's sumptuous Technicolor epic Forever Amber (1947), a 17th century costume romance adapted from Kathleen Winsor's banned book, featuring the gorgeous Linda Darnell (in her first lead role) as beautiful blonde village maid Amber St. Clare. She chamber-hops her way to status and wealth to become the royal mistress of King Charles II (George Sanders) of England. Protest forced its bowdlerization, a tacked-on prologue, and the taming of many of its potentially-erotic scenes by the addition of morally compensating values. | |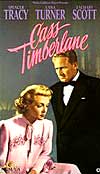 In spite of the code, other memorable portrayals of wicked women included Lana Turner as a loose young, working-class beauty in Cass Timberlane (1947), with a twenty-year age gap and major socio-economic differences from staid, lonely judge husband Spencer Tracy; she finds herself attracted to a handsome colleague after marriage. Or Peggy Cummins' self-confessed 'no-good,' gun-toting, sharpshooting lover in Gun Crazy (1950) who substitutes robberies for sexual foreplay. The lurid, melodramatic costume drama The Wicked Lady (1945) was the first British film to be modified by the Hays Office, especially because of vixenish Margaret Lockwood's dipping neckline with revealed cleavage of her ample bust.
Preston Sturges' irreverent, frantic and reckless The Miracle of Morgan's Creek (1944) made fun of a drunken blonde victory girl (Betty Hutton) with loose morals who became pregnant after a wild party with WWII servicemen without really knowing who the father was.
Erotic Film Noirs: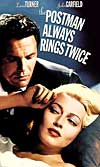 Film noir thrillers of the 40s have always been famous for sexy, seductive femme fatales who enticed their men, such as Jane Greer's deceptive siren stepping out of the bright sunshine into a Mexican cafe to entice Robert Mitchum in Jacques Tourneur's

Out of the Past (1947), and Lana Turner's sultry young cafe wife - wearing sizzling white-hot outfits - in Tay Garnett's adaptation of James M. Cain's The Postman Always Rings Twice (1946) (remade by director Bob Rafelson with a lusty kitchen table sex scene between Jack Nicholson and Jessica Lange in 1981). However, Turner's complicity in adultery and murder of her husband with drifter John Garfield was slightly modified in the film's adaptation to satisfy complaints from its critics.
Sexy Films of the 50s: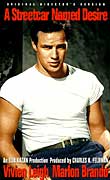 Increasingly, films contained blatant sexual elements into the 50s, due in part to the influx of more contemporary, adult-oriented foreign films, and competition from television. After conflict with the Legion of Decency, the smoldering adult themes of the collaborative work of Elia Kazan and Tennessee Williams in

A Streetcar Named Desire (1951) forced a redefinition of censorship guidelines, although the film was stripped of objectionable segments, including clear references to homosexuality, Blanche's (Vivien Leigh) nymphomania and attraction to young boys, and Stanley's (Marlon Brando) rape of Blanche. The film's censored minutes would be restored over 40 years later in 1993.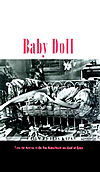 Another erotically-charged Williams/Kazan work translated to the screen was Baby Doll (1956), advertised with a photograph of the teenaged title character in a crib sucking her thumb (the film's opening scene). The defiant film was viciously condemned by the Catholic Legion of Decency for, among other things, a notorious, highly-sexual seduction scene on a swing, of a 19 year old white-trash, young 'baby doll' nymphet (Carroll Baker) by vengeful Sicilian Eli Wallach, their game of hide-and-seek in the upstairs (and attic), and later their kissing scene under a turned-off bare bulb in an adjoining room while Baby Doll's sexually-frustrated husband Archie (Karl Malden) was speaking on the phone nearby.
The homosexuality of Paul Newman's sexually-disoriented character in Tennessee Williams' Cat on a Hot Tin Roof (1958) with best friend Skipper was potently counterpoised with the smoldering, heterosexual portrayal of Maggie the 'Cat' by Elizabeth Taylor. Although Gore Vidal's original screenplay alluded to homosexuality, cannibalism, pedophilia, and incest, all of these sordid elements were toned down in Joseph L. Mankiewicz' version of Tennessee Williams' Suddenly, Last Summer (1959), but the film still retained the ripe sensuality of Elizabeth Taylor as the pretty Catherine who lured Italian beach boys closer for the benefit of her homosexual cousin.
James Jones's shocking adapted novel From Here to Eternity (1953) included an adulterous sexual affair, and a Honolulu social club (brothel). The characters in the mostly-male film included a club 'hostess' (Donna Reed) and an Army Captain's wife (Deborah Kerr) having an illicit relationship with an Army Sergeant (Burt Lancaster) - with their infamous scene of Kerr and Lancaster embracing and kissing on an Oahu beach with the foamy surf flowing over them, and Kerr professing: "I never knew it could be like this." Lana Turner was able to dress scantily as Samarra, the exotic, pagan high priestess of Ancient Damascus in MGM's opulent Biblical epic The Prodigal (1955).
Even Vincente Minnelli's and MGM's technicolor musical The Band Wagon (1953) featured an erotic, 12-minute ballet parody of film noir and Mickey Spillane characters, titled Girl Hunt Ballet, with Fred Astaire as hard-boiled private eye Rod Riley and leggy Cyd Charisse as "Beautiful Diamond" - a sultry gangster's moll. Astaire's pseudo-tough voice-over described the suggestively-red-dressed beauty in dual roles as an innocent blonde and a brunette vamp: "I could smell trouble a mile off...She came at me in sections. More curves than a scenic railway...She was bad. She was dangerous. I wouldn't trust her any farther than I could throw her. But, she was my kind of woman."
Sexual Innuendo in Hitchcock's 50s Films:
Hitchcock sublimated the inherent sexual tension and eroticism within his 50s films, and interwove psychological obsession and passion into their scripts, for example:
Stretching the Code's Limitations: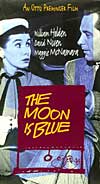 The first studio-produced film from Hollywood that was released without an approved code seal from the Production Code Administration - deliberately as a test case - was Otto Preminger's daring comedy The Moon is Blue (1953), a sex farce that was rated condemned by the Catholic Legion of Decency for vulgarity, in part because of its offensive use of prohibited words such as "virgin," "seduce," "pregnant," and "mistress" in the dialogue. It was also criticized for its "unacceptably light attitude toward seduction, illicit sex, chastity, and virginity." In one scene, the young and curious heroine Patty O'Neill (Maggie McNamara) told Donald Gresham (William Holden): "Well, men are usually so bored with virgins. I'm so glad you're not." It proved to be a major hit film (grossing $6 million) despite its lack of a seal of approval.
A famous TV episode of M*A*S*H titled "The Moon is Not Blue" (airing in December 1982, in season 11, episode 8) featured Capt. "Hawkeye" Pierce (Alan Alda) and Capt. B.J. Hunnicutt (Mike Farrell) conniving to get a copy of Preminger's film to view - in order to lift morale, after hearing that it included racy content. During the film's airing and in the episode's closing lines, they were extremely disappointed at the film's actual tame content:
Hawkeye: "I'm outraged and disgraced. I've never seen a cleaner movie in my life!"
Hunnicut: "There was more filth and dirt in this morning's breakfast."
Father Mulcahy (William Christopher): "Well, one of the actors did say 'virgin.'"
Hawkeye: "That's because everyone was!"
Next, Preminger also challenged restrictions in the code with his ground-breaking film The Man With the Golden Arm (1955), a vivid depiction of drug abuse and promiscuity starring Frank Sinatra and Kim Novak. Regarded as the first major Hollywood film about drug addition, it was also released without a Production Code seal. Alexander Mackendrick's engrossing Sweet Smell of Success (1957) provided an expose of a NY gossip columnist (Burt Lancaster) with an semi-incestuous attachment to his 19 year old sister (Susan Harrison).
Director Vincente Minnelli and MGM's Tea and Sympathy (1956) brought Robert Anderson's Broadway play to the screen with a watered-down, almost sexless, yet still bold story - reflective of its repressive era in the mid-50s. It told about sexually-confused, effeminate ('homosexual', "strange" and 'sister-boy'), misunderstood, and suicidal prep-school student Tom Robinson Lee (25 year-old John Kerr) with a demanding father who wanted to be a folk-singer rather than to pursue a more 'manly' profession. He eventually resorted to an affair with the seductive headmaster's wife Laura Reynolds (Deborah Kerr) to be 'cured' of his sensitive nature: ("Years from now when you talk about this - and you will - be kind"). Due to film censorship, an epilogue was tacked on to imply that homosexuality was not endorsed. Likewise, Nicholas Ray's

Rebel Without a Cause (1955) portrayed troubled juvenile Plato (Sal Mineo) as homosexual by his adoration of Jim Stark (James Dean) and his red jacket, and his idolization of a picture of movie-star Alan Ladd in his school locker. By film's end, due to homophobic attitudes, the 'gay' character (the real 'rebel' of the picture) was killed.
Examples of European Films Testing Limits: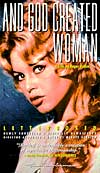 Explicit foreign imports, such as Roger Vadim's flirtatious, sex-oriented And God Created Woman (1956, Fr.), was set in sun-drenched Saint Tropez. It was the star-making hit for French/international "sex kitten" Brigitte Bardot (Vadim's wife at the time), but it caused waves of protest for being indecent.
Two other foreign film imports also created a stir in the 50s and pushed back the walls of censorship:

(1) D.H. Lawrence's 1928 film-adapted, banned novel was portrayed in director Marc Allegret's French film Lady Chatterley's Lover (1955) - it supposedly encouraged sexual immorality by the adulterous actions of the title character - young noblewoman Connie Chatterley (Danielle Darrieux).

(2) Louis Malle's over-rated tale of French adultery The Lovers (1958, Fr.) (aka Les Amants) was notorious for its extended 20-minute, semi-nude, intense love-making scene in various locales (in a rowboat, in a bed, and in a bathtub); it starred Jeanne Moreau as a bored, 30 year-old, unhappily married and repressed housewife experiencing a mid-life crisis after sex with young archaeologist student Bernard (Jean-Marc Bory). A Cleveland Heights, Ohio theatre manager was convicted (later overturned by the Supreme Court) for screening this 'obscene' erotic film - delaying the film's US release. Chief Justice Potter Stewart delivered his famous dictim about pornography in the case: "I know it when I see it, and the motion picture involved in this case is not that" (Jacobellis v. Ohio, 1964).
In addition, UA's Cry Tough (1959) was released in two versions -- the European version retained the nudity of Linda Cristal in a love scene with John Saxon (as a Puerto Rican ex-con) - the film was even banned in Finland.
Sex Icon Marilyn Monroe - and Jayne Mansfield: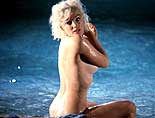 American sex symbol Marilyn Monroe had already appeared nude with her body arched in a famous calendar pose by 1951, and in numerous films in sensual roles, such as The Girl in The Seven Year Itch (1955) - with her infamous pose atop a subway grating with the wind blowing her white dress northward. At the close of the decade, director Wilder's excruciatingly-funny

Some Like It Hot (1959) included cross-dressed Tony Curtis (and impersonator playboy) and Jack Lemmon, and Marilyn Monroe as Sugar Kane - a dizzy blonde in various stages of undress. Most remarkable was her sheer, see-through sparkling dress worn while singing I Wanna Be Loved By You. Monroe's unfinished film for Fox, director George Cukor's Something's Got To Give (1962) - a remake of the Cary Grant film My Favorite Wife (1940) that co-starred Dean Martin and Cyd Charisse, would have set a milestone in film. It included a nighttime skinny-dipping scene in a backyard pool - it would have been the first nude scene in an American film by a major star.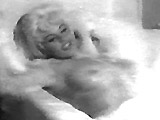 That honor would go to buxom, platinum blonde sex goddess/siren Jayne Mansfield in the unrated sex farce Promises! Promises! (1963), in which she appeared nude - she sang "I'm In Love" in a foamy, bubbly bathtub, and then toweled off and writhed around on a bed; the original version was banned in many cities and substituted with an edited version. The provocative film was heavily publicized in Playboy's June 1963 issue, with pictures to prove it.
More Barriers Fall in the Late 50s and 60s:
The 60s were landmark years in the deterioration and liberalization of the Production Code's impositions. Just before the decade dawned, Island in the Sun (1957) chipped away at the Code's restrictions on miscegenation and inter-racial romance. There was a kiss in the inter-racial romance between local West Indian dime store clerk Margot Seaton (Dorothy Dandridge) and the governor's white aide Denis Archer (John Justin) but in another parallel romance, however, there was only the holding of hands (reflecting a double standard regarding the black male) between Joan Fontaine as socialite Mavis Norman and Harry Belafonte as politically-ambitious black union official David Boyeur. Also at the cusp of the new decade, A Summer Place (1959) showed the young lover duo of Sandra Dee and Troy Donahue inheriting illicit sex tendencies of their adulterous parents. Otto Preminger's courtroom drama Anatomy of a Murder (1959) daringly included specific details of a rape in the deliberations, with the shocking-at-the-time, frank words "panties," "sperm," "rape," "contraceptive," and "penetration."
In writer/director/actor and producer Jules Dassin's adult-oriented Never on Sunday (1960), a puritanical, timid, vacationing American scholar attempted to reform and 'save' an earthy Greek prostitute named Ilya (Melina Mercouri), who took off one day every week from her profession. A year earlier, Simone Signoret won the Best Actress Oscar for her portrayal of a mistress obsessed by working-class clerk Laurence Harvey in Room at the Top (1959). Elizabeth Taylor won the first of her two Best Actress Academy Awards for her performance as "the slut of all time" - a promiscuous, loose-living prostitute named Gloria Wandrous in Butterfield 8 (1960). Billy Wilder's Best Picture-winning romantic comedy The Apartment (1960) was a treatment of the subject of a lowly clerk's professional advancement through extra-marital, adulterous affairs conducted by his philandering, married executive superiors in his conveniently-located apartment.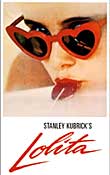 Stanley Kubrick's loincloth Roman empire epic Spartacus (1960) was heavily censored when first released, due in part to its seductive bath scene between Roman general-statesman Crassus (Laurence Olivier) and Greek slave Antoninus (Tony Curtis), with loaded questions about food/sex preferences: "Do you eat oysters?...Do you eat snails?...Do you consider the eating of oysters to be moral and the eating of snails to be immoral?...My taste includes both snails and oysters." Elia Kazan's Splendor in the Grass (1961) explored the disastrous, traumatizing results of the repression of teenage lusting between Natalie Wood and Warren Beatty - and featured a passionate French kiss. And Kubrick's sixth film Lolita (1962), an adaptation of Vladimir Nabokov's 1953 novel, portrayed the passion of a middle-aged professor (James Mason) for a precocious and seductive nymphet girl (Sue Lyon) with less overt smut than the naughty publicity suggested about its pedophilia.
In Hud (1963), Paul Newman played the title character as a woman-chasing young man who would often pose the same question to women: "The only question I ever ask any woman is, 'What time is your husband coming home?'" The bawdy Best Picture winning British film Tom Jones (1963) told a rollicking tale of a bed-hopping playboy (Albert Finney) with its famed extended foreplay food-eating scene. Billy Wilder's lesser film Kiss Me, Stupid! (1964), now rated PG-13, received a condemned rating from the Production Code for its smutty tale of an opportunist songwriter (Ray Walston) who hired a prostitute (Kim Novak) to impersonate his wife. It was the first condemned rating for an American film since Kazan's Baby Doll (1956).
In Goldfinger (1964), the third James Bond 007 film, Sean Connery delivered one of many double entendres with a phone call excuse that he couldn't agree to a dinner invitation while lying in bed next to villain Goldfinger's escort Jill Masterson (Shirley Eaton): "I'm sorry, I can't, something big's come up." Of more concern was her ultimate fate -- her naked corpse (painted gold) was discovered on a hotel bed. The film also featured Honor Blackman as sexily-named Bond Girl "Pussy Galore."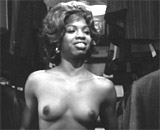 Black actress Thelma Oliver (as a black prostitute) revealed her breasts in Sidney Lumet's serious film The Pawnbroker (1965) in a scene of desperation. It was the first exposure in a non-exploitation film in modern times, and thereby broke a specific clause in the Hays Code. This controversial mainstream film was passed uncut by the Production Code Administration (although it was condemned by the Legion of Decency) because of the nudity's context in the film - a serious work about Holocaust-surviving Jewish pawnbroker/husband Sol Nazerman (Rod Steiger) haunted by his Nazi prison camp experiences. It was the first US film to show a woman nude from the waist up that was granted a Production Code seal - ultimately breaking the back of the Production Code's restrictions. In the dated British film Darling (1965), Julie Christie portrayed a cool, emancipated beauty who at one point walks naked through an Italian palace.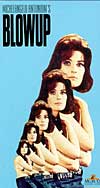 Another landmark was reached with a significant amount of nudity in Michelangelo Antonioni's stylish murder/thriller Blow-Up (1966, UK/It.), in which mod London photographer David Hemmings seductively pointed his camera at model Verushka, bargained with topless Vanessa Redgrave for a roll of film, and playfully wrestled and romped with two teenage wanna-be models - all scenes that the censors fought over. This was the first instance of clear glimpses or revealing flashes of female pubic hair for American audiences.
The blasphemous profanity (such as "goddamn," "for Christ's sake," "screw," "bastard," "Hump the Hostess," and "son of a bitch") in Mike Nichols' debut film adaptation of Edward Albee's play

Who's Afraid of Virginia Woolf? (1966) with its brutal sexual tensions between the four characters (and the sado-masochistic, loving-hating, vulgarities-spewing couple of Richard Burton and Elizabeth Taylor) in an all-night drinking fest became a direct challenge to the anti-profanity clauses of the Hays Code. The MPAA ratings board gave the film a seal of approval after Warner Bros. appealed and made a few cuts of the most extreme profanity (such as "Screw you"). It was the first film to be released with a "Suggested for Mature Audiences" warning.
In 1967, a number of mainstream films helped spur the development of a ratings system, with their excessive amounts of explicit profanity. Two films claimed to be the first film to use the four-letter F word: director Joseph Strick's Ulysses (1967) and Michael Winner's I'll Never Forget What's 'Isname (1967, UK) when singer Marianne Faithfull said 'f--k' on-screen. The latter also included a scene that implied oral sex, as did Charlie Bubbles (1967).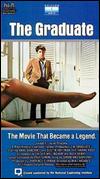 Mike Nichols' next film

The Graduate (1967), featured a young Dustin Hoffman's illicit and sexy seduction by an older predatory Mrs. Robinson and a simultaneous love affair with her daughter (Katharine Ross) - combining adultery, nudity, and anti-establishment subject matter. Humorously, the young 'graduate' innocently confessed to his girlfriend's mother: "I think you're the most attractive of all my parents' friends." At around the same time, the imported British film Alfie (1966) with Michael Caine (in his first starring role) as a playboyish womanizer also caused a stir regarding its abortion scene. John Huston's Reflections in a Golden Eye (1967) starred Marlon Brando as an impotent (and latent homosexual) Army officer married to Elizabeth Taylor.
Barbarella (1968, Fr/It), a sci-fi fantasy (comic-book) sex-capades comedy from Roger Vadim (featuring his new wife Jane Fonda), was edited to receive a PG rating. It opened with an infamous credits sequence that teasingly stripped 41st century French comic-strip heroine Barbarella (Jane Fonda) of her space-suit outfit in zero gravity. In another scene, the title character made love with the aid of an Orgasmatron - and was sentenced to death by orgasm (delivered by the lethal 'Excessive Machine'). Durand Durand (Milo O'Shea) unsuccessfully attempted to kill Barbarella with pleasure by orgasmically "playing" her with a euphemistic pipe organ ("Sonata for Execution of Various Young Women") - with his aghast reaction to her defeating the machine ("What kind of girl are you?! Have you no shame?!").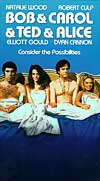 The notorious, fireside nude wrestling match between Alan Bates and Oliver Reed in Ken Russell's homo-erotic D. H. Lawrence adaptation, Women in Love (1969) was remarkable for its time. It was the first explicit scene revealing male genitals in a commercial film. Paul Mazursky's Bob & Carol & Ted & Alice (1969), a 'free-love' sex comedy during the height of the late 60's hedonistic, counter-cultural and sexual revolution, humorously portrayed the subject of open marriage and spouse-swapping. It posed the question: "Consider the Possibilities" and told about encounter groups, permissive sex, countercultural temptation and emotional openness among two affluent adult couples. Bob and Carol Sanders (Robert Culp and Natalie Wood) and their best friends Ted and Alice Henderson (Elliott Gould and Dyan Cannon) had their marital vows of fidelity (and monogamy) challenged during a weekend swinging trip to Las Vegas. Dyan Cannon urged "Orgy, have an orgy" after being asked what she wanted to do. The film was noted for its publicity - a view of couples in bed together discussing either group sex or seeing Tony Bennett. The film ended with the Burt Bacharach song "What the World Needs Now (Is Love, Sweet Love)."
The semi-pornographic Candy (1968), from Buck Henry's and Terry Southern's script, starred Marlon Brando, Richard Burton, Ringo Starr, Walter Matthau, James Coburn, John Huston, and more - as well as nubile blonde Ewa Aulin in a series of sexual exploits, experiments, and strange erotic encounters with men.