History-Related Dramas: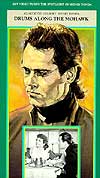 Films that have dramatized portions of the American past include W.S. Van Dyke's San Francisco (1936) on the eve of the 1906 quake, John Ford's Drums Along the Mohawk (1939) with Claudette Colbert and Henry Fonda facing marauding Indian attacks at the time of American independence, Howard Hawks' Sergeant York (1941) with Gary Cooper as the gentle hick-hero of the WWI trenches, the gothic drama of a turn of the century family in Orson Welles' The Magnificent Ambersons (1942), and of course Gone With The Wind (1939) during the Civil War and Reconstruction Eras. Exquisite, nostalgic family dramas include John Ford's How Green Was My Valley (1941) - a flashback of Roddy McDowall's childhood in a Welsh mining village, and George Stevens' tribute to a Norwegian immigrant mother (Irene Dunne) raising her family in San Francisco in I Remember Mama (1948).
Sports Dramas:
Dramatic sports films or biographies have created memorable portraits of all-American sports heroes, individual athletes, or teams who are faced with tough odds in a championship match, race or large-scale sporting event, soul-searching or physical/psychological injuries, or romantic sub-plot distractions. Fictional sports films normally present a single sport (the most common being baseball, football, basketball, and boxing), and include the training and rise (and/or fall) of the underdog or champion in the world of sports.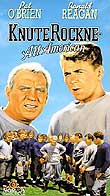 Typical sports films (with biographical elements) include the sentimental biography of the Notre Dame football coach, Lloyd Bacon's Knute Rockne: All-American (1940). One of the best films ever made about pro-football was Ted Kotcheff's North Dallas Forty (1979) which examined the brutal fact of labor abuses and drug use in professional football - loosely basing its story on the championship Dallas Cowboys team. The tearjerking made-for-TV sports film Brian's Song (1970) used professional football as the backdrop for its sad tale of the death of a Chicago Bears running back (James Caan). Burt Reynolds starred in The Longest Yard (1974) as scandalized ex-professional football quarterback Paul Crewe in prison who must organize a team of convicts to challenge a prison-guard team (and then face the additional challenge of throwing the game). In All the Right Moves (1983), a young Tom Cruise took the role of HS footballer "Stef" Djordjevic, who was struggling to escape his life in a poor western Pennsylvania mill-town by winning a sports scholarship. Recently, Cameron Crowe's sports romance-drama Jerry Maguire (1996), famous for the phrase "Show me the money!", starred Tom Cruise as a hard-driven major sports agent, and Academy Award-winning Cuba Gooding, Jr. as a football player.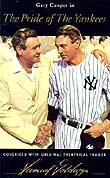 One of the best sports biopics was Sam Wood's The Pride of the Yankees (1942) with Gary Cooper in a fine performance as New York Yankees great Lou Gehrig. In The Jackie Robinson Story (1950), the famed black player who crossed the major-league 'color-line' and joined the Brooklyn Dodgers portrayed himself. Director Barry Levinson's mythical and romanticized film about baseball titled The Natural (1984) featured Robert Redford as Roy Hobbs - a gifted baseball player who had a fairy-tale comeback and led his New York team to the World Series. Ron Shelton, who was an actual ex-minor leaguer, wrote and directed the intelligent comedy/drama Bull Durham (1988) which used as its backdrop minor league baseball to tell the story of a baseball groupie (Susan Sarandon), a veteran catcher (Kevin Costner) and a dim-witted pitcher named Nuke LaLoosh (Tim Robbins). The immensely popular fantasy/drama Field of Dreams (1989) concerned the creation of a ball diamond in the middle of an Iowa cornfield by a farmer (Kevin Costner). Writer/director John Sayles' Eight Men Out (1988) dramatized the infamous episode in professional baseball of the scandalous 1919 World Series that was fixed - with its final sepia-toned shots of banned ball-player "Shoeless" Joe Jackson (D.B. Sweeney) in the minors. And Tommy Lee Jones starred as the legendary baseball great Ty Cobb in Shelton's Cobb (1994).
Basketball-related sports dramas are rare: three notable ones were Spike Lee's He Got Game (1998) with Denzel Washington as the convict father of a promising basketball athlete, David Anspaugh's Hoosiers (1986) about an underdog 50s basketball team (coached by Gene Hackman) that won the state championship, and Ron Shelton's play-filled, trash-talking court action film White Men Can't Jump (1992) with its two basketball hustlers/con-artists (Woody Harrelson and Wesley Snipes) and their scenes of two-on-two tournaments.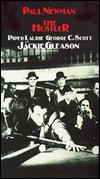 Kevin Costner portrayed a talented pro golfer in Ron Shelton's romantic sports film Tin Cup (1996). And Paul Newman portrayed swaggering, upstart poolshark gambler Fast Eddie Felson in The Hustler (1961) in the world of professional pool, shooting against the great champ Minnesota Fats (Jackie Gleason). (Director Martin Scorsese's sequel The Color of Money (1986) starred Paul Newman reprising his role as "Fast Eddie", and Tom Cruise as young hustler protégé Vincent Lauria.) Downhill Racer (1969) starred Robert Redford as an American downhill skier training to become an Olympic superstar. The Best Picture winner Chariots of Fire (1981) told the parallel stories of two English runners (one a devout Protestant, the other Jewish) competing in the 1924 Paris Olympics. Autoracing in the Daytona 500 was featured in the action/drama Days of Thunder (1990). And one of the most memorable ice hockey films was Slap Shot (1977), with Paul Newman as inspiring player-coach Reg Dunlop of a minor-league team. Although a comedy, Caddyshack (1980) was about an elitist country club for golf, a mischievous green-destroying gopher, and a crazed groundskeeper (Bill Murray).
Films about boxing are perhaps the most numerous sub-genre. One of the best boxing films ever made, along with Robert Wise's classic film noirish The Set-Up (1949) starring Robert Ryan as aging boxer Stoker Thompson, was the realistically stark Body and Soul (1947). It starred John Garfield as boxer Charlie Davis who 'sold his soul' to unethical promoters but then had a change of heart in the last three rounds of a championship fight during which he was supposed to take a dive.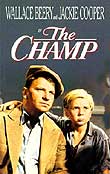 Others included King Vidor's classic The Champ (1931), an award-winning story of a prizefighter and his young son, Champion (1949) with Kirk Douglas as the young fighter, the brutal boxing drama The Harder They Fall (1956) (Humphrey Bogart's underrated last film in which he portrayed Eddie Willis - an aging, crooked sportswriter), Ralph Nelson's Requiem for a Heavyweight (1962) with Anthony Quinn as punch-drunk, washed-up professional boxer Louis 'Mountain' Rivera, Martin Ritt's The Great White Hope (1970) with James Earl Jones as black boxer Jack Jefferson, and Karyn Kusama's independent feminist film Girlfight (2000) with a great performance by Michelle Rodriguez as a struggling Brooklynite and teenage Latino boxer.
One of the best films of the 80s decade, Raging Bull (1980) was Martin Scorsese's tough, visceral and uncompromising biopic film of the rise and fall of prizefighter Jake La Motta with a remarkable performance by actor Robert DeNiro. The stylized scenes in the ring included flying blood and sweat, exaggerated flashbulb camera flashes, slow-motion and violent punching sounds. The all-American fictional, underdog Philadelphia boxing hero Rocky Balboa in the populist, feel-good, Oscar-winning drama Rocky (1976) series emerged as the peak boxing-film series, followed by numerous sequels (and a spin-off):
Best Director-winning Clint Eastwood's Best Picture-winning sports drama Million Dollar Baby (2004) told about a grizzled boxing trainer (Eastwood as Frankie Dunn) who reluctantly coached determined Ozark Missouri waitress "Maggie" Fitzgerald (Best Actress-winning Hilary Swank) to a major welterweight championship fight, but she tragically suffered a debilitating injury - and requested that Frankie help assist in her suicide in the tearjerking conclusion.
Religious Dramas: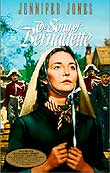 Religious dramas (other than those considered in the epics genre) that have demonstrated the redemptive power of faith and spirituality include Frank Capra's The Miracle Woman (1932) with Barbara Stanwyck as successful evangelist/miracle-worker Florence "Faith" Fallon, and Henry King's The Song of Bernadette (1943) - the story of a mid-19th century French peasant girl (Jennifer Jones) who had a vision of the Virgin Mary in a grotto at Lourdes (France). A similarly-themed film was The Miracle Of Our Lady Of Fatima (1952) set in Portugal during World War I. William Wyler's Friendly Persuasion (1956) was about the peaceful Birdwell family - farmers living in Indiana (headed by patriarch Jess Birdwell (Gary Cooper)). Their non-violent ideals and Quaker upbringing came into conflict with non-pacifist behavior that was required during the threatening Civil War struggle. Audrey Hepburn starred as a WWII-era devoted nun serving in the Congo and Belgium in Fred Zinnemann's The Nun's Story (1959), and Burt Lancaster gave a memorable performance as Elmer Gantry (1960), a phony, Bible-thumping, fire and brimstone preacher.
Director Michael Anderson's far-fetched The Shoes of the Fisherman (1968) was based on Morris L. West's 1963 best-seller, a fictionalized account about a political prisoner (a Ukranian archbishop named Kiril Pavlovich Lakota (Anthony Quinn)) pardoned by the Soviet Union's Premier (Laurence Olivier) (the Premier was his former jailer Piotr Ilyich Kamenev), after spending 20 years in a Siberian labor camp during the Cold War. He was released to Rome and the Vatican where he became a Cardinal, and was unexpectedly elected the next Catholic Pope (somewhat like real life's 1978 election of Poland's Karol Wojtyla as John Paul II), named Pope Kiril.
Recently, Doubt (2008) (with four Oscar nominations for acting), which was set in the mid-1960s in a Bronx Catholic church, told about a battle of wills between liberal Father Flynn (Philip Seymour Hoffman) and the strict, iron-fisted parish school Principal Sister Aloysius Beauvier (Meryl Streep). When one of the naive and innocent teachers, Sister James (Amy Adams), reported her suspicions to Sister Aloysius after viewing misconduct. She questioned an inappropriate relationship between Father Flynn and the school's first black student, troubled altar boy Donald Miller (revealed to be homosexual and the victim of abuse), and thus set in motion a no-holds-barred crusade by Sister Aloysius to oust Flynn.
Show-Business Dramas:
Hollywood (or Broadway) has also portrayed its own inner workings of stage and screen. A number of biting dramas have pictured the world of performance and the creative/artistic process, often from behind-the-scenes. The focus of some "show-business" films are on individual artists or groups who experience torment, frustration, or difficulty. One of the earliest silent films (a comedy), Buster Keaton's Sherlock, Jr. (1924) - a film in a film, was the fanciful tale of a projectionist who miraculously found himself as a sleuth-detective inside the film he was screening.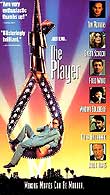 The brilliant, classic film of the behind-the scenes world of the New York theater and its grande dame (Bette Davis) and the duplicity of a brash and ambitious newcomer was the subject of the award-winning All About Eve (1950) from writer/director Joseph Mankiewicz. [This was the film in which Marilyn Monroe portrayed her own stereotype - a dumb blonde.] Another 1950 movie, Billy Wilder's gothic noirish Sunset Boulevard (1950) illustrated the savage excesses of Hollywood in a story featuring a faded and tragic silent film star Norma Desmond (Gloria Swanson) and her out-of-work screenwriter (William Holden). Vincente Minnelli's The Bad and the Beautiful (1952) also indicted Hollywood film-making in a story of an unscrupulous Hollywood producer, portrayed by Kirk Douglas, who exploited a director, an actress, and a screenwriter. Robert Altman's classic but unorthodox Nashville (1975) examined the business world of country-western music through the private lives of its large ensemble cast brought together to attend a political rally. Altman's later dark comedy with over 60 star cameos, The Player (1992) savagely criticized the motion-picture industry in a story about a disreputable studio executive (Tim Robbins).
Producer/director Richard Rush's The Stunt Man (1980) presented Peter O'Toole as a manipulative, power-hungry, megalomaniacal film director. The Coen Brothers' dark, surreal and original comedy/drama Barton Fink (1991) showed the strain on a New York playwright working on a simple B-movie script in a seedy Hollywood hotel in the 1940s. Director Tom DiCillo's low-budget independent sleeper film Living in Oblivion (1995) illustrated the kinds of blundering, chaotic disasters that can occur during low-budget filmmaking on a set. Director Robert Redford's Quiz Show (1994) portrayed the scandal involving two "Twenty One" NBC TV quiz show contestants involved in the fixed show that was sponsored by Geritol: WASP cheater Charles Van Doren (Ralph Fiennes) and Queens-living Jew Herbie Stempel (John Turturro).
Literature-Related Dramas:
Literary works, plays, memoirs or diaries, poems, or novels have often been adapted to provide the content for a number of excellent dramatic films. Louisa May Alcott, Jane Austen, the Brontes, Pearl Buck, James Fenimore Cooper, Joseph Conrad, Charles Dickens, Fyodor Dostoyevski, Theodore Dreiser, Alexandre Dumas, William Faulkner, Edna Ferber, F. Scott Fitzgerald, Henry James, John Grisham, Nathaniel Hawthorne, Victor Hugo, Rudyard Kipling, Edgar Allan Poe, Sinclair Lewis, Jack London, Herman Melville, James Michener, George Orwell, John Steinbeck, Mary Shelley, Robert Louis Stevenson, Mark Twain, Leo Tolstoy, Tennessee Williams and Thornton Wilder - and countless others, have had their works developed for the screen.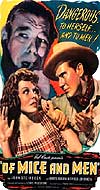 Thousands of films have taken their genesis from existing books, plays, short stories, and tales including John Cromwell's Of Human Bondage (1934) (based on W. Somerset Maugham's classic novel) about how tarty waitress Bette Davis ruined the life of Leslie Howard, Of Mice and Men (1939 and 1992) (an adaptation of the classic John Steinbeck tragedy), George Stevens' A Place in the Sun (1951) (an adaptation of Theodore Dreiser's An American Tragedy) about the end of an idyllic relationship between Montgomery Clift and beautiful debutante Elizabeth Taylor due to his false conviction for murdering his pregnant girlfriend Shelley Winters, Robert Ellis Miller's The Heart is a Lonely Hunter (1968) (from Carson McCullers' novel) with Alan Arkin as a deaf mute, (from Tennessee Williams' works), or Delbert Mann's Marty (1955) (from Paddy Chayefsky's writings) about a middle-aged Italian butcher (Ernest Borgnine) offered his last chance at love.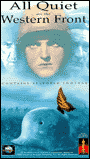 Lewis Milestone's realistic anti-war drama All Quiet on the Western Front (1930) was based on the pacifistic novel of the same title by Erich Maria Remarque. Director John Huston's final film brought together an all-Irish cast to dramatize James Joyce's short story The Dead (1987) about a Christmas get-together in Dublin. The influential American film about an alienated college graduate who was further educated by Mrs. Robinson's exploitative seduction, Mike Nichols' The Graduate (1967) was based on the novel by Charles Webb. The award-winning British film The Remains of the Day (1993) was adapted by Ruth Prawer from the novel by Kazuo Ishiguro. Tom Wolfe's 1999 non-fictional, best-selling book about seven USAF test pilots who wanted to 'beat' the "demon that lived in the air" (the sound barrier) and trained to be Mercury astronauts at the start of the US space program was adapted for Philip Kaufman's The Right Stuff (1983). It was released at the time of the real-life astronaut John Glenn's run for the presidency, although it flopped at the box-office.
Tennessee Williams' Adaptations:
There are numerous works adapted from American playwright Tennessee Williams' works. Invariably, the often melodramatic films are set in the South or have Southern characters, and they usually involve scandalous sexual conflicts. However, most of Williams' writings were adapted for the screen when the Production Code was still in effect, therefore bowdlerizing much of the content:
Irving Rapper's The Glass Menagerie (1950) about a family in New Orleans
Elia Kazan's A Streetcar Named Desire (1951) with Marlon Brando as the inimitable Stanley Kowalski, and Vivien Leigh as a fragile Southern belle
Daniel Mann's The Rose Tattoo (1955) with Burt Lancaster as an Italian-American truck driver and Anna Magnani as the Italian widow he romances
Elia Kazan's Baby Doll (1956) with Carroll Baker as the corruptible, thumb-sucking child bride who refuses to make love to her husband and cotton-gin owner Karl Malden
Richard Brooks' Cat on a Hot Tin Roof (1958) with Paul Newman as an ex-football star and sanitized homosexual and Elizabeth Taylor as his horny, unsatisfied wife, Maggie the Cat
Joseph L. Mankiewicz' lurid Suddenly, Last Summer (1959) with a lobotomy-threatened, over-ripe Elizabeth Taylor and her imperious, matriarchal aunt Katharine Hepburn
Sidney Lumet's The Fugitive Kind (1959) with Marlon Brando as a ex-criminal drifter in a rural Mississippi town
Jose Quintero's The Roman Spring of Mrs. Stone (1961) with Vivien Leigh as a declining, middle-aged actress-widow and a young Warren Beatty as her Italian gigolo
Peter Glenville's Summer and Smoke (1961) starring Geraldine Page and Laurence Harvey
George Roy Hill's Period of Adjustment (1962) about two troubled married couples, one of whom includes a young Jane Fonda
Richard Brooks' Sweet Bird of Youth (1962) with Paul Newman as a studly hustler and lover of faded, self-destructive movie star Geraldine Page
John Huston's The Night of the Iguana (1964) with Richard Burton as a tortured, defrocked clergyman and a cast of characters in a rundown Mexican hotel run by an oversexed Ava Gardner
Sydney Pollack's This Property is Condemned (1966) with Natalie Wood and Robert Redford in an ill-fated relationship