100 Greatest Films
(of the 20th Century)

Summaries - Part 1
(Links to Comprehensive Film Reviews)

Selection Criteria
See also
Filmsite's 100 Greatest Films Title Screens
A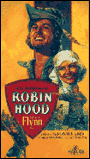 The Adventures of Robin Hood (1938)
Starring: Errol Flynn, Olivia de Havilland, Basil Rathbone, Claude Rains, Melville Cooper, Ian Hunter
Director: Michael Curtiz, William Keighley

This 1938 swashbuckling costume epic stars Errol Flynn in arguably his greatest role, as the titular prince of thieves.
Arguably Flynn's greatest role, this is the classic, swashbuckling, adventure, costume epic/spectacle about the infamous rebel outlaw and his band of merry men from Sherwood Forest who "robbed from the rich and gave to the poor." The charming Robin Hood (Flynn) fights for justice against the evil Sir Guy of Gisbourne (Rathbone), the villainous Sheriff of Nottingham (Cooper), and the scheming Prince John (Rains), while striving to win the hand of the beautiful Maid Marian (de Havilland) - and to save the English throne for King Richard (Hunter). This good-natured, extravagant adventure epic still packs romance, comedy, great sword play action, music, colorful characters and storybook fantasy. One of the earliest films to be shot in three-color Technicolor and, at the time, the most expensive film Warner Bros. had produced ($2 million). William Keighley started directing the film, but Curtiz finished the filming. Academy Award Nominations: 4, including Best Picture. Academy Awards: 3, including Best Interior Decoration, Best Original Score, Best Film Editing.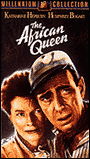 The African Queen (1951)
Starring: Humphrey Bogart, Katharine Hepburn, Robert Morley
Director: John Huston

Humphrey Bogart and Katharine Hepburn's odd-couple chemistry anchors John Huston's 1951 romantic adventure.
Based on the 1935 novel by C.S. Forester, the wonderful combination of Hepburn and Bogie makes this a thoroughly enjoyable blend of comedy and adventure. Forester's story, Bogey's Oscar®-winning performance, 'odd-couple' chemistry, and an exotic locale combine for classic adventure/romance. The boozing, smoking, cussing captain of a tramp steamer, Charlie Allnut (Bogart), saves prim, sober, and proper missionary Rose Sayer (Hepburn), "a crazy psalm-singing skinny old maid," after her brother (Morley) is assaulted by a German soldier at the beginning of World War I in German East Africa, and dies from insanity. After many quarrels, they survive a treacherous African river journey on a rattle-trap steamer, shoot the rapids, struggle with mosquitos and blood-sucking leeches, and set sail on the Ulonga-Bora in order to sabotage The Louisa, a German warship. Later came the book (and Clint Eastwood film) White Hunter, Black Heart, that chronicled Peter Viertel's experiences observing Huston throughout the making of the picture. Academy Award Nominations: 4, including Best Actress--Katharine Hepburn, Best Director, Best Screenplay. Academy Awards: 1, Best Actor--Humphrey Bogart.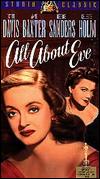 All About Eve (1950)
Starring: Bette Davis, Anne Baxter, George Sanders, Celeste Holm, Thelma Ritter, Gary Merrill
Director: Joseph L. Mankiewicz

This acerbic Oscar-sweeping drama stars Bette Davis as an aging Broadway dame and Anne Baxter as a scheming young social climber.
Much-loved, lengthy, acerbic drama of theatre life about a young actress who insinuates her way into Broadway stage star's life. Wit and sarcasm reign supreme (e.g., "Fasten your seat belts. It's going to be a bumpy night") and George Sanders is perfect as Addison De Witt - a cynical, egotistical columnist/critic. The literate film features Davis as aging, bitchy accomplished star Margo Channing who takes the seemingly-naive and innocent fan Eve (Baxter) under her wing. As the film opens, the rising, unscrupulous star accepts an award for best newcomer on the Broadway scene. Then, in a flashback, we see the shameless starlet insinuating herself into the life of her idol, and scheming to steal her theatrical roles and her lover Bill (Merrill). By ruthlessly exploiting the older woman's kindness and hospitality, she manages to achieve her present success while almost destroying the veteran star in the process. The ending of the film returns to the awards banquet to find the starlet clinging to her trophy, with another fan in the wings. Also with Marilyn Monroe in a bit part. Academy Award Nominations (record-setting): 14, including Best Actress--Anne Baxter, Best Actress--Bette Davis, Best Supporting Actress--Celeste Holm, Best Supporting Actress--Thelma Ritter. Academy Awards: 6, including Best Picture, Best Director, Best Screenplay, Best Supporting Actor--George Sanders, Best B/W Costume Design, Best Sound.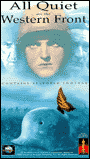 All Quiet On The Western Front (1930)
Starring: Lew Ayres, Louis Wolheim
Director: Lewis Milestone

Lewis Milestone's hugely popular adaptation of Erich Maria Remarque's novel is the first great antiwar movie to be made with sound.
Based on Erich Maria Remarque's timeless, pacifistic anti-war novel, this poetically brilliant epic about the horrors of war was hugely popular in its day. The moving drama, the first great sound anti-war film, follows a group of seven German schoolboys, with central character Paul (Ayres) inspired by their professor to fight for their country. They voluntarily enlist in World War I, believing in the glory of the Fatherland and learn about the realities of war from veteran soldier Katczinsky (Wolheim). The film documents their descent into war (and disillusionment) in graphic detail, from the everyday reality of trench warfare to starvation and butchery. The film tracks the boys in training, battle, and eventually their senseless, untimely deaths. Paul dies from an enemy bullet in the final scene as he reaches out to touch a butterfly. Shot on an epic scale with an impressive budget of $1.25 million, the film's realism and visual art created a sensation. Academy Award Nominations: 4, including Best Writing, Best Cinematography. Academy Awards: 2, including Best Production (Picture), Best Director.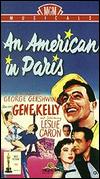 An American In Paris (1951)
Starring: Gene Kelly, Leslie Caron, Nina Foch, Georges Guetary, Oscar Levant
Director: Vincente Minnelli

One of the greatest musicals of the fifties, this colorful toe-tapping classic finds the grace and athleticism of Gene Kelly on full display.
One of the great 50s screen musicals, colorfully enhanced by the grace and athleticism of Gene Kelly and direction by Vincente Minnelli. Jerry Mulligan (Kelly), a young American G.I., lingers in Paris after World War II to study art and painting. He wants to live the life of the great painters -- in a Montmartre garret, starving for his art. When a rich, romance-minded American gallery owner (Foch) offers to support him, he agrees -- even if the bargain means joining the benefactress' entourage of lovers. Then he meets Lise (Caron), a young, exquisite French mademoiselle, and instantly falls in love. Unfortunately, she's already engaged to marry her benefactor, music hall star Henri Baurel (Guetary), an older man who saved her from the Nazis. But when Henri discovers that she cares for someone else, he gracefully exits, leaving the young couple to find love together. The film debut for French actress/dancer Leslie Caron, who was discovered by Gene Kelly. With sumptuous sets, charming dance sequences, George and Ira Gershwin's memorable melodies, and a seventeen-minute, avant-garde ballet choreographed by Kelly - with backdrops representing various impressionistic artists. Academy Award Nominations: 8, including Best Director, Best Film Editing. Academy Awards: 6, including Best Picture, Best Story and Screenplay, Best Color Cinematography, Best Musical Score.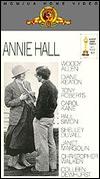 Annie Hall (1977)
Starring: Woody Allen, Diane Keaton, Tony Roberts, Carol Kane
Director: Woody Allen

Widely considered Woody Allen's finest work, this bittersweet New York romance posits Diane Keaton as his flighty, adorable foil.
Bittersweet, cerebral, stream-of-consciousness, 70s, urban romantic comedy about a New York couple's neurotic love affair. Many consider this Allen's best work, and a transition from his earlier absurdist comedies to a richer, more thoughtful consideration of relationships. Innovatively filmed, with cartoon segments, flashbacks, monologues toward the camera, and other unique elements. Allen co-wrote, directed and stars as a kvetchy, neurotic, Brooklyn stand-up comedian Alvy Singer, wistfully recalling his bygone relationship with flighty, adorable, and irrepressibly Midwestern Annie Hall, an aspiring singer. (Film marks the fourth pairing of Keaton and Allen, who were also an off-screen couple at the time.) At first the cultural gap seems insurmountable, but despite their differences, they fall in love. As they get to know one another, they invariably attempt to change each other, causing friction and their eventual split. The film watches them try new relationships, as they reluctantly pull away from each other. The film, in actuality, chronicles the end of their relationship. Academy Award Nominations: 5, including Best Actor--Woody Allen. Academy Awards: 4, including Best Picture, Best Director, Best Actress--Diane Keaton, Best Original Screenplay.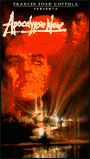 Apocalypse Now (1979) and Apocalypse Now Redux (2001)
Starring: Martin Sheen, Marlon Brando, Robert Duvall, Dennis Hopper
Director: Francis Ford Coppola

Coppola's nightmarish Vietnam epic, starring Marlon Brando and Martin Sheen, redefines the war flick and the dangers of the jungle.
A masterful, thought-provoking, pretentious film, with beautifully-chaotic visuals, about the nightmarish, moral madness of the Vietnam War, inspired by the novella Heart of Darkness by Joseph Conrad. Considered by many to be the best war movie of all time, with incredible performances, especially that of hawkish Lt. Colonel Kilgore (Duvall) who "loves the smell of napalm in the morning." Sweeping, surreal, still-controversial Vietnam war epic. An Army captain (Sheen) is sent into the Cambodian jungle aboard a patrol boat carrying a young, spaced-out crew. Their mission: to assassinate ("terminate") a Buddha-like Colonel Kurtz (Brando) who has become an insane demi-god and now runs his own fiefdom. The grueling production in the Philippines led to vast budget overruns and physical and emotional breakdowns. Academy Award Nominations: 8, including Best Picture, Best Director, Best Adapted Screenplay, Best Supporting Actor--Robert Duvall, Best Film Editing. Academy Awards: 2, including Best Cinematography, Best Sound.
B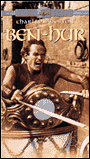 Ben-Hur (1959)
Starring: Charlton Heston, Hugh Griffith, Stephen Boyd, Jack Hawkins, Martha Scott, Cathy O'Donnell
Director: William Wyler

This 1959 Charlton Heston classic tells the epic story of Judah Ben-Hur on an ambitious scale made evident by its famed chariot race.
Director William Wyler's renowned, Best Picture-winning Biblical epic of enormous scale was the winner of 11 Oscars. The character-driven, action-filled, star-studded extravaganza filmed in Italy was one of the cinema's greatest epics - a compelling human story of revenge, bitterness, redemption and forgiveness. It told about friendship and then adult enmity between boyhood pals. The 1880 novel by Lew Wallace had previously been adapted into an 1899 stage adaptation and into a silent film Ben-Hur: A Tale of the Christ (1925) starring Ramon Novarro. The film's opening was a series of tableaux of Christ's birth and the coming of the Magi, followed by the conquering Romans marching into Jerusalem. The wealthy and influential Prince of Judea, Judah Ben-Hur (Charlton Heston) was reunited with his boyhood friend Messala (Stephen Boyd), newly-appointed Roman Tribune and member of the Roman legions. The two loyal and old friends toasted to each other and expressed their closeness by embracing, and engaging in a friendly spear-throwing contest (exclaiming: "Down Eros, up Mars!"). Messala was potentially Judah's avowed enemy, although they pledged to each other as they crossed arms: (Messala: "It's an insane world, but in it there's one sanity, the loyalty of old friends. Judah, we must believe in one another"). Shortly later, a rift developed between Judah and Messala when Judah was asked to betray his people, turn traitor (and reveal names of Jews who opposed Roman rule) and help Rome: "I'd rather be a fool than a traitor or a killer...Rome is evil....I warn you. Rome is an affront to God. Rome is strangling my people and my country and the whole Earth, but not forever. I tell you, the day Rome falls, there will be a shout of freedom such as the world has never heard before"; Messala offered Judah a choice: "Either you help me or you oppose me. You have no other choice. You're either for me or against me" - and Judah chose decisively: "I am against you!" Judah's family members were falsely accused of treason (after an unfortunate accident during a Roman parade), and Ben-Hur was condemned and sentenced to exile as a slave on a Roman galley ship - Judah vowed revenge: "May God grant me vengeance. I pray that you live till I return." His family members - his mother Miriam (Martha Scott) and his sister Tirzah (Cathy O'Donnell) were banished and enslaved. (Years later, they had contracted leprosy and were confined to the Valley of the Lepers, while Judah believed that they were dead). During a forced march of slaves across the desert, the dehydrated Judah Ben-Hur cried out: "God, help me" in Nazareth - and was given water by a defiant Jesus. Aboard the galley slave ships, Roman Consul Quintus Arrius (Jack Hawkins) noticed Ben-Hur's steely determination - and learned he had already served over three years: "You have the spirit to fight back but the good sense to control it. Your eyes are full of hate, Forty-One. That's good. Hate keeps a man alive. It gives him strength." During a slave galley ship battle against the Macedonians' pirate war ships, Judah was able to miraculously save many of the slaves and Arrius himself - and the Romans were victorious although five ships were lost. Arrius told Ben-Hur: "In his eagerness to save you, your God has also saved the Roman fleet." Judah was adopted by Arrius, and during a spectacular reception scene in Rome, the victorious Arrius and Ben-Hur rode in a chariot together, and were recognized by Emperor Tiberius (George Relph). Judah became a respected citizen and a famed chariot racer under the tutelage of an Arabian horse racer (Hugh Griffith). He finally met his rival Messala in a justly famous 11-minute long chariot race - often regarded as one of the most exciting action sequences ever filmed. The race was prefaced by a lengthy and impressive Parade of the Charioteers, when they paraded around the ring in a display of pageantry; the setting was majestic with a central divider strip composed of three statues thirty feet high, and grandstands on all sides, rising five stories high with immense crowds. Messala suffered a gruesome deathbed scene after his defeat in the arena, when he called for Ben-Hur - delaying an operation to amputate his legs that would attempt to save his life; Messala was bitter and had one last card to play: "Triumph complete, Judah. The race won. The enemy destroyed...What do you think you see? The smashed body of a wretched animal! Is enough of a man still left here for you to hate? Let me help you...You think they're dead. Your mother and sister. Dead. And the race over. It isn't over, Judah. They're not dead...Look for them in the Valley of the Lepers, if you can recognize them. (Messala grabbed Judah's clothing) It goes on. It goes on, Judah. The race, the race is not over." Upon his return to Judea, Ben-Hur was able to rescue his suffering, leprous family from the Valley of the Lepers, with the help of his love interest Esther (Haya Harareet), his steward Simonides' (Sam Jaffe) grown daughter. He also witnessed the crucifixion of Jesus - on his way to Golgotha. In a reversal of roles - Judah followed along behind Jesus as he was being led to his crucifixion, and as the carpenter once gave him water in Nazareth, so did Ben-Hur offer the agonized 'King of the Jews' water when he fell. Ben-Hur's leprosy-afflicted mother and sister were healed by a cleansing rain, and Judah became transfixed and transformed by the power of the crucifixion - he spoke of the miracle to Esther and how he was inspired to convert to Christianity: "Almost at the moment he died, I heard him say it, 'Father, forgive them, for they know not what they do.'...Even then. And I felt His voice take the sword out of my hand." The film's final image was of the high place with three empty crosses as a shepherd drove his flock before the hill. Academy Award Nominations: 12, including Best (Adapted) Screenplay. Academy Awards: 11, including Best Picture, Best Director, Best Actor--Charlton Heston, Best Supporting Actor--Hugh Griffith.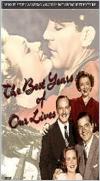 The Best Years of Our Lives (1946)
Starring: Fredric March, Myrna Loy, Dana Andrews, Harold Russell, Teresa Wright, Virginia Mayo, Cathy O'Donnell
Director: William Wyler

William Wyler's landmark 1946 drama follows three World War II vets, including Oscar winner Harold Russell, as they return home.
William Wyler's landmark, classic drama, and Best Picture-winning film was both powerful and provocative, with many touching moments in the lives of combat survivors now returned to their former lives, with both hopefulness and poignancy - attempting readjustment to peacetime life and discovering that they had fallen behind. The lengthy film featured great acting, story-telling, direction and pacing by Wyler. It was based upon the 1945 novella "Glory for Me" by MacKinlay Kantor. It was perhaps the most memorable film about the aftermath of World War II, unfolding with a number of great plot threads about the homecoming of three servicemen to their small town. The compassionate movie portrayed the reality of altered lives, readjustments at work, dislocated marriages and the inability to communicate the experience of war on the front lines or the home front. This was the first picture for Harold Russell, a non-actor and war veteran who was an actual amputee, who won two Oscars for the same role (a unique achievement) - Best Supporting Actor, and a Special Honorary Oscar "For bringing hope and courage to his fellow veterans through his appearance..." In the film's opening set in the nose of a B-17 bomber, three returning veterans had their first glimpse of their (fictional) hometown of Boone City - feeling alienated, aloof and detached from the strange sights and memories of their former home - and attempting readjustment to peacetime life and discovering that they had fallen behind. The three WWII veterans were: middle-class husband Army Sergeant Al Stephenson (Fredric March), a former Cornbelt Bank banker who turned to drinking, decorated Air Force Captain Fred Derry (Dana Andrews) who was rejected by his unfaithful war-bride spouse Marie Derry (Virginia Mayo) and was forced to return to his old job as a soda-jerk, and handicapped seaman Homer Parrish (Oscar-winning Harold Russell) who had lost both arms and agonized over his relationship with his childhood sweetheart-girlfriend Wilma Cameron (Cathy O'Donnell). In the film's most poignant moment, Homer's mother (Minna Gombell) experienced her first look at her double-amputee son's hooks for hands, and had an uncontrollable reaction. During his deeply-moving homecoming reunion scene, Sgt. Al Stephenson entered his apartment complex and then the door of his apartment and silenced with his cupped hand the mouths of his son Rob (Michael Hall) and daughter Peggy (Teresa Wright) - and then suddenly, his wife Milly (Myrna Loy) was surprised to realize that he had come through the door. Fred experienced PTSD - fitful, sweaty nightmares of a disastrous bombing run over Germany, while Peggy (a trained nurse) comforted and soothed him. Persistent and young Peggy Stephenson, Al's intelligent, articulate, headstrong daughter, made some remarkable homewrecking efforts to win Fred away from his mismatched marriage to his unloving blonde floozy wife Marie Derry. Another of the most remarkable scenes was of Fred's walk through a junked airplane graveyard where he relived his many wartime memories of bombing missions in the nose of an abandoned B-17 bomber. The film concluded with Homer's wedding to Wilma, when he demonstrated great skill in placing a ring on her finger - with the added knowledge that Peggy and Fred - seen in the background - would eventually also marry after his divorce with Marie could be finalized. Academy Award Nominations: 8, including Best Sound Recording. Academy Awards: 7, including Best Picture, Best Actor--Fredric March, Best Supporting Actor--Harold Russell, Best Director, Best Screenplay. A Special Academy Award for Russell for bringing hope and courage to his fellow veterans through his appearance in the film.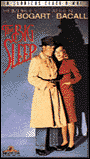 The Big Sleep (1946)
Starring: Humphrey Bogart, Lauren Bacall, Martha Vickers, John Ridgely
Director: Howard Hawks

Howard Hawks' classic noir sets the standard for private-detective flicks, with star turns by Humphrey Bogart and Lauren Bacall.
Howard Hawks' and Warner Bros.' classic atmospheric film noir mystery with crackling dialogue was based upon Raymond Chandler's first novel in 1939. Its incomprehensible plot (and tortuous story line without a completely clear resolution) was scripted by William Faulkner (with Jules Furthman and Leigh Brackett). It set the standard for private detective movies, and was remade in 1978 with Robert Mitchum. The film's title was a reference to death. In the film's opening, down-at-the-heels, tough LA private investigator Philip Marlowe (Humphrey Bogart). was hired by General Sternwood (Charles Waldron), a dying, invalid millionaire, to look into various issues that led to drugs, nymphomania, pornography, decadence and murder. Marlowe's main task was to prevent a blackmailer from collecting debts from Sternwood that had been incurred by the old man's indiscreet, thumb-sucking, unstable nymphette youngest daughter Carmen (Martha Vickers). She was both spoiled, childish, irresponsible, and possibly involved with pornographers who were blackmailing her for $5,000 regarding her pictures' negatives. Marlowe learned that the General's friend (surrogate son) and companion Sean Regan had mysteriously disappeared - and was likely to be dead. The private eye became sexually attracted to the older, feisty and sultry daughter Vivian (Lauren Bacall) when she became curious about Marlowe's investigation. In the twisting tale, Sternwood's chauffeur Owen Taylor was found dead, and other individuals were identified as in on the blackmailing scheme. As the case progressed, Marlowe described his suspicions to gambler Eddie Mars (John Ridgely) that Carmen had killed her father's missing companion Sean Regan, when he refused her sexual advances. She murdered Regan out of jealousy (and unrequited love) over an imaginary relationship between Regan and Mrs. Mona Mars (Peggy Knudsen). [Note: Mona was discovered hiding out at Huck's Garage, to make it look like she had run away with Regan during their entirely manufactured affair.] At Vivian's request, Mars had covered up the killing to "protect" her sister Carmen from guilt - and to prevent her sick father from any further suffering. Mars' cold-blooded hired killer Canino (Bob Steele), hid Regan's body and the deception was set up. Mars then blackmailed Vivian for money and sexual favors. Marlowe cleverly set up Mars to be killed by his own henchmen, allowing Marlowe to protect Carmen (who was sent "away" to an institution for psychiatric care) and Vivian by pinning the murder of Regan on Mars - and Marlow was also able to end up with Vivian. Without any Academy Award nominations.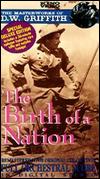 The Birth Of A Nation (1915)
Starring: Lillian Gish, Mae Marsh
Director: D.W. Griffith

The first-ever feature-length silent movie, D. W. Griffith's sweeping Lillian Gish-starring Civil War drama was a massive technological coup.
First feature-length silent film is a sweeping Civil War drama/epic, aka The Clansman. Placed in historical context, it's a landmark cinematic, technological achievement (with now-familiar techniques of cross-cutting, the flash-back, the close-up, and deep focus), though offensive due to its racism, dated views and stereotypes, and glorification of the KKK. D. W. Griffith's film tells the interwoven story of two families, one Northern and one Southern, confronting the Civil War and Reconstruction periods. The Camerons, headed by "Little Colonel" Ben Cameron, and the Stonemans, headed by politician Austin Stoneman, find themselves on opposite sides of the battle lines when War comes. The Civil War exacts a personal toll on both families, only to be followed by the equally destructive Reconstruction period. Griffith links the consequences of the war on their lives with the formation of the Ku Klux Klan.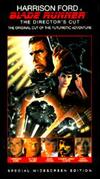 Blade Runner (1982)
Starring: Harrison Ford, Rutger Hauer, Daryl Hannah, Sean Young, Joe Turkel, Joanna Cassidy, Edward James Olmos
Director: Ridley Scott

Ridley Scott's moody futuristic thriller boasts stunning effects and unmissable performances by Harrison Ford and Sean Young.
Moody futuristic, sci-fi noirish thriller, with stunning, visually-dazzling effects and a brooding atmosphere, about a hard-boiled detective hunting near-human "replicants." Based on the novel Do Androids Dream of Electric Sheep? by Philip K. Dick. In a totalitarian, decaying 21st century Los Angeles (2019), a jaded, semi-retired, Philip Marlowe-style ex-cop (Ford), known as a "blade runner," is forced out of retirement to hunt down and eliminate four "replicants" (Hannah, Hauer, Cassidy) - genetically engineered super-humanoid robots. On earth illegally from an Off-world colony where they were used as slave laborers, and with a built-in, shortened life span of only four years, the androids have mutinied and escaped in order to confront the individual who designed them (Turkel). Seeing their heroic struggle against an inhuman system, the blade-runner ultimately falls in love with an android femme fatale (Young). Academy Award Nominations: 2, including Best Art Direction-Set Direction, Best Visual Effects.