100 Greatest Films
(of the 20th Century)

Summaries - Part 4
(Links to Comprehensive Film Reviews)

Selection Criteria
H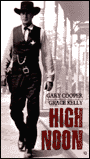 High Noon (1952)
Starring: Gary Cooper, Grace Kelly, Lloyd Bridges, Katy Jurado
Director: Fred Zinnemann

Gary Cooper and Grace Kelly are the married couple who add romance to this terse 1952 Western, a much-lauded classic of the genre.
A legendary classic Western about a lawman awaiting a suspenseful, fateful showdown with ruthless bandits returning to a small town to seek revenge. The stark, black and white 50s film is frequently interpreted as a parable about artists left to "stand alone" and face persecution during the HUAC Hollywood blacklisting. Hadleyville town marshal Will Kane (Cooper), a hero figure, is newly-married to a beautiful, pacifist Quaker bride (Kelly). With integrity and a principled sense of justice, duty, and loyalty, he puts everything on the line to confront a deadly outlaw killer set free by liberal abolitionists. The murderer arrives with his gang on the noon train - and he is left abandoned by an ungrateful town to face them alone. The film is enhanced by Dimitri Tiomkin's ballad (sung by Tex Ritter), and the fact that it is virtually filmed in 'real-time' as the tense showdown approaches. Academy Award Nominations: 7, including Best Picture, Best Director, Best Screenplay. Academy Awards: 4, including Best Actor--Gary Cooper, Best Song ("Do Not Forsake Me, Oh My Darlin'"), Best Score, Best Film Editing.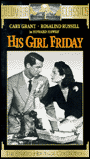 His Girl Friday (1940)
Starring: Cary Grant, Rosalind Russell, Ralph Bellamy
Director: Howard Hawks

This hilarious battle-of-the-sexes romp is vintage Howard Hawks, full of bawdy double entendres quipped by Rosalind Russell and Cary Grant.
The hilarious, fast-paced, battle of the sexes screwball comedy classic is Howard Hawks' updated remake of the original 1931 screen version The Front Page, directed by Lewis Milestone. This witty, unrelenting romp, adapted from the stage play The Front Page by Ben Hecht and Charles MacArthur, is full of bawdy double entendres, staccato dialogue in simultaneous conversations, and gender-bending innuendos. Star newspaper reporter Hildy Johnson (Russell) has informed Walter Burns (Grant), her suave, hard-boiled managing editor and now ex-husband, that she's leaving the paper and planning to remarry. Somehow, he must try and prevent her from resigning and remarrying a wimpy insurance salesman (Bellamy). Without showing his feelings for her, he assigns her one last front-page headliner story about political corruption, while helping a condemned man who has just escaped from the law. No Academy Award nominations.
I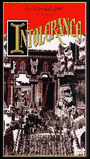 Intolerance (1916)
Starring: Lillian Gish, Mae Marsh, Constance Talmadge
Director: D.W. Griffith

D. W. Griffith's silent epic starring Lillian Gish is a series of vignettes remarkable for their exquisite sets, photography, and editing.
D.W. Griffith's large-scale epic silent film is a series of vignettes exploring man's inhumanity to man. This classic, with its exquisite sets, photography and editing, spans several centuries and cultures. The film is made up of four distinct stories told in parallel fashion (and masterfully interwoven and converging together) - linked solely by a single common thread: intolerance and repression, and the image of a rocking Lillian Gish. Three of the stories are based on historical fact: Medieval Paris France during the Reformation and the reign of Charles IX, including the slaughter of the Huguenots; the crucifixion of Christ in Judea; and the fall of Babylonia. The fourth tale is a turn-of-the-century "modern" story of a man unjustly accused of murder.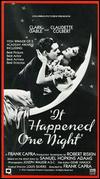 It Happened One Night (1934)
Starring: Clark Gable, Claudette Colbert, Walter Connolly,
Director: Frank Capra

Frank Capra's madcap comedy pairs Clark Gable and Claudette Colbert as a reporter and a socialite who fall in love despite the odds.
Frank Capra's sparkling, legendary, madcap, screwball romantic comedy based on the story Night Bus by Samuel Hopkins, with movie legends Clark Gable and Claudette Colbert. When Ellie Andrews (Colbert), a millionaire's (Connolly) high-society daughter, marries a man her father dislikes, the heiress runs away. She travels incognito, northward from Florida by bus - a fugitive from high society - where she meets enroute a sexy, brusque, dumb-but-loveable, out-of-work news correspondent (Gable). Unbeknownst to Ellie, the ruthless reporter hopes to recover his employment by selling her story to his former boss. As they teach each other about life, the antagonistic couple have a series of hapless adventures and comic misunderstandings, leading them to the realization that they were made for each other. Contains the legendary "Walls of Jericho" scene and a hitch-hiking technique scene. Academy Award Nominations: 5. Academy Awards: 5, including Best Picture, Best Director, Best Actor--Clark Gable, Best Actress--Claudette Colbert, Best Adapted Screenplay.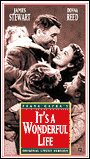 It's A Wonderful Life (1946)
Starring: James Stewart, Donna Reed, Lionel Barrymore, Henry Travers
Director: Frank Capra

This tale of a stricken average Joe (James Stewart) whose life is saved by an angel made director Frank Capra a household name.
Sweet-natured, sentimental, inspirational classic drama about a near-suicidal man learning the value of his existence. A charitable, hard-working philanthropist George Bailey (Stewart), forced to remain in a small town by unpredictable circumstances, becomes depressed after an accidental financial disaster at his loan company benefits the miserly Mr. Potter (Lionel Barrymore). He is on the verge of committing suicide and wishing that he had never been born - when his crusty-but-lovable guardian angel Clarence (Travers), who is desperately trying to earn his wings, shows up to give him a tour of his town without his presence (Bedford Falls becomes the decadent and hellish Pottersville), showing him how important he's been to the lives of his loved ones. Moral courage, small-town American life, civic cooperation, and family love are glorified while corporate greed and selfishness are condemned, climaxed by the man's rescue during an idyllic Christmas card finale. Clarence earns his wings and George learns that wealth is measured in love and friendship. Academy Award Nominations: 5, including Best Picture, Best Director, Best Actor--James Stewart, Best Film Editing, Best Sound.
J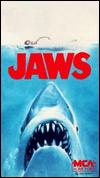 Jaws (1975)
Starring: Roy Scheider, Robert Shaw, Richard Dreyfuss
Director: Steven Spielberg

Steven Spielberg's unforgettably terrifying flick brings Roy Scheider and Richard Dreyfuss to their knees before a giant mechanical shark.
From the best-selling novel by Peter Benchley and with a thrilling, memorable and rousing score by John Williams. A Great White Shark terrorizes a popular Massachusetts resort, Amity Island, during the summer tourist season in this action/adventure/horror classic, an early blockbuster film from Steven Spielberg. Surprise attacks on the New England coast, in which the monstrous man-eater preys on the inhabitants and vacationers alike, are truly frightening and scary. Three unlikely partners team up on a suspenseful 'fishing trip' to hunt down the rogue and destroy it: the new chief of police from New York (Scheider), a young university-educated oceanographer (Dreyfuss), and a crusty, grizzled old-time fisherman (Shaw) resembling the obsessed Ahab in the Moby Dick tale. Academy Award Nominations: 4, including Best Picture. Academy Awards: 3, including Best Sound, Best Original Score, Best Film Editing.
K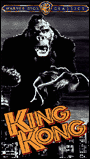 King Kong (1933)
Starring: Fay Wray, Bruce Cabot, Robert Armstrong
Director: Merian C. Cooper, Ernest B. Schoedsack

The pioneering 1933 horror-fantasy favorite stars Fay Wray as the comely blonde who entices the love-struck giant ape to his doom.
Classic horror-fantasy thriller, with ground-breaking technical effects (stop-motion animation), a beauty-and-the-beast drama about a misunderstood, gigantic ape running wild in NYC - one of the masterpieces of cinema. Fortune-hunters, including filmmaker Denham (Armstrong) and his crew and a lovely, nubile starlet (Wray) travel to remote, fog-shrouded Skull Island to shoot a jungle movie. In search of the fabled giant ape, the magnificent, exotic, and dangerous "King Kong," they stumble upon a prehistoric world populated by dinosaurs and giant snakes. Enticing the fifty-foot gorilla with the lovely blonde - that the natives have kidnapped and offered as a gift to the beast, they eventually subdue and capture the monstrous creature with gas bombs. Denham brings him back to New York City as a sideshow attraction. The beast breaks his 'civilized' chains, escapes and goes on a rampage, ransacking the city in search of the young actress. The film climaxes with the hairy beast clinging to the top of the Empire State Building as pilots shoot him down. "It was Beauty killed the Beast." No Academy Award nominations.
L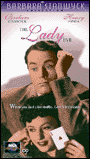 The Lady Eve (1941)
Starring: Barbara Stanwyck, Henry Fonda, Charles Coburn
Director: Preston Sturges

Barbara Stanwyck and Charles Coburn play the con artists against Henry Fonda's millionaire in Preston Sturges' still-fresh romantic comedy.
Considered Preston Sturges' best film, a breathlessly paced, still-fresh romantic sex comedy classic - an Adam-and-Eve battle of the sexes. On a transatlantic ocean liner, two shipboard card-sharp con artists (Stanwyck and Coburn) plot to separate a naive, millionaire snake-scientist Charles Pike (Fonda) from his beer fortune. Plans go awry and Jean meets her match when she falls in love with the handsome young tycoon who has fallen madly in love with her. When he discovers that she is a swindler and gold-digger, however, Charles rejects her, leading Jean to plot revenge -- she reconquers her man's heart while masquerading as a high-society English lady, and during their hilarious honeymoon train journey. Academy Award Nominations: 1, Best Original Story.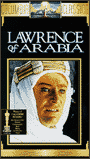 Lawrence of Arabia (1962)
Starring: Peter O'Toole, Alec Guinness, Omar Sharif, Claude Rains, Jose Ferrer, Jack Hawkins
Director: David Lean

Peter O'Toole nabbed an Oscar nomination for his first major role, in David Lean's breathtakingly gorgeous 1962 biopic.
One of the greatest films of all time, with rich cinematography of the immense desert. A sweeping, breath-taking, cinematic biographical epic that follows the true-life exploits of a famed British officer, T. E. Lawrence (O'Toole in his first major film), and his transformation from an enigmatic eccentric to a hero in WWI Arabia. Assigned there, he courageously unites the warring Arab fractions into a guerrilla front to battle the Turks, Germany's allies. Academy Award Nominations: 10, including Best Actor--Peter O'Toole, Best Supporting Actor--Omar Sharif, Best Adapted Screenplay. Academy Awards: 7, including Best Picture, Best Director, Best Color Cinematography.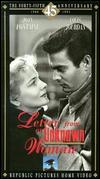 Letter From an Unknown Woman (1948)
Starring: Joan Fontaine, Louis Jourdan
Director: Max Ophuls

Max Ophuls' 1948 tearjerker tells the story of the unspoken love of a woman (Joan Fontaine) for her neighbor (Louis Jourdan).
An emotionally-complex, bittersweet, old-fashioned, tearjerker romance, told with flashbacks, about Lisa Berndl (Fontaine), a beautiful young woman with a childhood crush and doomed love for a charmingly suave, philandering concert pianist Stefan Brand (Jourdan) in 19th century Vienna. The night before the cavalier, callow pianist is due to fight a duel for offending a lady's honor with Lisa's husband, he receives a letter from a strange, unknown woman (who has since died). Through the letter, he learns for the first time about the young girl, his next-door neighbor, and her undying love that she felt for him through the years, including a pregnancy and son. No Academy Award nominations.
M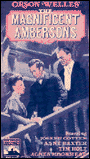 The Magnificent Ambersons (1942)
Starring: Tim Holt, Joseph Cotten, Agnes Moorehead, Dolores Costello
Director: Orson Welles

Orson Welles displays a refined touch in this 1942 costume drama about a nineteenth-century family's struggles with the changing times.
A classic period piece and costume drama based on the 1918 novel by Booth Tarkington about a prominent, wealthy, 19th century Midwestern family grappling with changing times, progress and the coming of the modern industrial age at the turn of the century. Eugene Morgan (Cotten) courts Isabel Amberson (Costello) over many years, but her spoiled son George (Holt) ruins their chances, and the proud family disintegrates into squabbling. Agnes Moorehead plays the romantically-frustrated Aunt Fanny. Like the previous year's Citizen Kane, this second film masterpiece by Orson Welles was mutilated by RKO studio executives before its release (with a sentimental, tacked-on ending), though it still remains a director's film, with refinement of cinematic techniques including sound manipulation, long takes, a complete rotation in a single shot, quick-cuts, and artistic cinematography. Academy Award Nominations: 4, including Best Picture, Best Supporting Actress--Agnes Moorehead, Best Art Direction-Set Direction, and Best B/W Cinematography.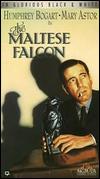 The Maltese Falcon (1941)
Starring: Humphrey Bogart, Mary Astor, Sydney Greenstreet, Peter Lorre, Elisha Cook, Jr.
Director: John Huston

John Huston's influential noir mystery stars Humphrey Bogart as a hard-drinking gumshoe tracking the elusive titular statue.
A highly influential, prototypical film noir mystery about a hard-boiled private detective tracking an elusive, sought-after black bird statue, based on the crime novel by Dashiell Hammett. This was John Huston's directorial debut film. Hard-drinking, snarling untrusting private eye Sam Spade (Bogart), hired by femme fatale Brigid O'Shaugnessy (Astor), searches in a claustrophobic San Francisco for the priceless statuette while evading greedy and duplicitous characters, conveyed with first-rate performances: the gardenia-perfumed Mr. Cairo (Lorre), the scheming, jovially-sinister Fat Man (Greenstreet), and an effete gunsel Wilmer (Cook). Academy Award Nominations: 3, including Best Picture, Best Supporting Actor--Sydney Greenstreet, and Best Screenplay (John Huston).