100 Greatest Films
(of the 20th Century)

Summaries - Part 2

(Links to Comprehensive Film Reviews)

Selection Criteria
B (continued)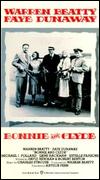 Bonnie And Clyde (1967)
Starring: Warren Beatty, Faye Dunaway, Gene Hackman, Estelle Parsons, Michael J. Pollard
Director: Arthur Penn

Warren Beatty and Faye Dunaway star as the irresistible outlaws at the heart of Arthur Penn's controversial, stylish 1967 flick.
Groundbreaking, controversial, stylish crime drama/romance, and road film - about a 1930s bank-robbing couple and gang with easy-going, folksy flavor and bloody, graphically-violent shoot-outs. The saga was based on the true-life exploits of the notorious Depression-era bank robbers Bonnie Parker and Clyde Barrow. Gun-toting, amoral, impotent drifter Clyde (Beatty) rescues dreamer Bonnie (Dunaway) from her drab existence by regaling her with colorful tales of the outlaw life. Joined by Clyde's brother (Hackman), his wife Blanche (Parsons), and a gas-station attendant (Pollard), the gang goes on a bumbling crime spree through Texas and Oklahoma. Controversial when released because of its bullet-riddled ending, it marked the coming increase in visceral cinematic violence. Academy Award Nominations: 10, including Best Picture, Best Director, Best Actor--Warren Beatty, Best Actress--Faye Dunaway, Best Supporting Actor--Gene Hackman, Best Supporting Actor--Michael J. Pollard, Best Original Screenplay, Best Costume Design. Academy Awards: 2, including Best Supporting Actress--Estelle Parsons, Best Cinematography.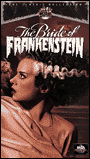 Bride of Frankenstein (1935)
Starring: Boris Karloff, Colin Clive, Elsa Lanchester
Director: James Whale

Boris Karloff's iconic lurching monster meets his match in Elsa Lanchester in this darkly witty 1935 sequel to the horror classic.
Darkly witty, black comedy, semi-humorous sequel to the classic Frankenstein film (and precursor to The House Of Frankenstein in 1944) about a mad scientist building a mate in his laboratory for his monster. Having escaped the fiery castle that engulfed him at the end of the 1931 horror classic Frankenstein, the Frankenstein monster (Karloff) is back - now more civilized and human - and talking with a small vocabulary after being taught by a blind hermit. Baron Henry Frankenstein (Clive), the monster's tormented creator, is drawn back to his experiments by effeminate, sardonic Dr. Pretorious (Ernest Thesiger). The demented Henry is convinced that the Monster really needs a female mate (Lanchester) - the over-the-top Bride hisses at the Monster during their first meeting. Academy Award Nominations: 1, Best Sound Recording.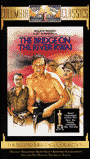 The Bridge On The River Kwai (1957)
Starring: Alec Guinness, William Holden, Sessue Hayakawa, Jack Hawkins
Director: David Lean

Based on a true event, this 1957 war drama finds Alec Guinness' British commander leading a perilous effort in the wilds of Burma.
Acclaimed, all-time great WWII epic drama about British P.O.W.'s forced to construct a railway bridge in the Asian jungle of Burma, based on an outstanding, psychologically complex adaptation of Pierre Boulle's 1952 novel. In the Burmese jungle, British prisoner/solders, led by an obstinate commander Col. Nicholson (Guinness), construct a rail bridge - and unwittingly aid the war effort of their Japanese captors and the camp commander Col. Saito (Hayakawa). A tremendously antagonistic battle of wills ensues between the two Colonels. Nicholson supervises the bridge's construction with a twisted sense of pride in his creation to show up the Japanese as inferior. In the climactic finale, British and American intelligence officers (Holden, Hawkins) conspire to blow up the structure. Academy Award Nominations: 8, including Best Supporting Actor--Sessue Hayakawa. Academy Awards: 7, including Best Picture, Best Actor--Alec Guinness, Best Director, Best Adapted Screenplay, Best Cinematography, Best Score, Best Film Editing.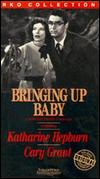 Bringing Up Baby (1938)
Starring: Katharine Hepburn, Cary Grant, May Robson
Director: Howard Hawks

Katharine Hepburn and Cary Grant shine in the definitive screwball comedy of the thirties, courtesy of ace director Howard Hawks.
Quintessential, definitive screwball comedy of the 30s, with absurd physical gags, high-speed humor, and witty dialogue, from versatile directorial master Howard Hawks. A non-stop profusion of mayhem, comic disasters, coincidences and misunderstandings ensue when an absent-minded, nervous, unfortunate, strait-laced, Harold Lloyd-like palaeontologist (Grant) encounters a flighty, irresistible, uninhibited, mad-cap, accident-prone heiress (Hepburn). The befuddled scientist pursues a donation to his zoological museum from a wealthy widow but he seems unable to avoid the woman's niece. Soon the two are searching through her estate to find a valuable lost dinosaur bone (an intercostal clavicle) hidden by her aunt's (Robson) dog (Asta from The Thin Man series), and following the chaotic trail left by a missing, music-loving pet leopard named Baby. Inevitably, the two fall in love, after she has destroyed his sanity, sexual respectability, career, and pending marriage.
C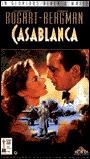 Casablanca (1942)
Starring: Humphrey Bogart, Ingrid Bergman, Claude Rains, Paul Henreid
Director: Michael Curtiz

Michael Curtiz's critically beloved landmark 1942 romance stars Humphrey Bogart and Ingrid Bergman in career-defining turns.
Perennially at the top of every all-time greats list, and indisputably one of the landmarks of the American cinema, although an accidental Hollywood masterpiece. Critically-acclaimed, bittersweet, popular, much-loved, WWII-flavored, nostalgic story of intrigue and love that teamed Bogart and Bergman as ill-fated lovers. A laconic, cynical idealist, American expatriate and war profiteer Rick Blaine (Bogart) in Nazi-occupied WW II Morocco is content to be cafe owner for his Cafe Americain until a past love, in the luminous form of Ilsa Lund (Bergman) who mysteriously left him in Paris, returns to his life and inspires him to stand up for the French Resistance with her husband Victor Laszlo (Henreid). In the final scene in the fog at the airport, he dutifully and nobly sacrifices his love for her - "We'll always have Paris." Academy Award Nominations: 8, including Best Actor--Humphrey Bogart, Best Supporting Actor--Claude Rains, Best B/W Cinematography. Academy Awards: 3, including Best Picture, Best Director, Best Screenplay.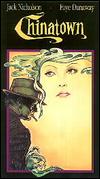 Chinatown (1974)
Starring: Jack Nicholson, Faye Dunaway, John Huston
Director: Roman Polanski

Jack Nicholson's world-weary gumshoe anchors Roman Polanski's 1974 noir, also starring Faye Dunaway and John Huston.
Atmospheric, subtly-paced, superbly-made neo-noir mystery about a hard-nosed detective uncovering urban corruption in late 1930's Los Angeles. World-weary gumshoe Jake Gittes (Nicholson), who specializes in adultery cases, takes on Evelyn Mulwray (Dunaway) as a client. He is hired by the recently-widowed woman to investigate the infidelities of her alleged husband, the water commissioner for the drought-stricken city. As the film-noir plot unfolds, the detective, with his nose slashed by a punk (director Polanski in a cameo role), gets in way over his head in a case involving murder, the illegal diversion of water to artificially deflate land prices, fraudulent and corrupt politicians including sinister millionaire Noah Cross (Huston) grabbing up land, and a prominent family's scandalous, long-hidden dark secret. After original, complex plot twists, the film ends in an unsettling finale in the 'Chinatown' section of the city - a state of mind where the law is ineffectual. Academy Award Nominations: 11, including Best Picture, Best Actor--Jack Nicholson, Best Actress--Faye Dunaway, Best Director, Best Cinematography. Academy Awards: 1, Best Original Screenplay (Robert Towne).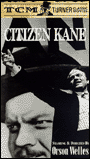 Citizen Kane (1941)
Starring: Orson Welles, Joseph Cotten, Everett Sloane, Dorothy Comingore
Director: Orson Welles

Director and star Orson Welles' masterful fictional biopic about the titular tycoon set a new standard for the movies that followed.
This is Welles' greatest achievement, and a landmark of cinema history - often voted the greatest film ever made. An expressionistic, fictional biography of the rise to power (and tragic fall) of a larger-than-life newspaper tycoon/publisher - Charles Foster Kane. A reporter is sent to investigate the significance of "Rosebud," the last word uttered by Kane (Welles), through interviews with various associates and his wife (Cotten, Sloane, Comingore). The newspaper magnate's wealth and power ultimately leave him abandoned and alone in his castle-like refuge. With its bravura direction, broken narrative and flashbacks, and vivid performances, this is considered a modern masterpiece. Every aspect of the production marked an advance in film language: the deep-focus, deeply shadowed cinematography; the discontinuous narrative (in a screenplay co-authored by Herman Mankiewicz); the innovative use of sound and score; the low-level camera shots; the ensemble acting from Welles' Mercury Theater. Academy Award Nominations: 9, including Best Picture--Orson Welles, Best Actor--Orson Welles, Best Director--Orson Welles, Best B/W Cinematography, Best Score, Best Film Editing. Academy Awards: 1, Best Original Screenplay.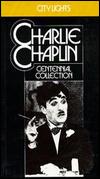 City Lights (1931)
Starring: Charlie Chaplin, Virginia Cherrill
Director: Charlie Chaplin

Charlie Chaplin's final and best silent film finds the Little Tramp helping a blind flower seller (Virginia Cherrill) regain her sight.
One of Charlie Chaplin's best - and his last silent film. This film is a classic silent masterpiece (with sound effects). In the opening sequence, the urban misfit (his quintessential "Little Tramp" character) parodies 'talking' films. In the city, the tramp (Chaplin) falls in love with a blind flower-selling girl (Cherrill), and although poverty-stricken, he is mistaken for a millionaire. Her sight is restored after his endless efforts (mostly by befriending a rich drunk) to acquire money to pay for an eye operation. Critically acclaimed for its blend of sentimental drama, pathos, melancholy romance, slapstick, and comic pantomime. The film's final shot is unforgettably poignant.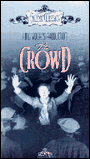 The Crowd (1928)
Starring: Eleanor Boardman, James Murray
Director: King Vidor

King Vidor's sad silent masterpiece stars James Murray and Eleanor Boardman as a young couple struggling to make ends meet.
A superb, enduring, silent classic masterpiece. A moving, downbeat melodrama about a young ordinary man's illusory dreams of success in the Big City - filmed on location in New York. The young man (Murray) meets a girl (Boardman), falls in love, marries, and the couple experience a short Niagara Falls honeymoon before moving into a mediocre apartment. The working class family experiences many hard knocks, including the accidental death of one of the children, loss of employment, and tensions that threaten to erode their marriage. Exquisitely filmed and acted, capturing the realistic trials and tribulations of the human odyssey of life.
D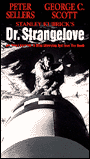 Dr. Strangelove or: How I Learned To Stop Worrying and Love the Bomb (1964)
Starring: Peter Sellers, George C. Scott, Sterling Hayden, Slim Pickens
Director: Stanley Kubrick

In Kubrick's satire, fears come true when a psychotic general starts an all-out nuclear war.
Kubrick's classic, cynical Cold War, satirical black comedy, with scathing humor and timeless performances, based on the novel Red Alert by Peter George and a script by Terry Southern. A crazed, psychotic US general Jack D. Ripper (Hayden), paranoid about his own potency and commies, sparks a nuclear crisis with a pre-emptive strike against "the Commies." The American President Muffley (Sellers in one of three roles) must deal with gung ho military brass Gen. Buck Turgidson (Scott), bureaucratic bumbling, a drunken Soviet Premier and a twisted, black-gloved German rocket scientist, Dr. Strangelove himself (Sellers again). Ends with the memorable bucking broncho image of Major Kong (Pickens) riding the fatal bomb. Academy Award Nominations: 4, including Best Picture, Best Actor--Peter Sellers, Best Director, Best Adapted Screenplay.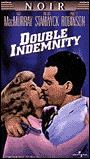 Double Indemnity (1944)
Starring: Fred MacMurray, Barbara Stanwyck, Edward G. Robinson
Director: Billy Wilder

One of Billy Wilder's finest works, this classic noir stars Fred MacMurray and Barbara Stanwyck as co-conspirators in marital murder.
One of the greatest movies of all time with an electric, snappy, hard-boiled script written by Wilder and Raymond Chandler, based on the novel by James M. Cain. A classic, brooding film noir, told in flashback, about an adulterous, duplicitous couple, a calculating insurance salesman (MacMurray) and a scheming, irresistible, long-legged blonde femme fatale (Stanwyck), who commit the murder of her wealthy husband in a larcenous, fraudulent attempt to collect on an insurance policy that pays double for accidental death. Unfortunately, the double-crossing, cold-hearted protagonists are doggedly and persistently pursued by a suspicious, formidable insurance investigator (Robinson). Academy Award Nominations: 7, including Best Picture, Best Actress--Barbara Stanwyck, Best Director, Best Adapted Screenplay, Best B/W Cinematography.