100 Greatest Films
(of the 20th Century)

Summaries - Part 7
(Links to Comprehensive Film Reviews)

Selection Criteria
S (continued)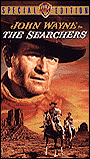 The Searchers (1956)
Starring: John Wayne, Jeffrey Hunter, Natalie Wood, Ward Bond, Henry Brandon, Vera Miles
Director: John Ford

This complex Western, John Ford's 1956 favorite, features the Duke in Indian territory on the hunt for his missing niece (Natalie Wood).
A complex, epic, 'psychological' Western story about a man's obsessive five year quest for revenge, set in post-Civil War America. Based on the novel by Alan Le May. This film is unquestionably Ford's finest, beautifully filmed in his most popular locale, Monument Valley. Raiding Comanche Indians, in retaliation, massacre a frontier family and Chief Scar (Brandon) kidnaps the teenaged daughter Debbie (Wood). The embittered, racist, anti-hero brother Ethan Edwards (Wayne), a mysterious Civil War Confederate veteran, engages on a journey to pursue his niece - to kill the Chief who abducted her AND to kill his corrupted, tainted, disgraced niece to 'save' her from her savage captors. During their extensive, perilous, grim search, conveyed by a series of flashbacks, he is accompanied by half-breed adopted nephew Martin Pawley (Hunter), who is equally determined to save the girl. This exceptional film was not nominated for Academy Awards.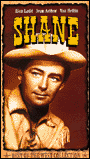 Shane (1953)
Starring: Alan Ladd, Jean Arthur, Jack Palance, Van Heflin, Emile Meyer, Ben Johnson, Brandon de Wilde
Director: George Stevens

A great cast (Alan Ladd, Jack Palance) anchors George Stevens' 1953 Western about a lone gunman defending a pioneer family.
A classic adult Western based on the novel by Jack Schaefer, about a lone, handsome gunfighter Shane (Ladd), who drifts into a beautiful 19th century Wyoming valley. As a hired hand for the pioneer homesteading Starrett family, Marion (Arthur) and Joe (Heflin), Shane is goaded into valiantly defending them and other farmers from vicious threats made by ruthless cattle ranch baron Ryker (Meyer), and hired, black-outfitted gunslinger Wilson (Palance). The family's young son Joey (de Wilde) worships the heroics and bravery of Shane, and is heartbroken when the nomadic loner rides off at the film's conclusion. Academy Award Nominations: 6, including Best Picture, Best Director, Best Supporting Actor--Brandon de Wilde, Best Supporting Actor--Jack Palance, Best Screenplay. Academy Awards: 1, Best Color Cinematography.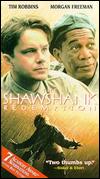 The Shawshank Redemption (1994)
Starring: Tim Robbins, Morgan Freeman, Bob Gunton
Director: Frank Darabont

This life-affirming Stephen King adaptation stars Tim Robbins and Morgan Freeman as two jailed prisoners who strike up a friendship.
An uplifting, engrossing, life-affirming drama/prison tale about the relationship between two jailed prisoners, adapted from a Stephen King novella titled "Rita Hayworth and Shawshank Redemption." Wrongly imprisoned for life in the Shawshank State Prison in the mid 1940s for murdering his adulterous wife and her lover, innocent banker Andy Dufresne (Robbins) meets another dignified lifer Red (Freeman) known for procuring contraband. The evil, Bible-pounding Warden Norton (Gunton) uses Andy's financial background to cover his nefarious activities, and Red obtains a geological rock hammer and pinup of Rita Hayworth at Andy's request. The passage of time over two decades is conveyed by the pin-ups on Andy's cell wall, which change from Hayworth to Marilyn Monroe, and then to Raquel Welch. Serving as an inspiration to the other convicts, Andy yearns for freedom and patiently plans for it. Academy Award Nominations: 7, including Best Picture, Best Actor--Morgan Freeman, Best Adapted Screenplay, Best Cinematography, Best Sound, Best Original Score, Best Film Editing.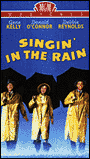 Singin' In The Rain (1952)
Starring: Gene Kelly, Donald O'Connor, Debbie Reynolds, Jean Hagen, Cyd Charisse
Directors: Gene Kelly, Stanley Donen

The inimitable Gene Kelly directs and stars in one of the most beloved musicals of the fifties, opposite Jean Hagen and Debbie Reynolds.
One of the all-time best Hollywood musicals that spoofs and satirizes the transitional chaos surrounding the end of the silent film era and the dawn of the 'talkies.' Vaudeville, silent film actor/dancer Don Lockwood (Kelly) and co-star actress Lina Lamont (Hagen) are at the height of box-office popularity, but with the advent of sound, shrill-voiced Lina's first talkie The Duelling Cavalier with swashbuckling Lockwood is laughable before studio preview audiences. His aspiring ingenue girlfriend Kathy Selden (Reynolds) is recruited to rescue their first film - remade as a musical re-titled The Dancing Cavalier, with Kathy secretly dubbing over Lina's voice. The voice-dubbing deception is ultimately exposed, and love blossoms. With marvelous musical numbers including the title song "Singin' in the Rain," and "You Were Meant for Me," "Make 'Em Laugh," "Broadway Melody," and "All I Do Is Dream of You." Academy Award Nominations: 2, including Best Supporting Actress--Jean Hagen, Best Musical Score.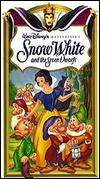 Snow White And The Seven Dwarfs (1937)
Starring: Voices of Harry Stockwell, Lucille La Verne, Adriana Caselotti
Director: David Hand, Perce Pearce

Disney's first full-length animated masterpiece is a classic fairy tale that won hearts (and an Oscar) in 1937.
Disney's first full-length, commercially-successful animated masterpiece, a classic, adapted Brothers Grimm fairy tale with a vain, evil Wicked Queen (La Verne), the Queen's beautiful step-daughter Snow White (Caselotti), seven gold-mining dwarfs (Bashful, Sneezy, Sleepy, Happy, Grumpy, Dopey and Doc) who whistle to and from work at the diamond mines - and a Prince Charming (Stockwell). After the Queen is told by her magic mirror that Snow White is "the fairest of them all," she orders the innocent maiden murdered, but she is released by the Huntsman, and finds refuge in the home of seven dwarfs. The jealous Queen takes a potion to disguise herself as an old hag and offers the sweet girl a poisoned red apple. Snow White is awakened from a deep sleep by the kiss of a young prince. With memorable songs, including "Heigh Ho," "Whistle While You Work," and "Someday My Prince Will Come." Academy Award Nominations: 1, Best Score. Recipient of Special Award.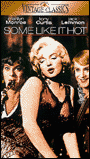 Some Like It Hot (1959)
Starring: Marilyn Monroe, Tony Curtis, Jack Lemmon, Joe E. Brown, George Raft
Director: Billy Wilder

Billy Wilder directs Marilyn Monroe, Tony Curtis, and Jack Lemmon in this wonderfully satirical 1959 work about two jazz musicians on the lam.
Wilder's wonderfully-satirical, funny comedy. Two unemployed, 20's era Chicago jazz musicians, Joe (Curtis) and Jerry (Lemmon) accidentally witness the St. Valentine's Day Massacre, and must flee from gangsters. They masquerade as women - Jo-sephine and Daphne - and join Sweet Sue's all-girl band with luscious, voluptuous singer Sugar Kowalczyk (Monroe) heading for Florida to elude the pursuit of retaliatory bootleggers. Joe also disguises himself as a wealthy, impotent, Cary Grant-like yacht owner to attract the loving attention of fellow band member Sugar, while Daphne (impressed with his own new sexy image) distracts the real millionaire - a smitten, oft-wed Osgood Fielding III (Brown). The Chicago hitmen, with dime-flipping, spats-wearing ringleader Spats Columbo (Raft) arrive at the Florida hotel for a convention, disrupting their gender-bending escapades. With the greatest fade-out line in film history: "Nobody's perfect." Academy Award Nominations: 6, including Best Actor--Jack Lemmon, Best Director, Best Screenplay. Academy Awards: 1, Best B/W Costume Design.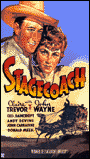 Stagecoach (1939)
Starring: John Wayne, Claire Trevor, Thomas Mitchell, George Bancroft, John Carradine, Andy Devine, Donald Meek, Berton Churchill, Louise Platt
Director: John Ford

Amazing stuntwork and great turns by John Wayne and Thomas Mitchell drive John Ford's genre-defining high-stakes 1939 Western.
One of John Ford's earliest, genre-defining films, the first with John Wayne, who became a major star as a result. A classic Hollywood Western about a perilous Overland stagecoach journey from Tonto through hostile Indian territory to Lordsburg with a varied, tense group of six passengers: a good-hearted but banished prostitute (Trevor), a timid whiskey salesman (Meek), a Southern gentleman gambler (Carradine), an alcoholic doctor (Mitchell), a pompous, embezzling banker (Churchill), and a pregnant 'lady' (Platt) - the wife of a soldier, plus a sheriff (Bancroft) and a stage coach driver (Devine). Along the way, Ringo Kid (Wayne) holds up the stage and joins the trip - he's an escaped convict seeking revenge for the murder of his brother and father. An exciting Indian attack by Geronimo's marauders and chase across Monument Valley, with amazing stunt action, provide part of the film's stirring climax. The shunned prostitute finds romantic happiness with the respectful outlaw. Academy Award Nominations: 7, including Best Picture, Best Director, Best B/W Cinematography. Academy Awards: 2, including Best Supporting Actor--Thomas Mitchell, Best Score.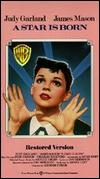 A Star Is Born (1954)
Starring: Judy Garland, James Mason
Director: George Cukor

George Cukor's classic tearjerker stars Judy Garland as a young singer whose marriage to an alcoholic film star ends in tragedy.
A classic tearjerker, the first re-make of William Wellman's non-musical, classic 1937 film starring Janet Gaynor and Fredric March. Young aspiring star Esther Blodgett's (Garland) singing career is launched in Hollywood -as Vicki Lester, by a fading, alcoholic film star Norman Maine (Mason) whose popularity is on the decline. Their marriage is tested by the tragic consequences of his personal disintegration and loss of fame, especially in the Oscars ceremony scene. His stunning suicidal demise is inevitable, but duly honored by his wife onstage when she introduces herself as Mrs. Norman Maine. Includes Garland's memorable songs: "The Man That Got Away" and "Born In a Trunk." Academy Award Nominations: 6, including Best Actor--James Mason, Best Actress--Judy Garland, Best Song, Best Musical Score.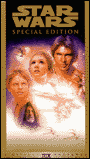 Star Wars (1977) (tie)
Starring: Harrison Ford, Mark Hamill, James Earl Jones, Alec Guinness, Carrie Fisher, Peter Cushing
Director: George Lucas

The first entry in George Lucas' much-heralded fantastical space trilogy broke big technological ground as well as box-office records.
The first of a trilogy of fantasy films by writer/director George Lucas, and one of the most financially-successful films of all time, with amazing technological effects. A sci-fi adventure saga "in a galaxy far, far away", quasi-Western film, about a galactic battle between good (the rebel forces) and evil (the Imperial Galactic Empire). The characters are proto-typical: a young farmboy hero Luke Skywalker (Hamill) on a desert planet, a villainous, black-garbed sinister Lord Darth Vader (voice of Jones) - an aide to the leader of the Empire Grand Moff Tarkin (Cushing), a wise Jedi knight Obi-Wan Kenobi (Guinness), a daring starship pilot (Ford), a captured rebel Princess Leia Organa (Fisher), a furry Wookie and two robotic droids. With two sequels, The Empire Strikes Back and Return of the Jedi. Academy Award Nominations: 10, including Best Picture, Best Supporting Actor--Alec Guinness, Best Director, and Best Screenplay. Academy Awards: 6, including Best Sound, Best Original Score, Best Film Editing, Best Costume Design, Best Art Direction/Set Decoration, Best Visual Effects. A Special Achievement Award for "creation of the alien, creature, and robot voices."
A Streetcar Named Desire (1951)
Starring: Marlon Brando, Vivien Leigh, Kim Hunter, Karl Malden
Director: Elia Kazan

Marlon Brando's portrayal of a brute in Elia Kazan's intense adaptation of the Tennessee Williams play is the stuff of movie legend.
The powerful, frank dramatic adaptation of Tennessee Williams' Pulitzer Prize-winning play, based upon Oscar Saul's adaptation. The story of two sisters: a neurotic, sensitive southern belle Blanche DuBois (Leigh) who visits and remains with her sister (Hunter) and her animalistic, earthy and vulgar brother-in-law Stanley Kowalski (Brando) in a down-and-out New Orleans project in the French Quarter. Mitch (Malden), one of Stanley's buddies takes an interest in Blanche until Stanley strips and ultimately reveals the secrets of her embarrassing, lurid past. After being 'raped' by Stanley in a heavily-censored and edited sequence, the vestiges of her shattered self are led away to a mental institution. Academy Award Nominations: 12, including Best Picture, Best Actor--Marlon Brando, Best Director, Best Screenplay, Best B/W Cinematography. Academy Awards: 4, including Best Actress--Vivien Leigh, Best Supporting Actor--Karl Malden, and Best Supporting Actress--Kim Hunter.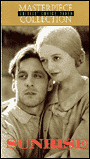 Sunrise (1927)
Starring: George O'Brien, Janet Gaynor, Margaret Livingston
Director: F. W. Murnau

In F. W. Murnau's American debut, this silent movie with roots in German Expressionism, a deadly love triangle is raised to the level of art.
An artistic, poignant, brilliantly-filmed, expressionistic, landmark silent regarding a love triangle. A farmer (O'Brien) falls for the allure of a vampish seductress (Livingston) from the City, tempted by her under the moonlight in a swamp. He devises a murderous plan to kill his pure, innocent wife (Gaynor) - by drowning her during a trip to the City. At the moment of attempted murder in the rowboat, he realizes his love for his wife and can't complete the act. In the City (of the Jazz Age), the couple makes up and he wins her back - but on the way home, a storm looms up and takes her from him -a seemingly-just punishment from Fate itself. Academy Award Nominations: 4, including Best Interior Decoration. Academy Awards: Unique and Artistic Picture (a second 'Best Picture' Award), Best Actress--Janet Gaynor, and Best Cinematography.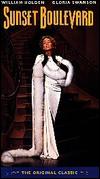 Sunset Boulevard (1950)
Starring: William Holden, Gloria Swanson, Erich von Stroheim, Nancy Olson, Jack Webb
Director: Billy Wilder

Billy Wilder's dark 1950 comedy features Gloria Swanson as an aging film queen and William Holden as her suitor.
Wilder's witty black comedy regarding a famed silent film star who refuses to accept the end of her stardom. Opens with a shocking flashback narrated in voice-over by a dead corpse - a victim floating face-down in a Sunset Boulevard mansion's swimming pool. Aspiring, debt-ridden screenwriter Joe Gillis (Holden) hides from creditors while hired to write a script for faded film queen Norma Desmond's (Swanson) impending comeback. He takes advantage, encouraging her false hopes and moving in as her gigolo. The once-great star lives in a secluded estate with butler/chauffeur Max (von Stroheim). The ambivalent, 'kept man' scriptwriter balances his exploitative dependence upon the film star with romantic attention toward young script-reader Betty Schaefer (Olson), creating a lethal situation. The perverse, cynical film references Swanson's actual career, with excerpts from one of her unfinished films (Queen Kelly, directed by von Stroheim) and cameos by other forgotten silent film stars (e.g., Buster Keaton). Academy Award Nominations: 11, including Best Picture, Best Actor--William Holden, Best Actress--Gloria Swanson, Best Supporting Actor--Erich von Stroheim, Best Supporting Actress--Nancy Olson, Best Director. Academy Awards: 3, including Best Story and Screenplay.
T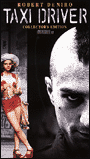 Taxi Driver (1976)
Starring: Robert De Niro, Jodie Foster, Cybill Shepherd, Harvey Keitel, Albert Brooks, Peter Boyle
Director: Martin Scorsese

Robert De Niro and Martin Scorsese make movie magic in the tale of a rage-filled New York cabbie bent on correcting the world's injustices.
One of Martin Scorsese's greatest films, about a violent, alienated, unfocused, psychotic NYC taxi driver fatalistically disturbed by the squalid, hellish urban underbelly of pimps, whores, winos, and junkies. Ex-Marine Travis Bickle (De Niro) works the night shift through Times Square in his cab, encountering nightmarish Gothic horrors, moral decay and lowlifes. Off hours during the day, he kills time by frequenting sleazy porno houses and eating junk food. His one feeble attempt at social and emotional contact - a date with a blonde political campaign worker Betsy (Shepherd) fails miserably when he takes her to a porn film. His fantasized one-man campaign/mission to clean up the streets focuses on saving a prepubescent child prostitute Iris (Foster). It ends with a failed political assassination attempt, and a rage-filled, pent-up blood-bath massacre, including the killing of Iris' pimp "Sport" (Harvey Keitel). In the aftermath, the repellent character emerges as a vindicated, folk savior-hero. Academy Award Nominations: 4, including Best Picture, Best Actor--Robert De Niro, Best Supporting Actress--Jodie Foster, Best Original Score (Bernard Herrmann).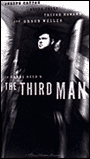 The Third Man (1949)
Starring: Joseph Cotten, Orson Welles, Alida Valli, Trevor Howard
Director: Carol Reed

Carol Reed's haunting 1949 mystery has too many iconic parts to mention plus a sardonic turn by Orson Welles as a man presumed dead.
A British film noir thriller adapted from Graham Greene's novella written to prepare the film's screenplay, then later published. It was set in corrupt and desperate post-WWII Vienna during the Cold War. With a haunting zither musical score and theme from Anton Karas. A pulp Western novelist Holly Martins (Cotten) assumes the role of an amateur sleuth as he looks for old friend Harry Lime (Welles) who has reportedly been killed in Vienna. He seeks to unravel the mystery of the presumed-dead friend with a probing search, and an infatuation with Lime's girlfriend Anna Schmidt (Valli). The first appearance of Lime is in a doorway, as a light suddenly illuminates his sardonic smile. Includes the dramatic scene atop a ferris wheel, a suspenseful manhunt - into the underground city sewers for the shadowy, marked man - a notorious black-market drug dealer who preys on the sick, and the famed ending of Anna's stoic shunning of Martins. Academy Award Nominations: 3, including Best Director. Academy Awards: 1, B/W Cinematography.