100 Greatest Films
(of the 20th Century)

Summaries - Part 8
(Links to Comprehensive Film Reviews)

Selection Criteria
T (continued)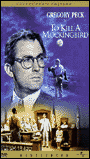 To Kill A Mockingbird (1962)
Starring: Gregory Peck, Mary Badham, Philip Alford, John Megna
Director: Robert Mulligan

Harper Lee's story is poignantly reimagined in this 1962 coming-of-age pic with a career-defining performance by Gregory Peck.
A poignant adaptation of Harper Lee's best-selling novel by screenwriter Horton Foote, set in small-town 1930s Alabama. Narrated by the adult voice of Kim Stanley, a coming-of-age, autobiographical story, seen from the perspective of a young southern girl Scout (Badham), the daughter of a widowed Southern lawyer Atticus Finch (Peck), whose innocence about racial bigotry and intolerance was changed forever. The Lincolnesque, compassionate attorney decides to assume the unpopular stance of defending a black man - Tom Robinson (Brock Peters), falsely accused of raping a 'white-trash' woman Mayella Violet Ewell (Collin Wilcox). The film compellingly weaves the children's nightmares, personified by the mute, mentally-retarded Boo Radley (Robert Duvall in his screen debut) with the prejudiced hatred of the bigoted townspeople, led by Mayella's poor redneck father Robert E. Lee (Bob) Ewell (James Anderson). Academy Award Nominations: 8, including Best Picture, Best Supporting Actress--Mary Badham, Best Director, Best B/W Cinematography. Academy Awards: Best Actor--Gregory Peck, Best Adapted Screenplay.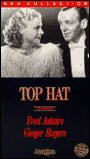 Top Hat (1935)
Starring: Fred Astaire, Ginger Rogers, Helen Broderick, Edward Everett Horton, Erik Rhodes, Eric Blore
Director: Mark Sandrich

Fred Astaire and Ginger Rogers are in fine form for this gem, mixing romantic comedy, endless dancing, and a superb Irving Berlin score.
One of the best classic dance/musicals with Fred Astaire and Ginger Rogers, their third film together from a total of nine. Includes dancing and singing of a superb Irving Berlin score, with "No Strings," "Isn't This a Lovely Day (To Be Caught in the Rain)?", "Top Hat, White Tie and Tails," and "Cheek to Cheek." A typical amalgum of romantic comedy, complicated mistaken identity, and stylish Art Deco surroundings in London and Venice. Dancer Jerry Travers (Astaire) experiences love at first sight and is amorously attentive toward the lovely high-society Dale Tremont (Rogers), but she mistakes him for her best friend Madge Hardwick's (Broderick) husband Horace (Horton). Academy Award Nominations: 4, including Best Picture, Best Song ("Cheek to Cheek"), Best Dance Direction.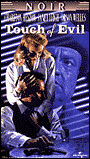 Touch Of Evil (1958)
Starring: Charlton Heston, Orson Welles, Janet Leigh, Marlene Dietrich, Joseph Calleia, Akim Tamiroff
Director: Orson Welles

Orson Welles' offbeat 1958 thriller follows a narcotics agent (Charlton Heston) out to take down a corrupt old cop (Welles).
An off-beat, twisted, dark and sweaty, film noirish thriller, with murder, police corruption, kidnapping, betrayal, perversion and more in a squalid Mexican-American border town. Opens with a daring, captivating single-take sequence, ending with the explosive, car-bomb murder of an American businessman on the American side of the border. A self-righteous narcotics agent 'Mike' Vargas (Heston) becomes snarled in the local investigation with a grotesque, police captain Hank Quinlan (Welles), ignoring his honeymooning bride Susan (Leigh) who is meanwhile being terrorized in an out-of-the-way motel by a menacing gang. The experienced, old-time cop Quinlan habitually fabricates evidence to convict the guilty (even though his instincts are usually correct) and frames a young Mexican for the murder, putting him into conflict with the narcotics detective. The corrupt, overweight police captain is finally brought down by Vargas' persistent, perilous efforts with the cooperation of Quinlan's long-time partner Sgt. Pete Menzies (Calleia). No Academy Award Nominations.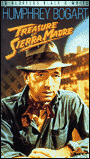 The Treasure of the Sierra Madre (1948)
Starring: Humphrey Bogart, Walter Huston, Tim Holt, Alfonso Bedoya
Director: John Huston

John Huston's 1948 adventure stars Humphrey Bogart as one of three gold prospectors undone by their own good fortune.
Director and screenwriter John Huston's classic adventure film about three American gold prospectors in the Mexican wilderness - a tale of lustful greed, treachery, paranoia and suspicion. The three ill-matched men include an innocent, honest young Curtin (Holt), a wise and experienced, fast-talking, grizzly, toothless old-timer Howard (Huston, the director's father), and Fred C. Dobbs (Bogart), a greedy, deranged, selfish bastard who distrusts everyone. Their gold booty strike and fortune breeds violence, threatening Mexican bandits led by Gold Hat (Bedoya), an end to their friendships, and the homicidal undoing of the avaricious Dobbs when he is killed for his boots and mule. Ends with an ironic climactic scene when the wind blows the gold dust away. Academy Award Nominations: 4, including Best Picture. Academy Awards: 3, including Best Supporting Actor--Walter Huston, Best Director, Best Screenplay.

Trouble in Paradise (1932)
Starring: Herbert Marshall, Miriam Hopkins, Kay Francis
Director: Ernst Lubitsch

An exquisite, bubbly work by Ernst Lubitsch, this good-natured 1932 comedy follows a pair of con artists en route to romance.
Another exquisite, sophisticated, sparkling romantic comedy from Lubitsch. Two masquerading con artists Gaston Monescu/La Valle (Marshall) and Lily Vautier (Hopkins) specialize in jewel theft. The pair of crooks pose as nobility to practice their deceptive occupation among the gullible, upper-class elite of European society from Venice to Paris. They scheme to rob a rich, sleek widow Mariette Colet (Francis) in Paris, posing as her secretary and maid, but romantic complications ensue. By the time the subtle, wry film ends, they realize their romantic and amoral affinity for each other. No Academy Award nominations.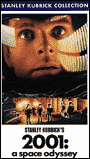 2001: A Space Odyssey (1968)
Starring: Keir Dullea, Gary Lockwood, HAL 9000
Director: Stanley Kubrick

Stanley Kubrick's hypnotic, thought-provoking mind bender was revolutionary in 1968 and has been a sci-fi staple ever since.
Kubrick's metaphoric, thought-provoking, grandiose, science-fiction landmark film, with space travel to Jupiter, the mysterious appearance of enigmatic monoliths, and the presence of the film's major protagonist - an omniscient super-computer. A three-act, visionary, visually dazzling, wide-screen masterpiece, with mind-blowing special effects. The first monolith appears to prehistoric ape-men, awakening them to the use of tools as killing weapons. Further monoliths on the Moon and floating in space somewhere near Jupiter, seem to coax humankind to make evolutionary leaps and transcend bodily and technological limits. A team of robotic-like astronauts Bowman (Dullea) and Poole (Lockwood), during a voyage to Jupiter to investigate a radio transmission, are terrorized by the arrogant, humanistic, on-board computer HAL 9000 (voice of Douglas Rain). With the mission aborted and following a psychedelic light-show, Bowman is reborn within an embryonic divine life form that floats in space. Academy Award Nominations: 4, including Best Director, Best Story and Screenplay. Academy Awards: 1, Best Special Visual Effects.
U
V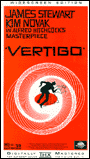 Vertigo (1958)
Starring: James Stewart, Kim Novak, Barbara Bel Geddes, Tom Helmore
Director: Alfred Hitchcock

James Stewart stars as the acrophobic detective at the heart of this 1958 tale of obsession also from the Hitchock canon.
Arguably Hitchcock's most complex, most analyzed, compelling masterpiece, involving a man's compulsive obsession to exploitatively manipulate and transform a woman to match his fantasy. Vertigo-suffering, acrophobic detective John 'Scottie' Ferguson (Stewart) trails an old college friend Gavin Elster's (Helmore) wife as she wanders around San Francisco - a cool, blonde named Madeleine (Novak). Meanwhile, Scottie's friend 'Midge' Wood (Bel Geddes) expresses unrequited love for him. Madeleine's obsession with a tragic ancestor Carlotta Valdez intrigues Scottie, and after saving her from a suicidal jump into the Bay, he falls in love with her. When she falls to her death from a tower in an assumed suicide, he spirals down into a deep depression. Haunted and obsessed with the dead woman, he meets her lower-class double Judy (Novak again) and manipulates her into changing into the dead Madeleine's image - with mad consequences in the uncompromising conclusion. Academy Award Nominations: 2, including Best Art Direction/Set Decoration, Best Sound.
W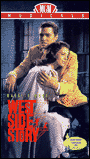 West Side Story (1961)
Starring: Natalie Wood, Richard Beymer, Rita Moreno, Russ Tamblyn, George Chakiris
Director: Robert Wise, Jerome Robbins

Star-crossed love gets the spotlight via Natalie Wood, Richard Beymer, and music by Leonard Bernstein and Stephen Sondheim.
An energetically-choreographed musical that is loosely based on Shakespeare's tale of ill-fated lovers, Romeo and Juliet. A landmark, highly-honored, ground-breaking Broadway musical transposed to the big screen and set on location in 1950s New York on the Upper West Side. With a memorable musical score from Leonard Bernstein and lyrics by Stephen Sondheim. Includes such popular songs as "The Jet Song," "America," "Cool," "I Feel Pretty," "Something's Coming," "Tonight," "One Hand, One Heart," and "Maria." Two rival teenaged gangs, the Puerto Rican Sharks, led by Bernardo (Chakiris) and the white Jets, led by Riff (Tamblyn) rumble with each other for turf on the sidewalks and streets of the city. Two young people on opposing sides, Polish Jet member Tony (Beymer) and Bernardo's sister Maria (Wood) become 'star-crossed' lovers. His attempts at peace-making during a rumble accidentally lead to the deaths of both gang leaders and further tragic circumstances in a tear-stained scene set on an outdoor basketball court. Academy Award Nominations: 11, including Best Adapted Screenplay. Academy Awards: 10, including Best Picture, Best Supporting Actor--George Chakiris, Best Supporting Actress--Rita Moreno, Best Director, Best Sound, Best Musical Score.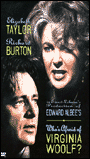 Who's Afraid of Virginia Woolf? (1966)
Starring: Elizabeth Taylor, Richard Burton, George Segal, Sandy Dennis
Director: Mike Nichols

Mike Nichols' directorial debut stars Elizabeth Taylor and Richard Burton as the acerbic love-hate pair who dominate the story.
Nichols' debut film as director - of an adaptation of Edward Albee's scathing, dark, and vitriolic play - with a bold use of expletives. Real-life married couple Richard Burton and Elizabeth Taylor portray a dysfunctional couple's abusive, sado-masochistic, deteriorating marriage - as a weary, tortured, disillusioned academic professor George and his frumpy, alcoholic, foul-mouthed, seductive and abrasive wife Martha. The two invite a young teacher Nick (Segal) and his mousy wife Honey (Dennis) to their home for a bitter and relentless evening of brutal, acerbic, verbal games that increase the hateful intensity of their mismatched, love-hate relationship. Academy Award Nominations: 13, including Best Picture, Best Actor--Richard Burton, Best Supporting Actor--George Segal, Best Director. Academy Awards: 5, including Best Actress--Elizabeth Taylor, Best Supporting Actress--Sandy Dennis.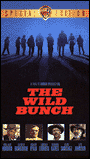 The Wild Bunch (1969)
Starring: William Holden, Ernest Borgnine, Warren Oates, Ben Johnson, Robert Ryan, Emilio Fernandez
Director: Sam Peckinpah

This controversial 1969 Western was one of the most brutal of its day with plenty of stomach-turning violence courtesy of Sam Peckinpah.
A controversial, brutally-violent, late 60s Western about the demise of a desperate, small gang of aging outlaws in the early 1900s that still clings to codes of honor, loyalty, and courage. Pike Bishop (Holden), leader of the 'wild bunch,' is hired for their final job. In the stunning opening sequence, the gang - disguised as US Cavalry soldiers, ride into a Texas town and rob the railway office's bank. The boss of the railroad hires a mercenary, bounty-hunting posse, led by Pike's former buddy Deke Thornton (Ryan) to pursue them, as the gang flees into Mexico, during the revolution of 1914. They are double-crossed by an anti-revolutionary dictator/Generalissimo Mapache (Fernandez) after the hijacking of weapons from a US ammunitions train. Attempting to redeem themselves by opposing an entire corrupt Mexican platoon, they are massacred in the famous, ultra-violent, slow-motion, colorful bloodbath finale. Academy Award Nominations: 2, including Best Story and Screenplay, Best Original Score.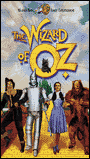 The Wizard of Oz (1939)
Starring: Judy Garland, Ray Bolger, Jack Haley, Bert Lahr, Margaret Hamilton, Frank Morgan, Billie Burke
Director: Victor Fleming

Victor Fleming's timeless 1939 musical boasts some of the most loved songs in movie history as well as a star turn by Judy Garland.
The ultimate fantasy, the perennial musical adventure film based on L. Frank Baum's 1900 book. With most characters playing dual roles, both in Kansas and in Oz. Kansas farm girl Dorothy (Garland) and her dog Toto are transported from her home by a whirling tornado to the magical, Technicolor Land of Oz, where she encounters little people Munchkins, Glinda (Burke) - the Good Witch of the North, a Yellow Brick Road, a brainless, talking Scarecrow (Bolger), a heartless Tin Woodsman (Haley), a Cowardly Lion (Lahr), the Wicked Witch of the West (Hamilton) and a marvelously deceitful Wizard (Morgan) of Emerald City. Her wishes to return home ("There's no place like home") are granted after she outwits and vanquishes the Witch. Includes marvelous songs: "Over the Rainbow," "Ding Dong, The Witch is Dead," and "If I Only Had a Brain." Academy Award Nominations: 6, including Best Picture, Best Color Cinematography, Best Special Effects. Academy Awards: 2, including Best Song ("Over the Rainbow"), Best Original Score.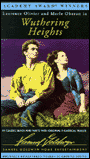 Wuthering Heights (1939)
Starring: Merle Oberon, Laurence Olivier, David Niven, Geraldine Fitzgerald
Director: William Wyler

Laurence Olivier brings Emily Bronte's Heathcliff to life in this brooding 1939 adaptation of the famous love story set on the moors.
The greatest melodramatic, brooding screen adaptation of Emily Bronte's 1847 romantic Victorian novel of doomed lovers with inseparable spirits, set on the windy Yorkshire moors of pre-Victorian England. Orphaned gypsy Heathcliff (Olivier) is adopted by Mr. Earnshaw on the streets of London and brought home to be the stable boy, where he falls in love with the young daughter Cathy (Oberon). Their love is thwarted and abandoned when Cathy marries a wealthy, refined neighbor Edgar Linton (Niven). After leaving for America, the financially-successful but dark and troubled Heathcliff returns years later and seeks revenge by marrying and mistreating Edgar's sister Isabella (Fitzgerald). The long-hindered, passionate love of Cathy and Heathcliff emerges in death. Academy Award Nominations: 8, including Best Picture, Best Actor--Laurence Olivier, Best Supporting Actress--Geraldine Fitzgerald, Best Director, Best Screenplay. Academy Awards: 1, B/W Cinematography--Gregg Toland.
Y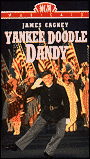 Yankee Doodle Dandy (1942)
Starring: James Cagney, Joan Leslie, Walter Huston, Rosemary DeCamp
Director: Michael Curtiz

James Cagney and Walter Huston star in this 1942 flag-waving musical biography of legendary composer George M. Cohan.
The rousing, morale-boosting, flag-waving musical biography of legendary American composer/song-writer and entertainer George M. Cohan. Includes his memorable tunes "Over There," "You're a Grand Old Flag," "Give My Regards to Broadway," and the film's rousing title number. The film, presented in flashback, follows the vaudevillian Cohan family, led by father Cohan (Huston) and mother (DeCamp) from its early days, with the energetic Irishman Cohan (Cagney) as the triumphant song-and-dance man, and his marriage to Mary (Leslie). A White House visit with FDR salutes his career, when he wins the Congressional Medal of Honor and subsequently dances down the White House staircase. Academy Award Nominations: 8, including Best Picture, Best Supporting Actor--Walter Huston, Best Director. Academy Awards: 3, including Best Actor--James Cagney, Best Sound, Best Musical Score.