Another 100 Greatest Films
(of the 20th Century)
Summaries - Part 8
(Links to Comprehensive Film Reviews)

Selection Criteria
S (continued)

Sweet Smell of Success (1957)
Starring: Burt Lancaster, Tony Curtis, Susan Harrison, Martin Milner, Emile Meyer
Director: Alexander MacKendrick
A caustic, dark film noir based on the short story by Ernest Lehman titled Tell Me About It Tomorrow, and filmed on location in NYC. MacKendrick's debut American film. Opportunistic, vicious, hustling, slimy press agent Sidney Falco (Curtis) provides publicity for showbiz clients, hoping for exposure in the syndicated columns. Ruthless, sadistic, monstrously-manipulative newspaper columnist J. J. Hunsecker (Lancaster) unscrupulously plots with Falco to disrupt and destroy the romantic relationship of his younger sister Susan Hunsecker (Harrison) with a jazz musician Steve Dallas (Milner). Unethical and immoral but desperate to please Hunsecker, Falco smears Dallas as a drug addict and Communist by planting evidence, but causes Susan to become suicidal. Ultimately vengeful, she walks out on her 'incestuous' and obsessed, overprotective brother, while a raging Hunsecker has Falco beaten up. No Academy Award nominations.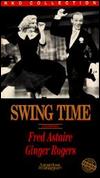 Swing Time (1936)
Starring: Fred Astaire, Ginger Rogers, Betty Furness, Landers Stevens
Director: George Stevens
Another of the greatest Astaire-Rogers dance musicals, their sixth film together, with lyrics and music by Jerome Kern and Dorothy Fields. Hoofer/gambler "Lucky" Garnett (Astaire) is late to his marriage to hometown socialite Margaret Watson (Furness). Her father Judge Watson (Stevens) challenges his prospective son-in-law to return only after earning a fortune of $25,000 in the big city. In a local dance studio, Lucky falls in love with instructor Penny Carrol (Rogers). After many romantic misunderstandings, complications and difficulties in the contrived plot, he finds his real life's partner. Songs and dances include: "Pick Yourself Up," "The Way You Look Tonight," "Waltz in Swing Time," "A Fine Romance," "Bojangles of Harlem" (Astaire's only blackface number in a tribute to Bill Robinson), and the lengthy, romantic dance duet "Never Gonna Dance" in the finale. Academy Award Nominations: 2, including Best Dance Direction. Academy Awards: 1, Best Song ("The Way You Look Tonight").
T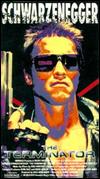 The Terminator (1984)
Starring: Arnold Schwarzenegger, Michael Biehn, Linda Hamilton
Director: James Cameron
A stylish, action-packed, low budget, beautifully-paced science-fiction film. Kyle Reece (Biehn), a hunted, fugitive, freedom-fighting soldier-hero from the post-apocalyptic, wasteland future of 2029 Los Angeles, where a race of machine-like cyborgs rule the Earth and exterminate human beings, volunteers to return to present-day 1984 Los Angeles. In pursuit through time travel is an invulnerable, ruthless, assassin-terminator cyborg (Schwarzenegger), sent to kill the innocent young woman Sarah Connor (Hamilton) destined to bear a son - John Connor - who will eventually become a liberator and lead the revolt against the evil machines to prevent the world from being annihilated. Rebel soldier Kyle's mission is to protect her, explain her destiny and the reason for the Terminator's stalking - as he falls in love with her. No Academy Award nominations.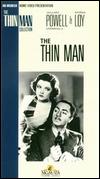 The Thin Man (1934)
Starring: William Powell, Myrna Loy, Maureen O'Sullivan, Edward Ellis
Director: W.S. Van Dyke
The first in a series of six charming and sophisticated who-dun-it "Thin Man" films (between 1934 and 1947), teaming William Powell and Myrna Loy as a witty, mystery-solving, sleuthing couple - with delightfully-affectionate, rapid-fire banter and chemistry between the pair, and a wire-haired terrier named Asta. Based on Dashiell Hammett's 1932 novel. Retired and soused detective Nick Charles (Powell), now married to wealthy heiress Nora (Loy), is commissioned by Dorothy Wynant (O'Sullivan) to investigate the mysterious disappearance of her inventor father (Ellis) - the "thin man" of the film's title. Followed by the sequel, After the Thin Man (1936). Academy Award Nominations: 4, including Best Picture, Best Director, Best Actor--William Powell and Best Adapted Screenplay.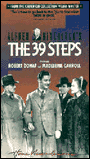 The 39 Steps (1935)
Starring: Madeleine Carroll, Robert Donat, Wylie Watson, Lucie Mannheim, Godfrey Tearle, Peggy Ashcroft, John Laurie
Director: Alfred Hitchcock
One of Hitchcock's most entertaining, suspenseful British romantic/spy-mystery thrillers. In 1930s London during a Palladium performance featuring Mr. Memory (Watson), innocent vacationing Canadian tourist Richard Hannay (Donat) is thrown into the arms of a mysterious secret agent Annabella Smith (Mannheim) who later informs him that she is being pursued by a spy ring (led by a criminal mastermind later revealed as Prof. Jordan (Tearle) with a half little finger) and agents code-named "the 39 steps" - Hitchcock's MacGuffin. In his rented flat, the woman is murdered and Hannay becomes the prime suspect. He flees to Scotland with the police (and agents) on his trail to locate the spies and clear his name, and meets lovely cool blonde Pamela (Carroll) on a train. His journey includes an overnight stay in a crofter's cottage where the couple suffer an unhappy marriage (Laurie and Ashcroft), a spontaneous improvised lecture in a political meeting, and handcuffing to a resentful, antagonistic Pamela. The mystery is finally solved with a return to the London Palladium where it is discovered that memory expert Mr. Memory is part of the spy organization that plans to smuggle valuable military secrets out of the country for sale to an unknown enemy. No Academy Award nominations.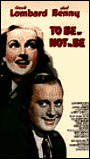 To Be or Not to Be (1942)
Starring: Jack Benny, Carole Lombard, Robert Stack, Stanley Ridges, Sig Ruman
Director: Ernst Lubitsch
A satirical, black comedy masterpiece set in occupied wartime Poland, controversial in its time for providing serious social commentary on the Nazi regime. Trapped in Warsaw, vain Joseph Tura (Benny), the lead Polish actor in a theatre troupe and his flighty actress wife Maria (Lombard in her last role before her tragic death in an airplane crash) star in a production of Shakespeare's Hamlet after their anti-Nazi play Gestapo has been censored and shut down. To outwit the occupying Nazis in the war effort after the Nazi invasion and occupation of Poland, the actors become engaged in a complex plot to help the Resistance Underground by having Tura first impersonate Nazi Colonel "Concentration Camp" Ehrhardt (Rumann) and then traitorous Nazi spy Prof. Alexander Siletsky (Ridges). One of the young fugitive pilots who requires protection, Lt. Stanislav Sobinski (Stack), is in the midst of a platonic, idolizing affair with Maria. In a continuing joke, Joseph cues the surreptitious lovers each night when he begins Hamlet's famous soliloquy "To be or not to be" and Sobinski noisily departs the theater's second row for a chaste tryst in her dressing room. Academy Award Nominations: 1, Best Comedy Score.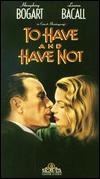 To Have and Have Not (1944)
Starring: Humphrey Bogart, Walter Brennan, Lauren Bacall, Walter Molnar, Dolores Moran
Director: Howard Hawks
Adapted from the 1937 novel by Ernest Hemingway, with a script by William Faulkner and Jules Furthman - often considered a sequel to Casablanca. Noted for being the film in which Bogart fell in love with much-younger Bacall. In Vichy-controlled Martinique in 1940 after the fall of France, American charter boat captain Harry 'Steve' Morgan (Bogart), with whiskey-soaked Eddie (Brennan) who continually asks "Was you ever bit by a dead bee?", hires his vessel for professional fishing excursions. Although jaded, Harry reluctantly agrees to become involved and aid the Free French Resistance movement by smuggling an underground leader Paul De Bursac (Molnar) and his wife Helene (Moran) off the island. Living in an upstairs apartment above a cafe where Cricket (Carmichael) plays the piano, Harry meets and falls in love with a sultry and seductive young woman Marie 'Slim' Browning (Bacall in her screen debut) - she teaches him how to whistle. No Academy Award nominations.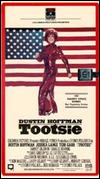 Tootsie (1982)
Starring: Dustin Hoffman, Jessica Lange, Teri Garr, Dabney Coleman, Sydney Pollack, Bill Murray, Charles Durning, George Gaynes
Director: Sydney Pollack
A modern-day, appealing classic Hollywood comedy with witty dialogue about a NYC actor who cross-dresses to find employment. Desperate out-of-work stage actor Michael Dorsey (Hoffman), often considered temperamental, can only find part-time jobs. When his girlfriend Sandy (Garr) is rejected for a role in a daytime TV soap opera directed by sexist Ron Carlysle (Coleman), Michael disguises himself as 'Dorothy Michaels' - a middle-aged feminist with padding, and wins the part. Soon, he becomes wildly popular in the hit show, but his life becomes even more soap operish. Complications arise with his insecure girlfriend, his nervous roommate Jeff (Murray), his exasperated agent George Fields (Pollack), lecherous fellow actor John Van Horn (Gaynes), his new love interest - co-star Julie Nichols (Lange), and her interested widowed father Les (Durning). Academy Award Nominations: 10, including Best Picture, Best Director, Best Actor--Dustin Hoffman, Best Supporting Actress--Teri Garr, Best Original Screenplay, Best Cinematography, Best Sound, Best Song ("It Might Be You"), Best Film Editing. Academy Awards: 1, Best Supporting Actress--Jessica Lange.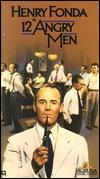 12 Angry Men (1957)
Starring: Henry Fonda, Lee J. Cobb, Martin Balsam, Ed Begley, E.G. Marshall, Jack Klugman, Jack Warden, John Savoca
Director: Sidney Lumet
Sidney Lumet's debut directorial film, a taut courtroom drama based on Reginald Rose's television play. In a hot summer courtroom in NYC, a teenaged Latino (Savoca) is on trial for murdering his father with a switchblade knife, and faces the electric chair if convicted. The twelve jurors assemble together to decide the fate of the minority defendant after being given instructions from the judge about 'innocent until proven guilty beyond a reasonable doubt.' In a seemingly open-and-shut case, the jurors rapidly vote for conviction, but one lone liberal dissenter, Juror # 8 (Fonda) holds out for innocence. In the sweaty, claustrophobic room, the tempers, prejudices and personalities of the cranky, smoking men are displayed as they examine the evidence and deliberate their verdict. Academy Award Nominations: 3, including Best Picture, Best Director, Best Adapted Screenplay.
U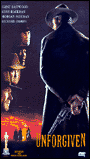 Unforgiven (1992)
Starring: Clint Eastwood, Gene Hackman, Morgan Freeman, Jaimz Woolvett
Director: Clint Eastwood
Actor/director Clint Eastwood's magnificent Western masterpiece. Circumstances force a retired, poor, notorious ex-bounty hunter William Munny (Eastwood), now a hog farmer, to resume his former occupation. In the 1880s frontier town of Big Whiskey, Wyoming, a prostitute's face has been brutally slashed by vicious cowboys, and her fellow co-workers have raised a $500 bounty. Joined by former sidekick partner Ned Logan (Freeman) and aspiring, cocky gunfighter 'The Schofield Kid' (Woolvett), they journey to the town to confront the corrupt, sadistic and autocratic Sheriff "Little Bill" Daggett (Hackman), who has denied justice to the brothel's women. In a deadly and bloody showdown, Munny's nihilistic past is graphically brought back. Academy Award Nominations: 9, including Best Actor--Clint Eastwood, Best Original Screenplay, Best Art Direction/Set Decoration, Best Cinematography, Best Sound. Academy Awards: 4, including Best Picture, Best Director, Best Supporting Actor--Gene Hackman, Best Film Editing.
V
W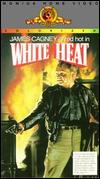 White Heat (1949)
Starring: James Cagney, Edmond O'Brien, Margaret Wycherly, Virginia Mayo, Steve Cochran
Director: Raoul Walsh
One of the most volatile, super-charged gangster-crime films ever made, about a psychopathic, homicidal, mother-devoted gangster. Tough-guy, eccentric Cody Jarrett (Cagney) leads a gang of train robbers, supported by the ministrations of his beloved Ma (Wycherly) and the love of wife Verna (Mayo) who is unfaithful with gang member Big Ed Somers (Cochran). When imprisoned and he learns of his mother's death, the mother-fixated Cody goes beserk. After an escape from prison during a riot, he is betrayed by an undercover agent/informant Vic Pardo/Hank Fallon (O'Brien) during the payroll robbery of an oil refinery. In the legendary finale, Jarrett is consumed in the flames of a holding tank explosion as he proclaims: "Made it Ma! Top of the world!" Academy Award Nominations: 1, Best Motion Picture Story.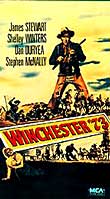 Winchester '73 (1950)
Starring: James Stewart, Shelley Winters, Dan Duryea, Stephen McNally, Millard Mitchell, Charles Drake, John McIntire, Will Geer, Jay C. Flippen, Rock Hudson
Director: Anthony Mann
Unique and classic, noirish black and white "psychological" western film based on a story by Stuart Lake - and the first of eight films (five westerns) pairing James Stewart with director Mann. Accompanied by his long-time sidekick friend High-Spade (Mitchell), an obsessed, hard-bitten, vindictive Lin McAdam (Stewart) participates in a Fourth of July shooting contest in Dodge City, Kansas and wins a prized, rare 1873 Winchester repeating rifle. Although he wins in the marksmanship duel conducted by Marshal Wyatt Earp (Geer), the rifle is soon stolen by his surly, runner-up opponent: outlaw 'Dutch' Henry Brown (McNally). The film follows the dogged, revenge-seeking search for the cursed weapon, the film's title character, as the gun passes through the hands of many new "owners'' and their stories are depicted. After being won in the contest, it passes first to the murderous outlaw who steals the gun, then to a disreputable and immoral Indian gun trader (McIntire), to a savage young Indian brave-chief (Rock Hudson!), briefly to a young cavalry officer (Tony Curtis!, billed as Anthony Curtis) and a cantankerous old Army Sergeant (Flippen), to a saloon girl's cowardly fiancee (Drake), to a crazed and psychotic killer, and then back to the outlaw before ending up in the hands of its rightful owner. Numerous plot storylines cross during the deadly chase after the stolen fabled rifle - including an encounter with murderous, sneering sociopathic-psychotic 'Waco' Johnny Dean (Duryea), and romance with young, golden-hearted frontier saloon-hall girl Lola Manners (Winters). The western concludes with a climactic shoot-out between Lin and 'Dutch' on a hilly rock cliffside - and the revelation that they are actually estranged brothers (and 'Dutch' - actually Matthew McAdam - had murdered their father by shooting him in the back). No Academy Award nominations.

Written on the Wind (1956)
Starring: Lauren Bacall, Rock Hudson, Robert Stack, Dorothy Malone, Robert Keith
Director: Douglas Sirk
A lush, psychosexual, trashy melodrama about wealth, greed and lust, acclaimed director Douglas Sirk's best film, about the decline and self-destructiveness of a rich Texas oil family. Adapted from Robert Wilder's novel. Told in flashback after an opening murder scene, weak Texas millionaire/oil man Kyle Hadley (Stack), the ne'er-do-well son of Texas dynasty magnate Jasper Hadley (Keith), marries beautiful executive secretary Lucy Moore (Bacall) after an insistent romance. But he becomes suspicious of his best friend Mitch Wayne (Hudson), a handsome, successful geologist, who has similar affections - but only platonic - for Lucy. Kyle's trampy, nymphomaniacal sister Marylee (Malone), who wants the unattainable Mitch, fuels Kyle's anxious jealousy, suspicions of his own sterility, and an habitual bout with a bottle by suggesting that Lucy is pregnant with Mitch's child. An unfortunate confrontation ensues, causing Lucy to have a miscarriage. Roaring drunk, gun-wielding Kyle threatens Mitch and ends up dead. An inquest is held to determine Mitch's guilt or innocence, with Marylee's testimony holding his life in the balance. Academy Award Nominations: 3, including Best Supporting Actor--Robert Stack, and Best Song ("Written on the Wind"). Academy Awards: 1, Best Supporting Actress--Dorothy Malone.