Another 100 Greatest Films
(of the 20th Century)
Summaries - Part 2
(Links to Comprehensive Film Reviews)

Selection Criteria
B (continued)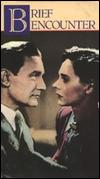 Brief Encounter (1946)
Starring: Celia Johnson, Trevor Howard
Director: David Lean
Based on a Noel Coward play - a poignant, restrained British melodramatic romance, about two married strangers, Dr. Alec Harvey (Howard) and housewife Laura Jesson (Johnson), who have a chance meeting one Thursday on the platform of a train station. Their casual friendship soon turns into a romantic relationship and they fall in love. The romanticism of the film is enhanced by Rachmaninoff's Piano Concerto No. 2 musical score. Academy Award Nominations: 3, including Best Director, Best Actress--Celia Johnson, Best Screenplay.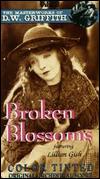 Broken Blossoms (1919)
Starring: Lillian Gish, Richard Barthelmess, Donald Crisp
Director: D.W. Griffith
An early silent film, a classic melodrama, poignantly effective in its almost barren simplicity, with evocative cinematography by Billy Bitzer. A poor Chinese immigrant (Barthelmess) and abused teenager (Gish) in London's squalid, foggy Limehouse district form a fragile bond in this touching, moving silent classic. The gentle, pacifistic Chinaman struggles to free the woman he loves - an abused waifish girl living in the poor East End district of London, from her violent, drunken, prize-fighting father (Crisp). Even when the Chinese man shelters and hides her by dressing her up in Oriental costumes, his desire to help her proves useless in the face of her father's continued brutality.

Butch Cassidy and the Sundance Kid (1969)
Starring: Robert Redford, Paul Newman, Katharine Ross
Director: George Roy Hill
One of the most-popular, appealing, beguilingly star-driven, tragi-comedy Westerns ever made. About two charming, turn-of-the-century, train-robbing outlaws - with comedy, drama, action, a witty script, and two handsome leads. The romanticized buddy film is loosely based on real-life, legendary outlaws Robert Leroy Parker (Butch Cassidy) and Harry Longbaugh (The Sundance Kid) and the Hole in the Wall gang. The film's early 1900's anti-heroes are free-wheeling, non-chalant Butch (Newman) and sharpshooting Sundance (Redford), both with human fallible traits - their specialty is robbing trains, until they bungle their second attempt on the Union Pacific Express and are relentlessly pursued by authorities in a posse. With Sundance's beautiful, school-teacher lover Etta Place (Ross), they flee to Bolivia to seek further wealth. In the end, they are outnumbered and die in a blazing, hail of bullets, freeze-frame shootout, reminiscent of Bonnie and Clyde. Features the song "Raindrops Keep Falling On My Head" while Etta and Butch share a bicycle ride. Academy Award Nominations: 7, including Best Picture, Best Director, Best Sound. Academy Awards: 4, including Best Adapted Screenplay, Best Cinematography, Best Cinematography, Best Song ("Raindrops Keep Fallin' On My Head"), Best Original Score.
C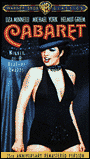 Cabaret (1972)
Starring: Liza Minnelli, Joel Grey, Michael York, Helmut Griem, Marisa Berenson, Fritz Wepper
Director: Bob Fosse
Set in a cabaret in sexually-charged, decadent, 1930s pre-war Berlin, one of the greatest musicals ever produced, adapted from the Kander-Ebb Broadway stage musical from John Van Druten's play (and movie) I Am a Camera, which, in turn, was based on Christopher Isherwood's Berlin Stories. Young, bisexual Englishman Brian Roberts (York) becomes involved with free-spirited, promiscuous Kit Kat Club singer and American expatriate Sally Bowles (Minnelli in her first singing role on-screen). Unbeknownst to her, he also shares her with wealthy German baron playboy/homosexual Maximilian von Heune (Griem). The seedy and sleazy Kit Kat Club is presided over by a sinister, leering, androgynous emcee/master of ceremonies (Grey). After Sally's abortion and the end of her affair, she sings: "Life is a cabaret, old chum, It's only a cabaret, old chum, And I love a cabaret." The show 'must go on' night after night as the monstrous Nazis come to power, anti-Jewish persecution and propaganda increases (the subplot of the love affair between Brian's Jewish friends Fritz and Natalia) and the horror of war appears on the horizon. Academy Award Nominations: 10, including Best Picture, Best Adapted Screenplay. Academy Awards: 8, including Best Director, Best Actress--Liza Minnelli, Best Supporting Actor--Joel Grey, Best Cinematography, Best Art Direction/Set Decoration, Best Sound, Best Adapted Song Score, Best Film Editing.
Camille (1936)
Starring: Greta Garbo, Robert Taylor, Lionel Barrymore, Henry Daniell
Director: George Cukor
An adaptation of Alexandre Dumas' play - a tragi-romantic film with the radiantly-luminous Greta Garbo in her most famous role as a doomed, star-crossed, dying French courtesan who falls in love with a young nobleman. Marguerite Gautier (Garbo) is a Parisian courtesan, supported by Baron de Varville (Daniell), but she falls in love with a naive, shallow gentleman Armand Duval (Taylor). When his concerned father (Barrymore) thwarts them and objects to their love affair, she selflessly renounces and sacrifices her own happiness and breaks off her relationship. In the film's finale, Armand returns to her deathbed where she is dying of tuberculosis - the camera lingers on her face as she dies in her lover's arms. Academy Award Nominations: 1, Best Actress--Greta Garbo.

Cat People (1942)
Starring: Simone Simon, Kent Smith, Tom Conway, Jane Randolph
Director: Jacques Tourneur
One of the greatest, low-budget horror films, the first produced by the legendary Val Lewton, known for his haunting, understated, suggestive, psychologically-eerie films. A young, beautiful, Serbian-born immigrant bride Irena Dubrovna (Simon), a fashion sketch artist/dress designer living in NYC, marries American architect Oliver Reed (Smith). Unable to consummate the marriage, she is tormented by the fear of sexual frigidity and by the folklore belief that she suffers from an ancient, supernatural Balkan curse - whenever emotionally, passionately, or sexually aroused, she will be transformed into a lethally vicious black cat-panther. When he confides in his female co-worker Alice Moore (Randolph), Irena's jealousy is aroused and unseen - she stalks Alice through a foreboding Central Park and later at a darkened indoor swimming pool. A disbelieving clinical psychiatrist Dr. Louis Judd (Conway) is unable to cure her and suffers a painful death. No Academy Award nominations.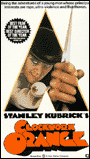 A Clockwork Orange (1971)
Starring: Malcolm McDowell, Patrick Magee
Director: Stanley Kubrick
Provocatively adapted from the famous novel by Anthony Burgess. A glossy, stylish, graphically-violent, controversial, futuristic, science-fiction satire about the effects of crime and punishment (aversion therapy and brainwashing against violence) on a British teenaged punk. After a night of hooliganism with his vicious gang of droogs, including gang rapes and beatings, a sadistic Alex (McDowell) is captured. In a grim, unorthodox governmental experiment, he is re-programmed, through his love for Beethoven's music, to reject violence, but he is dehumanized in the process of being cured. Vengeance is revisited upon him by his former victims after he is released into the society. Academy Award Nominations: 4, including Best Picture, Best Director, Best Film Editing, Best Adapted Screenplay.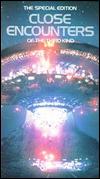 Close Encounters of the Third Kind (1977)
Starring: Richard Dreyfuss, Francois Truffaut, Melinda Dillon, Cary Guffey, Teri Garr
Director: Steven Spielberg
A science-fiction epic and adventure story about the mysteries of UFO and extra-terrestrial appearances. A Middle-American from Indiana Roy Neary (Dreyfuss), a utilities lineman, is confronted by a UFO on a deserted road at night as he investigates a power outage - a near-religious, life-transforming experience. Afterwards, he becomes obsessed with unexplained, mountainous shapes, and five musical notes. By piecing together clues, he is ultimately led to a rendezvous on Devils Tower in Wyoming with Jillian (Dillon), a mother whose young boy Barry (Guffey) was kidnapped by the aliens. There in the exhilarating climax, they witness an arriving spacecraft, the dazzling mother-ship, greeted by a top-secret scientific establishment led by Claude Lacombe (Truffaut). Academy Award Nominations: 8, including Best Supporting Actress--Melinda Dillon, Best Director, Best Art Direction/Set Decoration, Best Sound, Best Original Score, Best Film Editing, Best Visual Effects. Academy Awards: 1: Best Cinematography. Also a Special Achievement Award for Sound Effects Editing.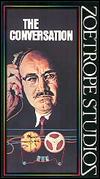 The Conversation (1974)
Starring: Gene Hackman, John Cazale, Frederic Forrest, Cindy Williams, Harrison Ford
Director: Francis Ford Coppola
A brilliant thriller and murder mystery that was made during the Watergate Era, and coming at the height of Coppola's fame for his two Godfather films. One of the best films of the 70s. A professional, reclusive, alienated, and paranoid surveillance expert Harry Caul (Hackman), assisted by Stan (Cazale) is hired by the 'director' (Robert Duvall in a cameo) of an anonymous business, in a seemingly-routine job, to secretly wiretap the conversations of two employees - an unfaithful wife and her lover (Cindy Williams and Frederic Forrest). After repeatedly playing back the tape, he realizes that he has captured a terrifying conversation with clues about an impending tragedy - a death sentence. He feels compelled to intercede and circumvent fate with disastrous consequences. Academy Award Nominations: 3, including Best Picture, Best Original Screenplay, Best Sound.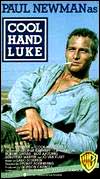 Cool Hand Luke (1967)
Starring: Paul Newman, George Kennedy, Strother Martin, Jo Van Fleet
Director: Stuart Rosenberg
Based on Donn Pearce's novel and one of the great prison-chain-gang films. A spirited, irreverent, social misfit Luke (Newman) is arrested for destroying parking meters and imprisoned in a tough Southern prison farm, commanded by a sadistic, prison officer Captain (Martin). After boxing with the chain-gang boss Dragline (Kennedy), he eventually becomes a hero to his fellow inmates, earning the title "Cool Hand Luke" because his will cannot be broken. A visit by Luke's dying mother (Van Fleet) reveals facts about his past. The stubborn, unruly and independent rebel refuses to submit and continually and cooly defies the authorities with repeated escape attempts. As the inmates start worshipping him as a folk hero, he risks everything in order to live up to their expectations, and is sacrificed in the tragic climax. With the memorable line of dialogue: "What we have here is failure to communicate," and the classic egg-eating scene. Academy Award Nominations: 4, including Best Actor--Paul Newman, Best Adapted Screenplay, Best Music Score. Academy Awards: 1, Best Supporting Actor--George Kennedy.
D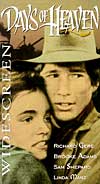 Days of Heaven (1978)
Starring: Richard Gere, Brooke Adams, Sam Shepard, Linda Manz
Director: Terrence Malick
Director Terrence Malick's second feature film, an original, lyrical and gorgeously-photographed work of art. A tragic, turn-of-the-century tale of a hot-headed Chicago steel worker (Gere) who flees to the wheat fields of the Texas Panhandle following the accidental murder of the mill foreman, with his lover-girlfriend (Adams) and his younger 13 year-old sister (Manz) (who provides the film's raw commentary). He takes up itinerant work for the fall harvest with a wealthy and prosperous but terminally-ailing and lonely farmer (Shepard). When an unusual love triangle develops, the farm-hand pretends that his girlfriend is his sister and encourages her marriage to the farmer, hoping that they can escape from poverty. The plot includes a plague of locusts, fire, and the tragic consequences of greed and jealousy. Academy Award Nominations: 4, including Best Score, Best Costume Design, Best Sound. Academy Awards: 1, Best Cinematography.

The Deer Hunter (1978)
Starring: Robert De Niro, John Cazale, John Savage, Christopher Walken, Meryl Streep
Director: Michael Cimino
Michael Cimino's disturbing, emotionally powerful film about three friends who are forever changed by imprisonment during the Vietnam War. Michael (De Niro), Nick (Walken), and Steven (Savage) are three close buddies from the steel mill town of Pittsburgh who hang out in bars and hunt deer. Steven is getting married while Michael and Nick compete over the affections of Linda (Streep). Their lives are turned upside down when they are drafted into the airbourne infantry to fight in Vietnam, and are soon captured by the enemy. There, among other things, they are forced to endure a game of Russian Roulette in the P.O.W. camp. Michael and Steven manage to escape and return home, but each of their lives are forever changed by the experience. Cimino's second film, he'd previously made a name for himself with Thunderbolt & Lightfoot (1974), a cult crime caper starring Clint Eastwood and Jeff Bridges as the titular characters. However, his career was destroyed by the disastrous epic Heaven's Gate (1980), and would make only five more films to date. Academy Award Nominations: 9, including Best Actor--Robert De Niro, Best Supporting Actress--Meryl Streep, Best Cinematography--Vilmos Zsigmond, Best Original Screenplay. Academy Awards: 5, including Best Picture, Best Supporting Actor--Christopher Walken, Best Director--Michael Cimino, Best Film Editing, Best Sound.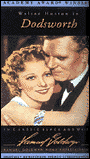 Dodsworth (1936)
Starring: Walter Huston, David Niven, Mary Astor, Maria Ouspenskaya, Ruth Chatterton, Paul Lukas, Gregory Gaye
Director: William Wyler
A bittersweet, intelligent drama - a film adaptation from Sinclair Lewis's 1929 novel of the same name, about the disintegration of a troubled marriage during a European trip. Following his retirement, a retired, reserved, self-made, wealthy auto tycoon and manufacturer Samuel Dodsworth (Huston) travels to Europe with wife Fran (Chatterton). His vain, pampered, selfish and shallow wife, unwilling to confront her middle-age, is seduced by the aristocratic, charming lifestyle she finds there, and flirts with and enters into affairs with British officer Lockert (Niven) and an international adventurer/banker Arnold Iselin (Paul Lukas). As their marriage fails, she asks for a divorce so that she can marry an impoverished, mother-dominated Austrian nobleman Kurt von Obersdorf (Gaye), but the man's mother (Ouspenskaya) blocks their marriage. Fran returns to her husband, unremorseful and none the wiser. Sam turns disconsolate until discovering love - he finally abandons his shrewish wife for a kind, young divorcee Edith Cortright (Astor) whom he met on the Queen Mary. Academy Award Nominations: 7, including Best Picture, Best Director, Best Actor--Walter Huston, Best Screenplay, Best Supporting Actress--Maria Ouspenskaya, Best Sound Recording. Academy Awards: Best Interior Decoration.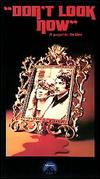 Don't Look Now (1973)
Starring: Donald Sutherland, Julie Christie
Director: Nicolas Roeg
Based on a short story by Daphne De Maurier - a supernatural, mysterious, eerie, psychological thriller about a British couple in Venice. Following the tragic, accidental drowning of their blonde, red-raincoated daughter Christine (Sharon Williams), John and Laura Baxter (Sutherland and Christie) travel to Venice where he works on restoring a church, still shattered and haunted by their child's death. In the off-season resort, they meet two elderly sisters, Wendy and Heather, one of whom is blind but claims to be psychic. She insists that, in visions, she sees the spirit of the Baxters' red-coated daughter, and possesses a message of warning from the dead child. While John is skeptical and resistant, he catches a flashing glimpse of a red-raincoated figure darting around a dark street corner alley - and he sees Laura and the sisters on a funeral gondola drifting down a Venetian canal. Although foreshadowed by earlier events, it is still a shocking death scene in the film's conclusion when the figure turns out to be a murderous, wizened-faced dwarf. No Academy Award nominations.