Another 100 Greatest Films
(of the 20th Century)
Summaries - Part 7
(Links to Comprehensive Film Reviews)

Selection Criteria
R (continued)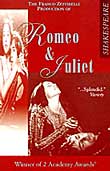 Romeo and Juliet (1968)
Starring: Olivia Hussey, Leonard Whiting, Milo O'Shea, Michael York, Paul Hardwicke, John McEnery, Pat Heywood, Laurence Olivier (narrator)
Director: Franco Zeffirelli
The classic and immortal Shakespearean tale of forbidden, tragic, and star-crossed love. Adapted in this modern and realistic version by Zeffirelli for the first time with two teenaged leads as the youthful, innocent, strong-willed lovers Romeo (Leonard Whiting) and Juliet (Olivia Hussey). Their warring families, the bitterly-hateful Montagues and Capulets, doom their tender romance, with a first-time-ever scene of the nude couple on their wedding night. In gorgeous Technicolor, shot on location in Italy and enhanced by a memorable soundtrack from Nino Rota. Academy Award nominations: 4, including Best Picture, Best Director. Academy Awards: 2, Best Cinematography, Best Costume Design.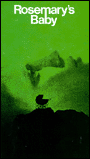 Rosemary's Baby (1968)
Starring: Mia Farrow, John Cassavetes, Ruth Gordon, Sidney Blackmer
Director: Roman Polanski
Polanski's first American film, from Ira Levin's best-seller - a convincing, creepy, psychological, Satanist horror/thriller about a young pregnant wife who suspects and has strange premonitions about diabolical forces (a witches' coven) threatening her unborn baby. Young newlywed couple Rosemary (Farrow) and aspiring, out-of-work actor/husband Guy Woodhouse (Cassavetes) move into a gothic NYC apartment complex, with intrusive, elderly next-door neighbors Roman (Blackmer) and nosy Minnie Castevet (Gordon). With a fertile imagination, Rosemary gradually believes that she hasn't been impregnated by her husband but by the Devil. Academy Award Nominations: 2, including Best Adapted Screenplay. Academy Awards: 1, Best Supporting Actress--Ruth Gordon.
S
Scarface: The Shame of the Nation (1932)
Starring: Paul Muni, Ann Dvorak, George Raft
Director: Howard Hawks
A landmark, classic crime-gangster film (one of the earliest) personally produced by Howard Hughes about a brutal, homicidal hood during Prohibition. Although the film was made before The Public Enemy and Little Caesar, it was released after them due to censorship concerns and squabbling between the director and producer - with an attached subtitle: The Shame of the Nation. Its violence delayed its release and helped contribute to the creation of the Production Code shortly thereafter in 1934. Notorious Chicago gangster Al Capone's nickname is the title of the film that traces the rise and fall of Antonio (Tony) Camonte (Muni), a maniac, reptilian killer who murders without hesitation on his way to the top, with the aid of right-hand, coin-flipping thug Guino Rinaldo (Raft). Tony also has an ambiguous, almost incestuous relationship with his beautiful, slinky sister Cesca (Dvorak). Originally made with two endings, Hawks' original finale, and the Hays Office ending. No Academy Award nominations.

Shadow of a Doubt (1943)
Starring: Joseph Cotten, Teresa Wright, Patricia Collinge, Henry Travers
Director: Alfred Hitchcock
Reportedly Hitchcock's own personal favorite, a chilling mystery thriller from Thornton Wilder's co-written script, based on the real-life 1920s serial killer - the Merry Widow - who cold-bloodedly murders wealthy widows for their jewels. Charming Uncle Charlie (Cotten), a psychotic murderer, returns to his small hometown in Santa Rosa, California for an extended visit with his sister Emma Newton (Collinge) and her family, including her mystery-buff husband Joseph (Travers) and namesake daughter Charlie (Wright). Young Charlie has wished for change and excitement in her boring life, and is psychically linked to her favorite uncle - and then she slowly begins to intuitively suspect that her beloved relative is a wanted mass murderer, through clues including a newspaper article and an engraved ring stolen from a woman he murdered. And when Uncle Charlie comes to recognize her suspicions... Academy Award Nominations: 1, Best Original Story.

She Done Him Wrong (1933)
Starring: Mae West, Cary Grant, Noah Beery, Sr.
Director: Lowell Sherman
Liberated Mae West's first starring film based on her infamous 1928 Broadway stage play Diamond Lil. She stars as buxom, bawdy, double-entrendre-spouting Lady Lou, a diamond-jeweled saloon chanteuse, the 'sweetheart' of owner Gus Jordan (Beery) in the Naughty Gay '90s Bowery region. Handsome Captain Cummings/"Hawk" (Grant), a detective poses as a Salvation Army missionary crusader while investigating a corrupt, white slavery and counterfeiting ring in the saloon. Includes West's singing of "Frankie and Johnny," "I Wonder Where My Easy Rider's Gone," and "I Like a Man What Takes His Time," and her most famous line of dialogue: "Why don't you come up sometime 'n see me? I'm home every evening." Academy Award Nominations: 1, Best Picture.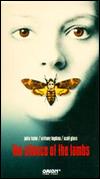 The Silence of the Lambs (1991)
Starring: Anthony Hopkins, Jodie Foster, Scott Glenn, Ted Levine, Brooke Smith
Director: Jonathan Demme
Ted Tally's screenplay was based on Thomas Harris' 1988 best-selling novel of the same name (an earlier thriller, Michael Mann's Manhunter (1986), was based on another Harris novel - titled Red Dragon). A genuinely-frightening, violent, psychological thriller about the intimate exchanges between a deranged, hypnotic serial killer and a raw, vulnerable FBI trainee. Novice agent Clarice Starling (Foster) is sent by senior agent Jack Crawford (Glenn) to conduct an interview with an insane, psychiatrist Dr. Hannibal "the Cannibal" Lecter (Hopkins), housed in a claustrophobic, underground prison cell. In exchange for her haunting, deepest secrets and memories about her childhood and the slaughter of lambs, she is supplied with clues about the identity and methods of another serial killer Jame Gumb, dubbed Buffalo Bill (Levine), who skins his victims and is currently holding victim Catherine Martin (Smith) - the daughter of a US Senator. Academy Award Nominations: 7, including Best Sound, Best Film Editing. Academy Awards: 5, including Best Picture, Best Director, Best Actress--Jodie Foster, Best Actor--Anthony Hopkins, Best Adapted Screenplay.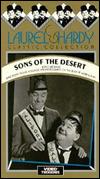 Sons of the Desert (1933)
Starring: Stan Laurel, Oliver Hardy, Charley Chase, Mae Busch, Dorothy Christy
Director: William A. Seiter
A classic, hilarious comedy - the funniest full-length feature from Laurel and Hardy. The two boys Stan Laurel (Himself) and Oliver Hardy (Himself) deviously plan to fool their wives by claiming to have gone on a prescribed ocean voyage to Hawaii (to cure Ollie's illness), while instead attending the national convention of their fellow Sons of the Desert lodge members in Chicago, with mad-cap conventioneer Charley Chase (Himself). Their plan fails miserably when the ship is reported sunk, and Mrs. Hardy (Busch) and Mrs. Laurel (Christy) discover the truth, viewing their husbands in the fraternal parade in a movie newsreel. In revenge, the two wives plot to test their exposed mates. No Academy Award nominations.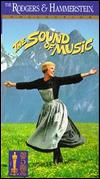 The Sound of Music (1965)
Starring: Julie Andrews, Christopher Plummer, Eleanor Parker, Peggy Wood
Director: Robert Wise
Based on the Rodgers and Hammerstein stage musical and the true story of the von Trapp family - a lovely film with a mixture of comedy, romance, and suspense - and a wonderful collection of musical tunes. Restless novice postulant Maria at the Nonnberg Abbey in Salzburg, Austria, first pictured daydreaming on the hillside surrounded by the beautiful Alps, is persuaded by the Reverend Mother (Wood) to take a governess position for the motherless, singing family of stern widower Captain von Trapp (Plummer), who is engaged to Baroness SchrÖder (Parker). The seven children include: 16 year-old Liesl (Charmain Carr), 14 year-old Friedrich (Nicholas Hammond), 13 year-old Louisa (Heather Menzies), 11 year-old Kurt (Duane Chase), 10 year-old Brigitta (Angela Cartwright), almost 7 year-old Marta (Debbie Turner), and 5 year-old Gretl (Kym Karath). The children have a well-deserved reputation for scaring off caretakers, but Maria wins them over, and falls in love with her employer, amidst the ominous Nazi occupation. Includes the songs: "Maria," "The Sound of Music," "My Favorite Things," "You Are Sixteen, Going On Seventeen," "Climb Ev'ry Mountain," "Do-Re-Mi," and "Edelweiss." Academy Award Nominations: 10, including Best Actress--Julie Andrews, Best Supporting Actress--Peggy Wood, Best Color Cinematography, Best Color Art Direction/Set Decoration, Best Color Costume Design. Academy Awards: 5, including Best Picture, Best Director, Best Sound, Best Adapted Score, Best Film Editing.
Splendor in the Grass (1961)
Starring: Natalie Wood, Warren Beatty, Audrey Christie, Pat Hingle, Zohra Lampert, Jan Norris
Director: Elia Kazan
A tragic, coming-of-age melodrama set in the mid-1920s in a small, rural Kansas town, from playwright William Inge's original, award-winning script. Star-crossed, teenaged sweethearts, poor HS senior Wilma Dean "Deanie" Loomis (Wood) and rich Bud Stamper (Beatty in his film debut) fall deeply and passionately in love, but are repressed by the sexual mores of the time, their class differences, and disapproval from their parents - especially her prudish, puritanical mother (Christie) and his rigid, domineering father (Hingle). Deanie's pent-up sexual longings cause her to almost go insane in a memorable bathtub scene. Repercussions cause Bud to chase after slutty girl Juanita Howard (Norris), and eventually marry Italian Angelina (Lampert), while Deanie is institutionalized following a suicidal nervous breakdown. Years later, the two meet again and she resolves her feelings about him. Academy Award Nominations: 2, including Best Actress--Natalie Wood. Academy Awards: 1, Best Original Story and Screenplay.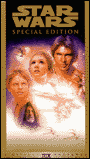 Star Wars (1977) (tie)
Starring: Harrison Ford, Mark Hamill, James Earl Jones, Alec Guinness, Carrie Fisher, Peter Cushing
Director: George Lucas

The first entry in George Lucas' much-heralded fantastical space trilogy broke big technological ground as well as box-office records.
The first of a trilogy of fantasy films by writer/director George Lucas, and one of the most financially-successful films of all time, with amazing technological effects. A sci-fi adventure saga "in a galaxy far, far away", quasi-Western film, about a galactic battle between good (the rebel forces) and evil (the Imperial Galactic Empire). The characters are proto-typical: a young farmboy hero Luke Skywalker (Hamill) on a desert planet, a villainous, black-garbed sinister Lord Darth Vader (voice of Jones) - an aide to the leader of the Empire Grand Moff Tarkin (Cushing), a wise Jedi knight Obi-Wan Kenobi (Guinness), a daring starship pilot (Ford), a captured rebel Princess Leia Organa (Fisher), a furry Wookie and two robotic droids. With two sequels, The Empire Strikes Back and Return of the Jedi. Academy Award Nominations: 10, including Best Picture, Best Supporting Actor--Alec Guinness, Best Director, and Best Screenplay. Academy Awards: 6, including Best Sound, Best Original Score, Best Film Editing, Best Costume Design, Best Art Direction/Set Decoration, Best Visual Effects. A Special Achievement Award for "creation of the alien, creature, and robot voices."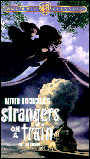 Strangers on a Train (1951)
Starring: Farley Granger, Robert Walker, Ruth Roman, Laura Elliot, Jonathan Hale
Director: Alfred Hitchcock
Another of Hitchcock's great suspense thrillers - co-scripted by Raymond Chandler and based on the novel by Patricia Highsmith. During a 'chance' meeting on a train enroute from Washington DC (a cleverly-choreographed sequence in which the two sets of the strangers' shoes are highlighted), rich psychopathic playboy Bruno Antony (Walker) explains his macabre, morbid theory of the perfect murder - an exchange or swap of murders and victims - to professional champion tennis player Guy Haines (Granger). Bruno diabolically proposes murdering Guy's clinging, stifling wife Miriam (Elliot) - since Guy wants to marry US Senator's daughter Anne Morton (Roman) and enter politics - in exchange for Guy murdering Bruno's spiteful and tyrannical father (Hale) and his acquisition of an inheritance, without any trace of clues. Haines dismisses the preposterous idea until Antony kills his wife Miriam by strangulation at an amusement park and Guy is expected to fulfill his part of the bargain - with threats of blackmail. With a few great set pieces, including the amusement park stalking, the cocktail party scene of how to commit a murder, the tennis match cross-cut with the sewer grating scene, and the out-of-control merry-go-round in the finale when Guy was finally cleared of the murder. Academy Award Nominations: 1, Best B/W Cinematography.

Sullivan's Travels (1941)
Starring: Joel McCrea, Veronica Lake
Director: Preston Sturges
A landmark, sardonic film satire from writer/director Sturges about a successful escapist comedy Hollywood director John L. Sullivan (McCrea) who has tired of making light-hearted films. Sullivan is determined to make a serious-minded, socially-responsible drama about poverty and hardship in America titled O Brother, Where Art Thou? To research his new film project, he disguises himself - for his 'Gulliver's Travels' journey through pre WWII America - as a down-and-out tramp/bum to experience cruel adversity first-hand. After shaking off the hot pursuit of a caravan of studio publicists, and being joined by a beautiful, out-of-work, failed blonde actress The Girl (Lake), he serves time on a prison chain gang, where during the showing of a Disney cartoon he gains a newfound appreciation that the down-trodden do indeed need laughter and humor. No Academy Award nominations.