Another 100 Greatest Films
(of the 20th Century)
Summaries - Part 1
(Links to Comprehensive Film Reviews)

Selection Criteria
A
Adam's Rib (1949)
Starring:
Spencer Tracy, Katharine Hepburn, Judy Holliday, Tom Ewell, David Wayne, Jean Hagen
Director:
George Cukor
A great, sophisticated, battle-of-the-sexes comedy, one of Hollywood's greatest comedy classics, about husband-and-wife lawyers who take opposite sides of a court case, from a forward-looking screenplay with snappy dialogue by Ruth Gordon and Garson Kanin - the husband and wife's second collaboration with director George Cukor. Often rated as the best pairing of the nine films of the legendary screen team of Tracy and Hepburn - it was their sixth film together. The film was originally titled
Man and Wife
. Chauvinistic District Attorney Adam Bonner (Tracy) prosecutes a 'dumb blonde' Doris Attinger (Holliday in her debut role) for attempted murder. The bombshell vengefully shot and wounded her philandering, two-timing husband Warren (Ewell) with mistress Beryl (Hagen). His savvy wife Amanda Bonner (Hepburn) victoriously defends the woman with feminist, women's rights arguments, upsetting sexist double standards. At film's end, Adam conclusively admits the profound differences between males and females:
Vive la difference.
Academy Award Nominations: 1, Best Story and Screenplay.

Alien (1979)
Starring:
Tom Skerritt, Sigourney Weaver, John Hurt, Ian Holm, Harry Dean Stanton, Yaphet Kotto, Veronica Cartwright
Director:
Ridley Scott
A grisly, futuristic, suspenseful, atmospheric, memorable and popular science fiction/horror film about the intergalactic journey of a claustrophobic, commercial space cargo freighter, the
Nostromo
. With terrific sets designed by surreal artist H. R. Giger. The crew includes warrant officer heroine Ripley (Weaver in her starring debut role), Kane (Hurt), Dallas (Skerritt), Ash (Holm), and others, who are awakened from hyper-sleep to investigate a distress signal on a mysteriously bleak, dead planet with a crashed alien spacecraft. In its interior, a lifeform with tentacles clings to Kane's helmet/face, incubates inside his host body, and ultimately bursts from his gut. The hideous, indestructible, carnivorous creature grows in size and hides within the hyper-tech spacecraft, menacing and picking off one crew member after another until self-reliant, resourceful Ripley outsmarts the primal, lethal monster in the explosive conclusion. Followed by three sequels, including James Cameron's
Aliens (1986)
,
Alien3 (1992)
, and
Alien Resurrection (1997)
. Academy Award Nominations: 2, including Best Art Direction/Set Decoration. Academy Awards: 1, Best Visual Effects.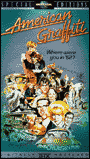 American Graffiti (1973)
Starring:
Richard Dreyfuss, Ron Howard, Cindy Williams, Mackenzie Phillips, Charles Martin Smith, Harrison Ford, Candy Clark, Paul Le Mat, Suzanne Somers
Director:
George Lucas
In pre-Kennedy assassination America and in the pre-Vietnam War era, a time of innocence, this nostalgic, coming-of-age story features the songs of its era, in a classic sound-track provided by Wolfman Jack's Rock 'n' Roll radio show. Director George Lucas memorialized his own teenage years in Modesto, California in this episodic, idealized, low-budget tale of a bygone era with numerous subplots. On their final summer night after their Class of 1962 graduation, two clean-cut, college-bound California high schoolers Curt (Dreyfuss) and Steve (Howard) - with girlfriend Laurie (Williams), cruise the streets of their N. California town in their hot rods, and eat at Mel's Diner. Other characters include hot-rodders John (Le Mat) and Falfa (Ford), nerdy Terry the Toad (Smith), pre-teen Carol (Phillips), a mysterious girl in a white T-Bird (Somers), and an experienced Debbie (Clark). Inspired the popular TV situation comedy
Happy Days
and helped position Lucas for his greatest film of all time -
Star Wars
. Academy Award Nominations: 5, including Best Picture, Best Director, Best Supporting Actress--Candy Clark, Best Original Story and Screenplay, Best Film Editing.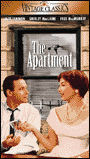 The Apartment (1960)
Starring:
Jack Lemmon, Shirley MacLaine, Fred MacMurray, Jack Kruschen
Director:
Billy Wilder
A classic, caustically-witty, satirically cynical, melodramatic comedy about corporate politics - and a bitter-sweet romance. In a bid to get ahead, an ambitious, lowly, misguided and young insurance clerk C. C. Baxter (Lemmon) generously lends out the keys to his NYC apartment to his company's higher-up, philandering executives for romantic, adulterous, extra-marital trysts, including to his callous married boss J. D. Sheldrake (MacMurray). Baxter's own budding crush toward his building's elevator operator - melancholy, and vulnerable Fran Kubelik (MacLaine) turns ugly when he discovers he has been outsmarted - she is the latest conquest of his boss - and has attempted suicide in his apartment. Baxter's next-door, philosophizing doctor/neighbor Dr. Dreyfuss (Kruschen) convinces Baxter to confront the craven ethics of his superiors - and he wins the affections of Fran. Academy Award Nominations: 10, including Best Actor--Jack Lemmon, Best Actress--Shirley MacLaine, Best Supporting Actor--Jack Kruschen, Best B/W Cinematography, Best Sound. Academy Awards: Best Picture, Best Director, Best Story and Screenplay, Best B/W Art Direction/Set Decoration, Best Film Editing.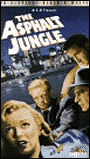 The Asphalt Jungle (1950)
Starring:
Sterling Hayden, Sam Jaffe, Louis Calhern, Jean Hagen, Marilyn Monroe
Director:
John Huston
A classic noirish thriller, an adaptation based on a novel by W. R. Burnett, about a mastermind, aging, ex-convict criminal Doc (Jaffe), who comes out of retirement (prison) for one last jewel robbery with an assemblage of underworld characters - Kentucky horse-farm loving Dix Handley (Hayden) with tough-girlfriend Doll (Hagen), and sleazy lawyer partner Alonzo Emmerich (Calhern) who plans to fence the jewels to support his expensive habits (e.g., an affair with seductive mistress Monroe - in a cameo role). The heist unravels quickly and everything falls apart when an alarm accidentally sounds and the safecracker is mortally wounded by a stray bullet. While Emmerich commits suicide, and others are either jailed or wounded, Doc's creepy voyeurism for a young girl dooms him during his escape. Dix reaches his childhood Kentucky farm but expires in a field surrounded by horses. Academy Award Nominations: 4, including Best Supporting Actor--Sam Jaffe, Best Director, Best Screenplay, Best B/W Cinematography.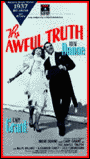 The Awful Truth (1937)
Starring:
Irene Dunne, Cary Grant, Ralph Bellamy, Joyce Compton, Alexander D'Arcy, Esther Dale
Director:
Leo McCarey
A fast-paced, classic screwball romantic comedy of the 30's, starring Cary Grant and Irene Dunne in their first on-screen pairing. Jerry and Lucy Warriner (Grant and Dunne), a married, high-society couple who are convinced of infidelities (based on misunderstandings and other ridiculous reasons), file for divorce and separate for six months after a custody battle for their dog (Asta of
The Thin Man
films). During the interim, they verbally spar, sabotage and ruin each others' new relationships and romances - with handsome voice teacher Armand Duvalle (D'Arcy) and mother-dominated, millionaire Oklahoma rancher-hick Daniel Leeson (Bellamy), and singer Dixie Belle Lee (Compton). Before their divorce is finalized, they ultimately cannot resist each other and discover their mutual love. Academy Award Nominations: 6, including Best Picture, Best Actress--Irene Dunne, Best Supporting Actor--Ralph Bellamy, Best Screenplay, Best Film Editing. Academy Awards: 1, Best Director.
B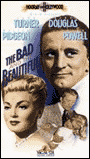 The Bad and the Beautiful (1952)
Starring:
Kirk Douglas, Lana Turner, Dick Powell, Gloria Grahame, Walter Pidgeon, Barry Sullivan
Director:
Vincente Minnelli
A scathing melodrama and dark expose of sordid backstage Hollywood, with memorable performances by both Turner and Douglas. An ambitious, cruel, driven, amoral, egotistical producer Jonathan Shields (Douglas), begins as a maker of low-budget westerns and horror films. His manipulative and ruthless victimization of others is seen, in flashback, from the viewpoints of three former associates that he betrayed, double-crossed, and caused emotional pain - a star actress and ex-lover Georgia Lorrison (Turner), award-winning screenwriter James Lee Bartlow (Powell) and his faithless, southern belle wife Rosemary (Grahame), and director Fred Amiel (Sullivan). Now that they have furthered their careers, they tell their stories to film studio executive Harry Pebbel (Pidgeon), who has been asked to convince the individuals to join the despised Shields on his next project - they all disown him and hope that he will fail. In the final scene, the three listen - with a phone to their ear - when the exiled Shields calls from Europe. Academy Award Nominations: 6, including Best Actor--Kirk Douglas. Academy Awards: 5, including Best Supporting Actress--Gloria Grahame, Best Screenplay--Charles Schnee, Best B/W Cinematography, Best B/W Art Direction/Set Decoration, Best B/W Costume Design.

Bad Day at Black Rock (1955)
Starring:
Spencer Tracy, Robert Ryan, Ernest Borgnine, Lee Marvin, Anne Francis, Dean Jagger, Walter Brennan
Director:
John Sturges
A suspenseful, powerful, 50's, Western-like drama, a mystery-thriller set in an isolated, southwestern desert town in 1945, and based on Howard Breslin's novel. A mysterious, one-armed veteran John J. MacReedy (Tracy) arrives in the tiny town of Black Rock by train, to fulfill a promise made to a Japanese-American soldier who died fighting in WW II. He searches for the whereabouts of the local Japanese-American father, Komoko, of his soldier/friend who saved his life, to bestow the deceased man's posthumously-presented medal of honor to the family - but encounters only a conspiracy of silence. His awkward questions cause the uneasy, hostile local inhabitants to confront their guilty consciences and threaten his life , led by menacing, sinister town boss Reno Smith (Ryan) and his henchmen - a racially-prejudiced Coley Trimble (Borgnine) and Hector David (Marvin). They retaliate with violence, putting his life at risk. Some town members, including a drunken sheriff (Jagger), a doctor (Brennan), and gal in town (Francis), become the stranger's allies. Academy Award Nominations: 3, including Best Director, Best Actor--Spencer Tracy, Best Screenplay.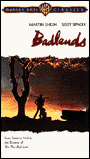 Badlands (1973)
Starring:
Martin Sheen, Sissy Spacek, Warren Oates
Director:
Terrence Malick
Inspired and based on the murder spree of a killing, loving couple, Charles Starkweather and Caril Ann Fugate, in the late 1950's in Nebraska and bordering states - a daring, directorial film debut for Terrence Malick. Social outcast and misfit, James Dean look-alike ex-garbage collector Kit Carruthers (Sheen) romances a naive, lackadaisical, starry-eyed, celebrity magazine-addicted 15 year old teenager Holly Sargis (Spacek) (who narrates the film in a deadpan tone), kills her disapproving father (Oates), and then embarks on a state-wide flight - and shocking, emotionally-apathetic and casual, homicidal binge - into the badlands of South Dakota and Montana. The disturbing, complex character study observes the twisted, strange actions of the couple as they are hunted down and apprehended. No Academy Award nominations.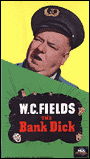 The Bank Dick (1940)
(tie)
Starring:
W. C. Fields, Cora Witherspoon, Franklin Pangborn, Una Merkel, Grady Sutton, Shemp Howard
Director:
Eddie Cline
One of the best comedies ever made - and the best of W. C. Fields' latter films - a witty, zany, madcap, rambling comedy classic written by Fields himself (under the pseudonym 'Mahatma Kane Jeeves'). In Lompoc, California, Fields stars as eccentric, henpecked, loafing, unemployed Egbert Sousè (pronounced with a French accent as Soo-zay), a lush who 'directs' a low-budget film production, accidentally trips a bank robber, foils the bank robbery, and as the town's local hero is awarded the job of bank guard. On the job (when he isn't frequenting the Black Pussy Cat Cafe and downing stiff drinks from the bartender (Howard)), he manages to embezzle bank funds, under the watchful eye of bank examiner J. Pinkerton Snoopington (Pangborn), to foolishly finance a boondoggle - a worthless mine operation, and he marries his daughter Myrtle (Merkel) to a dimwitted Og Oggilby (Sutton). Concludes with one of the greatest chase sequences in film history - a funny, Mack Sennett-like cops/robbers chase. No Academy Award nominations.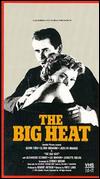 The Big Heat (1953)
Starring:
Glenn Ford, Gloria Grahame, Lee Marvin, Alexander Scourby, Jocelyn Brando
Director:
Fritz Lang
A dark, very brutal and violent, classic, expressionistic film noir/melodrama and gangster film that explores the seamy underworld of American organized crime. Following the suicide of a guilt-stricken, supposedly-honest fellow cop, homicide Sgt. Dave Bannion (Ford) is determined to discover the truth. A car bomb meant for him accidentally kills his wife Katie (Brando). Suspended from duty on the force, he tenaciously avenges the mob's murder of his wife, confronting the city crime ring to uncover the truth. A hard-hitting showdown is destined with ruthless, meglomaniacal kingpin Mike Lagana (Scourby), aided by a sadistic, psychotic thug Vince Stone (Marvin). One of the film's most celebrated scenes is the coffee-scalding scene - an enraged Stone hurls his boiling coffee into the face of his moll girlfriend Debby Marsh (Grahame) - in retribution, she courageously aids Bannion's search for the culprits and returns the coffee-scalding favor to Vince. No Academy Award nominations.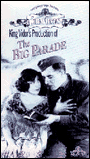 The Big Parade (1925)
Starring: John Gilbert, Renee Adoree
Director: King Vidor
A still-powerful classic Great War, anti-war epic with compelling, realistic, brilliantly-staged battle scenes -- showing the virtually-unprotected front lines marching toward the enemy and getting picked off. This was the highest grossing silent film in its day. The film mixes grueling infantry action with bittersweet romance and a little comic relief. The war takes its toll as many of the men die or get seriously wounded. The emotion-filled story focuses on an American troop stationed in France with soldiers from different backgrounds. One American soldier (Gilbert) falls in love with a French woman (Adoree), and they are traumatically torn apart as the war carries them further apart.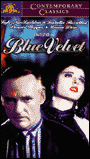 Blue Velvet (1986)
Starring:
Isabella Rossellini, Kyle MacLachlan, Dennis Hopper, Dean Stockwell, Laura Dern
Director:
David Lynch
A controversial, disturbing, off-beat cult film drama that explores the corrupt, malevolent under-side of small town, suburban Americana. Following the collapse of his father in a colorful opening sequence, a college boy Jeffrey Beaumont (MacLachlan) returns to middle-class hometown Lumberton, where he finds a severed human ear in an overgrown vacant field. With the help of an innocent, sweet high school teenager Sandy Williams (Dern), he investigates the bizarre mystery of the ear, finding himself involved (and participating) in a frightening, nightmarish world of voyeurism, violent sex, perversion, drug-addiction, and depraved degradation. He encounters nightclub singer Dorothy Vallens (Rossellini) (who repeatedly sings Bobby Vinton's "Blue Velvet") enslaved by her sadistic, demoniacal, obscenity-shouting, sexual tormentor and drug-dealer Frank Booth (Hopper), who psycho-sexually blackmails her while holding her husband and child hostage. Academy Award Nominations: 1, Best Director.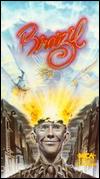 Brazil (1985)
Starring:
Jonathan Pryce, Robert De Niro, Katherine Helmond, Ian Holm, Bob Hoskins, Kim Greist
Director:
Terry Gilliam
An offbeat, satirical ultra-dark comedy of an oppressive, alternative future, with visually-imaginative references to Kafka's
The Trial
, Orwell's
1984
and
A Clockwork Orange
. Mild-mannered and meek bureaucratic statistician Sam Lowry (Pryce), a civil servant Everyman works in the regulatory Ministry of Information (MOI), jammed with paperwork and filled with endless pneumatic tubes. When a literal beetle is squashed in an office teletype printer and causes a typographical error that alters an arrest record, it unjustly identifies an innocent citizen Mr. Buttle as suspected terrorist Harry Tuttle (De Niro). When Lowry investigates the case of mistaken identity and attempts to unravel it, he escapes to become a silver-winged hero in the clouds who rescues a dreamlike fantasy girl Jill Layton (Greist). A similar-looking female truck driver inspires him to win her love, but meanwhile, he has become the subject of study by the totalitarian regime. Academy Award Nominations: 2, Best Original Screenplay, Best Art Direction/Set Decoration.