Another 100 Greatest Films
(of the 20th Century)
Summaries - Part 5
(Links to Comprehensive Film Reviews)

Selection Criteria
M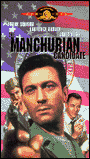 The Manchurian Candidate (1962)
Starring: Frank Sinatra, Laurence Harvey, Janet Leigh, Angela Lansbury, James Gregory, Leslie Parrish, John McGiver
Director: John Frankenheimer
Based on Richard Condon's novel, and adapted by George Axelrod. A complex, realistic depiction of brainwashing in a frightening, satirical psychological thriller. An American platoon fighting in the Korean War is captured and brainwashed by Communist North Koreans in Manchuria. Upon their return to the US, one of the veterans Major Bennett Marco (Sinatra) is haunted by recurring nightmares about their frightening incarceration. He slowly realizes that fellow hero and Congressional Medal of Honor winner Sgt. Raymond Shaw (Harvey), controlled and manipulated by his spy-agent "Queen of Diamonds" ambitious mother (Lansbury) (the wife of right-wing, McCarthyite demagogue Senator John Iselin (Gregory)), is behind the sinister plot to assassinate political enemies. The mind-controlled operative Shaw murders his own wife Jocie (Parrish) and his father-in-law, liberal Senator Thomas Jordon (McGiver). In the tense climax, Marco uncovers the programmed killer's fiendish plans to assassinate the presidential nominee. Academy Award Nominations: 2, including Best Film Editing, Best Supporting Actress--Angela Lansbury.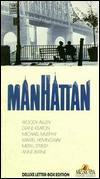 Manhattan (1979)
Starring: Woody Allen, Diane Keaton, Meryl Streep, Mariel Hemingway, Michael Murphy, Karen Ludwig, Anne Byrne
Director: Woody Allen
A mature, B/W, tragi-romantic comedy enhanced by a George Gershwin score about infidelity, romances and relationships set in Allen's beloved urban NYC and within a group of intellectual Manhattanites. Neurotic TV comedy writer Isaac Davis (Allen) turns from comedy to serious novels, and lives with an sweet, innocent, high-school-aged drama student Tracy (Hemingway), 25 years younger than he is. His lesbian, divorced ex-wife Jill (Streep), who is writing an expose about their marriage/divorce (entitled Marriage, Divorce, and Selfhood), lives with Connie (Ludwig), and is raising their young son Willie. Davis meets Mary Wilke (Keaton), the pseudo-intellectual mistress of his guilt-torn best friend Yale (Murphy) - who is married to Emily (Byrne). Initially, he disapproves of the extra-marital affair and Mary's personality, but then becomes attracted and fascinated by her and begins his own affair with her. In a heartbreaking soda fountain scene, he confesses his affair to a tearful Tracy and urges a break-up, but later regrets his foolhardly decision after his dalliance with Mary soon falls apart when she returns to Yale. Academy Award Nominations: 2, Best Supporting Actress--Mariel Hemingway, Best Original Screenplay.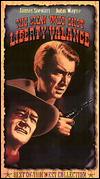 The Man Who Shot Liberty Valance (1962)
Starring: James Stewart, John Wayne, Vera Miles, Lee Marvin, Lee Van Cleef, Strother Martin, John Carradine
Director: John Ford
Another B/W Ford film about the passing of the Old West, one of the master's last westerns. In 1910, respected but timid Senator Ransom Stoddard (Stewart) from the East journeys westward by train with his wife Hallie (Miles) and returns to the city of Shinbone to attend the funeral of his old friend Tom Doniphon (Wayne). Told in flashback to a local newspaper editor, he remembers his life and career in the wild town and how he had reputedly become known as "The Man Who Shot Liberty Valance." As an eastern law school graduate, he set up a law practice and had to contend with outlaw Liberty Valance (Marvin) and his sidekick outlaws (Van Cleef and Martin). Idealistic Ransom (called "Pilgrim" by Doniphon) is contrasted to the rugged cowboy frontiersman Doniphon, and accorded fame and credit for taming the West and civilizing the town, but it was Doniphon who killed the tyrannical outlaw Liberty Valance. Academy Award Nominations: 1, Best B/W Costume Design.

McCabe & Mrs. Miller (1971)
Starring: Warren Beatty, Julie Christie
Director: Robert Altman
A classic, dark-toned, moody anti-Western from iconoclastic and offbeat director Altman, based on the novel McCabe by Edmund Naughton. At the turn of the century, a mysterious, roguish, small-time, frontier drifter/gambler John McCabe (Beatty) opens up a brothel/casino in the great northern, wintry wilderness settlement of Presbyterian Church - a grimy, lamp-lit and shoddy mining town. Amiable braggart McCabe has entrepreneurish ambitions and partners with opium-smoking, British whorehouse madame Constance Miller (Christie) who helps to stabilize the operation and make it a successful enterprise. McCabe refuses to sell out to a corporation, leaving him vulnerable to hired bounty hunters who track him down in the tragic finale. With great cinematography by Vilmos Zsigmond. Academy Award Nominations: 1, Best Actress--Julie Christie.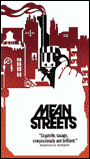 Mean Streets (1973)
Starring: Harvey Keitel, Robert De Niro, Amy Robinson, David Proval, Richard Romanus, Cesare Danova
Director: Martin Scorsese
Scorsese's third full-length film with energizing early 60s rock 'n' roll - a low-budget, semi-autobiographical, realistic tale about four struggling, small-time hoods in New York's Little Italy trying to establish themselves. Tony (Proval) owns the neighborhood bar, and Michael (Romanus) is the local loan shark. Ambitious punk and up-and-coming Mafia apprentice Charlie Cappa (Keitel) befriends violent Johnny Boy (De Niro), who irresponsibly and recklessly incurs gambling debts and becomes dangerously obligated to Michael. Charlie's Uncle Giovanni (Danova) is the local Mafia boss and grooming his nephew for 'respectable' gang life by having him collect for a protection racket. Unclear and confused about his life's direction and loyalties, Charlie wrestles with his devout Catholic guilt, the temptations of the Mafia and its constrictions, his to-the-rescue attempts to help Johnny Boy, and his feelings for Teresa (Robinson), Johnny Boy's epileptic sister. No Academy Award nominations.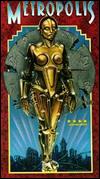 Metropolis (1927)
Starring: Brigitte Helm, Alfred Abel, Gustav Frohlich, Rudolf Klein-Rogge
Director: Fritz Lang
A stylized, visually-compelling, melodramatic silent film set in the 21st century city of Metropolis - Lang's German Expressionistic masterpiece helped develop the science-fiction genre. The luxurious, futuristic city of skyscrapers and bridges is stratified and divided into an upper, elite, privileged class and a subterranean, nameless, oppressed, ant-like worker/slave class. Freder (Frohlich), the young son of a ruling, aristocratic capitalist Master Joh Fredersen (Abel), discovers the miserable life of the proletariat when he notices a beautiful young woman Maria (Helm) with a group of worker children and pursues her into the squalid, labyrinthine underground slums. The wistful, Christ-like young woman urges her comrades to peacefully await their salvation. After discovering their meeting, Freder's father instructs mad scientist Rotwang (Klein-Rogge) to create an evil robotic Maria look-alike that will manipulate the workers, preach rebellion, and cause their elimination. The false Maria goes beserk and incites the workers to revolt, causing a cataclysmic flood. Freder and the real rescued Maria lead the worker children out of danger, and Joh Fredersen is convinced to reconcile with the workers - Capital and Labor united in Love.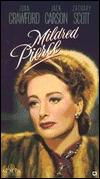 Mildred Pierce (1945)
Starring: Joan Crawford, Jack Carson, Ann Blyth, Zachary Scott, Bruce Bennett
Director: Michael Curtiz
One of the best melodramatic, 'women's pictures' and film noir classics of the 1940s - and Joan Crawford's comeback film. Adapted from James M. Cain's novel. Begins with the murder of Monte Beragon (Scott) in a beach house. Suspect Mildred Pierce (Crawford) is interrogated by police for the killing of her second husband. In flashback, housewife Mildred is divorced from her husband Bert (Bennett). The hardworking, dowdy woman obsessively dotes on her two daughters, especially rotten, spoiled elder daughter Veda (Blyth), so she is forced to become a waitress. Through determination and will-power, she opens up a small restaurant, develops it into a successful chain, receives assistance from realtor/rebuffed beau Wally Fay (Carson), and marries socially-prominent playboy Monte Beragon. The petulant, selfishly-ungrateful Veda romances her own step-father behind the restaurateur's long-suffering back. The murder mystery concludes with a resolution to the question - who murdered Monte? Academy Award Nominations: 6, including Best Picture, Best Screenplay, Best Supporting Actress--Eve Arden, Best Supporting Actress--Ann Blyth, Best B/W Cinematography. Academy Awards: 1, Best Actress--Joan Crawford.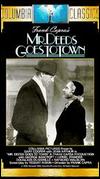 Mr. Deeds Goes to Town (1936)
Starring: Gary Cooper, Jean Arthur, George Bancroft, Lionel Stander
Director: Frank Capra
Capra's populist romantic screwball comedy based on Opera Hat, a Saturday Evening Post story by Clarence Budington Kelland. Mandrake Falls, Vermont greeting-card poetry-writing, tuba-playing rube Longfellow Deeds (Cooper) inherits $20 million from his wealthy NYC uncle, but eccentrically decides to be philanthropic and give it to Depression-Era needy. A hot-shot news reporter Babe Bennett (Arthur) poses as an out-of-work stenographer to get close to him for a story - calling him "The Cinderella Man." She falls in love, defending him when he is declared insane and goes to trial, and is accused of being 'pixilated.' Eventually, he defends himself and is acquitted by the judge: "...you are not only sane but you're the sanest man that ever walked into this courtroom." Academy Award Nominations: 5, including Best Picture, Best Actor--Gary Cooper, Best Screenplay, Best Sound Recording. Academy Awards: 1, Best Director.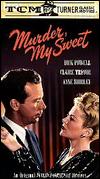 Murder, My Sweet (1944)
Starring: Dick Powell, Claire Trevor, Mike Mazurki, Anne Shirley, Otto Kruger, Douglas Walton
Director: Edward Dmytryk
Original release titled Farewell, My Lovely - the second screen adaptation of Raymond Chandler's second novel of the same name, a 1940 hard-boiled tale that was a superb, complex, shadowy film noir of murder, corruption, blackmail, double-cross and double identity, with witty dialogue and cynical voice-over narration. The film opens in wartime Los Angeles, where tough yet vulnerable, blindfolded/bandaged gumshoe detective Philip Marlowe (played by 30s musical crooner Powell in a dramatic role switch) is grilled under a bright light by police interrogators. In flashback (almost the entire film), he tells a convoluted, bewildering tale. He was hired by recently-released, brutish, urgent ex-con Moose Malloy (Mazurki) to search for his missing ex-girlfriend/lover Velma Valento (Trevor) who sold him out eight years earlier for unknown reasons. And then Marlowe was also commissioned as a bodyguard to accompany an effeminate gigolo Lindsay Marriott (Walton) (associated with underworld Jules Amthor (Kruger)) during a ransom payoff for stolen jewels. When Marriott is killed and Marlowe is blackjacked unconscious ("a black pool opened up"), he becomes the prime suspect for the murder. Millionaire's daughter Ann Grayle (Anne Shirley) reveals her interest in the case, which brings Marlowe for a visit to the Grayle mansion in Brentwood where he meets Mr. Grayle (Miles Mander) and his much younger wife Helen (Trevor again). During his investigation, Marlowe is drugged and experiences drug-induced hallucinations and nightmares ("a crazy, coked-up dream") when pursued through a series of identical doors by a man with a giant hypodermic needle (filled with truth serum), after being roughed up by master-crook Jules Amthor (Otto Kruger). Amthor is a blackmailer, involved in setting up rich women as targets for Marriott. The owner of the jewels - mysterious, flirtatious and slinky Helen Grayle, also hires the detective to locate the stolen jade necklace (which she later reveals is not actually stolen). Marlowe navigates through a perilous world, becoming further entangled with and threatened by despicable high- and low-class criminals. The final showdown occurs at the Grayles' beach house, where Helen is killed by her husband. [The final shoot-out revealed that mysterious, flirtatious, gold-digging double-identity Mrs. Helen Grayle - also known as Velma Valento, had set up numerous individuals over the theft of her alleged jade jewelry, and was indeed a murderous femme fatale.] Both Moose and Mr. Grayle also shoot and kill each other. (It is also revealed that Moose had murdered Amthor). A witness to all the killings, Ann Grayle is able to clear temporarily-blinded Marlowe of all charges - and accompanies him home in the back seat of a taxi - where they share a kiss. No Academy Award nominations.

Mutiny on the Bounty (1935)
Starring: Charles Laughton, Clark Gable, Franchot Tone, Dudley Digges
Director: Frank Lloyd
The oft-filmed (1962 and 1984), classic adventure tale of the famous, historical 1788 British naval vessel the HMS Bounty and its mutiny on the high seas. Based on Nordhoff and Hall's novel. Partially filmed on location in Tahiti. One of MGM's glossiest and biggest box-office successes. On a journey from Portsmouth, England to Tahiti to procure breadfruit trees, the crew suffers under the merciless chastisements of the tyrannically-cruel and mean Captain William Bligh (Laughton). After an idyllic interlude on the exotic island, where the crew romances native women, the crew on the return voyage rebels under the courageous, noble leadership of First Mate Fletcher Christian (Gable) following the Captain's brutal insistence that the ship's elderly doctor Bacchus (Digges) come topside to witness the flogging of five crew members. The despicable Captain is set adrift in an open lifeboat with no sail, compass or food, for an amazing 4,000 mile voyage to safety. In the final scene, Roger Byam (Tone) is brought to trial. Academy Award Nominations: 8, including three Best Actors (Gable, Laughton, and Tone), Best Director, Best Screenplay, Best Film Editing, and Best Score. Academy Awards: 1, Best Picture.

My Fair Lady (1964)
Starring: Rex Harrison, Audrey Hepburn, Stanley Holloway, Wilfrid Hyde-White, Gladys Cooper, Theodore Bikel
Director: George Cukor
One of the best and most popular musicals of all-time, from Lerner and Loewe - based on George Bernard Shaw's 1913 play Pygmalion. Arrogant, fastidious, linguistics Professor Henry Higgins (Harrison repeating his Tony Award-winning performance on Broadway) wagers fellow linguist Colonel Hugh Pickering (Hyde-White) that he can transform a Cockney flower-selling, street urchin Eliza Doolittle (Hepburn) - a 'guttersnipe' - into a proper lady with prescribed diction/elocution lessons. The irrepressible 'guttersnipe' is scrubbed, dressed, and tutored, in time to attend the Ascot races and a society ball. In the end, he reluctantly falls in love with Eliza. Includes songs "On the Street Where You Live," "Get Me to the Church on Time," and "I Could Have Danced All Night." Academy Award Nominations: 12, including Best Adapted Screenplay, Best Supporting Actor--Stanley Holloway, Best Supporting Actress--Gladys Cooper, Best Film Editing. Academy Awards: 8, including Best Picture, Best Director, Best Actor--Rex Harrison, Best Color Cinematography, Best Color Art Direction/Set Decoration, Best Sound, Best Score, Best Color Costume Design.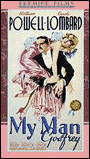 My Man Godfrey (1936)
Starring: William Powell, Carole Lombard, Alice Brady, Mischa Auer, Gail Patrick
Director: Gregory La Cava
A great, classic, madcap screwball comedy from the 30s, based on the story 1101 Park Avenue by Eric Hatch. Two spoiled daughters of the wealthy but dysfunctional, zany Bullock family, sultry, scheming Cornelia (Patrick) and younger, endearing nit-wit Irene (Lombard) search for a "forgotten man" during a high-society scavenger hunt. They discover dishevelled tramp Godfrey Parke (Powell) in the city dump, and ultimately the down-and-out man is hired to be the Manhattan family's butler. His high-minded, decent, suave sophistication is contrasted to the antics of concerned father Alexander (Pallette), his dizzy wife Angelica (Brady) and her protegé Carlo (Auer). A mysterious man, Godfrey's real identity (and wealth) is finally revealed after he transforms and teaches the confused family about life, money, and happiness and wins Irene's love. Academy Award Nominations: 6, including Best Director, Best Actor--William Powell, Best Actress--Carole Lombard, Best Supporting Actress--Alice Brady, Best Supporting Actor--Mischa Auer, Best Screenplay.
N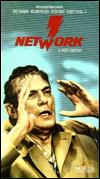 Network (1976)
Starring: Faye Dunaway, William Holden, Peter Finch, Beatrice Straight, Robert Duvall, Ned Beatty
Director: Sidney Lumet
A prophetic, explosive, provocative satire from screenwriter Paddy Chayefsky about the medium of network television and its abusive, self-prostituting quest for ratings. Chief UBS TV (a fourth-rated fictional broadcasting system) veteran news anchorman Howard Beale (Finch) is driven insane when told that he will be fired after twenty-five years because of low ratings. On the air, the beserk newsman tells his audience that he will committ suicide during his final live broadcast. A ratings-mad, cold-blooded, ambitious programming VP Diana Christensen (Dunaway) exploits the furor when ratings zoom. Messianic hero and cult celebrity Beale continues to report the news and evangelistically urges his viewers to go to their windows and yell: "I'm as mad as hell, and I'm not gonna take it anymore!" The craggy, dissenting head of the news division Max Schumacher (Holden) is fired, as the network is overtaken by a multinational conglomerate and alliances are made with urban guerrilla terrorists for programming ideas. Married Schumacher, in a mid-life crisis, has a May-December affair with Diana and leaves his wife (Straight). Academy Award Nominations: 10, including Best Picture, Best Director, Best Actor--William Holden, Best Supporting Actor--Ned Beatty, Best Cinematography, Best Film Editing. Academy Awards: 4, including Best Actor--Peter Finch (awarded post-humously), Best Actress--Faye Dunaway, Best Supporting Actress--Beatrice Straight, Best Original Screenplay.