The Third Hundred Greatest Films
(of the 20th Century)
Summaries - Part 7
(Links to Comprehensive Film Reviews)

Selection Criteria
R (continued)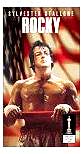 Rocky (1976)
Starring: Sylvester Stallone, Talia Shire, Burt Young, Carl Weathers, Burgess Meredith
Director: John G. Avildsen
The phenomenally successful, uplifting, "sleeper" film that was filmed in a record twenty-eight days with a paltry budget of about $1 million, and ultimately grossed well over $100 million. (This low-budget film was positioned between two early "blockbusters" - Spielberg's Jaws (1975) and Lucas' Star Wars (1977).) Its screenwriter and major star, Sylvester Stallone, was an unbankable unknown at the time - an underdog actor/writer in the film industry (with 32 previously-rejected scripts) similar to the boxing 'bum' in the film. Stallone supposedly wrote the script for the sports comeback film over a three-day period. The action-packed, 'feel-good' crowd-pleasing story, shot mostly on location, tells of the rise of a small-time, has-been, underdog Philadelphia boxer against insurmountable odds in a big-time bout with Apollo Creed (Weathers), with the emotional support of a shy, hesitant, loving girlfriend named Adrian (Shire) and wily fight manager Mickey (Meredith). The low-key film was a combination of On the Waterfront (1954), Marty (1955), and a fairy-tale, Cinderella rags-to-riches story. The original Rocky film, from Oscar-winning director John G. Avildsen, packed movie houses, and beat out formidable competition for Best Picture: All the President's Men, Bound For Glory, Network, and Taxi Driver. It was followed by four inferior sequels: Rocky II (1979), Rocky III (1982), Rocky IV (1985), Rocky V (1990) and another entry titled Rocky Balboa (2006). Academy Award Nominations: 10, including Best Actor--Sylvester Stallone, Best Actress--Talia Shire, Best Supporting Actor--Burt Young, Best Supporting Actor--Burgess Meredith, Best Original Screenplay--Sylvester Stallone, Best Song--"Gonna Fly Now," Best Sound Editing. Academy Awards: 3, including Best Picture, Best Director--John G. Avildsen, Best Film Editing.
The Rocky Horror Picture Show (1975)
Starring: Tim Curry, Susan Sarandon, Barry Bostwick, Richard O'Brien, Patricia Quinn, Nell Campbell, Meatloaf
Director: Jim Sharman
Perhaps the most popular cult film of all time, this low-budget, campy horror rock musical from writer/director Jim Sharman initially bombed at the box-office. One of the longest-running films of all time, the bizarre film honors (and gently spoofs) the horror and science fiction genres of the past (RKO Pictures' King Kong (1933), Forbidden Planet (1956), The Wizard of Oz (1939), the Hercules films, The Day of the Triffids (1963), the classic "atomic age" sci-fi horror of the '50s, such as It Came From Outer Space (1953), and, of course, Frankenstein (1931)). The film was based on the 1973 British musical stage play The Rocky Horror Show by playwright/composer Richard O'Brien (who also plays the butler named Riff Raff), about a haunted house inhabited by transexual aliens. The strange tale follows a straightlaced, wholesome, newly-engaged couple, Brad Majors (Bostwick in his feature film debut) and Janet Weiss (Sarandon) who are forced to take refuge in a spooky mansion/castle on a rainy night when their car has a flat tire. The two are brought into a world of subversiveness by the bisexual host - the carnivorous "sweet transvestite from Transsexual, Transylvania" Dr. Frank N. Furter (Curry), a mad scientist whose dream is to create the perfect man named Rocky "with blond hair and a tan." The film features catchy, overtly-sexual songs like "The Time Warp," "Touch-a, Touch-a, Touch Me," and "Sweet Transvestite." When the film began to play at midnight showings in Greenwich Village in April 1976, the film was revived as a multi-media, audience participatory experience and exploded as a worldwide phenomenon for many years. The film was followed by a forgettable sequel, Shock Treatment (1981), and a successful musical revival on Broadway in 2000 featuring Joan Jett that ran for two years. No Academy Award Nominations.
S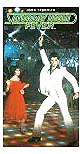 Saturday Night Fever (1977)
Starring: John Travolta, Karen Lynn Gorney, Donna Pescow, Martin Shakar
Director: John Badham
Badham's melodramatic, out-dated film was the biggest musical sensation and blockbuster of the late 1970's (from co-producer Robert Stigwood) - adapted by screenwriter Norman Wexler from Nik Cohn's New York Magazine story "Tribal Rites of the New Saturday Night." It features one of the most famous song soundtracks in film history, and was responsible for the Disco Craze phenomenon, launching hot disco clubs (like Studio 54) and the film super-stardom of then 23-year old John Travolta, previously best known as one of the Sweathogs of the television sitcom Welcome Back, Kotter. The film's soundtrack is the most recognizable, with a slew of high-pitched Bee Gees songs from the Gibbs: "Night Fever," "How Deep is Your Love," "More Than a Woman," "You Should Be Dancin'," and "Stayin' Alive" (which accompanies a memorable opening scene when the working-class protagonist struts down the sidewalk to the lyrics: "Oh, you can tell by the way I walk / I'm a woman's man, no time to talk"). In the classic coming-of-age tale, a conflicted, 19 year-old teenaged Italian-American anti-hero from Brooklyn, Tony Manero (Travolta with the film's sole Oscar nomination) works in a dead-end job as a clerk in a local hardware store and lives at home with his oppressive, verbally-abusive blue-collar family. But after dark, he becomes the dynamic, white polyester-clad stud (with platform shoes, flared pants, and a wide-collared shirt) and undisputed dancing legend of a local nightclub (the 2001 Odyssey), with dancing partner Stephanie (Gorney) for a dance contest. The uneducated macho Manero seeks escape from his desperate plight of a staid home life and unambitious friends by finding recognition on the dance floor. However, his swaggering, troubled character also expresses arrogance, racism, immaturity, obnoxiousness, and misogyny (he sexually abuses and disregards girlfriend Annette (Pescow)). (A PG-rated version was released without the coarse language and explicit sex scenes.) Additional popular songs on the soundtrack included Yvonne Elliman's "If I Can't Have You" and the Trammps' "Disco Inferno." Unbelievably, the soundtrack was completely ignored by the Academy, causing a critical outcry and leading to the extremely unlikely Oscar win by the next year's inferior disco film Thank God It's Friday (1978)'s for "Last Dance" (sung by Donna Summer). An inferior sequel, director Sylvester Stallone's Staying Alive (1983) also starred Travolta reprising his Tony Manero role. Academy Award Nominations: 1, Best Actor--John Travolta.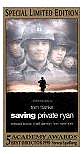 Saving Private Ryan (1998)
Starring: Tom Hanks, Edward Burns, Tom Sizemore, Matt Damon, Adam Goldberg, Giovanni Ribisi, Barry Pepper, Harve Presnell, Vin Diesel, Jeremy Davies
Director: Steven Spielberg
Steven Spielberg's R-rated war epic opens, in its first half-hour, with the brutal, uncompromising, and graphic depiction of the landing at bloody Omaha Beach on D-Day (June 6, 1944). The film's aftermath revolves around the rescue of a downed paratrooper in the French countryside, Pvt. James Ryan (Damon), whose three brothers have recently been killed in action, by a group commanded by veteran Captain John Miller (Hanks in an Oscar-nominated role). Miller's platoon squad of seven stereotypical characters, brought together as a morale-lifting, propagandistic, PR effort for the military brass (Army Chief of Staff Gen. George C. Marshall (Presnell)) and the homeland, includes: hard-nosed Sgt. Horvath (Sizemore), a frightened, militarily-inexperienced translator Cpl. Upham (Davies), and five privates (Burns, Ribisi, Diesel, Pepper and Goldberg) -- including a cynical hothead from Brooklyn, an introspective medic, a decent soldier, a religious Southern sharpshooter, and a tough Jew. The film was a critical and box office smash, and brought Spielberg his second Best Director Oscar (his first was for his other World War II era film, Schindler's List (1993)). Academy Award Nominations: 11, including Best Picture, Best Actor--Tom Hanks, Best Original Screenplay--Robert Rodat, Best Original Score--John Williams, Best Art Direction-Set Decoration, Best Makeup. Academy Awards: 5, including Best Director--Steven Spielberg, Best Cinematography--Janusz Kaminski, Best Film Editing, Best Sound Editing, Best Sound Effects Editing.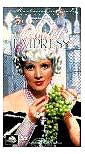 The Scarlet Empress (1934)
Starring: Marlene Dietrich, John Lodge, Sam Jaffe, Louise Dresser
Directors: Josef von Sternberg
Josef von Sternberg's startling, dark, visually opulent, hauntingly expressionistic, and mostly fictional biopic of German-born Princess Sophia Frederica (Dietrich). The young, naive, tremulous bride-to-be is brought on a seven-week journey to Moscow, Russia for an arranged marriage to Grand Duke Peter (Jaffe), nephew of the domineering and unpleasant Empress Elizabeth (Dresser), who renames her Catherine. The Empress hopes to improve the royal blood line, but Catherine is revulsed by her bumbling, idiotic, and childlike husband-to-be, and instead becomes romantically involved with opportunistic womanizer Count Alexei (Lodge) and others. Eventually, she engineers a coup d'etat with the aid of the military and Captain Orloff (Gavin Gordon), has Peter III assassinated, and becomes Catherine the Great, Tsarina of Russia. This semi-erotic tale of 18th century Russia was one of the most daring films of the Hays Production Code era, featuring, among other things, immorality, nudity and open sexual decadence. The film also features extravagant sets and von Sternberg's trademark stylization, as well as great performances. For a six-year period, Dietrich was svengali von Sternberg's favorite leading lady - this was their sixth film together (and last great collaboration). They worked together on The Blue Angel (1930), Morocco (1930), Dishonored (1931), Blonde Venus (1932), Shanghai Express (1932), and The Devil Is a Woman (1935). Despite the sumptuous set design, sharp dialogue and great acting, the dark subject matter led to a box-office failure and lack of critical acclaim. Another film on the life of Catherine was made in the same year - director Paul Czinner's historical drama Catherine the Great (1934) with Elisabeth Bergner, Douglas Fairbanks, Jr., and Flora Robson. No Academy Award Nominations.

Sherlock Jr. (1924)
Starring: Buster Keaton, Kathryn McGuire, Joe Keaton, Erwin Connelly, Ward Crane
Director: Buster Keaton
A marvelously inventive, silent film comic fantasy directed by stone-faced Buster Keaton - at only 44 minutes, filled with the comedian's trademark physical stunts and humor and amazing special effects. This spoof of detective films was the first of Keaton's feature films solely directed by himself. A bored, poor and timid individual - the Boy (Keaton) working as a janitor/projectionist at a local cinema, takes a break from sweeping to read a book about his dream vocation - "How to Be a Detective." During work, he buys a cheap $1 dollar box of candy for his Girl (McGuire) sweetheart and presents it to her (marked as $4), along with an engagement ring. Another rival suitor, the deceitful Sheik (Crane), steals the girl's father's gold watch from her house, pawns it, and tries to impress her with a larger, more expensive $4 dollar box of candy. After being falsely accused of stealing the watch and unable to prove that he was framed, the Boy dejectedly returns to the theater and falls asleep in the projection room. A ghostly doppelganger dream version of himself leaves his body -- and in a "film within a film" segment -- 'walks' into the film screen. In his dream state, he becomes invincible, confident detective Sherlock, Jr., who is involved in an elaborate pearl necklace robbery investigation. Through wish fulfillment, he solves the crime, nabs the villain (the same Sheik) and saves the Girl (the same Girl) - and then wakes up. The film's meditation on identifying with one's dreams and finding instructional value in cinema ends with the Boy reconciled with the Girl in the real-world - but he still needs film tips on how to kiss the Girl! Three highlights are the astounding, rapid scenery-cuts sequence when he first steps into the film, an amazing railroad stunt (that fractured Keaton's neck, discovered later), and a driver-less motorcycle ride. Keaton's work inspired two similar fantasies: Woody Allen's The Purple Rose of Cairo (1985) with Jeff Daniels and Mia Farrow, and the under-rated action/adventure parody Last Action Hero (1993) with Arnold Schwarzenegger.
The Shining (1980)
Starring: Jack Nicholson, Shelley Duvall, Danny Lloyd, Scatman Crothers
Director: Stanley Kubrick
Creative director Stanley Kubrick's intense, epic, gothic, haunted house horror film masterpiece. It follows the disintegrating Torrance family -- aspiring writer Jack, his wife Wendy, and son Danny (Nicholson, Duvall, Lloyd) who become affected by a "psychic photograph" of a bloody series of historic murders committed in an imposing Rocky Mountain hotel, the Overlook. The film has beautiful, stylish work that distances itself from the blood-letting and gore of most modern films in the horror genre. The film's source material from science-fiction/horror author Stephen King's 1977 best-selling novel (his third novel under his own name) by the same name bears little resemblance to Kubrick's creation. The film's title refers to the extra-sensory, paranormal psychic abilities possessed by the Overlook's head cook Halloran (Crothers) and Danny. With American co-screenwriter Diane Johnson, Kubrick moved from the conventions of traditional horror film thrillers, displacing them with his own, much more subtle, rich, symbolic motifs. As in many of his films, director Kubrick explores the dimensions of the genre to create the ultimate horror film of a man going mad, Jack Torrance (Nicholson in an over-the-top performance) while serving as an off-season caretaker of an isolated, snowbound resort with his family. Kubrick deliberately reduced the pace of the narrative and expanded the rather simple plot of a domestic tragedy to over two hours in length, created lush images within the ornate interior of the main set, added a disturbing synthesized soundtrack (selecting musical works from Bela Bartok, Gyorgy Ligeti, and Polish composer Krzysztof Penderecki), used a Steadicam in groundbreaking fashion, filmed most of the gothic horror in broad daylight or brightly-lit scenes, and built an unforgettable, mounting sensation of frustration, rage, terror, ghosts, and the paranormal. When it was redone as a four and a half-hour TV miniseries due to King's dissatisfaction, Stephen King's The Shining (1997), a famous topiary-animal attack was included. No Academy Award Nominations.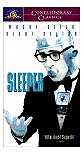 Sleeper (1973)
Starring: Woody Allen, Diane Keaton
Director: Woody Allen
One of Woody Allen's funniest films, a science fiction comedy classic and screwball comedy about the future - with Dixieland and swing music (from the Preservation Hall Band). This film was from Allen's earlier period, when he was known for appearing in or directing lightweight comedies, such as Take the Money and Run (1969), Bananas (1971), Play It Again, Sam (1972), and Everything You Always Wanted to Know About Sex* But Were Afraid to Ask (1972). Filled with one-liners, Allen's film both satirizes the 1970's and parodies sci-fi books and past classics, such as Buck Rogers "Serial" (1939), Carroll's Alice in Wonderland, Kubrick's 2001: A Space Odyssey (1968) and A Clockwork Orange (1971), George Lucas' THX 1138 (1971), George Orwell's futuristic novel 1984, and Aldous Huxley's Brave New World. It also evokes such slapstick comedy classics, such as Harold Lloyd and Buster Keaton films, the Keystone Kops, Chaplin's Modern Times (1936) and the Marx Brothers' Duck Soup (1933). Director/writer Woody Allen plays jazz clarinet musician and co-owner of a Greenwich Village health food store, nerdy Miles Monroe, who finds himself 200 years in the future in the dystopian year 2173. He learns that he was cryogenically 'frozen' and wrapped in aluminum foil when complications arose - after he had entered a New York hospital in 1973 for what he thought was a minor peptic ulcer operation. ("It's hard to believe that you haven't had sex for two hundred years." "Two hundred and four," he replies, "if you count my marriage.") He soon finds out that he is considered both a subversive alien fugitive by a Big Brother-type totalitarian government and a savior to the rebels wishing to overthrow the police state. A classic fish-out-of-water comedy, he is inept as a disguised domestic robot (and in one funny scene passes around a silver-metallic round, orgasm-inducing "Orb" at a party), hides himself in an Orgasmatron, slips on a gigantic banana peel, wins a mock beauty pageant believing he's Miss America, and gets fitted for a suit by two robotic yet very Jewish tailors. The climax occurs when he and his love interest, a rich, clueless, pseudo-intellectual poetess named Luna Schlosser (Keaton in her second appearance with Allen in a film, but in her first Allen-directed film) attempt to assassinate The Leader (never seen but pictured as a wheel-chair bound dictator with a white dog), who is ultimately reduced to a benign, disembodied nose after a rebel bombing - and then steam-rolled. One sly cameo is that of Douglas Rain as an evil computer near the end of the film, gently spoofing his role as HAL from 2001: A Space Odyssey (1968), and Mike Myers' Austin Powers series owes a debt to this film. No Academy Award Nominations.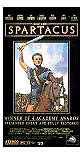 Spartacus (1960)
Starring: Kirk Douglas, Laurence Olivier, Jean Simmons, Charles Laughton, Peter Ustinov, John Gavin, Tony Curtis, Woody Strode
Director: Stanley Kubrick, Kirk Douglas (exec. producer)
A somewhat dated, uneven historical costume (and sword and sandal) epic adapted by openly-credited, blacklisted screenwriter Dalton Trumbo (thereby breaking the abhorrent system) from left-leaning Howard Fast's 1951 fictionalized novel about a slave revolt in Rome between 73-71 BC. This is the story of Thracian Spartacus (Douglas), first introduced as a slave in the Libyan mines who is sold to slave trader Lentulus Batiatus (Ustinov), and becomes under his training a skilled gladiator. He is forced, for pure entertainment's sake, to fight to the death and kill fellow gladiator/friend Draba (Strode). Growing resentment forces Spartacus to kill his captor-owner and instigate a revolt among his fellow slaves. He moves from town to town in the countryside and recruits freedom-fighting slaves along the way, threatening Rome itself and fueling a power struggle and in-fighting between two influential figures in the ruling class: the philosophical Roman senator Gracchus (Laughton) and the power-hungry Roman general Marcus Crassus (Olivier). Eventually, Spartacus' forces are overwhelmed, and he is captured and marched to Rome, with Crassus desirous of the sexual favors of his wife Varinia (Simmons). During the film's production, there was a change of directors (from Anthony Mann (famous for El Cid (1961)) to Stanley Kubrick, who wasn't permitted his usual directorial freedom, resulting in a decidedly un-Kubrick-like film) and rampant ego clashes amongst the actors. Additionally, due to pressure from the National Catholic League of Decency and the Hays Code, various segments were removed, among other things, homosexual innuendo and various depictions of gore (such as severed limbs). The 1991 re-release of Spartacus restored much of what was cut from the film, including the notorious bathhouse scene featuring the sexual advances of Crassus toward slave servant-poet Antoninus (Curtis), with dialogue dubbed by Anthony Hopkins for the deceased Olivier: "Do you consider the eating of oysters to be moral and the eating of snails to be immoral?... My taste includes both snails and oysters." Although anachronistic in costuming and accents, and overly long with some 'wooden' acting, Spartacus remains one of the more beloved and intelligent gladiator films (and a model for Ridley Scott's Gladiator (2000)), with such memorably powerful scenes as the large scale battles with thousands of extras, and the famous climax with the moving "I am Spartacus!" scene when Spartacus is crucified under orders of Crassus along with hundreds of other slaves, and a disguised Varinia risks capture to show him his infant son. The film was remade in 2004 as a TV movie with Goran Visnjic as the film's hero. Academy Award Nominations: 6, including Best Dramatic Score--Alex North, Best Film Editing. Academy Awards: 4, including Best Supporting Actor--Peter Ustinov, Best Color Art Direction-Set Decoration, Best Color Cinematography, Best Color Costume Design.
T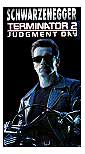 Terminator 2: Judgment Day (1991)
Starring: Arnold Schwarzenegger, Linda Hamilton, Edward Furlong, Robert Patrick, Joe Morton
Director: James Cameron
Cameron's well-executed, action-packed sequel to the earlier film of the same name, with a huge $100 million budget. Arnold Schwarzenegger's Terminator (cyborg) character of the first film, The Terminator (1984) told everyone: "I'll be back" - and proved it with this film. The film takes place 11 years after the events of the first movie, in the year 1995. Sarah Connor (Hamilton) is now in a mental institution after attempting to blow up Cyberdyne Systems, and for acting delusional and insane over thoughts of an apocalypse. Her son John (Furlong) has become a rebellious foster child. This time, two cyborg terminators are sent from future Earth -- a T-800 model (Schwarzenegger) similar to the one from the first film, and the other, a prototype T-1000 (Patrick), who has the ability to 'morph' his body into any solid shape, impersonate other persons and even camouflage himself with the background. One is sent to protect the future leader John, the other to kill the boy who will lead humans to victory over the cyborgs. The film explores issues of fate, responsibility, loyalty, and the essences of humanity. The sequel was made possible by Cameron's hugely successful blockbuster Aliens (1986) and The Abyss (1989). Unlike The Abyss, Terminator 2: Judgment Day would gross half its budget in its opening weekend, despite a running time of over two and a half hours, and end up making back twice its budget in the United States alone. The chief selling point, aside from the computer-generated special effects and dazzling, non-stop action sequences, were the two major stars, Schwarzenegger and Hamilton, who starred in the original. It would be followed by a mildly successful sequel, Terminator 3: Rise of the Machines (2003), in which only Schwarzenegger returned and faced off against a female "Terminatrix." This science-fiction blockbuster won four technical Academy Awards. Academy Award Nominations: 6, including Best Cinematography, Best Film Editing. Academy Awards: 4, including Best Visual Effects, Best Makeup, Best Sound Editing, Best Sound Effects Editing.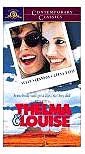 Thelma & Louise (1991)
Starring: Susan Sarandon, Geena Davis, Harvey Keitel, Michael Madsen, Christopher McDonald, Brad Pitt, Timothy Carhart
Director: Ridley Scott
Ridley Scott's film from first-timer Callie Khouri's screenplay is a pseudo-feminist, female-buddy and road movie that examines the themes of liberation, free will, revenge, female empowerment from oppression, self-discovery, and the nature of criminality. Thelma Dickinson (Davis), a naive Arkansas housewife starved for adventure, is unhappily married to a cheating, verbally-abusive and arrogant salesman named Darryl (McDonald). She sets out to have a weekend trip with her worldly-wise best friend, a coffee-shop waitress named Louise Sawyer (Sarandon). At a truck-stop en route, Thelma loosens up after a few drinks and becomes flirtatious. One of the customers, would-be rapist Harlan Puckett (Carhart), threatens Thelma in the parking lot - and she is questionably saved by Louise who kills the man before the rape occurs. In their flight from the law, the federal authorities, and the police, they begin driving to Mexico in a red 1966 Thunderbird convertible, and commit further serious crimes. Brad Pitt has a bit but memorable, pure beefcake role as sweet-talking J.D., a cocky, hitch-hiking cowboy (and thieving con-artist) who steals from Thelma in a motel after seducing her. The pair's flight as fugitives becomes one of liberation, as they not only cast off their daily shackles, but discover their inner desires and personas and become defiant outlaws, while being pursued by a sympathetically-protective detective named Hal Slocumb (Keitel). The box-office hit, similar to other couple-on-the-run films such as You Only Live Once (1937), They Live By Night (1949), Bonnie and Clyde (1967), Badlands (1973), Thieves Like Us (1974), and The Sugarland Express (1974), is stirring to watch, especially in its final scenes, which include an encounter with an offensively-lewd truck driver, the awe-inspiring aerial shot of their T-bird being chased by a legion of blaring police cars in the American Southwest, and the famous freeze frame ending depicting their ultimate freedom as they ascend - and descend - into the Grand Canyon. Academy Award Nominations: 6, including Best Director--Ridley Scott, Best Actress--Geena Davis, Best Actress--Susan Sarandon, Best Cinematography, Best Film Editing. Academy Awards: 1, Best Original Screenplay--Callie Khouri. Interestingly, Scott's directorial nomination replaced that of a snubbed female director (Barbra Streisand's Best Picture-nominated The Prince of Tides (1991)).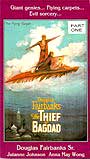 The Thief of Bagdad (1924)
Starring: Douglas Fairbanks, Sr., Snitz Edwards, Charles Belcher, Julanne Johnston, Brandon Hurst
Director: Raoul Walsh
Raoul Walsh's timeless and expensive silent costume fantasy is a lavish and bold Arabian Nights adventure - and a spectacular accomplishment in production design and state-of-the-art special effects from production/art director William Cameron Menzies. It was inspired by writer/director Fritz Lang's Der Müde Tod (1921) (aka Destiny or The Tired Death) - the source for the flying horse and carpet sequences. The title character, the mischievous Thief of Bagdad (Douglas Fairbanks, Sr., credited as Elton Thomas), stole a magic rope used to scale walls and rob people, including the royal family. In the palace of the Caliph (Hurst), he disguises himself as regal Prince Ahmed to win the heart of an exotic, ravishingly-beautiful Princess (Johnston), who must choose a princely husband on her birthday. Flogged for his deceptive fraud, Ahmed repents, reforms and confesses the truth to a Holy Man (Belcher). A test or challenge is devised by the Princess (who has already been smitten by Ahmed) -- the suitor who retrieves the rarest treasures hidden in a magical chest within the mysterious Orient after seven moons will win her hand. The storybook film features amazingly difficult stunt work performed by Fairbanks, such as a ride high above the city on a magic carpet, a battle with a fire-breathing dragon in caverns of flame, and a ride on the back of a flying horse (or Pegasus). He must also battle the evil and treacherous Mongol Prince (So-Jin) upon his return to woo back the Princess and prove his love. The legendary action star, already at the age of 40, was known for his swashbuckling roles as Zorro/Don Diego, D'Artagan and Robin Hood in 38 previous films, and would later star in his final role as Don Juan in Alexander Korda's The Private Life of Don Juan (1934). His son, Douglas Fairbanks, Jr., would follow in his father's footsteps as both a comedic romantic lead and as an action star, sometimes performing his own stunts much as his father had, in such films as The Prisoner of Zenda (1937) and RKO's Sinbad the Sailor (1947). This film was followed by an inferior remake with sound and color, The Thief of Bagdad (1940) with Conrad Veidt as the evil magician, and Sabu as the young thief. Gene Kelly's "Sinbad the Sailor" segment in Invitation to the Dance (1956), and Disney's animated Aladdin (1992) paid homage to the film. No Academy Award Nominations.